Happy Frequency is a system that manages orders on the real market profitably. It belongs to the portfolio of the well-known company–Happy Forex. We are going to check it out to understand if the system fits our expectations.
Happy Frequency trading strategy
The system manages various strategies such as Trend, Grid, Hedge, and Martingale strategies. A trend strategy is simple following the market during the high volatile period. The rest three strategies are risky because they require much more margin for trading and they don't work stable.
Happy Frequency backtesting report
The developers don''t provide backtest reports, relying on the trading results as proof of stability.
Happy Frequency live results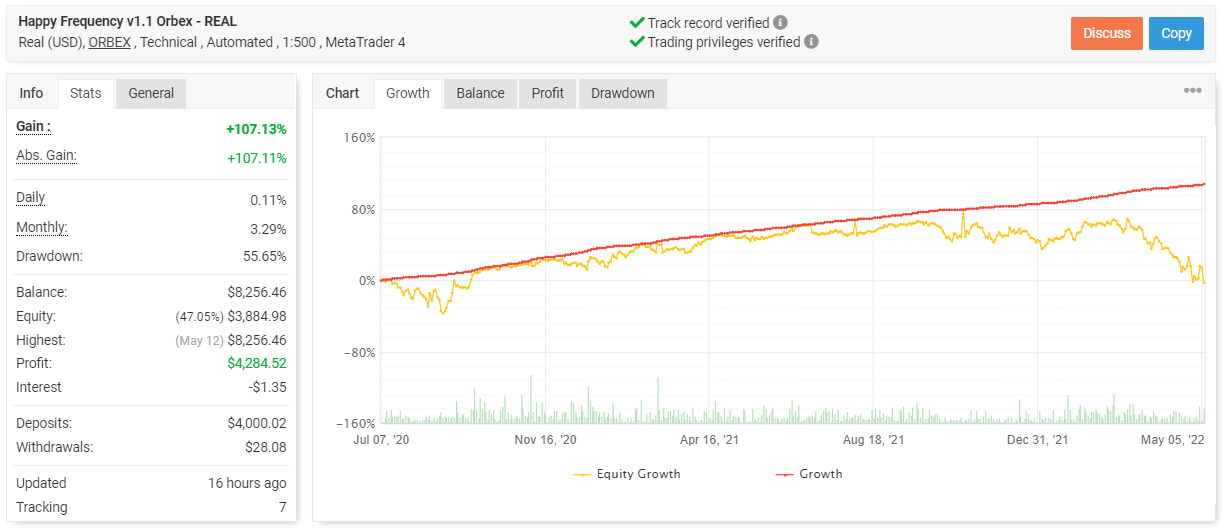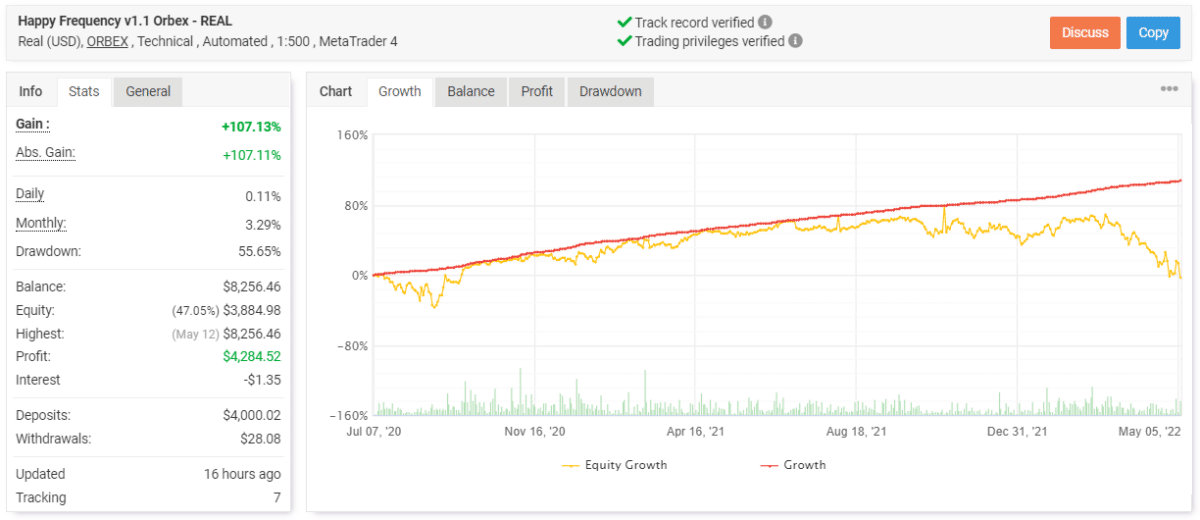 Happy Frequency works on a real account that is nominated in USD. The broker was chosen as ORBEX. We have an account with a verified track record. So, the data should be trustworthy. The system works with 1:500 leverage on MT4. It was created on July 07, 2020, deposited at $4,000.02, then withdrawn at $28.08. Since then, the total gain has become 107.13%. An average monthly growth is 3.29%. The maximum drawdown is 55.65%.


Happy Frequency has closed 5980 orders and 43.772.3 pips. An average win is 19.90 pips when an average loss is -46.96 pips. The win rate is 81% for long and 80% for short trades. An average trade length is 3 days. The profit factor is 1.84.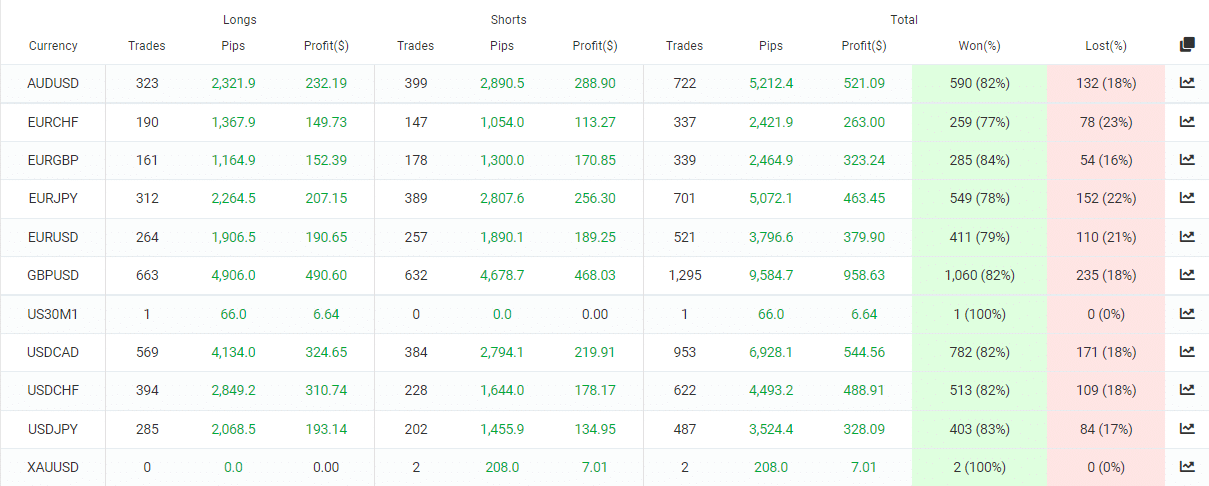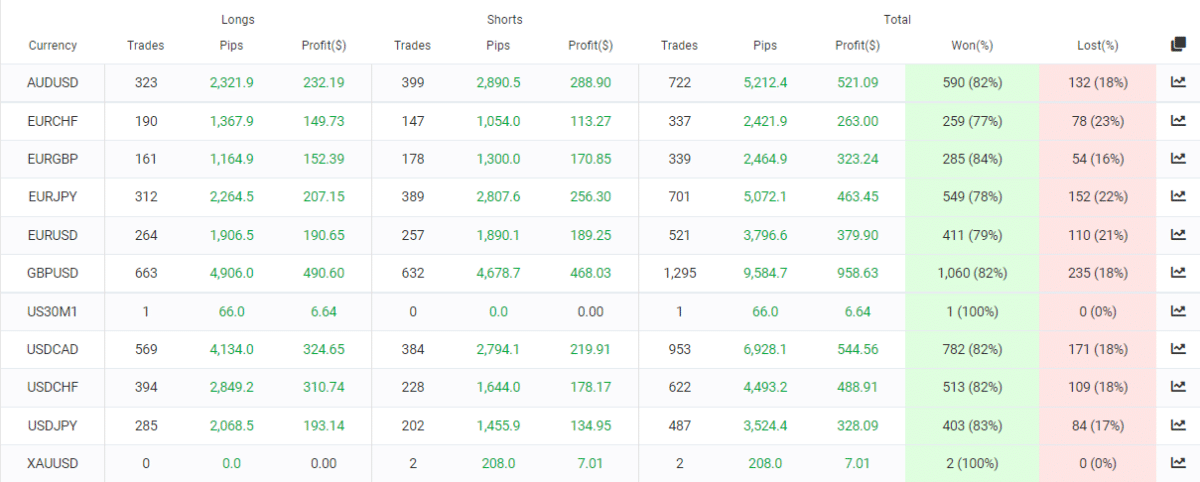 The system works with nine plus two cross pairs. We can note that GBPUSD is traded most actively with 1295 deals closed and $958.63 obtained.

The most traded session is European. The robot also opens orders actively at the beginning of Asian session.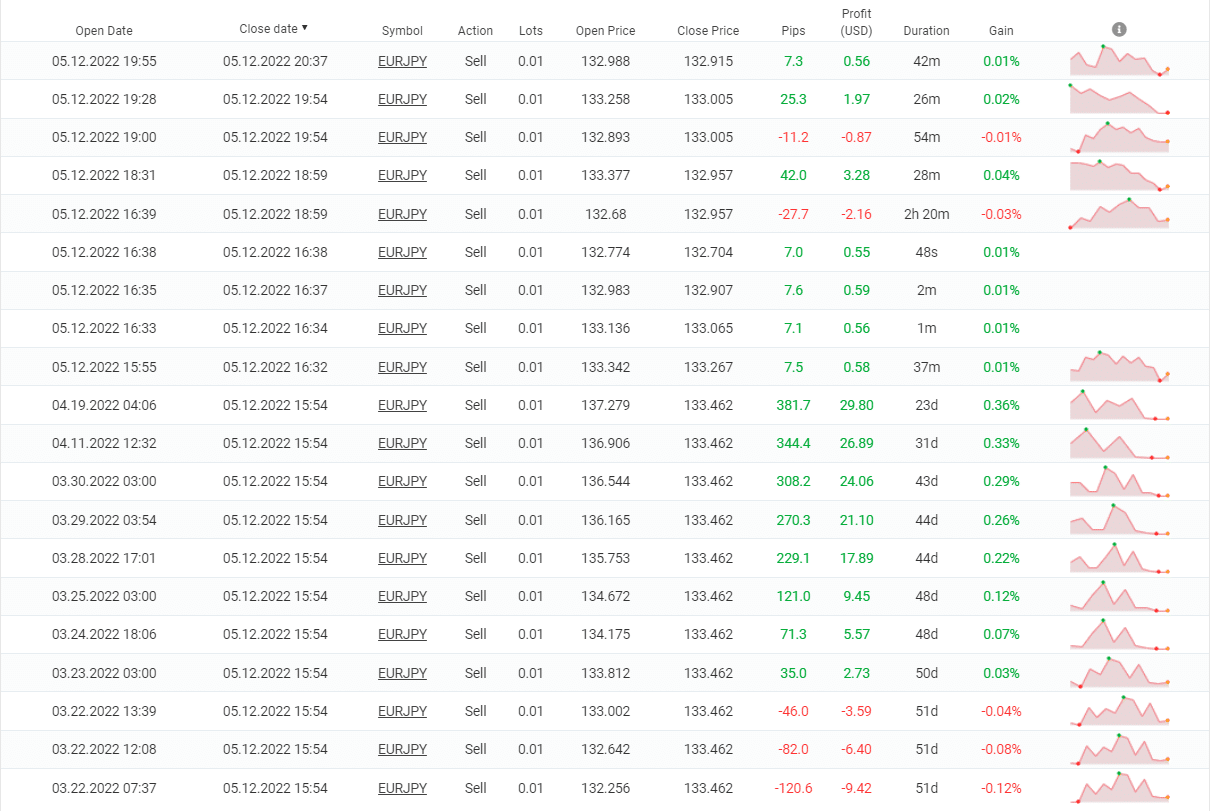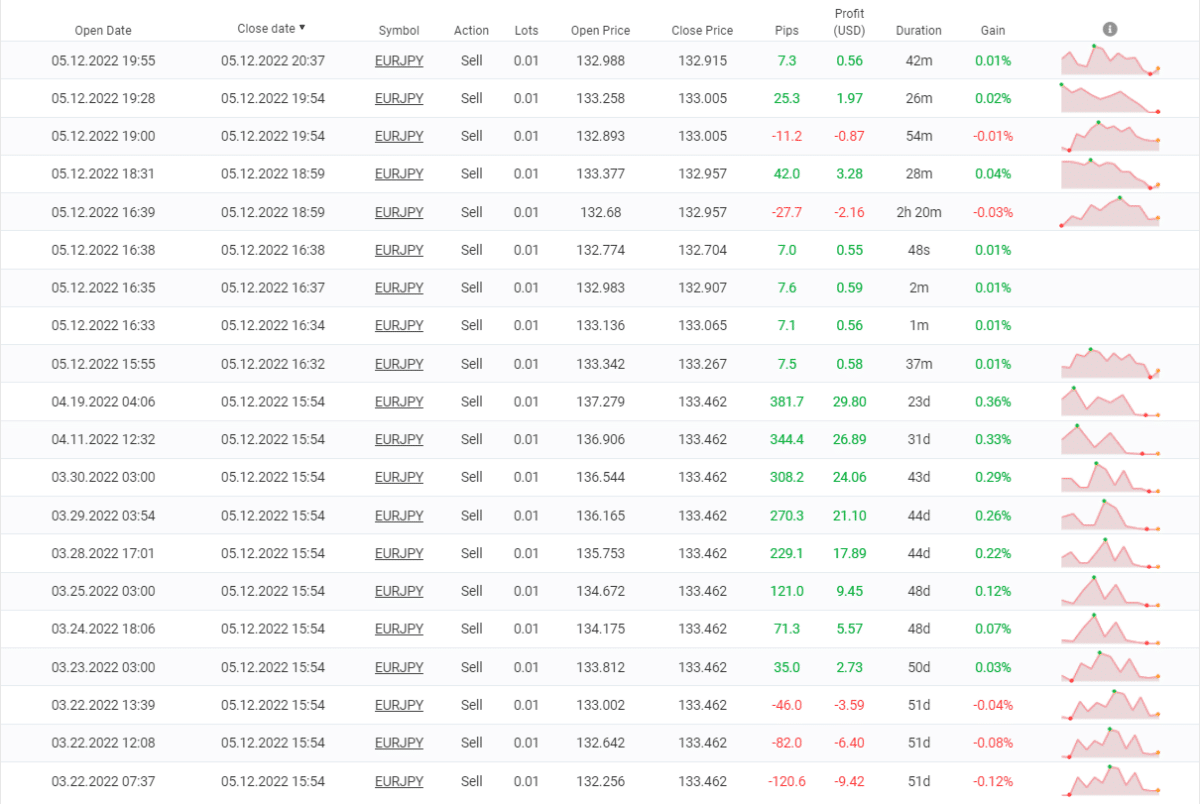 Happy Frequency performs a Grid of orders strategy.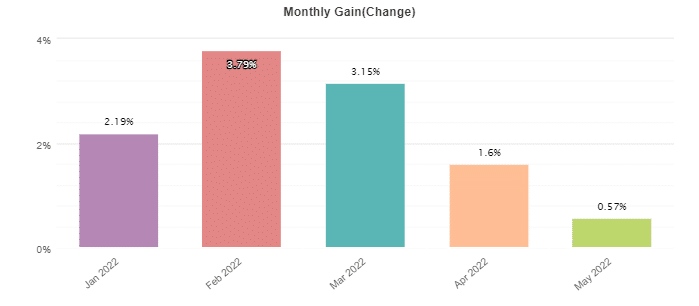 It closed all months with profit this year so far.
Some features of Happy Frequency
We have various details about the system explained. So, they were grouped up by us in the following list.
The system can work completely automatically for us.
We may just check its performance to be sure our account is good.
It works with strategies like Grid, Martingale, Hedge, and Trend applied.
The robot doesn't like periods of high impact news.
We can work with those cross pairs safely: USDCAD, EURUSD, EURGBP, EURJPY, EURCHF, GBPUSD, AUDUSD, USDCHF, and USDJPY.
The core time frame is M5.
It executed orders on the market 24/7.
It can be used on a VPS server for better performance.
There are ten robots and an indicator as an addition.
The following operational systems are allowed: Windows 7, 8, 10, Mac OS and Linux.
The system has to be used on the MT4 terminal only.
We can work with the following types of the account: Micro, Mini, Standard, and ECN are allowed types of the account to trade.
The balance has to be over $4000.
It's possible to get started to trade in several minutes.
We can work with 4 and 5 digit brokers.
| | |
| --- | --- |
| Total return | 107.13% |
| Maximal drawdown | 55.65% |
| Average monthly gain | 3.29% |
| Developer | Happy Forex |
| Created, year | 2018 |
| Price | €299 and €499 |
| Type | Grid, Martingale, Hedge, and Trend |
| Timeframe | M5 |
| Lot size | N/A |
| Leverage | N/A |
| Min.deposit | $4000 |
| Recommended deposit | N/A |
| Recommended brokers | N/A |
| Currency pairs | USDCAD, EURUSD, EURGBP, EURJPY, EURCHF, GBPUSD, AUDUSD, USDCHF, and USDJPY |
| ECN | Yes |
Main things to consider if you invest with Happy Frequency
Automated trading
The system covers us with executing orders on our terminal automatically
Various strategies applied
It can work with different strategies to manage various market conditions.
Trading results
The robot showed that it can manage various market conditions and keep our account profitable.
Pricing details
The pack with two licenses costs €299 when five licenses cost €499. The packages are featured by free updates, upgrades, welcome support, and a 30-day refund policy.
Other notes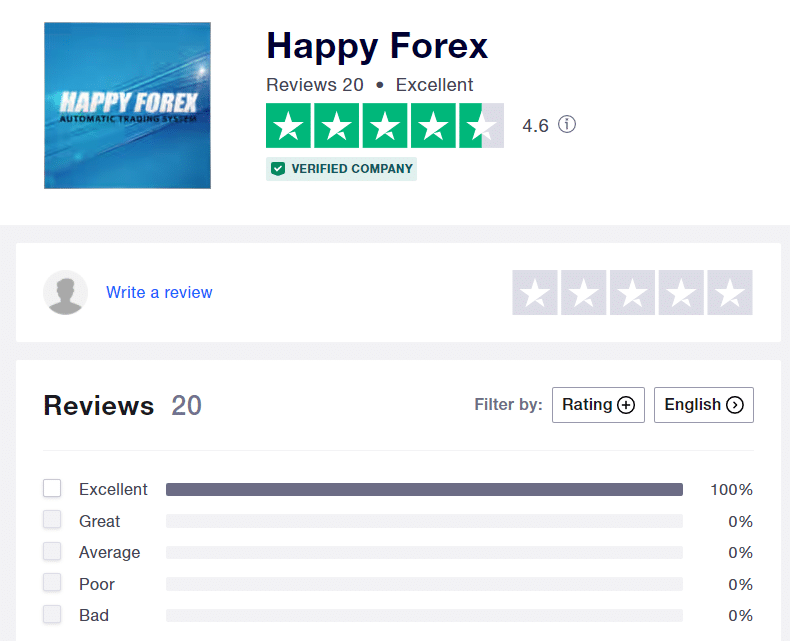 Happy Forex has been running a page on Trustpilot. All of published reviews are positive.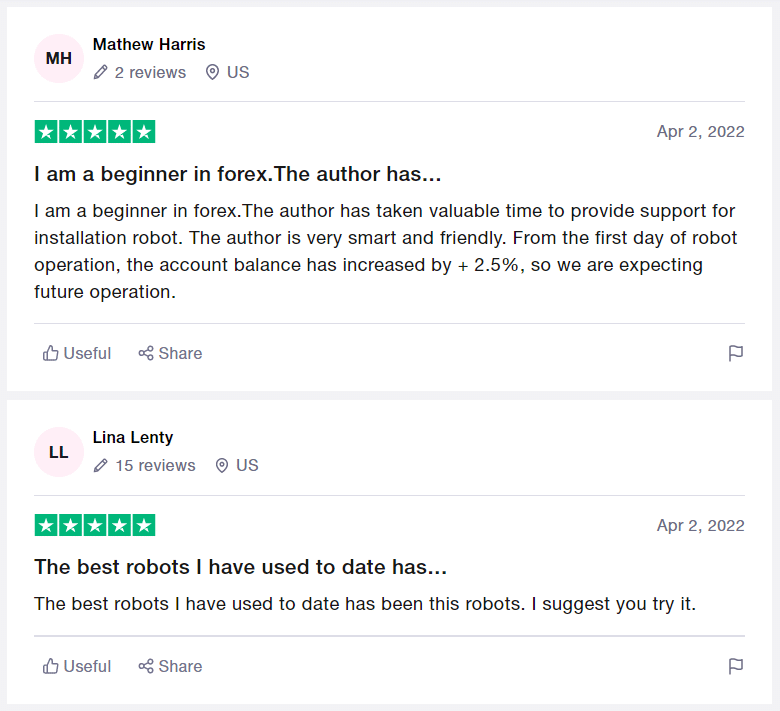 The clients informed us that they have positive experience of using the Happy Forex' robots.