Happy Power is a Forex expert advisor that is compatible with both Metatrader 4 and Metatrader 5 trading platforms. It is a 100% automated trading system that can function without manual inputs. You can run this robot on different operating systems like Windows, Mac OS, and Linux.
Happy Power trading strategy
This EA uses AI technology to analyze the market and locate the best entry points. It has a self-adaptive market algorithm with reinforcement learning elements. This is different from supervised learning in the sense that it does not require labeled input and output pairs or the explicit correction of sub-optimal actions.
Happy Power backtesting report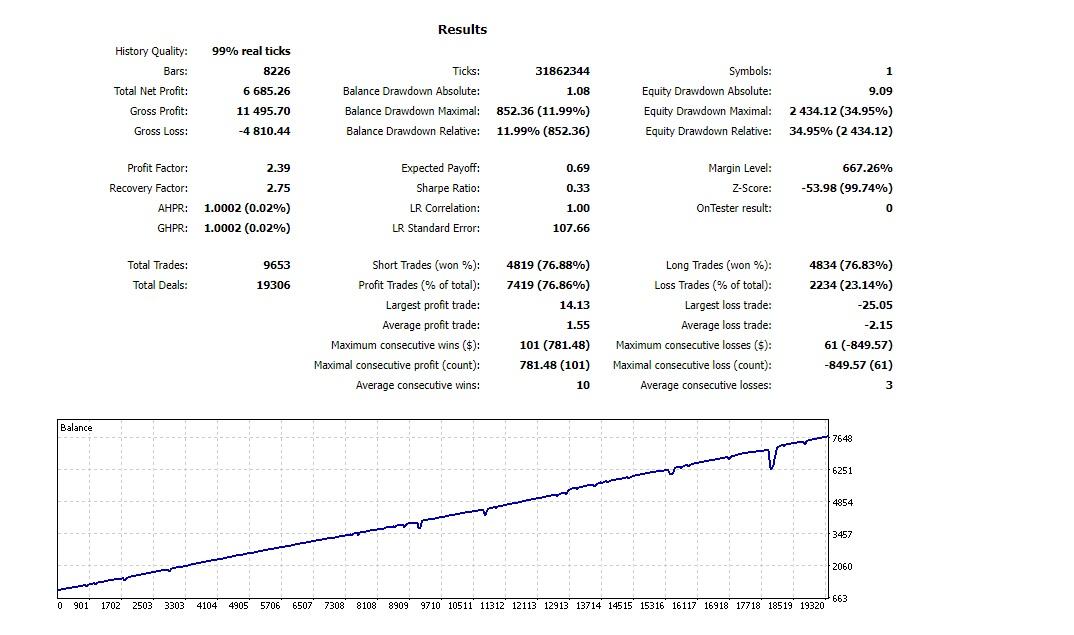 This backtest was conducted on the EUR/CHF pair from January 2020 to April 2021 for the H1 timeframe. There were a total of 9653 trades conducted during this period, out of which 76.86% were closed in profit. The total profit generated during the backtest was $ 6685.26.
Happy Power live results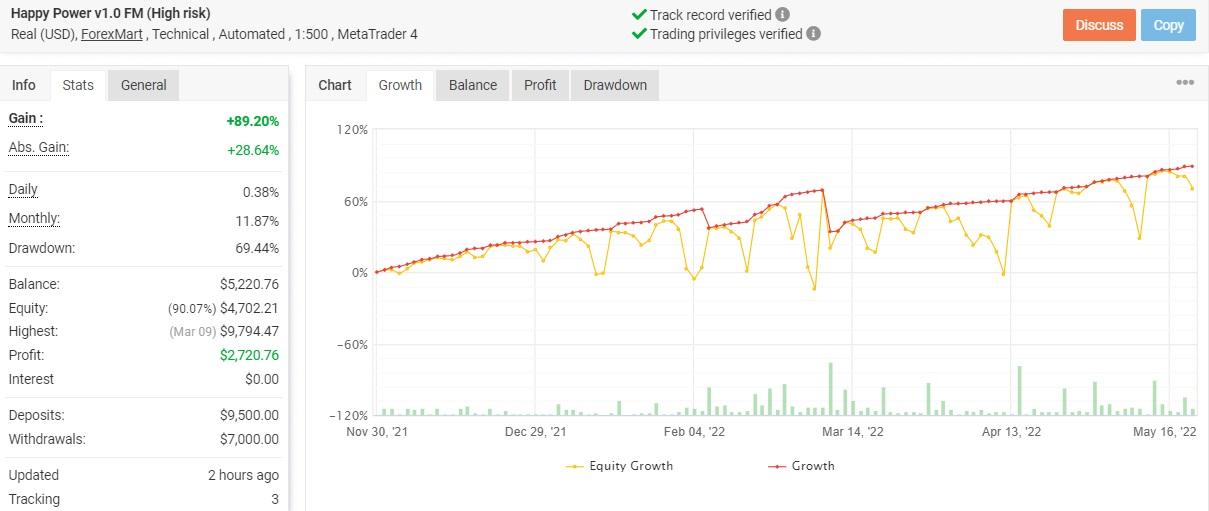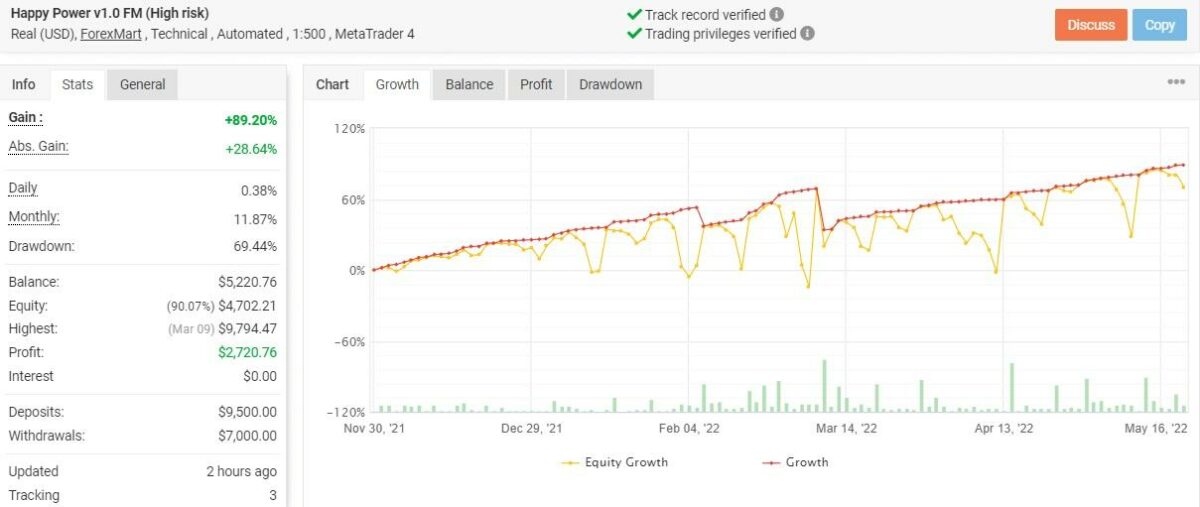 Here we have a live trading account on Myfxbook that was launched on November 30, 2021. Since then, the EA has conducted 3648 trades through this account, winning 70% of them. The win rate, while being a little lower than what we saw in the backtest, is still quite high compared to other EAs. At this moment, the total profit generated through this account stands at $2,720.76.
Currently, the daily and monthly gains are quite impressive at 0.38% and 11.87%, respectively. The drawdown of 69.44% is a bit high and this indicates a high-risk strategy. This account has a decent profit factor of 1.63 and a time-weighted return of 89.20%.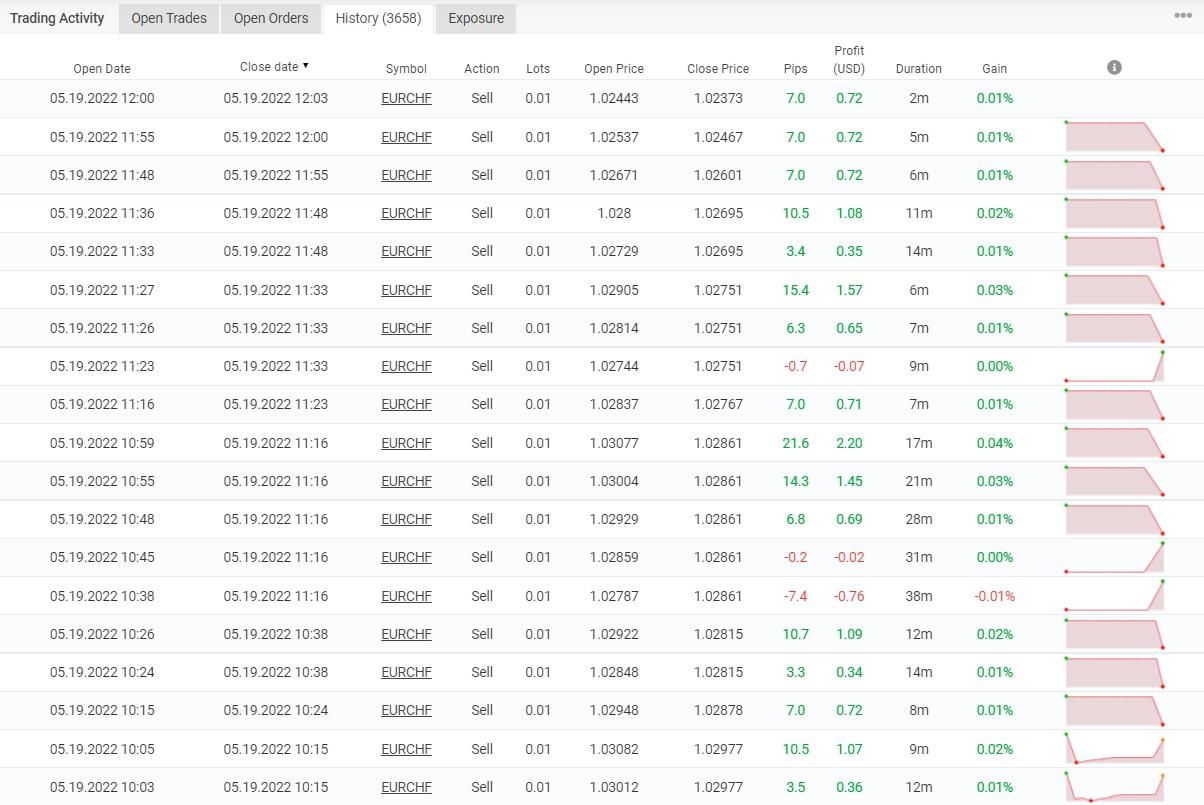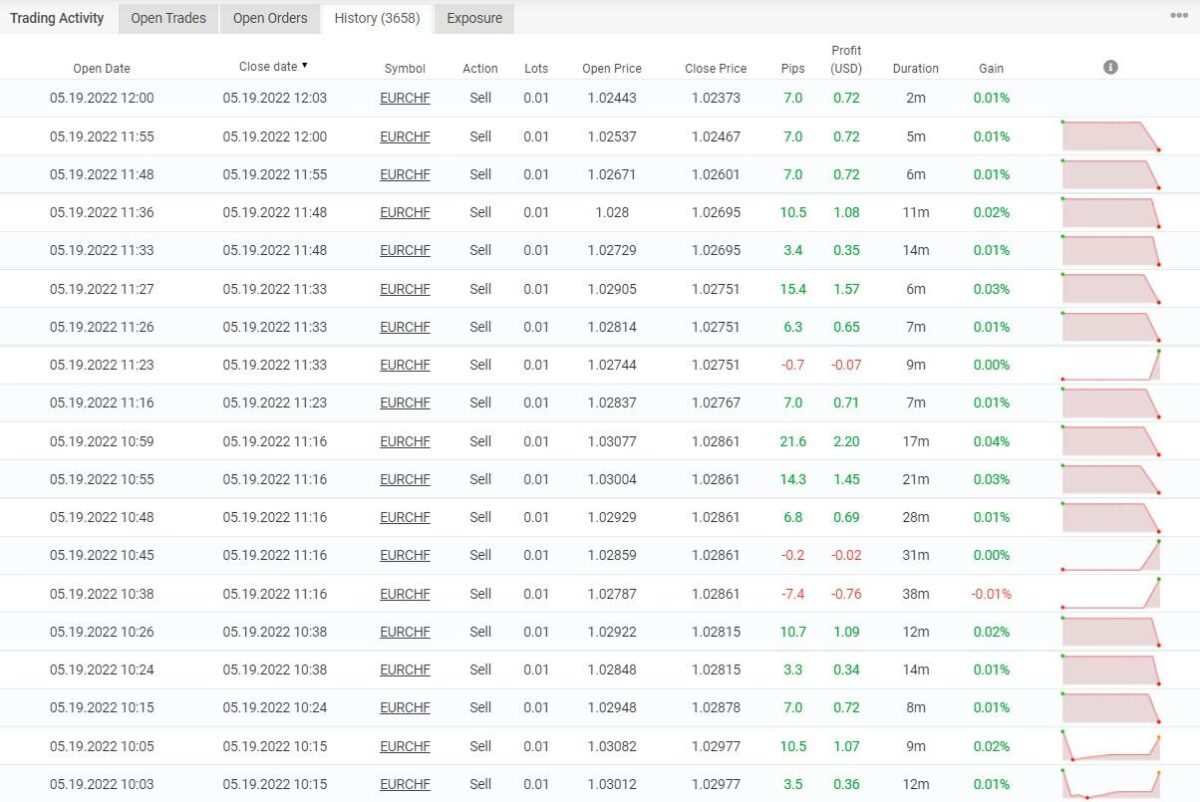 As you can see from the recent trading history, the robot very rarely suffers losses. It conducts multiple trades on a daily basis, generating small profits for each of them. For the last 20 trades, it has used a lot size of 0.01. The average trade length is 2 days, while the average win and loss are 25.88 pips/$2.76 and -37.02 pips/-$3.94, respectively.
Some features of Happy Power
This system only trades in EUR/CHF. It supports ECN brokers and is able to auto-detect 4 or 5-digit price quotes. Since it is not broker-sensitive, you can use it with any broker of your choice. The recommended timeframe for this robot is M30. While the minimum required deposit is $1000, the vendor suggests investing at least $3000.
| | |
| --- | --- |
| Total return | 89.20% |
| Maximal drawdown | 69.44% |
| Average monthly gain | 11.87% |
| Developer | Happy Forex |
| Created, year | 2021 |
| Price | 325 Euros |
| Type | AI market analysis |
| Timeframe | M30 |
| Lot size | 0.01 |
| Leverage | 1:500 |
| Min. deposit | $1000 |
| Recommended deposit | $3000 |
| Recommended brokers | Any |
| Currency pairs | EUR/CHF |
| ECN | Yes |
Main things to consider if you invest with Happy Power
These are the main things you need to pay attention to before you purchase the EA:
Reputed company
The parent company, Happy Forex, is based in Germany. It has been manufacturing automated trading systems for several years. This team is well-known for Forex robots like Happy Breakout, Happy Neuron, Happy Galaxy, Happy Trend, Happy Way, Happy Fast Money, etc.
Bonus offer
When you purchase this robot, you get the Bonus Happy Forex Full Pack for free. This package contains 10 expert advisors. If you have already purchased the Full Pack EAs, you get a 30% discount.
Impressive win rate
With a win rate of 70%, this is one of the most consistently profitable robots on the market. It rarely suffers losses. Also, it has been trading live for several months.
Pricing details
The current price of the EA is 325 Euros. Compared to the market average, this is quite affordable. You get a single license for an unlimited number of real and demo accounts. The developer also offers a 30-day money-back guarantee.
Other notes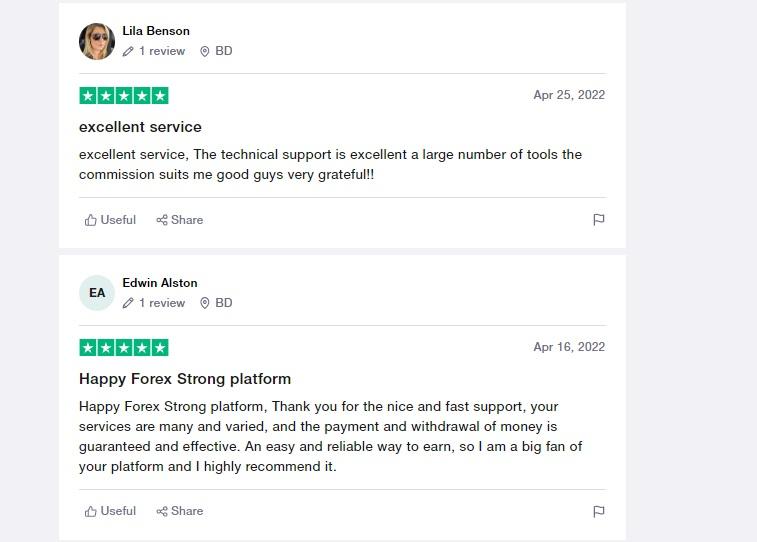 There are no reviews for this EA, but Happy Forex has an excellent rating of 4.6 out of 5 based on 21 reviews on Trustpilot. Users have heavily praised the technical support and the performance of the robots.