FX Premiere is a signal service that focuses on sending information about when the right time to open an order is and what parameters should be filled. Let's check how it works and whether it is a good tradingtool to consider in 2022.
FX Premiere trading strategy
The main strategies to work with are trend and price action.
A message with a signal will include SL and TP levels.
We don't know time frames and cross pairs the system trades.
FX Premiere backtesting report
Unfortunately, we couldn't find any kind of backtest report published on the site. Without the final report we don't know what results the system achieved or whether it is a good choice to trade with on the long run.
FX Premiere live results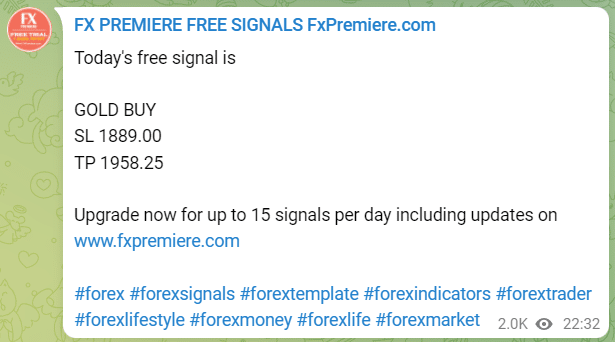 The developers don't provide a real or demo account with verified trading results to check. Anyway, there are posts in their Telegram channels available. We can follow free signals with relevant SL and TP levels, but they are without risks or lot management advice.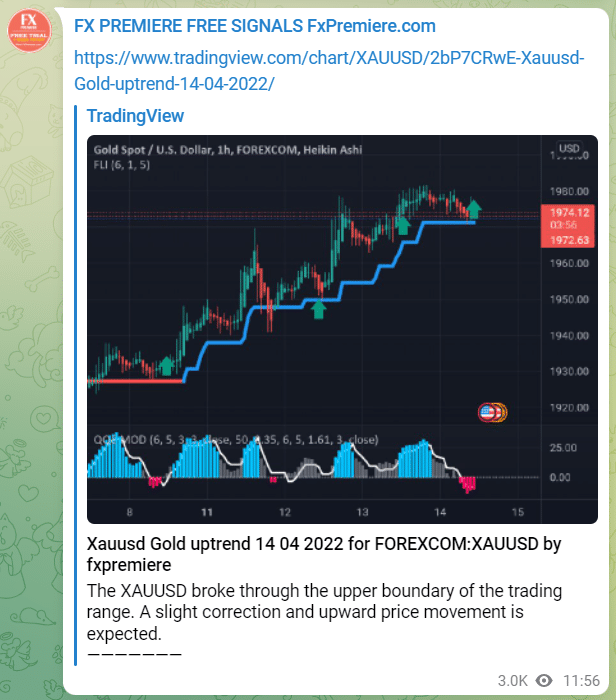 The developers provide us with information about trading opportunities. From the chart, we can see that the developers use some kind of trend or price action indicator to spot trading opportunities.
Some features of FX Premiere
We have various details, features, and settings about the service shared:
FX Premiere is a service that generates signals.
We can expect to trade over 15 pairs plus Gold.
The system can be used with a frequency of 2-15 signals daily.
All of them include information about SL, TP, and Entry Point levels.
There's an extra pack for Gold signals only.
It's a good move to protect orders from market high volatility.
A Telegram channel includes details about free and pod signals, trading ideas, etc.
We can pay for signals via PayPal or our card.
It's possible to cancel a subscription whenever we want.
We have to fill received signals as orders on the market asap.
The developers provide us with 24/7 support.
It uses Fibonacci Retracement Levels, Support and Resistance levels, Bollinger Bands, Moving Averages terminal indicators.
The core strategies for orders are price action and trend.
It would be better not to trade during the high volatility periods.
| | |
| --- | --- |
| Total return | N/A |
| Maximal drawdown | N/A |
| Average monthly gain | N/A |
| Developer | FX Premiere |
| Created, year | 2015 |
| Price | $19.99, 37, $97, $199, and $500 |
| Type | Trend and Price Action |
| Timeframe | N/A |
| Lot size | N/A |
| Leverage | N/A |
| Min.deposit | N/A |
| Recommended deposit | N/A |
| Recommended brokers | N/A |
| Currency pairs | 15 pairs + XAUUSD |
| ECN | N/A |
Main things to consider if you invest with FX Premiere
Cross pairs diversity
We can work with 15 plus Gold cross pairs at once.
Performance
The developers provides screenshots or calculations of profitable trades.
Pricing details
There are various packages with different features available. So, we can decide which one is the best for us. The LifeTime Forex + Gold/Oil Signals package is available for $500. There are the following features provided: access to the VIP Telegram channel with over 4111 members and even more signals. We can rent the system out for more affordable pricing. The Basic FX Signals costs $37 monthly. There are 2-15 signals daily with 1-3 targets per trade. The Standard pack can be used for $97 quarterly. There are 6-15 daily signals, up to 5 Gold signals, and 1-3 targets per trade. The Premium, annual package costs $199. There are 8-15 daily signals, up to 5 Gold signals, and 1-3 targets per trade. If we want Gold only we can subscribe for $19.99 monthly. There are up to 10 Gold signals daily. We couldn't rely on refunds if something goes wrong.
Other notes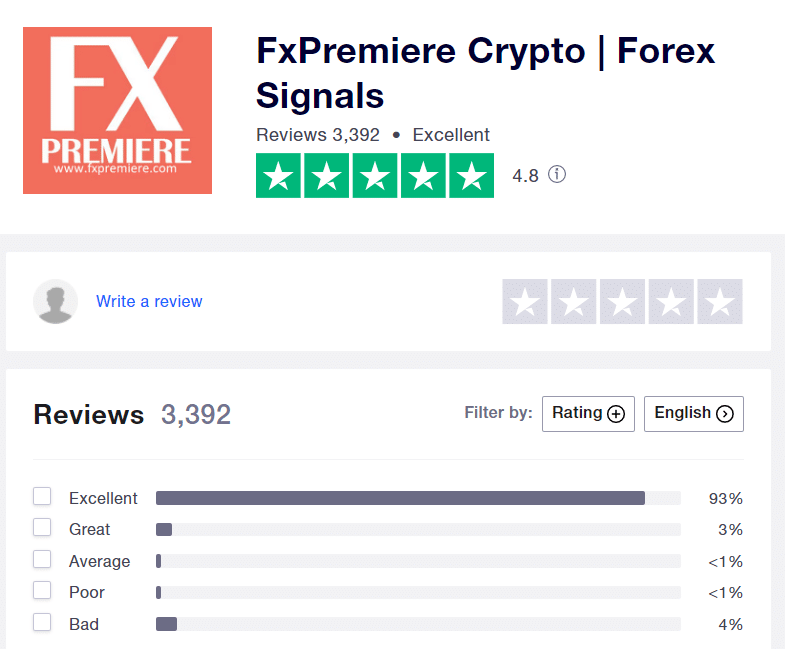 We have a page of FX Premiere founded at Trustpilot. It's a pro because, now, everyone can write their opinions about the system. The final rate is 4.8 based on 3392 reviews.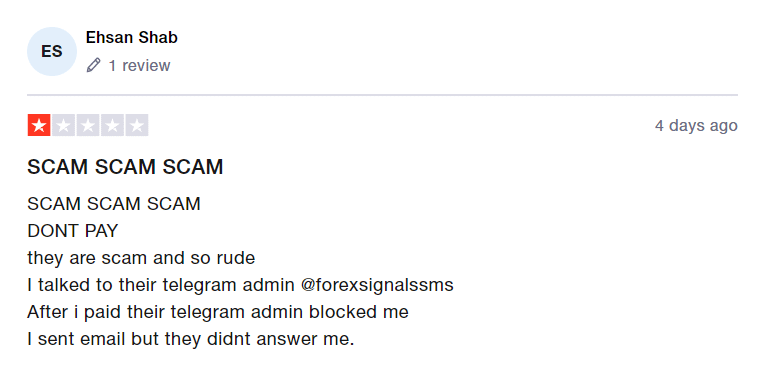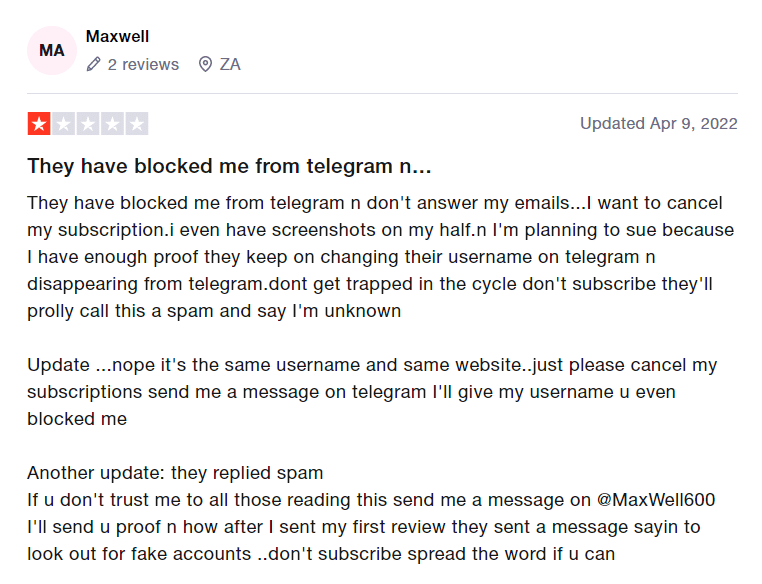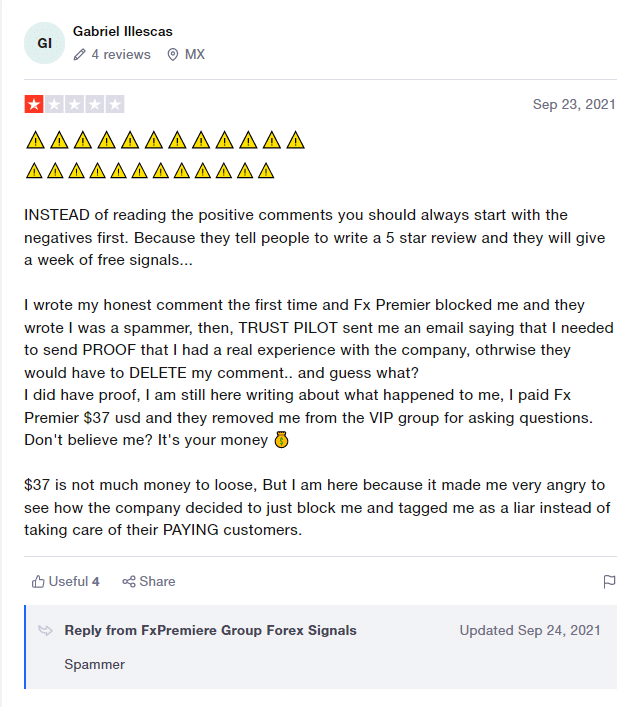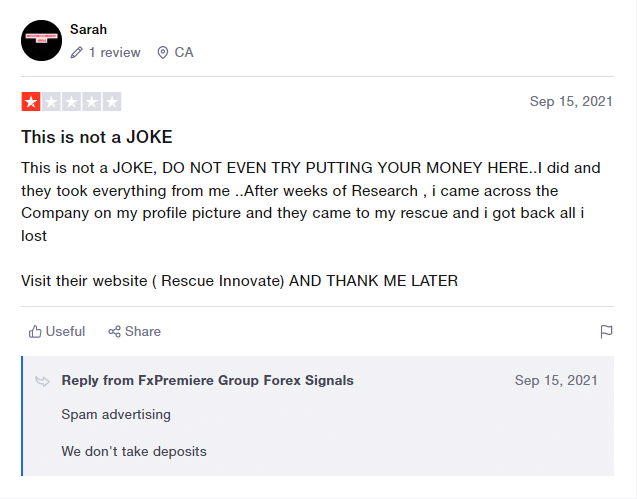 We have various testimonials written that people don't like their experience of using this service. So, to trust them or not to trust is up to you.