FX Scalper X is a robot that should help us to be profitable. The developers claimed that it's a number one algorithm on the market. We have to check everything out to be sure that the system is truly good to go.
FX Scalper X trading strategy
The robot performs a scalping strategy. This allows it to cut out short profits during the day.
FX Scalper X backtesting report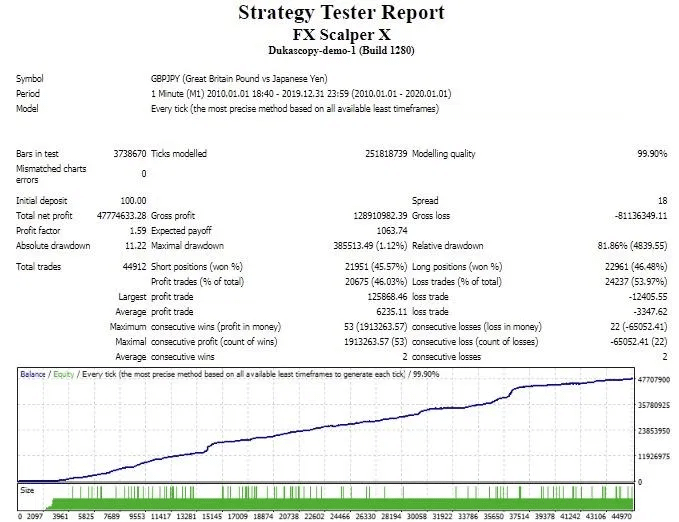 We have a report of GBPJPY that was tested on the M1 time frame properly. It united data of the period of nine years. It works with modeling quality of 99.90%. The spreads were high and this was a positive sign for testing, 18 pips. The devs set the deposit at $100 and the robot has turned it into $47,774,633 of the total net profit. The profit factor was 1.59. It has performed 44,912 orders with a win rate of 45.57% for shorts and 46.48% for longs.
FX Scalper X live results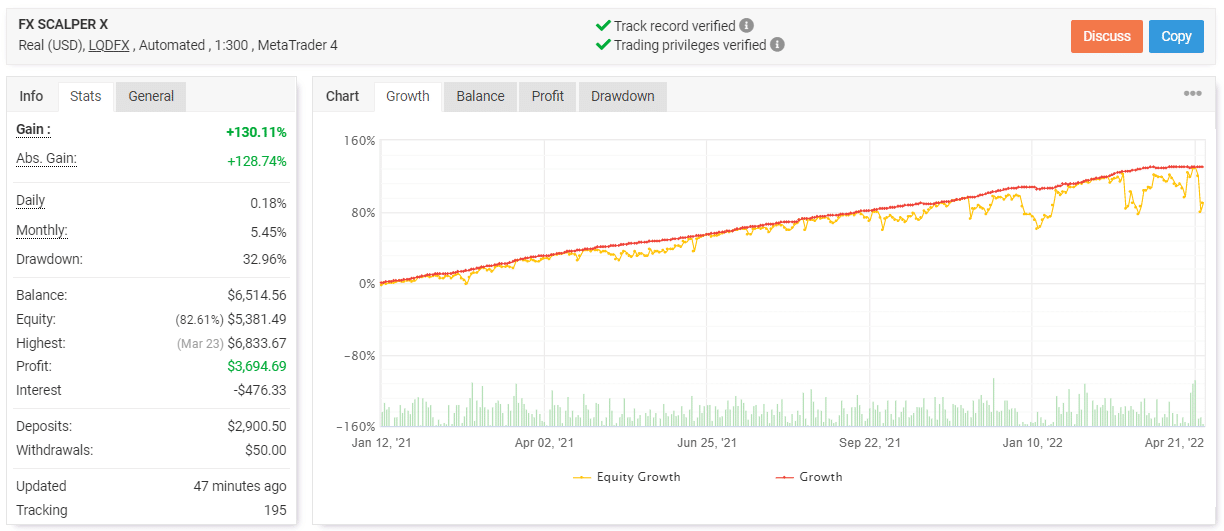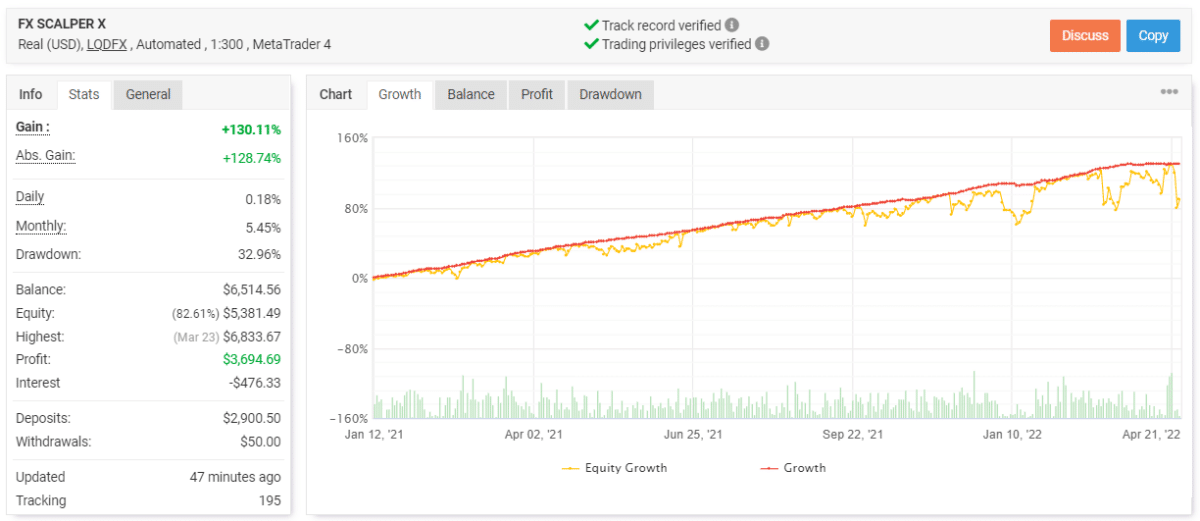 The system works on a real account that was nominated in USD on LQDFX. It works automatically with 1:300 leverage on the MetaTrader 4. The account has a verified track record and verified trading privileges. It was created on January 12, 2021, deposited at $2900.50, and withdrawn at $50. Since then, the total gain has become 130.11%. An average monthly gain is 5.45%. The maximum drawdown is 32.96%. We have 195 people tracking this account.


The advisor has closed 8686 orders with 26,254 pips. An average win is 12.76 pips when an average loss is -25.79 pips. The system's average accuracy is between 74% and 75%. It keeps orders open on the market for a day. The profit factor is 1.49.


The system supports trading on AUDUSD, EURGBP, EURUSD, GBPUSD, and USDCAD. We may note that GBPUSD is the most traded when USDCAD is the less traded symbol.


There should be 157 deals lost to lose 10% of the balance.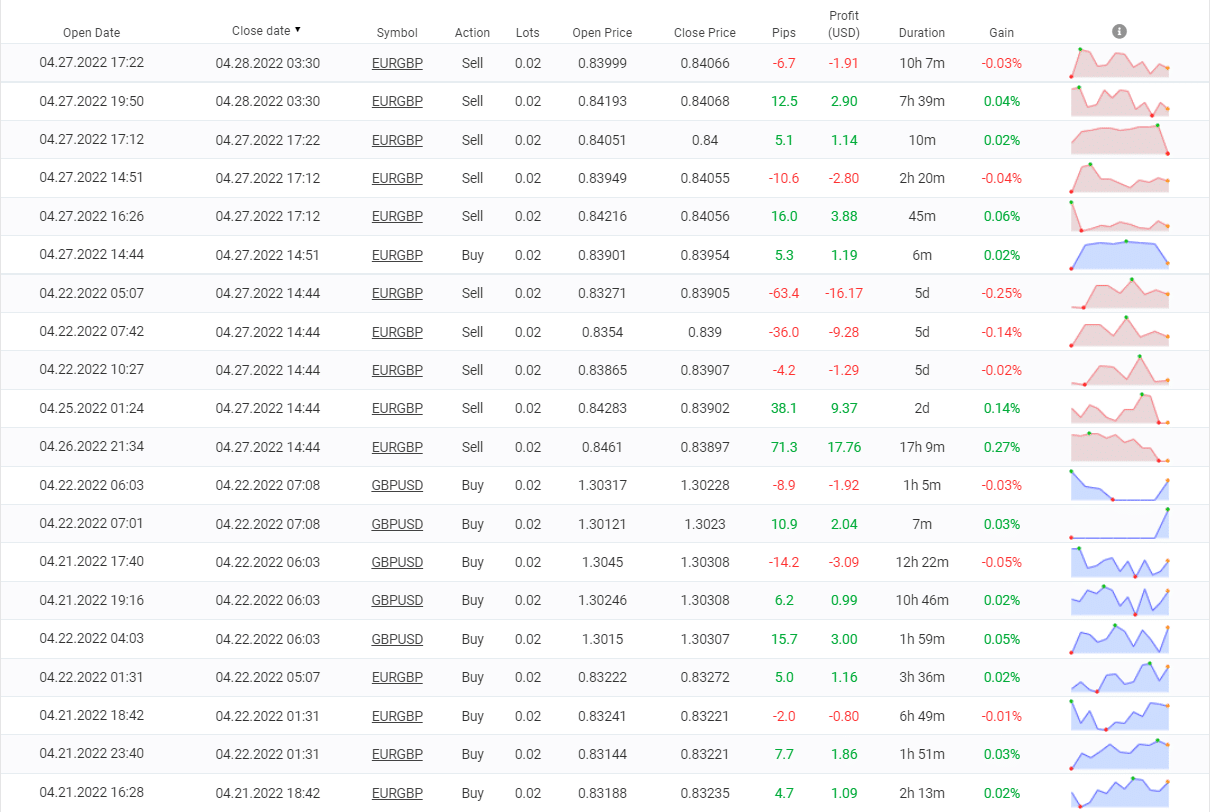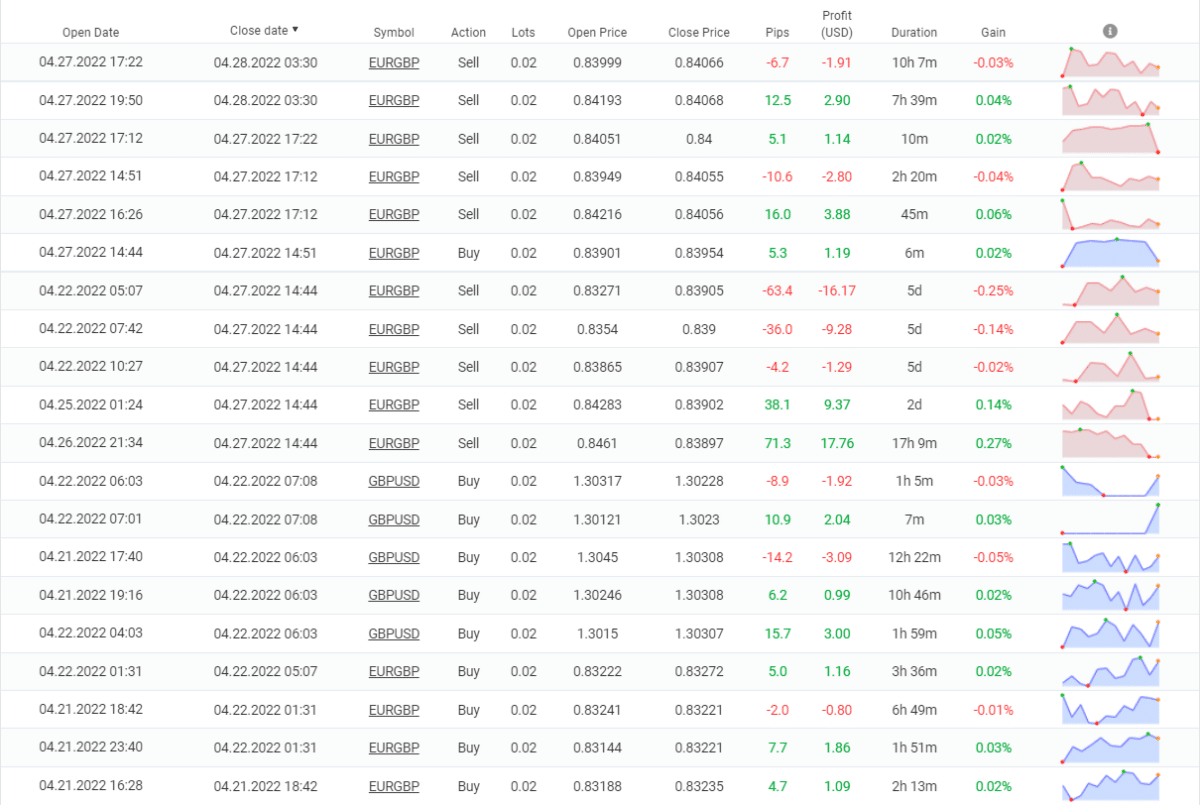 FX Scalper X works with grids of orders where the robot trades with deep SL levels.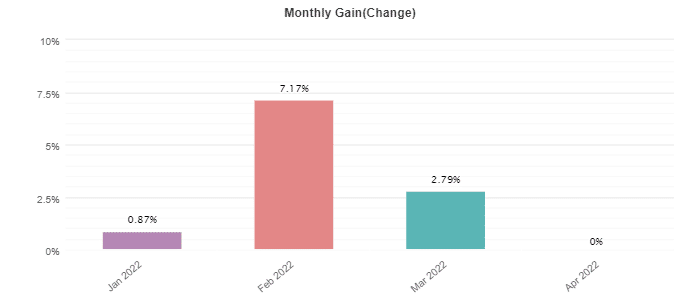 The robot has managed to close the first three months with profits.
Some features of FX Premiere
We have a list of features and settings provided.
The system can provide us with absolutely automatic trading experience.
It executed orders based on a Grid of orders strategy.
The core time frame to trade is M1.
We are allowed to execute trades on: EURUSD, EURGBP, AUDUSD, GBPUSD, and USDCAD.
The leverage should be 1:300 or higher.
It has to work on a low-spread account only.
It's possible to perform a backtest to check real possibilities of the system.
The devs claimed that the system received proper testing before releasing.
We are allowed to work without relevant trading experience.
It's possible to get a copy of the robot within a day.
We don't know why they didn't automate this process.
Our balance should start from $100.
| | |
| --- | --- |
| Total return | 130.11% |
| Maximal drawdown | 32.96% |
| Average monthly gain | 5.45% |
| Developer | FX Scalper X |
| Created, year | 2019 |
| Price | $115, $155, $195, $:95 |
| Type | Grid and Scalping |
| Timeframe | M1 |
| Lot size | N/A |
| Leverage | 1:300 |
| Min.deposit | $100 |
| Recommended deposit | N/A |
| Recommended brokers | N/A |
| Currency pairs | EURUSD, EURGBP, AUDUSD, GBPUSD, and USDCAD. |
| ECN | Recommended |
Main things to consider if you invest with FX Scalper X
Cross pairs diversity
We can work with various cross pairs that make our trading experience smoother.
Grid strategy
The robot uses a risky strategy–Grid of orders. It requires several times more margin to work well.
Performance
The robot works with deep SL levels to keep orders on the market.
Pricing details
There are various subscriptions provided. A 3-month subscription is available for $115, 6-month for $155, annual one can be got for $195, and the lifetime subscription costs $295. The package is featured by three next-generation profitable robots, free updates, and 24/7 welcome support.
Other notes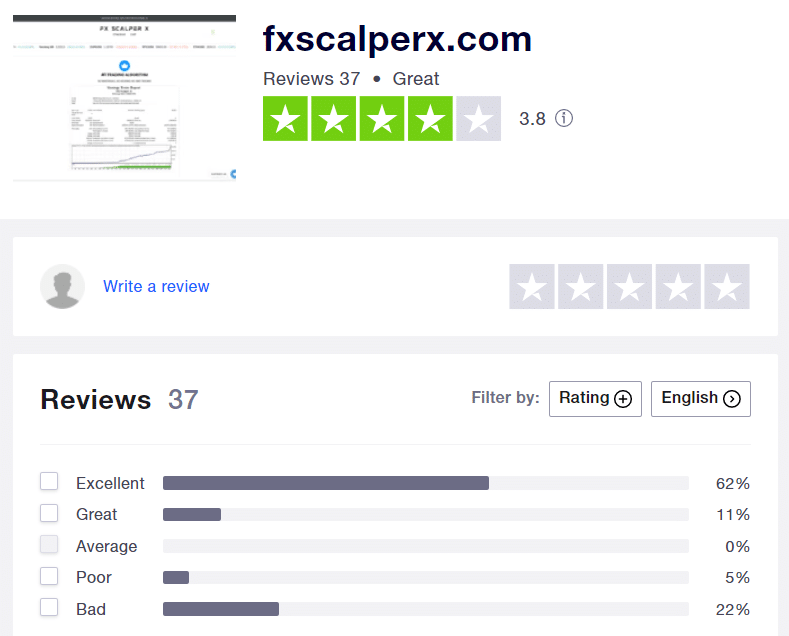 We have a profile of FX Scalper X created on Trustpilot created. There are 37 reviews published that forms a 3.8 rate.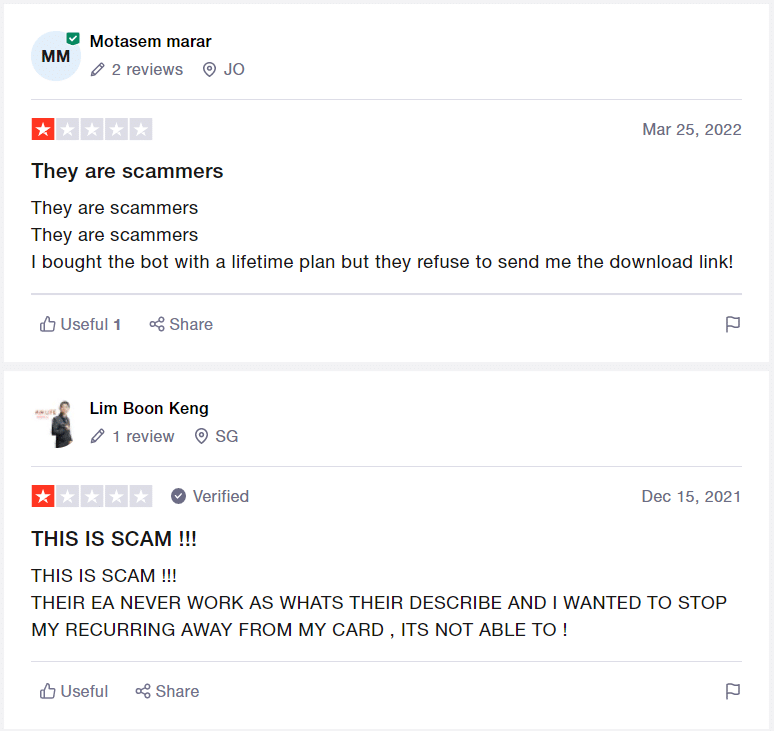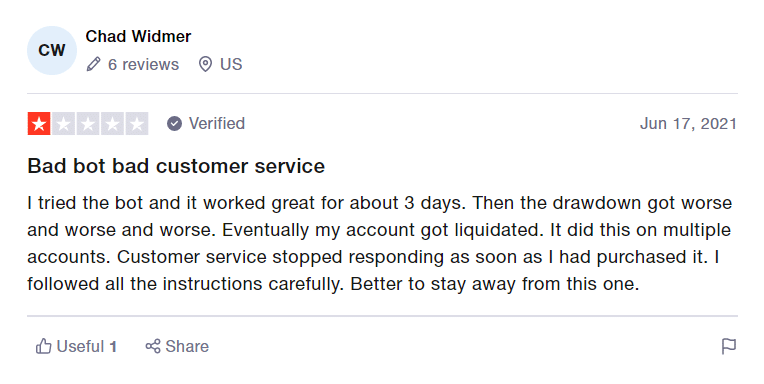 There are various negative testimonials written about the system and the service in general. Clients claim that the system is unprofitable and that the company provides poor customer support.