Forex scalping enables you to spend little time and gain from the market. For trading, FX scalping indicators will be much needed as trading the market needs quick action and not too much analysis of the overall market while scalping.
Scalping requires the effective use of indicators, and they have emerged after the 1900s. The popularity was because of more retail traders entering the market. Indicators that are good for scalping are moving average, Bollinger Bands, MACD, etc.
Forex scalpers look for a way to make quick gains rather than sitting long days in front of the screen and waiting for a perfect trade setup.
Do you also want to know how the whole scalping works? This article will take you with your hands to everything you need to know about FX scalping.
Three things to know before start:
Scalping is a quick money-making method of gaining 5-10 pips from the market.
Scalping needs a lot of concentration and mental stability
You must be sure to choose the correct broker while scalping in the FX.
What does scalping mean in FX?
The FX industry is gaining more and more popularity with new changes in making money online. With every new trader coming into the market trying to make money, scalping is one form they opt for as not every trader has time to sit long hours in front of the system.
It is a trading style that traders use to profit from minor price variations in the market. These price variations could be as little as 5-10 pips. Trader opens a position, profits from it, and then closes immediately. This process goes on till the trader is happy with the income. Scalping requires a trader to make numerous trades in a day.
This trading style is aggressive as traders have to go into the market and come out immediately after making a small profit.
In FX, scalping is done by analyzing a particular currency pair on a smaller time frame then deciding which direction to take the trade-in. This decision is made in a concise time frame to get in and out in just one candle with profit.
Why is it best for traders?
Scalping is a good option for traders, especially for beginners. As scalping does not need too much knowledge of technical analysis, any newcomers with less knowledge can also use it.
Forex scalping styles have fewer boundaries and criteria to enter the market, making it easy for retail traders to jump into the trade.
The FX is highly volatile, and its liquidity allows traders to enter and exit the trade quickly with profit.
The major reason scalping is a good option for traders is its nature to eliminate market reversal. As traders are in the trade for a lesser time, they are less prone to market reversal. Also, several professionals give FX scalping signals, making it easy for any trader to leverage.
What are forex scalping signals?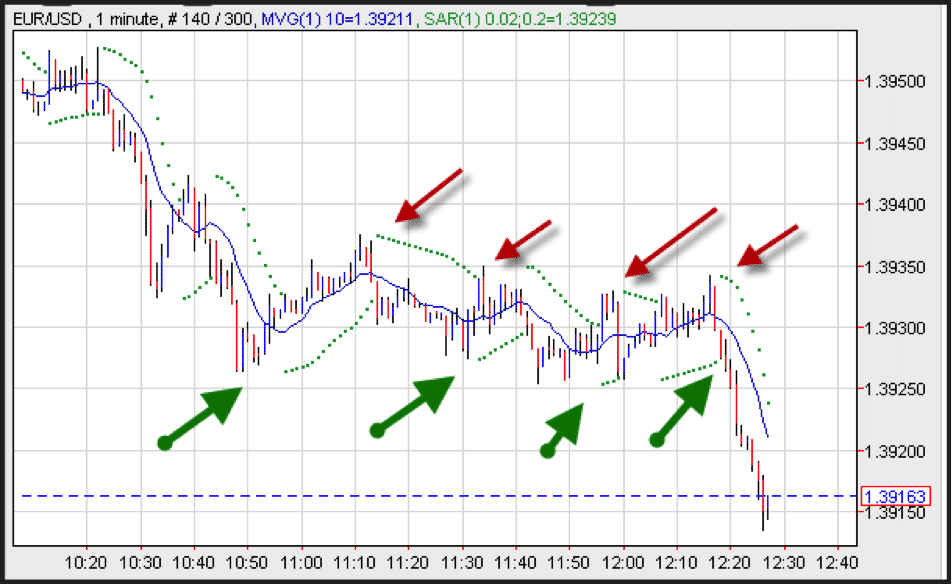 Scalping signals are the tips or trade ideas for traders by professional traders. FX signals help you trade in the market even if you are a beginner and don't know how to trade it.
Forex scalping signals are created using different strategies like price action, indicators, software, or AI. This signal is generated to identify an entry and exit price for a trade.
You will be given the entry, exit, and take profit price that you can use directly. As it is a scalping signal, you need to be very active and conscious while using it, as even a tiny delay in exit and entry can cost you your money.
What are forex scalping indicators?
They are predefined calculations and formulae put together to analyze the market movement. Indicators examine the historical data like the open, close, high, and low price, volume, and overall market volatility and predict the future state of the market.
FX scalping indicator can be an excellent start for someone new to scalping. Many indicators are available for you to use, but the most essential and well-known are.
Bollinger Bands
It is a famous FX scalping indicator; traders and investors use this indicator to gauge market volatility for FX, stocks, and commodities. Commonly also known as BB, it has three standard deviation lines and a moving average in between. You can use BB in any form of trading.
The two lines contract and spend according to the volatility of the market. Usually, for scalping trades, traders take a buy when the market touches or pierce the lower lines with some good candlesticks and a sell when the price touches or pierces the upper band.
Below is the chart representing EUR/USD, 15min. Here the price pierced the upper BB with a nice pin bar candle showing rejections.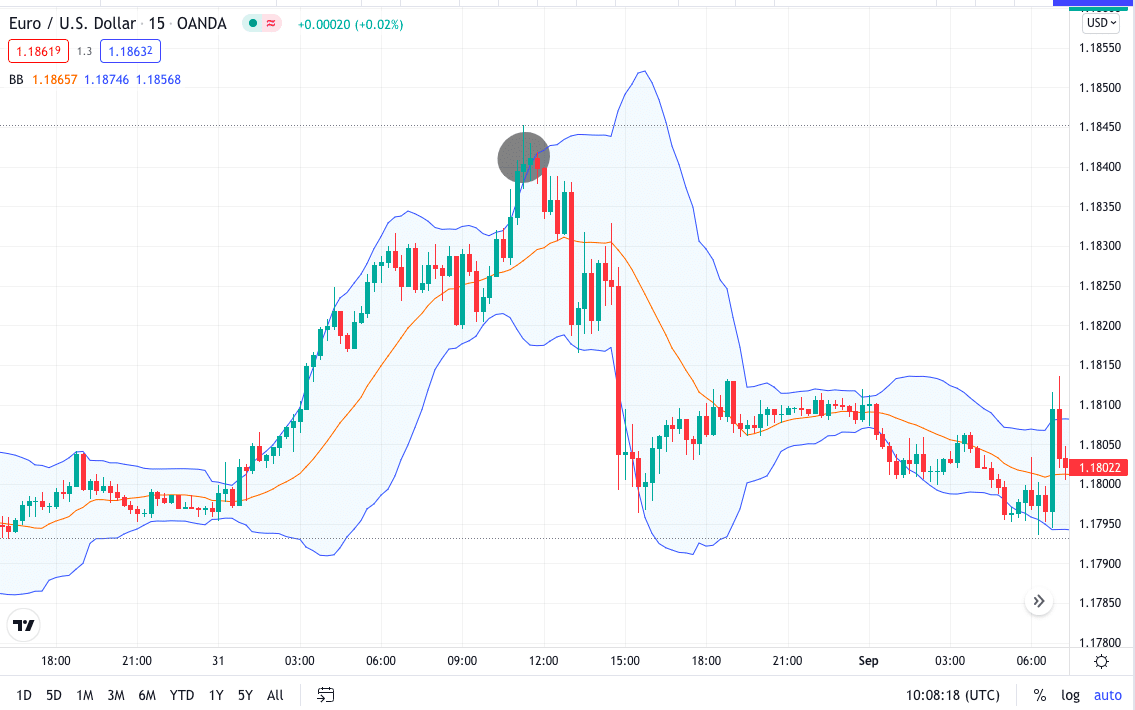 Relative strength index
RSI is a momentum indicator, meaning traders can use it to predict the market's future. Usually, it is used by the traders to look for overbought and oversold and divergence.
Generally, scalpers use different indicators with RSI to get accurate results. We can use take buy when the market is below the 30 zones while selling when crossing the 70 zones.
Below the 15min chart of EUR/USD shows the bearish divergence. On the chart, the price was making a higher high, higher low, while on the RSI, lines were making a lower high.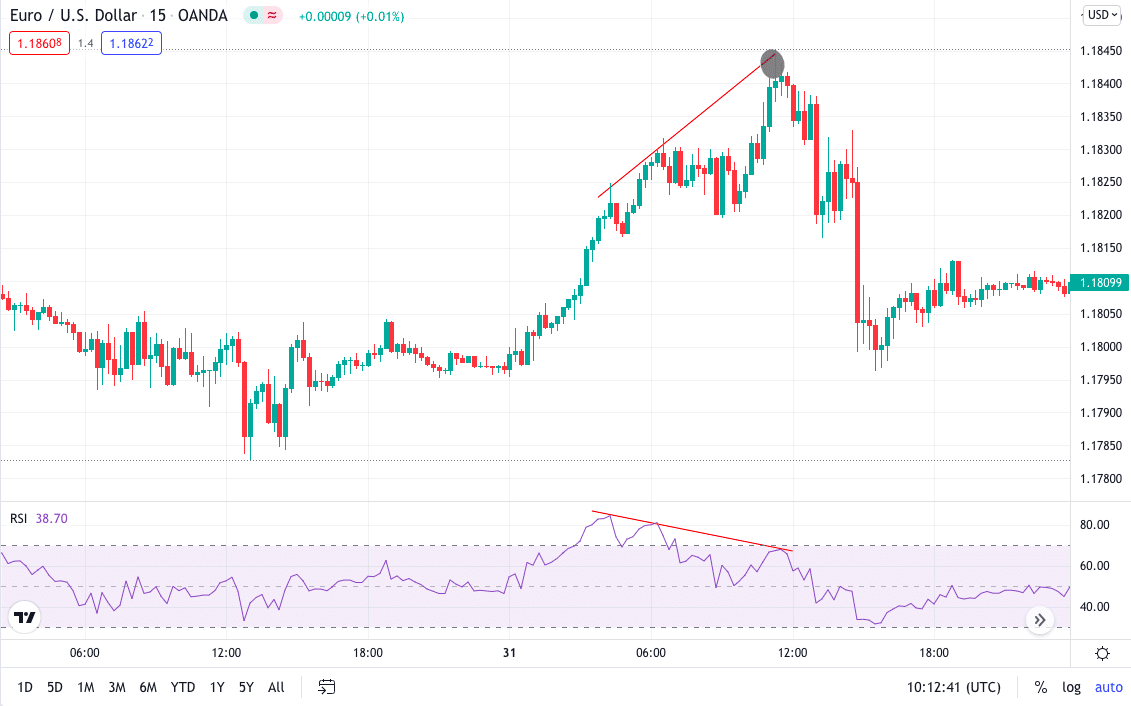 MACD, stochastic, and moving averages are a few more tools that are famous for scalping.
The best time frame for forex scalping
Currency trading is all about choosing and analyzing the market in the right time frame. Longer the trade holding time, the higher the time frame to be used.
Scalping requires you to be very fast in entry and exit; hence the best time frame to use in this case is the lower timeframe, like 5 min or 15min. Some experienced traders also use a 1min time frame to the scalp, but it is perilous.
Traders can do the best scalping in the market with high volatility. Talking about the best time, then it would be the overlap of London and new york sessions. The FX market witnesses the highest volatility during these hours.
Is forex scalping profitable?
Forex scalping requires immediate action as the lower time frame has a lot of noise and no clear trend. The profitability FX scalping is profitable, but it takes a lot of risk-taking ability to take it.
Any beginner can make a profit from the market but can also lose a majority of its amount if the market changes its direction. Because of the highly volatile nature of the FX, it is easy to make 5-10 pips, especially in pairs in major pairs and some crosses like GBP/JPY.
Pros and cons of scalping
Scalping is a well-known and widely used trading technique used by traders worldwide. While it might seem easy as most traders speak about scalping, scalping is both excellent and complicated. Henceforth you must know both the pros and cons of FX scalping.
Worth using
Worth to getaway
• Quick trade
In scalping, you will close the trade after 5-10 pips, eliminating the chances of the market changing its direction.
• Chances of compounding
Scalpers usually can compound their trading accounts, making accumulated amounts in the long run if done with good risk management.
• Less time on screen
Scalpers do not sit in front of the screen for long, which also helps a person trade it part-time for a passive source of income.
• Higher concentration
Scalpers need to have a higher concentration power as they have to repeat the same process repeatedly, making it complicated.
• High volatility
It is good and bad for scalpers as any wrong trade can quickly swipe the account.
• Cannot take big moves
As in FX scalping, traders close the trade early; if the trade goes too high in the predicted direction, it disturbs the traders mentally, making them feel they would have got more profit if they would have held the trade for longer.
Final thoughts
Forex scalping is not easy and definitely for everyone. If you like taking risks in the market, then scalping might be an option for you. Also, if you are looking for a small passive source of income, you can take a chance of scalping.
Choosing a good FX broker with raw spread and fewer fees is also crucial as taking trades frequently will not be profitable if the trading fees are high. Demo trading before entering the market with any forex scalping strategy will be beneficial.