While looking for the right investment assets, you may have come across mutual funds. These funds are a popular choice for many investors who have extra capital and prefer waiting long term for their returns.
But REIT mutual funds are unlike the traditional fund that diversifies the investments in bonds, equities, and other trusts. The REIT funds focus only on one type of asset class. On the real estate equities.
Therefore, if you are interested in real estate equities but want to diversify across different companies, then the Fidelity Real Estate Index Fund (FSRNX) can be an option since it has various equities related to the real estate sector.
This article mentions everything you need to know about the Fidelity fund. Read it further to understand better.
Three things about FSRNX to know before starting:
It invests in real estate equities.
It has a significantly lower expense ratio and management fees than similar category funds.
Its historical performance shows eight out of ten years of positive annual returns.
About FSRNX
This fund's objective is to deliver results on investments related to the return of equity REITs and other corresponding real estate investments.
The Fidelity Real Estate Index fund's inception was 8 September 2011. The fund invests 80% of its assets in real estate securities included in the MSCI US IMI Real Estate 25/25 Index. The fund falls in the real estate category, and Fidelity is the fund issuer.
The portfolio has a net asset value of $3.07 billion. Furthermore, it has 99.54% of assets in real estate stocks and 0.11% in technology stocks.
The fund's top five holdings are:
American Tower REIT (8.09%)
Prologis Inc. (6.06%)
Crown Castle International Corp. (5.13%)
Equinix Inc. (4.20%)
Public Storage (3.22%)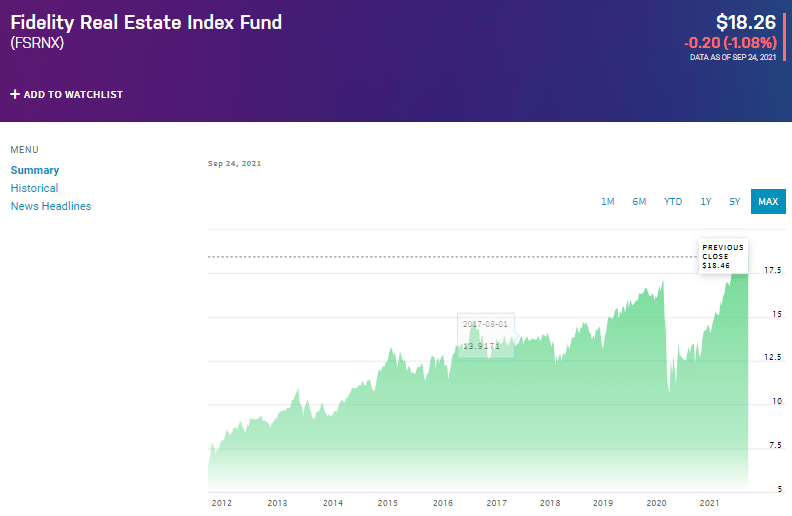 Role in portfolio
The fund benchmarks the MSCI US IMI Real Estate 25/25 Index. The role is to achieve returns on investments from real estate equities.
Management
Fidelity is the fund family, and they are well known for managing mutual funds. In addition, they also have a brokerage platform.
Their portfolios cover the fixed income, domestic and international equity markets. Fidelity offers low expense ratios. Thus, numerous Fidelity managers invest their capital into the funds, which is a sign of confidence in their strategies and shows that they stand by their investors by taking on similar risks.
Fidelity outsourced the management of the fund to Geode Capital Management since its inception date. Geode Capital Management has a long history with Fidelity, having managed numerous funds in the past like:
Fidelity Large Cap Enhanced Index Fund
Fidelity 500 Index Fund
Fidelity Flex Mid Cap Index Fund
Fidelity Commodity Strategy Fund
Fidelity Flex Small Cap Index Fund
Risk
Morning Star has given the Fidelity Real Estate Index Fund an above-average risk rating.
Performance
The Fidelity Real Estate Index Fund has an annualized return of 41.67%. Since its inception, the fund has had positive annual returns, except for 2018 and 2020, when it declined by 4.21% and 11.33%, respectively.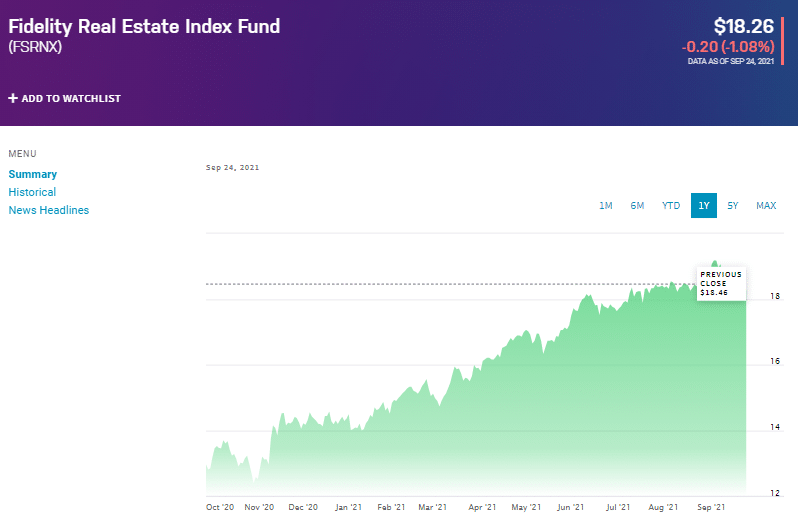 The hypothetical growth rate of a $10,000 investment since 2011 shows a return of $25,258 by August 2021. The latest dividend payment, which was 3 September 2021, came to $0.029 per share at a reinvestment price of $19.18.
Fees
The fund has no sales fees, a management fee of 0.07%.
Net expense ratio
The FSRNX has a low expense ratio of 0.07%.
Category average
In terms of category average, the expense ratio for the category is significantly higher at 1.18%. Furthermore, the management fee for the category is around 0.72%.
Volatility measurements
The volatility measurements represent the risks and uncertainty in the change of the fund's value.
FSRNX standard deviation – 20.271
FSRNX mean – 0.9
FSRNX Sharpe ratio – 0.474
Pros & cons of FSRNX

Worth to use

Worth to getaway
Low expense ratio
The FSRNX has an expense ratio of only 0.07%, which is much lower than most funds in its category. 
Risk
Investing in one type of security is always a risk and prevents diversification for investors.

Low management fees
The portfolio has low management fees, with zero charges for sales. The management fee is only 0.07%.

High-interest rates
Increasing interest rates are not suitable for the real estate markets, and shareholders should consider interest rates before putting their funds in REIT funds.

Experienced fund managers
Geode Capital Management has managed numerous Fidelity funds and has been managing the FSRNX fund since 2011.

Hold long term
Real estate appreciates with time; therefore, to make significant returns, you should be able to hold your investment over the long term, at least for ten years or longer.
Final thoughts
Investing in the property market is a way to diversify your portfolio, especially if you have funds tied in riskier assets. The current economic climate is attractive for real estate investments. It could be the best time to invest in a real estate index fund like the FSRNX.
The Fidelity Real Estate Index Fund has been in existence for more than a decade and has shown positive returns for the most part.
According to experts, this fund has no minimum investment requirement. It is suitable for beginner investors with low upfront capital. Furthermore, the fund is ideal for investors who are willing to hold long-term. In addition, the fund has low expense ratios and management fees, making it very affordable to the average investor.