Forex Gump is an expert advisor that claims to be able to detect all profitable trading occasions in the Forex market. This robot trades daily and uses a news filter and a trend candle. There are three settings for this EA, namely high, middle, and low. You can choose one of these settings based on your budget and account balance. In this Forex Gump review, we will have a closer look at this ATS and its validity.
Forex Gump trading strategy
Unfortunately, the vendor has not clearly explained the trading strategy on the official website. Strategy insight is something that most traders consider vital because it reveals important details about the system's profitability. When we don't even know what trading approach the EA follows, it is difficult to determine whether it is reliable or not.
Forex Gump backtesting report
We don't have the backtesting results for Forex Gump on the official website. It is important for EA vendors to test their strategies using historical data. This tells us whether the system can adapt to different market conditions and also gives us an idea about its profitability. Without backtesting data, it is difficult to trust the EA.
Forex Gump live results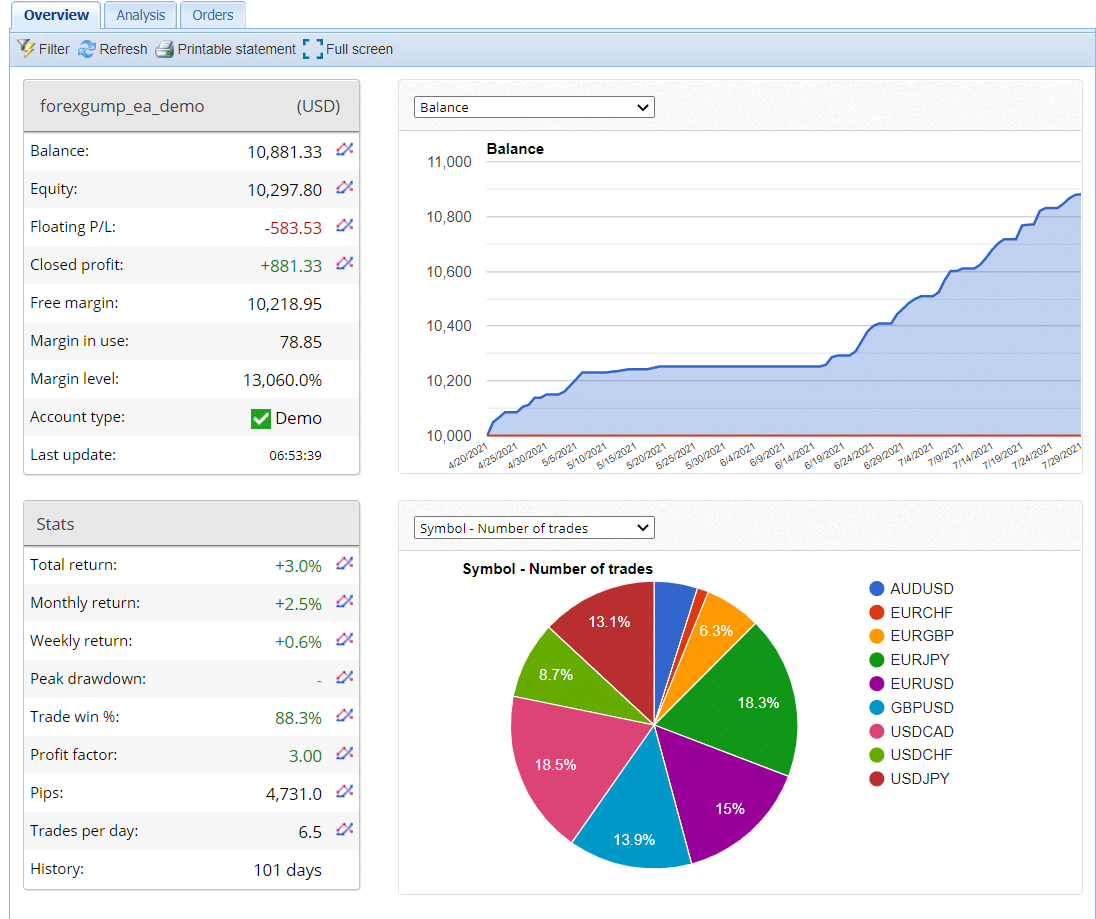 Here we have a demo trading account for Forex Gump on the FXBlue website. This account has a trading history of 101 days, during which the EA has placed 633 trades through it. It has won 559 out of them, which means the account has a win rate of 88%. Now, since this account has been active only for a few months, we cannot accurately gauge the robot's profitability by analyzing these results. Also, we think the vendor should have provided the trading statistics of a real-money account rather than a demo account.
Currently, the daily, weekly, and monthly gains for this account are 0.12%, 0.59%, and 2.49%, respectively. The net profit generated through this account is $881.33, while the profit factor is 3.00. This account has an extremely high risk/reward ratio of 13.83, which tells us that the EA follows a high-risk strategy.
Some features of Forex Gump
You can use Forex Gump to trade in 9 different pairs like USD/JPY, USD/CHF, USD/CAD, GBP/USD, EUR/USD, EUR/JPY, EUR/GBP, EUR/CHF, and AUD/USD for the M1 timeframe.
For a standard account, you can get started with $4000. This EA also supports micro accounts that allow you to trade with a small balance of $40. The vendor recommends using leverage of 1:100 or more.
| | |
| --- | --- |
| Total return | 3% |
| Maximal drawdown | N/A |
| Average monthly gain | 2.5% |
| Developer | Forex Gump |
| Created, year | 2021 |
| Price | 199 Euros |
| Type | N/A |
| Timeframe | M1 |
| Lot size | N/A |
| Leverage | 1:100 |
| Min. deposit | $40 |
| Recommended deposit | $4000 |
| Recommended brokers | N/A |
| Currency pairs | AUDUSD, EURCHF, EURGBP, EURJPY, EURUSD, GBPUSD, USDCAD, USDCHF, and USDJPY |
| ECN | No |
Main things that make Forex Gump unreliable
Short trading history
The EA has only been trading live for a few months. Thus, we don't know if it can deal with different market conditions.
Zero vendor transparency
We don't have any information on the parent company. The vendor has not shared the official address or the year of foundation. Even the identities of the team members have not been revealed.
Undisclosed trading approach
Forex Gump uses an unknown strategy. We don't know how it spots profitable opportunities or which indicators it uses for marking its entries.
Pricing details
Forex Gump costs 199 Euros for 1 live account and 399 Euros for 3 live accounts. It makes no sense to spend this much money on a system with a short trading history. The vendor offers a 30-day money-back guarantee for this product.
Other notes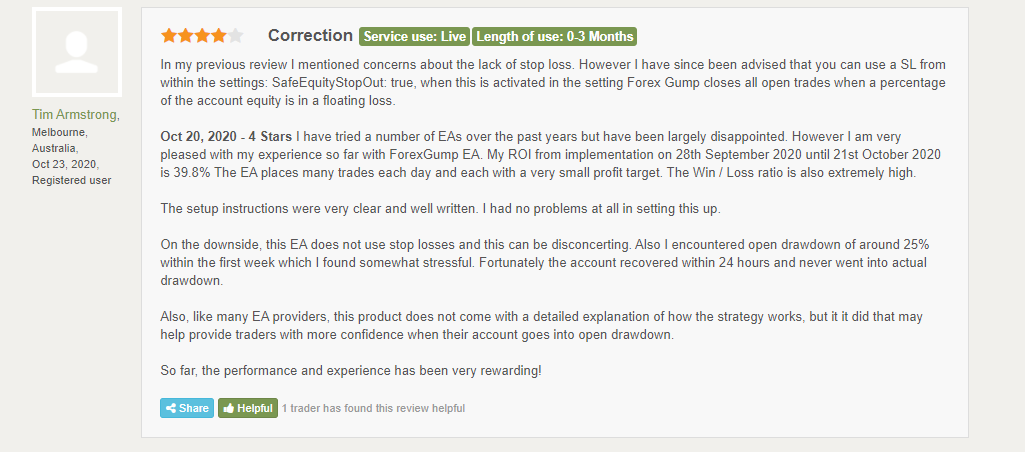 There aren't many reviews for this EA on Trustpilot and Forexpeacearmy. In a review written on FPA, the user claims that the EA does not use stop losses, which is quite inconvenient. The trader has also complained about the drawdown reaching 25% within the first week.