Forex Diamond is an expert advisor that represents itself as 'brilliant and profitable as a diamond'. The developers of this EA promise that those traders who'll invest in this robot will get a 'world-class Forex system' working both on MT4 and MT5 terminals and coming with high slippage protection, reasonable dynamically calculated SL and TP levels, high trading frequency, and 'amazing 40+ recovery factor'. Is it true? Let's find out.
Forex Diamond trading strategy
The devs that stand behind this EA claim that their product comes with three completely independent trading systems:
Signal Strategy
It uses a trend-retrace signal strategy to hunt for profitable trading positions.
Counter Trend Strategy
The EA uses counter trend, which watches for potential market reversals to adjust its trading parameters and maximize the opportunity of profitable trade
Scalping Strategy
It adjusts its trading parameters to 'suit even the most volatile markets.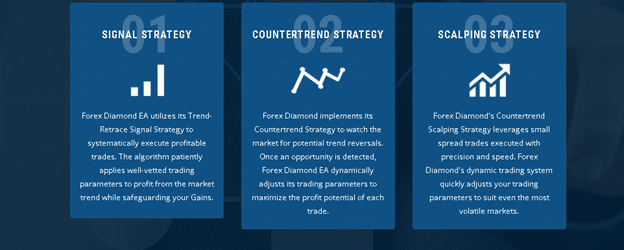 There is nothing said about these strategies. Just a loose explanation of some of their features.
Forex Diamond backtesting report
The FXAutomater team provides 7 backtest reports for 4 currency pairs the EA trades.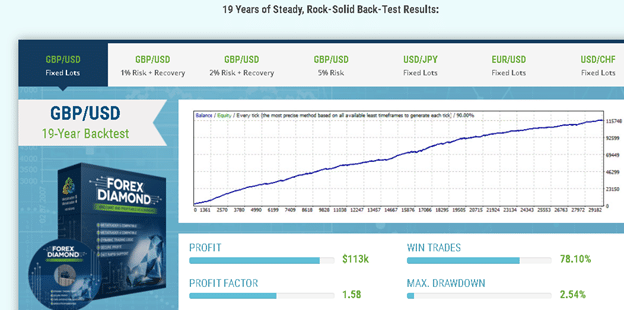 The highest return was achieved by trading GBPUSD with 5% risk – $14M. The win rate for this currency pair was 82, 71% based on 6732 trades performed for 9 years of trading activity. The EA traded on the M15 timeframe with a deposit of $2500. The profit factor was 1, 68. The maximum drawdown was 9, 50% which is acceptable for trading.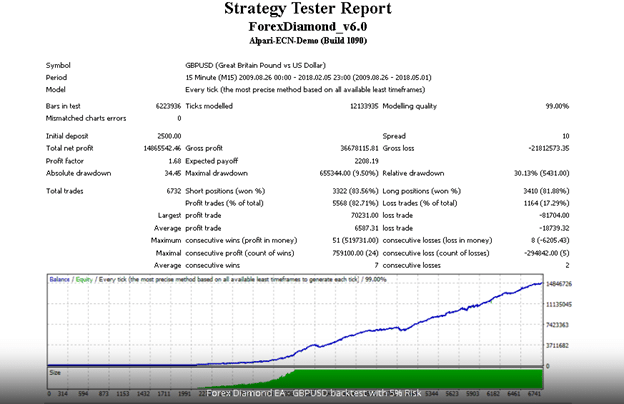 Forex Diamond live results
The dev provides us with 3 myfxbook accounts. Let's analyze one of them in detail.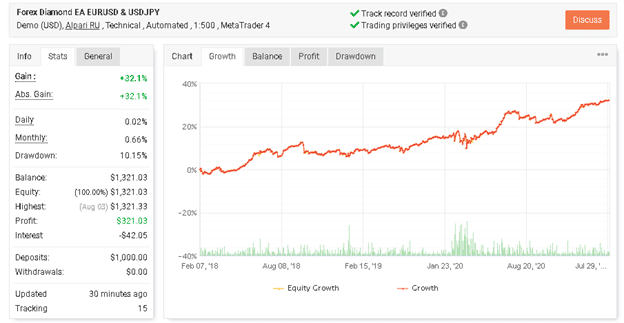 This trading account has been running since February 7, 2018, and shows an overall gain of 32, 1%. This makes out to a 0, 02% daily and a 0, 66% monthly with a peak drawdown of 10, 15%. The robot trades with a leverage of 1:500. The drawdown is low and thus acceptable for trading. From a deposit of $1K, the robot could generate only $321, 03 of profit. For 2 years gaining this amount of income is ridiculous. So, it shows us that the robot hardly manages to trade 2 currency pairs (EURUSD and USDJPY) at one trading account.
The other Forex Diamond account trades on only USDJPY with the same leverage – 1:500. From the deposited 1000 dollars, the EA could generate $5267.19 of profit for 7 years of trading activity. The total gain has grown to 530, 03% with the average daily and monthly gains of 0, 08%, and 2, 28%. The peak drawdown was insanely high – 43, 27%, meaning that the robot uses a high-risk trading approach.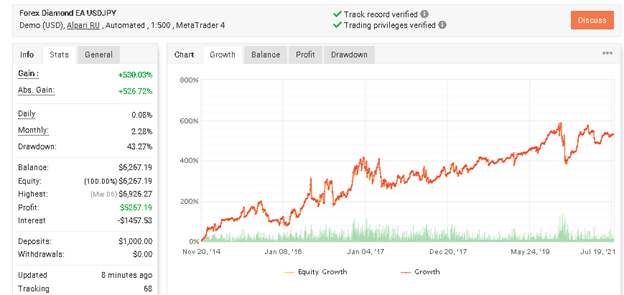 We have also noticed that the advisor uses a short-range Grid of orders: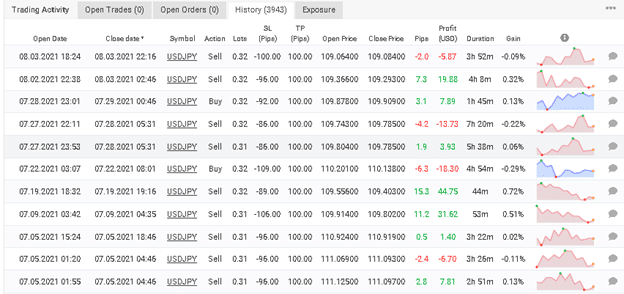 The robot acts as a night Scalper: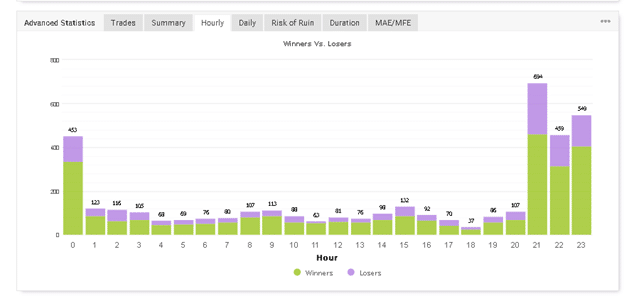 When doing the long-term analysis of this trading account, it is quite apparent that the EA was most profitable in its early days and it has tailed off since then. As you can see on the screenshot below, 2016 was a year of strong monthly gains, but in 2020 the robot has shown a loss of -2,38 % for the entire year of 2020.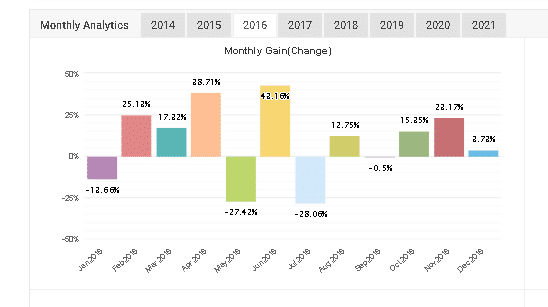 The 2021 results do not show that the robot is going to get back to large percentage gains:
Although half a year is ahead, the robot is showing a total gain of 5, 11% from January to July 2021. So, if these results are what you expect, then it is an available solution for you. However, when dealing with the system that provides 5% per 5 months we do not want to be worried about a large drawdown that exceeds 40%. So, there is a lot to keep in mind before making your final decision.
Some features of Forex Diamond
It can work on MT4 as well as MT5 terminals with a minimal deposit of $100. It runs on the M15 timeframe and is compatible with all brokers that offer MT4/MT5 trading platforms.
| | |
| --- | --- |
| Total return | 5%/6% |
| Maximal drawdown | 10, 15%/43, 27% |
| Average monthly gain | 0, 66%/2, 28% |
| Developer | Forex Automater |
| Created, year | 2010 |
| Price | $227 (regular price is $297) |
| Type | 3 strategies |
| Timeframe | M15 |
| Lot size | N/A |
| Leverage | N/A |
| Min.deposit | $100-$500 |
| Recommended deposit | $1,000-$5,000 |
| Recommended brokers | Compatible with any Metatrader 4/Metatrader 5 broker |
| Currency pairs | GBP/USD, EUR/USD, USD/CHF and USD/JPY |
| ECN | No |
Main things that make Forex Diamond Doubtful EA
1) High drawdown
The robot provides very low monthly gains, while the drawdown is much higher than the average monthly gain. It's dangerous as high drawdowns can easily break any trading account.
2) No customer reviews
The absence of customer reviews is a negative sign for the devs of ATS. It makes it impossible to know what customers say about the system or what their trading experience with it was.
3) Sad results in 2020 and dwindling performance in 2021
The performance of 2020 has not been good. The total income of 2020 equaled -2,38 % for the entire year of 2020. Trading results for 2021 do not look impressive as well.
Pricing details
At this time, FX Automater provides a discount, offering the product at $227. One digital copy of the EA comes with a real account, several demo accounts, an advanced news filter, and a 60-days money-back guarantee.

Customer reviews
Forex Diamond has a page on FPA. Although it was created in April 2021, there are no customer testimonials or rates provided. It is odd for a system that has been on the market for a decade of years.