Dynamic Pro Scalper is a Forex EA that works on the Metatrader 4 trading platform. It is compatible with multiple currency pairs. According to the developer, this system uses an efficient trading strategy that can increase your profits.
This is an Asian session scalper that is said to be resistant to bad market conditions and high spreads. When a single trade ends up in a loss, the robot opens additional trades to compensate for it.
Dynamic Pro Scalper trading strategy
This is a scalping bot that can work as a simple grid, a grid+martingale combo, or a recovery system. For a simple grid, it opens additional trades with the same lot size. It increases the lot size while using the grid and martingale combo. While working as a recovery system, the EA places a single recovery trade with higher risk.
Dynamic Pro Scalper backtesting report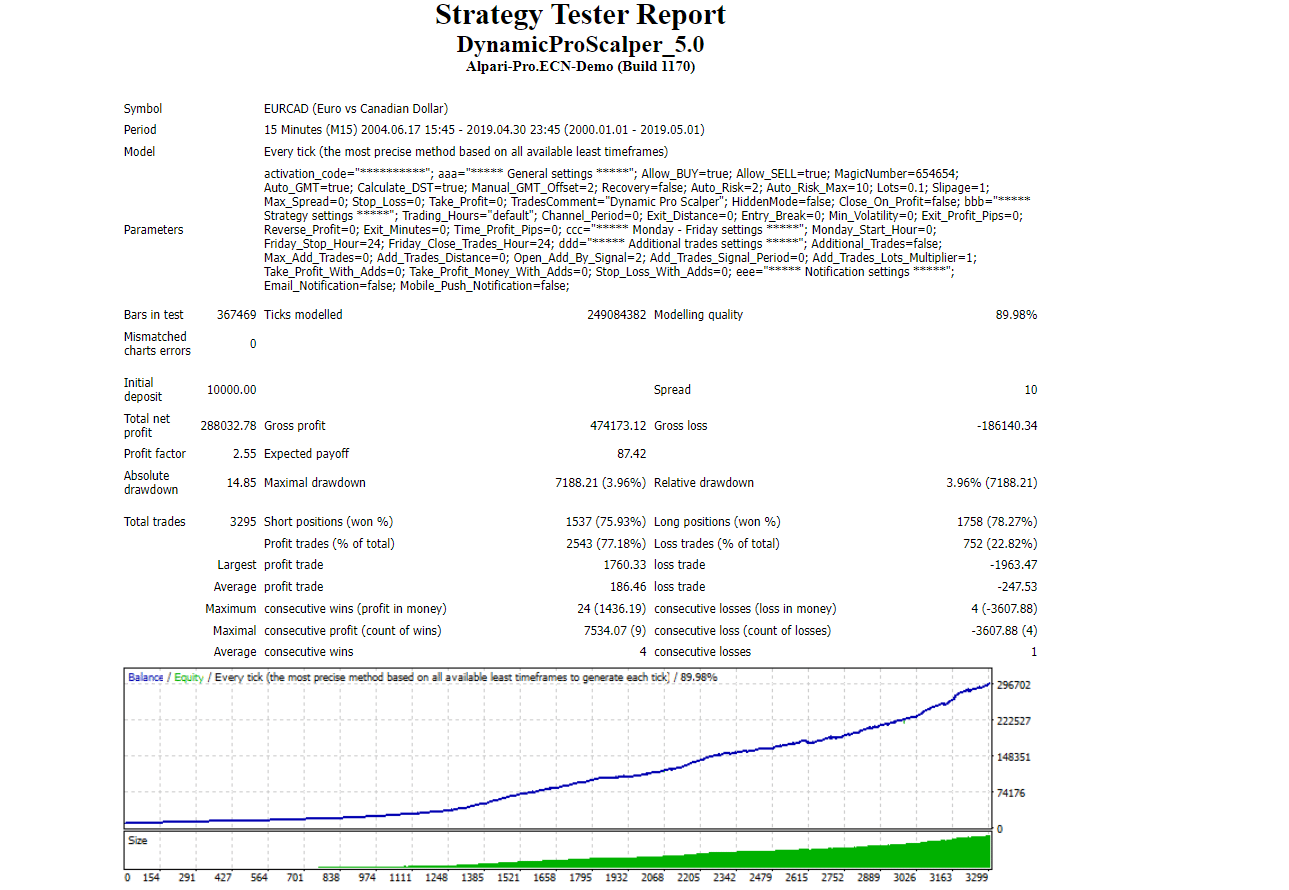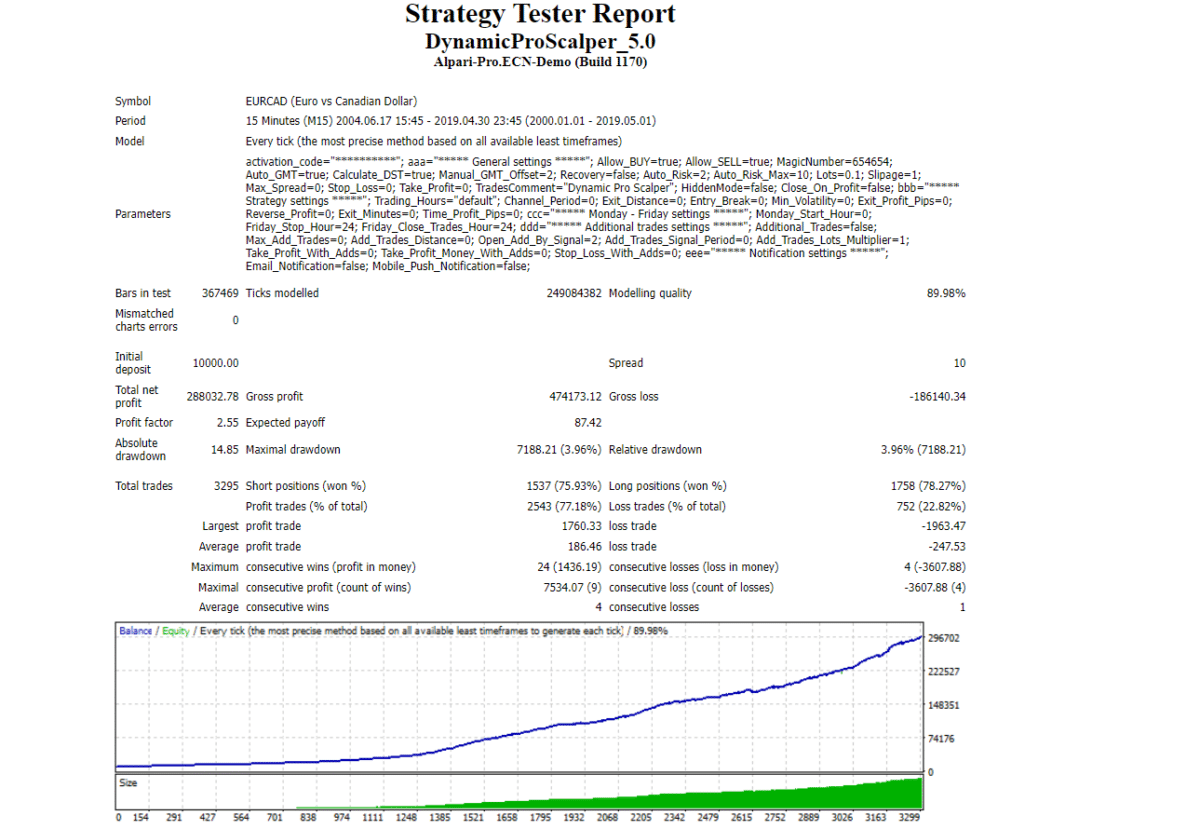 This backtest was conducted using an every tick model for the M15 timeframe. The EA conducted 3295 trades between 2004 and 2019, winning 77.18% of them and generating a total profit of $288032.78. We can see that the relative drawdown was quite low at 3.96%. The profit factor for this backtest was 2.55, and the average profit and loss were 186.46 and 247.53, respectively.
Dynamic Pro Scalper live results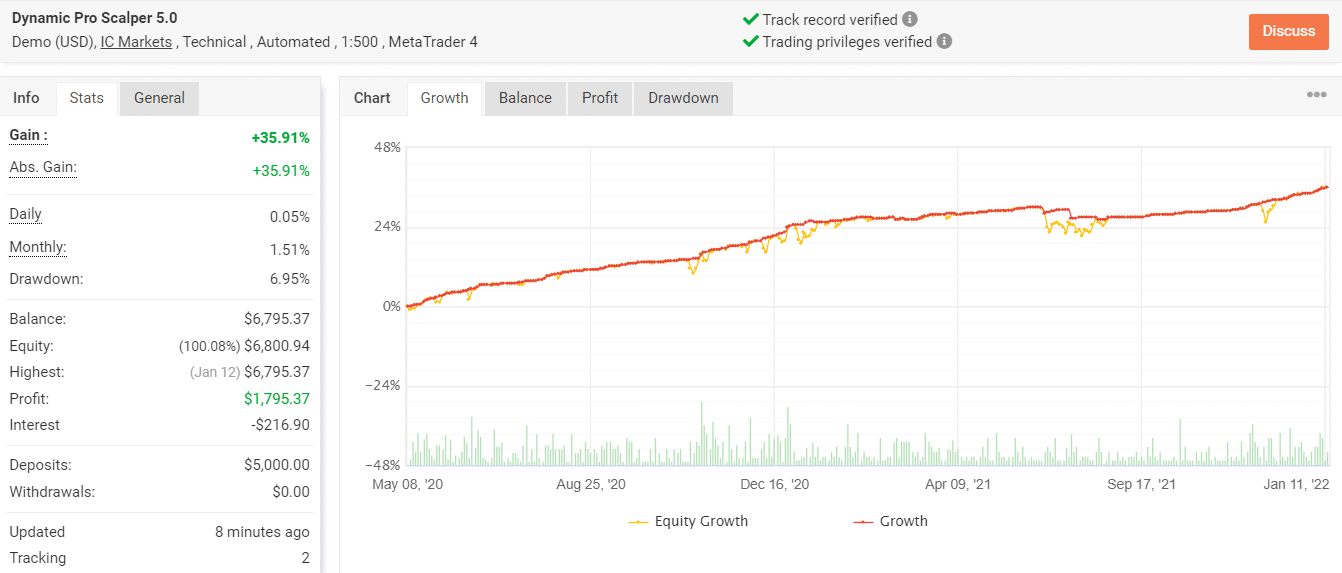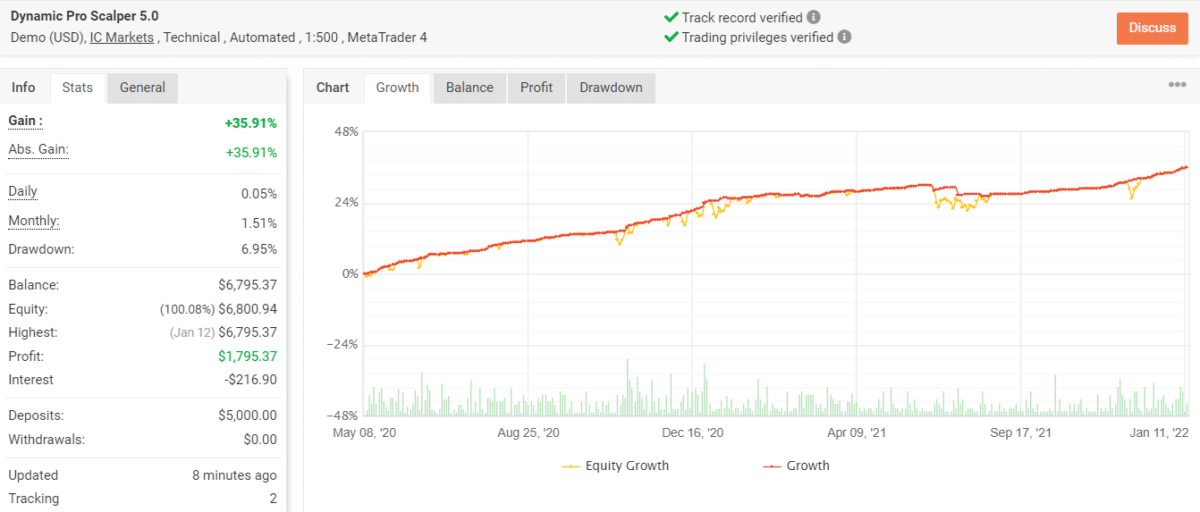 Here we have the live trading results of Dynamic Pro Scalper. This account has been active since May 08, 2020. After conducting 1138 trades, the profitability of this account currently stands at 64%. This is quite low compared to the back we saw in the backtesting results. Similar to the backtest, the account has a low drawdown of 6.95%.
At this moment, the daily and monthly gains for this account are 0.05% and 1.51%, respectively. The profit factor is 2.02, while the time-weighted return is 35.91%.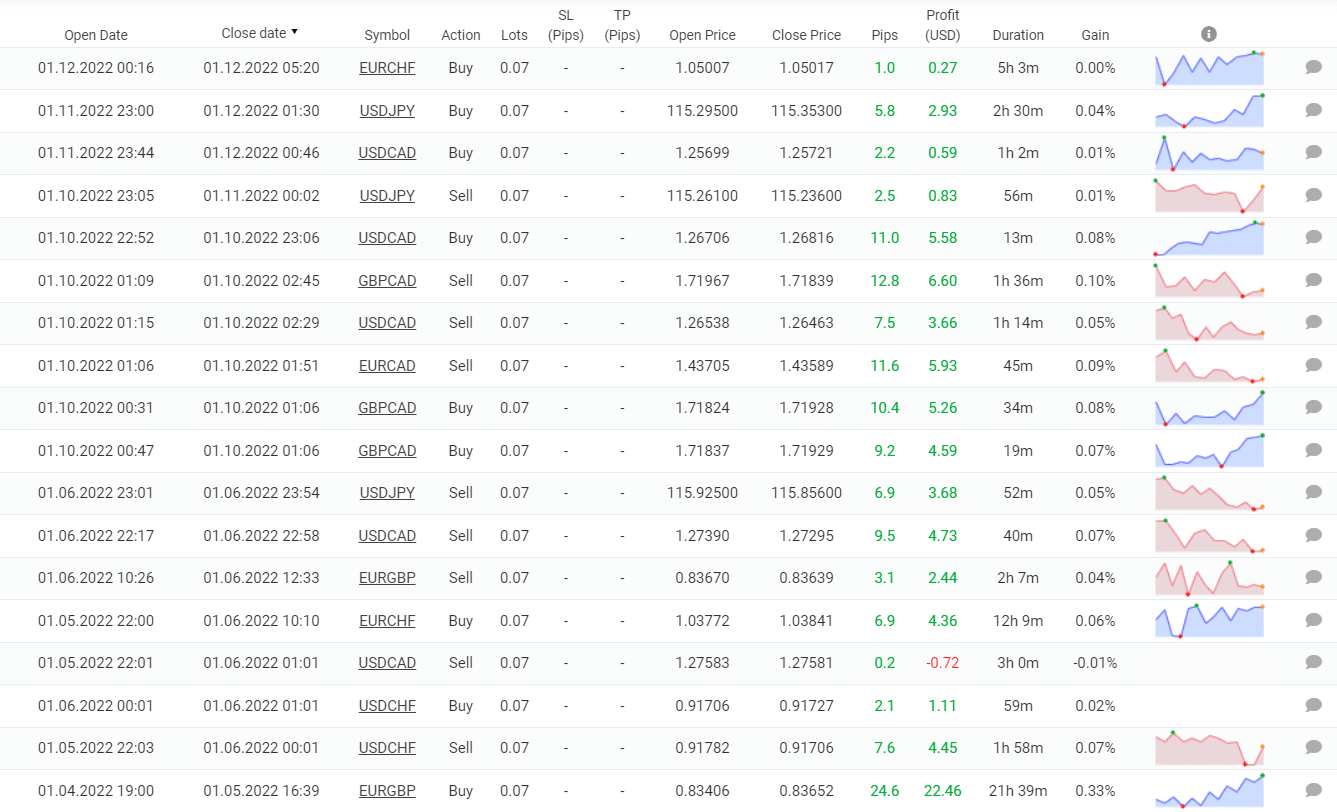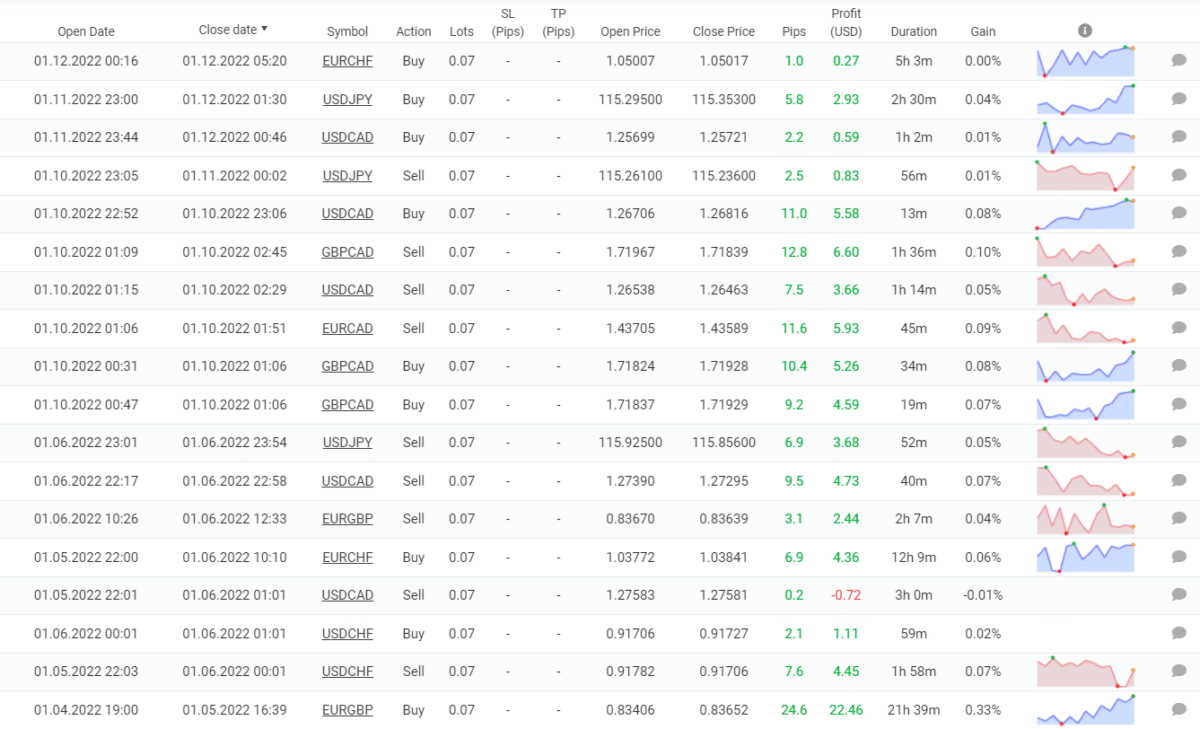 From the recent trading history, we can see that the EA trades with a fixed lot size of 0.07. It is evident that the robot is using the simple grid system for this account. The system usually places multiple trades on a daily basis, extracting small profits from each.
Some features of Dynamic Pro Scalper
This robot trades in pairs like GBP/USD, USD/JPY, USD/CHF, USD/CAD, EUR/CHF, EUR/CAD, EUR/GBP, GBP/CAD, and GBP/CHF. The vendor recommends trading with a maximum risk of 2%. Because of the low drawdown, traders can begin with a minimum balance of $100-$500. You can use it with different types of brokers like STP, NDD, and ECN. For the live trading account, the EA uses 1:500 leverage.
| | |
| --- | --- |
| Total return | 35.91% |
| Maximal drawdown | 6.95% |
| Average monthly gain | 1.51% |
| Developer | Automated Forex Tools |
| Created, year | 2020 |
| Price | $44 |
| Type | Scalper |
| Timeframe | N/A |
| Lot size | 0.07 |
| Leverage | 1:500 |
| Min. deposit | $100-$500 |
| Recommended deposit | N/A |
| Recommended brokers | All |
| Currency pairs | GBPUSD, USDJPY, GBPCHF, GBPCAD, EURGBP, EURCAD, EURCHF, USDCAD, and USDCHF |
| ECN | Yes |
Main things to consider if you invest with Dynamic Pro Scalper
If you wish to invest in this robot, you need to keep in mind the following:
Lack of vendor transparency
We don't have too much information on Automated Forex Tools, the parent company behind this EA. The vendor claims that the traders and developers working behind this platform have been present in the market for 12 years. However, we don't know their identities.
Low drawdown
Both the backtest and the live statistics exhibit low drawdown. This means the robot does not use a risky strategy. Thus, it is less prone to suffering heavy losses.
Lack of reputation
The company behind this EA has no reputation. There are no user reviews for this robot on the web. Thus, it is evident that not many people are currently trading with this EA.
Pricing details
The current price of this EA is $44, which makes it cheaper than other systems on the market. By purchasing this EA, you get access to one real and two demo accounts. The vendor offers lifetime updates and a 60-day money-back guarantee.
Customer reviews
At this moment, there are no user reviews for this robot on third-party websites.