Big Poppa EA promises to earn you a monthly return of 30-50% and keep the drawdown level at 15-25%. You need to have a minimum balance of $500 in your account to begin trading with it. Big Poppa EA was developed by a group of young traders who automate algorithms in their free time. The team is versed in a variety of fields, including programming, data analytics, machine learning, genetic algorithms, and coding.
Big Poppa EA trading strategy
The EA combines three different strategies. The first one is money management. The system strongly focuses on safeguarding your profits through hedging, trailing stop, limiting the number of trades, and equity stop. Fibonacci is the second approach. In this case, Big Poppa attempts to capture retracement and assess their extensibility over time by mixing Fibonacci Golden Zone and the probabilistic zones.
Lastly, we have price action. With regards to this strategy, the devs disclose that the system doesn't fully depend on the crossover. However, they make sure that this crossover has more than a 75% win rate before applying it. On another note, the martingale approach is also used to recover losses.
Big Poppa EA backtesting report
The presentation does not showcase any backtest results. This data is essential as it assists traders to make more informed decisions regarding the efficiency of a trading idea. This way, they don't end up staking their capital on an untested hunch.
Big Poppa EA live results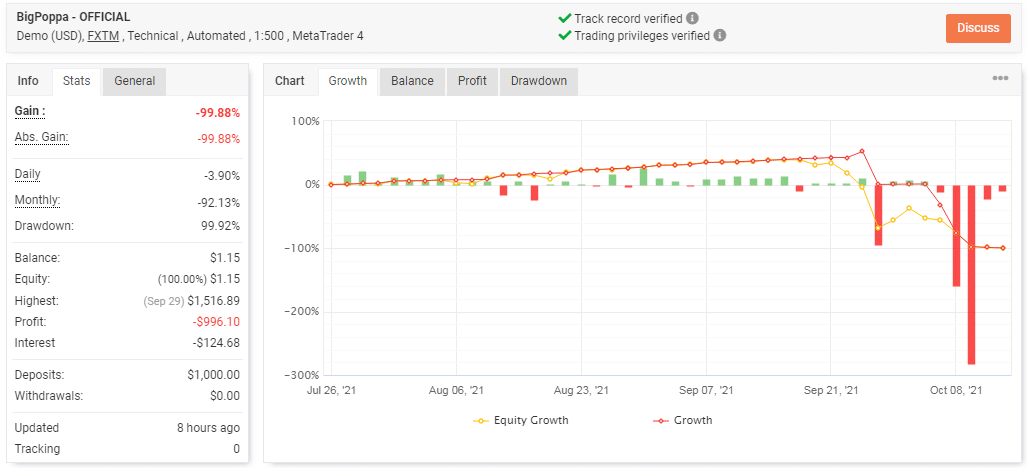 These stats show that Big Poppa operated a demo account on Myfxbook. But as you can see, the results were terrible. Obviously, the trading strategies used were very risky as they have eaten away 99.92% of the capital. The daily and monthly profits were -3.90% and -92.13%, respectively. So, the deposit decreased from $1000 to $1.15.

The EA conducted 180 trades with -1498.9 pips. From the average win (18.55 pips) and average loss (-53.65 pips) results, it is apparent that the system lost more than won. A profit factor of 0.43 also illustrates this fact clearly. It's no wonder that the system reported average win rates for long (60%) and short (64%) positions. The best trade made a profit of $95.54, while the worst one caused the account to suffer a loss of -$328.54.
The robot was very active between 4pm and 6pm.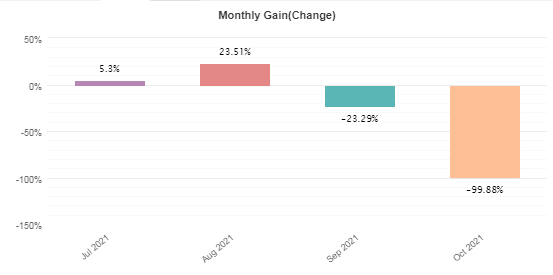 The only period the system managed to make considerable returns was in August. It made immense losses in the months that followed.
Some features of Big Poppa EA
| | |
| --- | --- |
| Total return | -99.88% |
| Maximal drawdown | 99.92% |
| Average monthly gain | -92.13% |
| Developer | N/A |
| Created, year | 2021 |
| Price | $149 |
| Type | Fibonacci retracements, price action, money management, and martingale |
| Timeframe | H1 |
| Lot size | N/A |
| Leverage | N/A |
| Min. deposit | $500 |
| Recommended deposit | N/A |
| Recommended brokers | N/A |
| Currency pairs | EURJPY and EURUSD |
| ECN | N/A |
Main things to consider if you invest with Big Poppa EA
Before purchasing the robot, you need to take note of the following:
Massive drawdown
The huge drawdown generated is of particular concern. It tells us that the EA can deplete your funds considerably in less than 6 months.
Martingale on the board
This strategy is a relatively risky one because the chances of losing money are infinite. Moreover, you can never be sure that the trades will eventually reverse, not to mention the fact that the approach is usually useful for traders with a lot of money.
High risk of ruin
The EA has a tendency of taking bad trades and ends up with more losses than wins as a result. So, the possibility of losing considerable capital with the robot to the point at which recovering losses is impossible is high.
Pricing details
Big Poppa is currently available at a cost of $149. At this price, you will get a single lifetime license, unlimited accounts under your name, +10 set files, and a user guide. Payment can be made through Paypal, Skrill, or Crypto. Unfortunately, the vendor does not include a money-back guarantee in the package.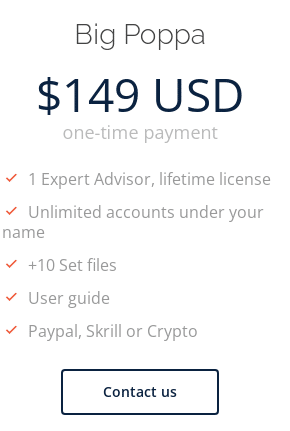 Other notes
Big Poppa EA has zero customer feedback despite claims that more than 300 licenses have been sold. Why haven't any of these clients reviewed the product? We need to hear what they have to say about the system's performance.