Crypto scanners can help take the guesswork out of cryptos, eliminate emotional trading and improve your odds through market real-time data and alerts. Scanning hundreds of exchanges for a hint of movement can be a pain, but crypto scanners can enhance your effectiveness in catching movements.
They are just one of the many pieces you must put together to succeed in the crypto trading puzzle. Always be relentless in identifying tools and opportunities that will give you an edge over the overall market.
Market scanners are fantastic when you seek the identification of the most lucrative market price tag and the number of trades that leave you with a whole lot, oversell/over purchase currencies, and all the MACD that appears at various times. On top of these expectations, they also allocate proper time on acute tracks.
There are a variety of such tools available in the market. So, we compiled a list of what we believe are the top three that will be most useful for trading more effectively in the crypto market.
How does it work?
They are a type of crypto trading tool that allows market participants to screen many different crypto tokens to identify the best trading and investing opportunities. They can help spot activity and movement across exchanges, notifying you of specific price movements so you can trade accordingly.
Crypto screeners, also known as crypto scanners, can screen digital currencies using various metrics and indicators. The most commonly-used parameters to filter your search are:
Market cap
Trading volume
Trends
Price change
Indicators like EMA crossovers and RSI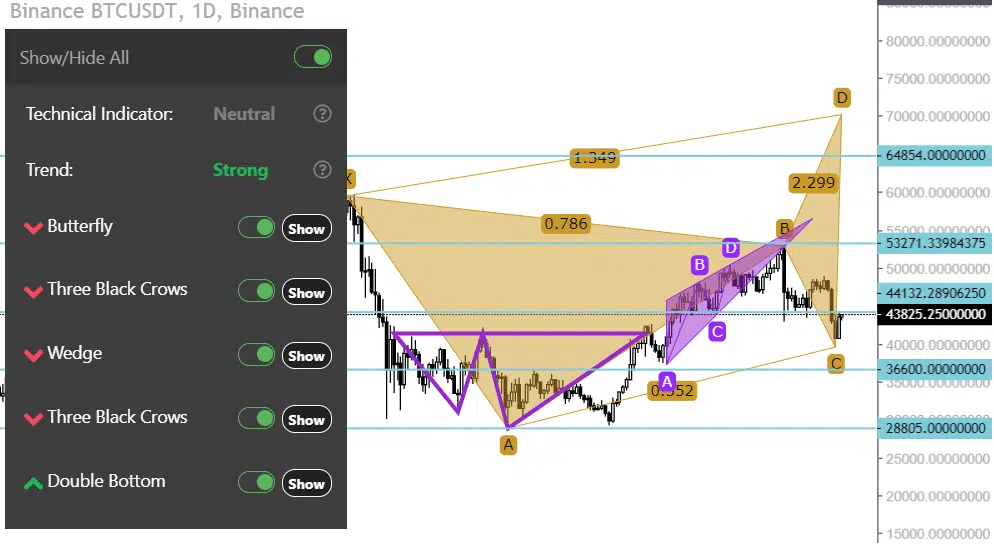 Top three things to know about crypto scanners before starting:
They often have an alerts function, whereby you can be notified of market-changing movements that will allow you to place trades so that you can capitalize on them.
They can instantly notify you when, for example, particular crypto has been overbought or oversold based on the above technical indicators.
They have different mechanisms by which they create their predictions and analyze trends.
Best crypto scanners to use
It's now easier to incorporate these tools into your strategy and make informed trading decisions. Here are some of our favorite crypto scanners.
CoinMarketCap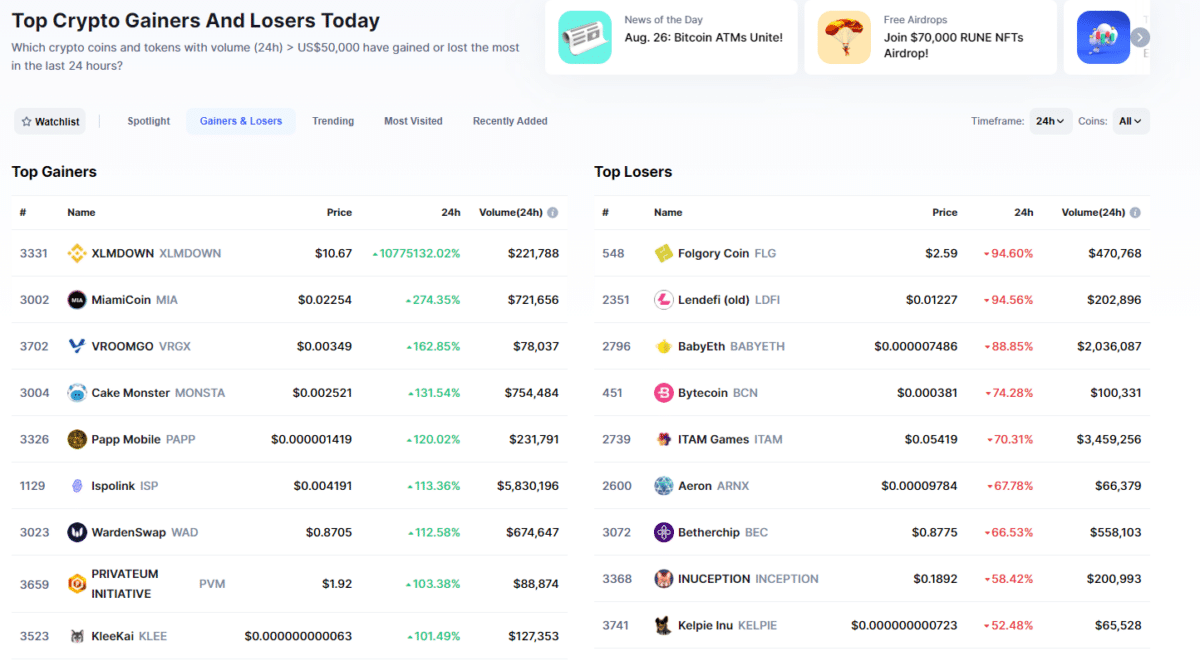 CoinMarketCap is a free crypto site that tracks the prices of over 16,000 cryptocurrencies with a total market capitalization of USD 1.924 trillion. It is sometimes referred to as the Wikipedia of crypto. The platform was launched in 2013 by founder and former owner Brandon Chez. Today, Binance Holdings Limited owns and runs the business.
Features
It is the most referenced price-tracking resource for cryptos, with more than 300 million active users. It doubles down as a screening tool with a ton of functionality. It provides information about the coin's fundamentals, where to buy it from, its price history, etc. You can sort coins based on filters like price and algorithm and categorize the listed coins based on the sectors, the percentage change in price, market cap, volume, and circulating supply.
Pricing
It comes with several tiers of membership.
The cheapest is the Hobbyist subscription at $30 per month, coming with 11 market data endpoints, 1-month historical conversions, and 40,000 call credits per month.
Prices then rise to $79 for the Startup subscription and $299 for the standard subscription, which provides 29 market data endpoints, three months of historical conversions, and 500,000 call credits each month.
The professional API service can be purchased for $699 per month, with three million credits and 12 months of historical data conversions.
| | |
| --- | --- |
| Pros | Cons |
| Easy access to source code. | Lack of advanced filtering parameters. |
| Accessible on both desktop and mobile. | CoinMarketCap is not a wallet; it is simply an information database. |
| Fast refresh times. | |
Messari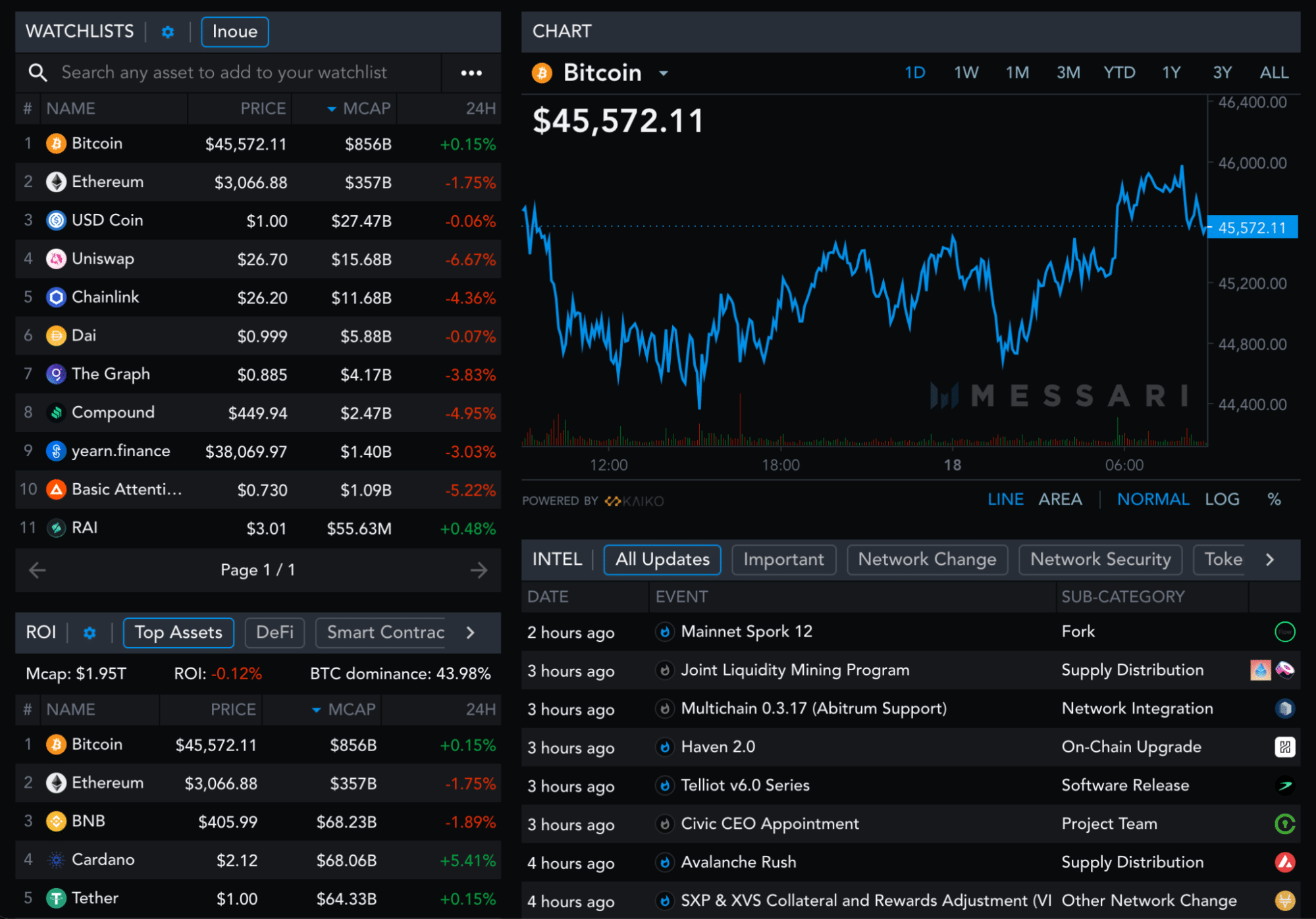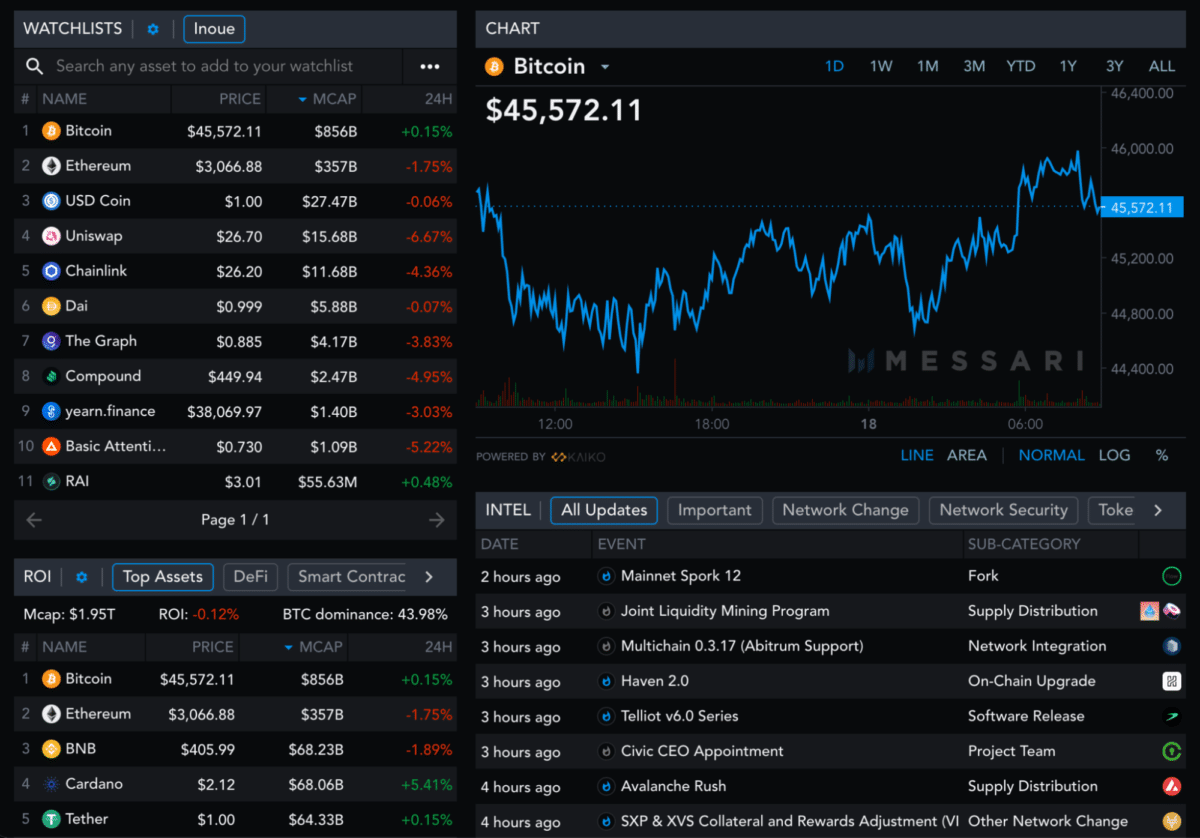 Messari is another crypto screening tool that is excellent for newcomers and experts in the crypto space. It presents a ton of detailed information in an easy-to-read format and is jam-packed with more than one hundred advanced filters.
It is a fast-growth startup in New York that builds the next-generation data layer for the global crypto asset community. In addition to providing data about all crypto assets, Messari offers helpful tools to analyze charts, therefore, make better trading decisions.
Features
The platform gives you access to charts that show you multiple aspects of a coin and key metrics like one-hour range, 24-hour range, volume, market cap, all-time high/low, and more. You also get a lot of information about the coin on the profile page, where you can learn about the coin's history and the fundamentals backing the coin.
A small caveat about Messari is that it only has 842 coins in its index. However, these coins are carefully selected and are the top money makers in the crypto market with reasonable trading volume.
Pricing
Although the platform does have a great collection of features for free users, the advanced metrics, indicators, and filters are reserved for premium users. To unlock all the benefits and make the best use of the platform, you will have to pay a monthly fee of $29.99. Messari has different plans. Starting at $24.99 per month to $625 per month, also they have a free plan.
| | |
| --- | --- |
| Pros | Cons |
| Different metrics for all coins. | It is not free. |
| It lists the latest news and events. | It is hard to use at first glance. |
| Organized and easy to understand UI. | |
Quantify Crypto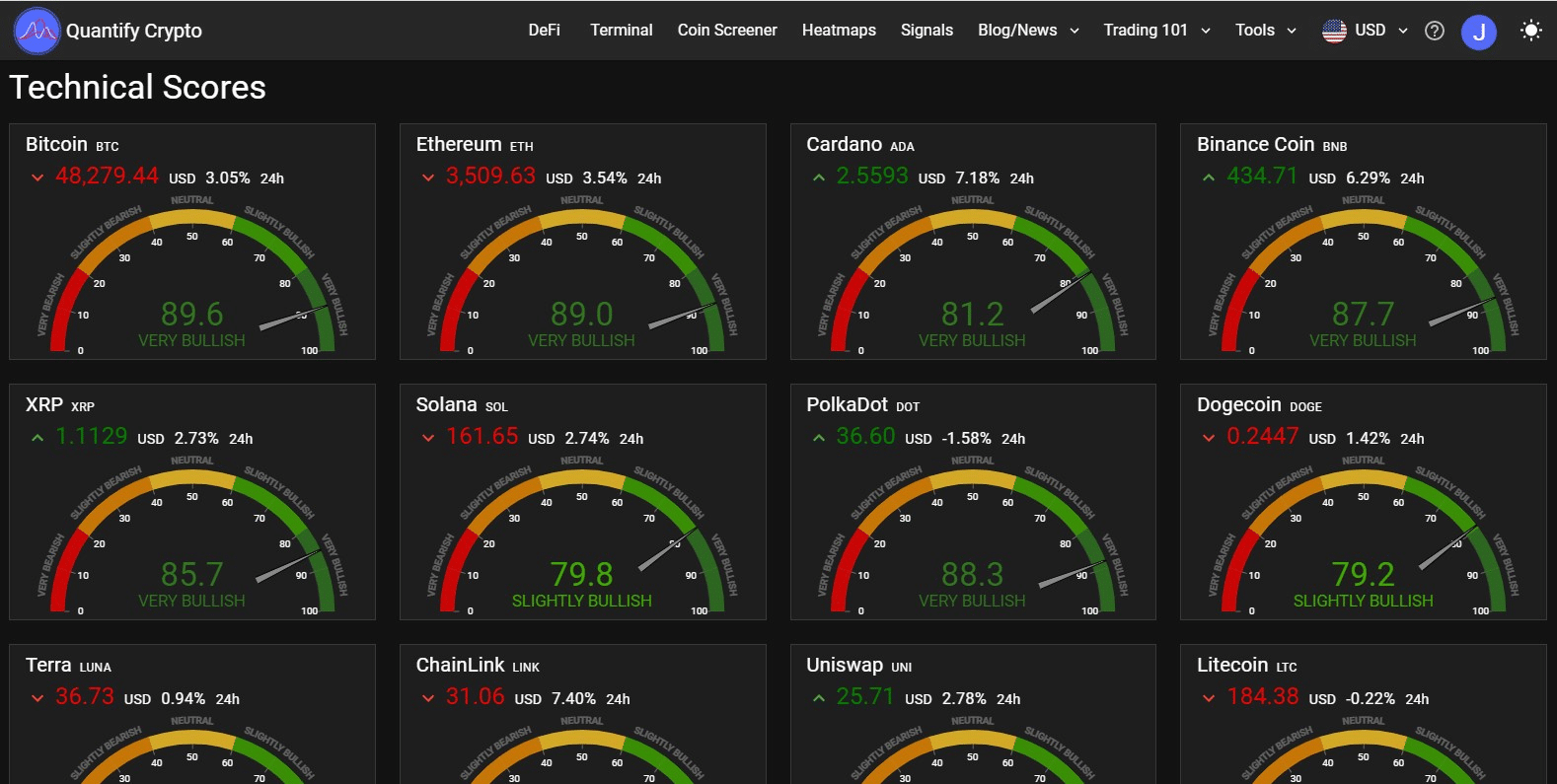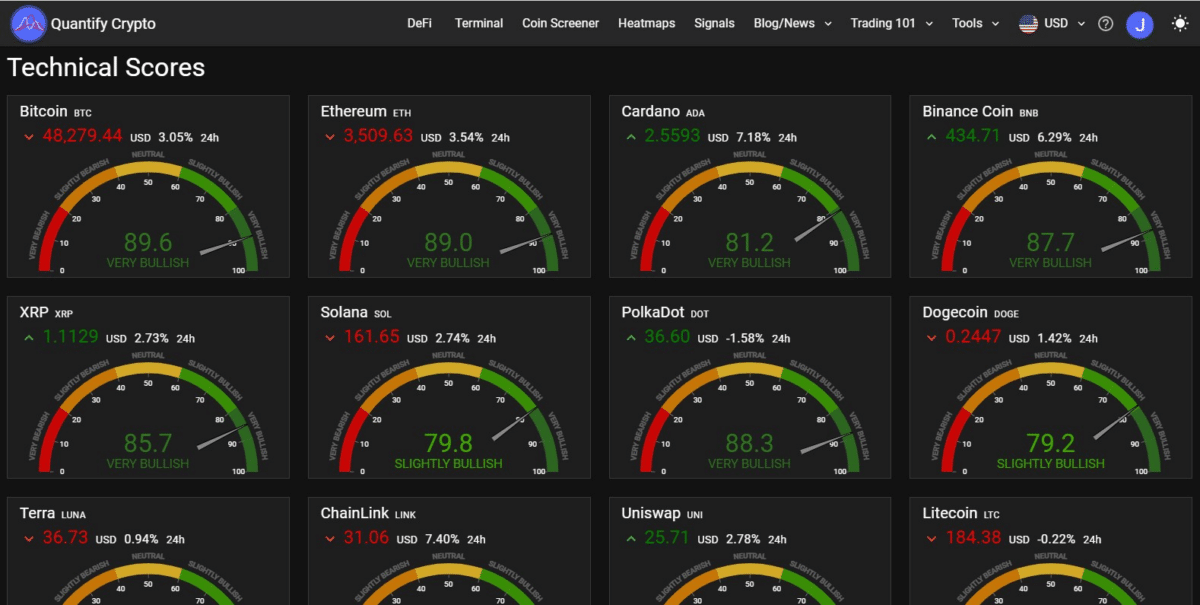 It is a robust crypto screening tool that focuses on ease of use and simplicity. It analyses the top 250 coins in the market that alone cover over 97% of the total cryptocurrency market cap. The screener's UI is flooded with information, making it look hard to understand, but it's pretty straightforward once you get it.
Features
The terminal's homepage has all 250 coins listed neatly on a single dashboard, and you can directly see the price of each coin along with its current trend that the screener calculates using its algorithm. The prices are refreshed every five seconds, flashing the price movement as green and red based on the direction. It can also sort coins using advanced filters like RSI, MACD, ATR, Bollinger Bands, and many more, making it a potent tool, especially for day traders.
Pricing
Even though the free version of QuantifyCrypto is good enough for most users, if you want to unlock increased refresh rates and access to even more indicators, you will need to subscribe to their premium plan, which costs around $29.99 per month.
Free — $0
Basic — $29.99
Professional — $99.99
Enterprise — $299.99
| | |
| --- | --- |
| Pros | Cons |
| Customizable candlesticks. | Free accounts can only use three indicators at once. |
| Fast refresh times. | Random mishaps like downtime can occur. |
| Intuitive UI. | |
Final thoughts
A good crypto market scanner can significantly improve your effectiveness when trading. There are several crypto market scanners in the market, and you must find one that is best for you. Of course, it is also important to remember that crypto market scanners will only be able to do so much when it comes to trading; it is also up to the trader to make smart trade decisions.