Travel and leisure ETFs are among the most leading funds as millions of people regularly travel and engage in leisure activities. These exchange-traded funds provide a low-cost and efficient investment framework with significant diversification. Moreover, being a collection of securities, this investment vehicle dispenses the advantages of numerous stocks in one place.
With the recent announcement of the Omicron variant, the travel industry once again dived into fear. However, according to Nasadq.com, Travel ETFs like JETS and BEDZ rose to 5.3% and 4% in just one day, respectively, as reports indicated the variant's milder nature and less severity.
So, do you want to know about some travel ETFs that will continue to grow in the coming years?
Read this article to learn about the working of travel ETFs and the top travel ETFs to buy in 2022.

Three things to know before starting:
Travel ETFs are a basket of stocks related to the travel and tourism industry.
Travel ETFs have begun regaining their value with the revocation of Covid-19 travel restrictions worldwide.
JETS is the most stable travel ETF, whereas OOTO is the newly-launched leveraged ETF with high growth prospects.
Travel ETFs: how do they work?
Travel ETFs track the performances of indexes that contain stocks of travel companies or travel-related businesses. They provide the investment results of airline companies, travel planning agencies, railway or vehicle companies, parts manufacturers, and other hotels and cruise lines companies that benefit from the travel industry boom.
In addition, travel ETFs subside the risks associated with individual stocks and have reasonable expense ratios. Moreover, the tax-advantaged, diverse travel ETFs, along with the industry's revival, has become a suitable investment option for novice and professional investors.
What to check before choosing travel ETFs?
It is essential to carefully consider some factors before selecting travel ETFs to remain profitable in the long run.
Top holdings
Examine the top 10 to 20 holdings of the relevant ETF to assess whether the most weighted companies deserve the top spots, and they align with your investment goals.
Liquidity
Look for funds with adequate trading volumes and liquidity. Higher trading volumes indicate the popularity and investors' interest in that equity. Moreover, highly liquid funds are easier to exchange or trade.
Fees and expense ratio
ETFs are known for their compatible and reasonable fee structure. Still, evaluate the expenses and compare them with your investment capital to ensure their negligibility compared to annual returns.
Past performance
Study the fund's past average returns, market capitalization, AUM, and revenue generation to get an idea about its short-term and long-term performance.
Best Travel ETFs to buy in 2022
Travels companies are facing increased customer demand with the lifting of Covid-19 restrictions. We have listed some of the top-performing ETFs with excellent growth potential for the upcoming year.
1. Direxion Daily Travel & Vacation Bull 2X Shares (OOTO)
Price: $18.57
Expense ratio: 1.07%
Direxion Daily Travel & Vacation Bull 2X Shares trails the performance of BlueStar® Travel and Vacation Index and provides its double or 200% investment results for a single day.
This benchmark index consists of US-listed "Travel and Vacation" companies that derive around 25% of their revenue from operating commercial airlines, managing hotel accommodations, casino or ski-resorts, and travel bookings.
OOTO is a relatively new, 2X leveraged ETF with around $6 million assets under management. According to the September 2021 data, the fund showed a NAV growth of 3.21%. Due to the Omicron news, the fund turned bearish after the Nov 2021 price spike; however, it has started a steady recovery with subsiding fears.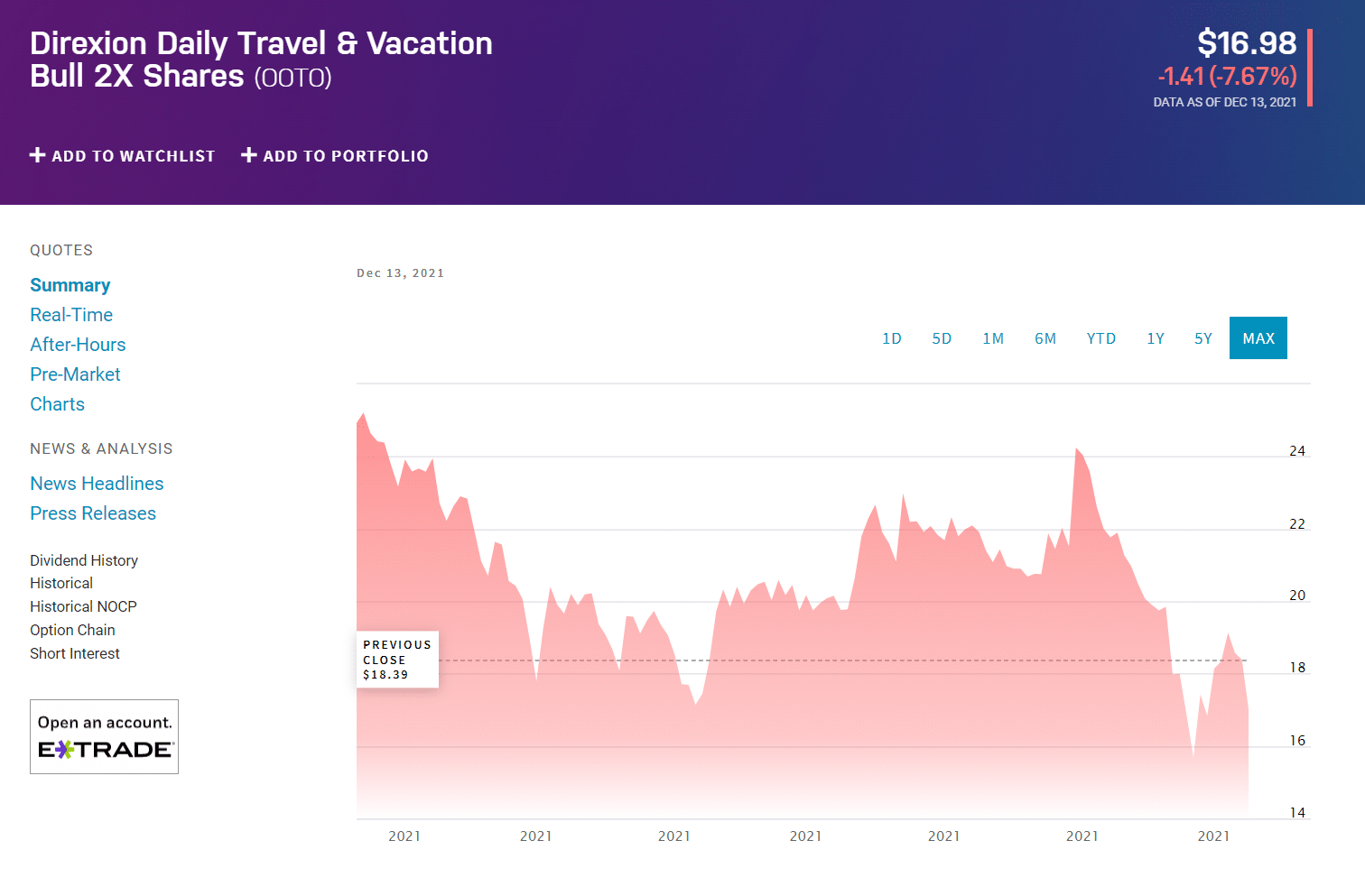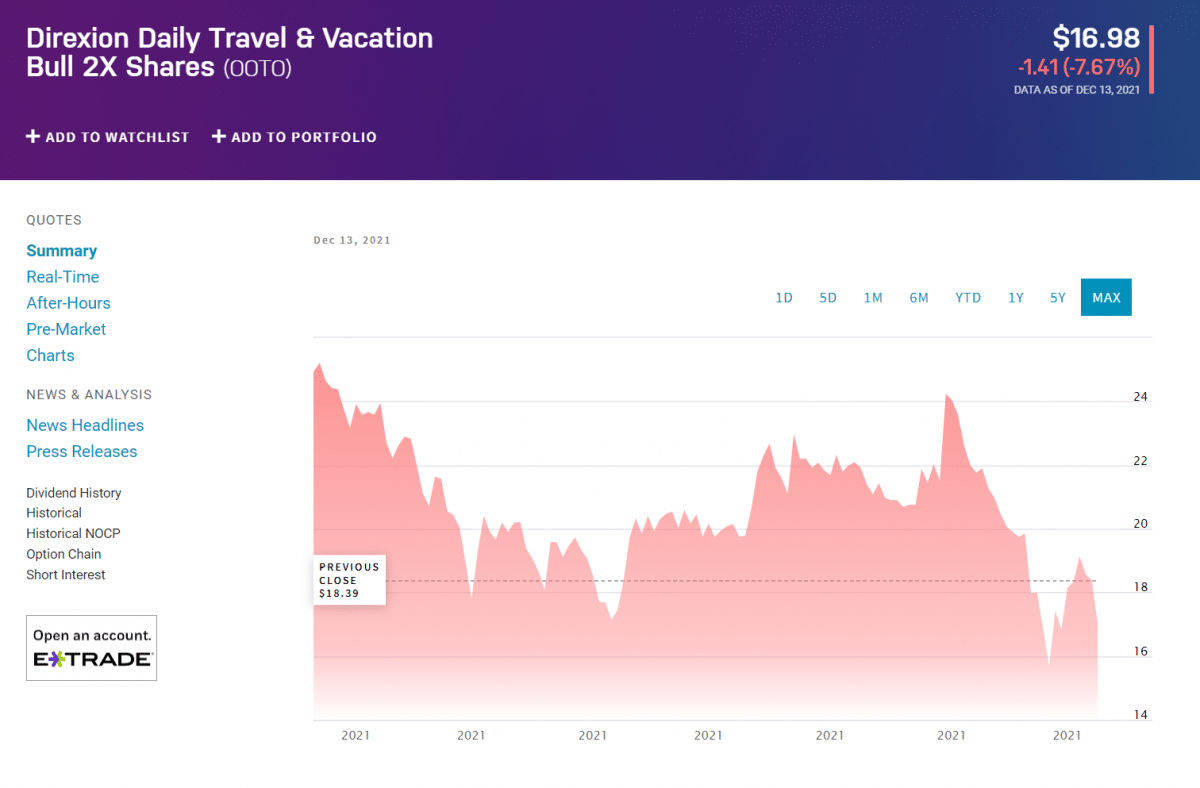 The current top three holding of this ETF are as follows:
Booking Holdings — 5.60%
Marriott — 5.41%
Walt Disney — 5.19%
2. US Global Jets ETF (JETS)

Price: $21.34
Expense ratio: 0.60%
US Global Jets ETF tracks the performance of the US Global Jets Index, which consists of global air travel-related companies, including manufacturers, operators, and airport and terminal services companies.
Currently, this NYSE-listed ETF has around $3.3 billion assets under management and 156.7 million outstanding shares. Moreover, it has a weighted average market cap of $17.4 billion and a P/B value of 3.17. According to the latest quarter-end report, JETS has shown a 1-year NAV increase percentage of 39.98.
The fund price faced a major dip with the Omicron announcement panic; however, it has already started recovering amid diminishing fears and uncertainty.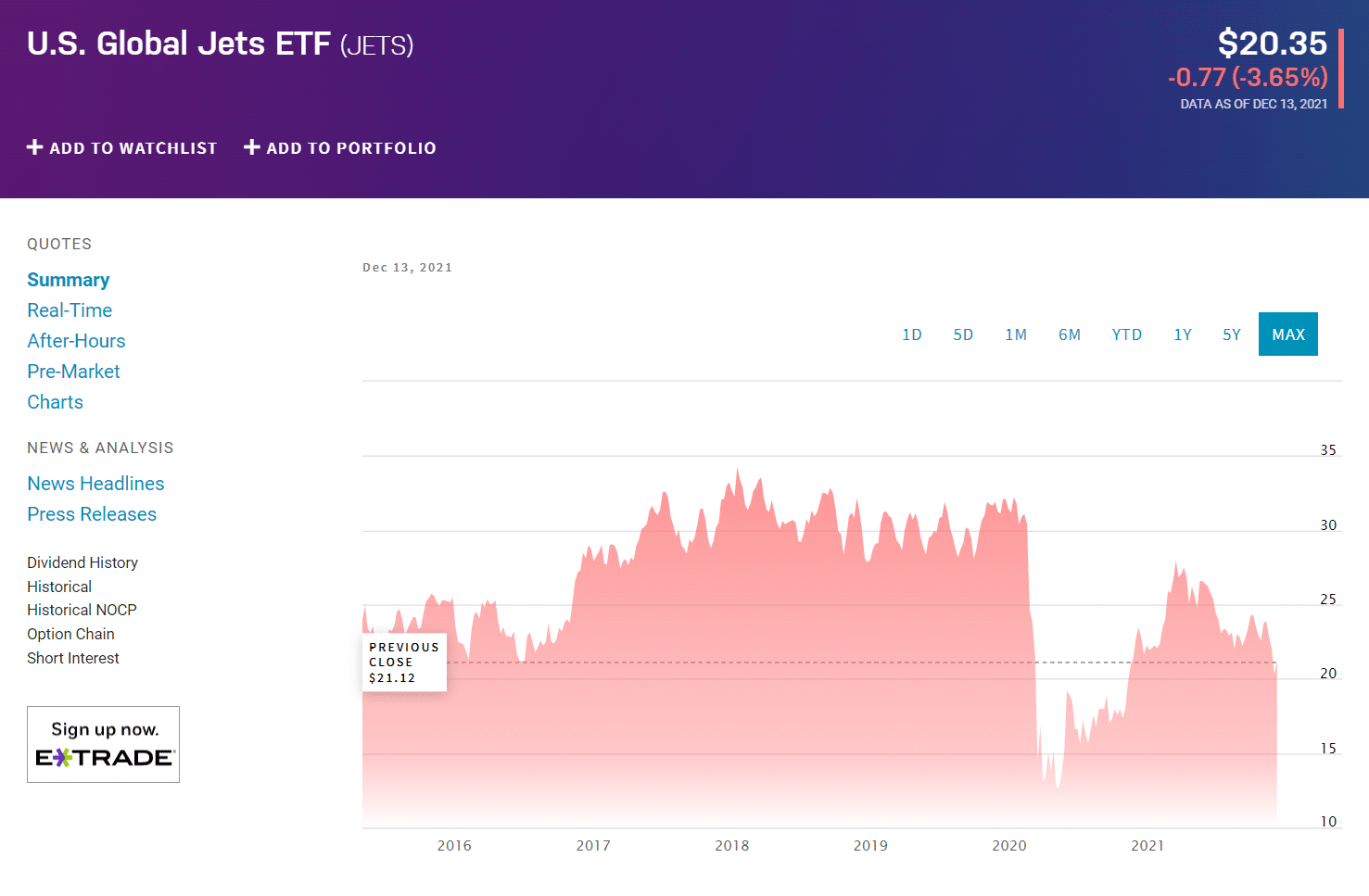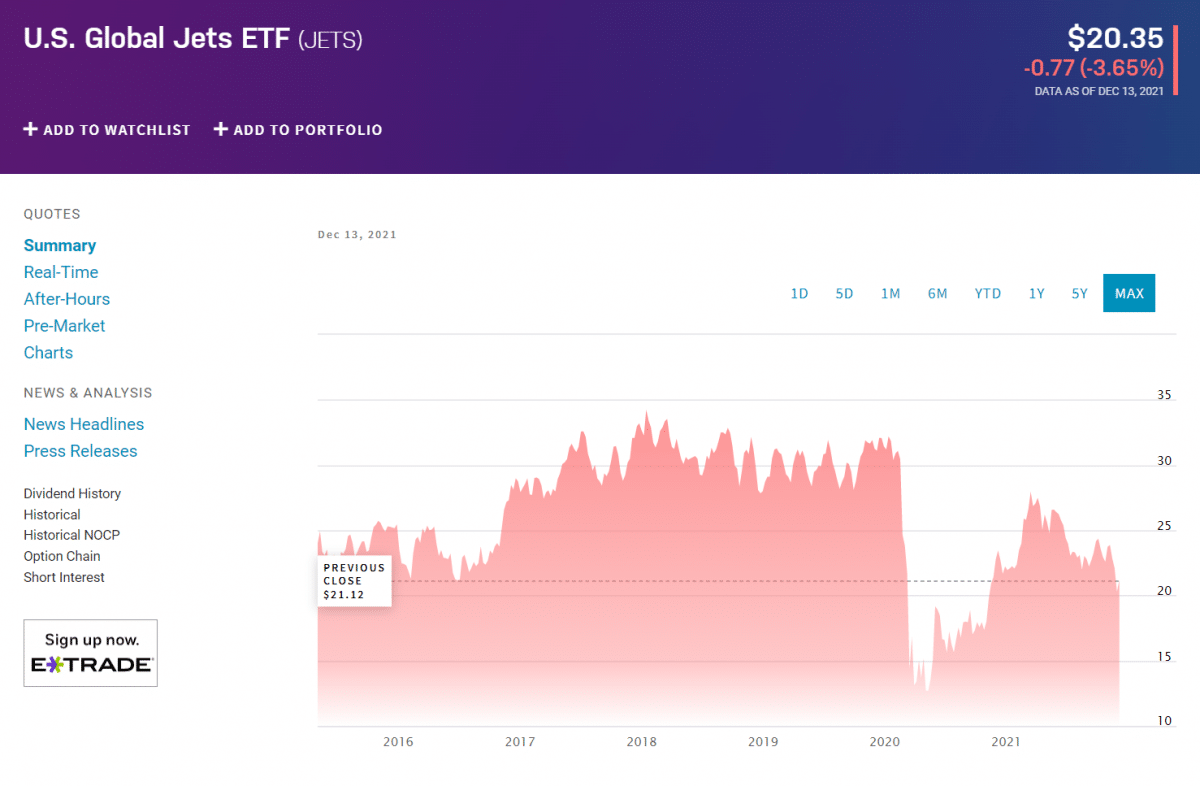 As of December 2021, the top three holdings of this fund, along with the percentage of their assets, are:
United Airls Hldgs Inc. — 10.14%
Delta Air Lines INC Del — 10.12%
American Airls Group Inc. — 9.87%
3. The First Trust Nasdaq Transportation ETF (FTXR)

Price: $34.41
Expense ratio: 0.60%
The First Trust Nasdaq Transportation ETF replicates the performance of the Nasdaq US Smart Transportation Index, which is a factor-weighted index that enlists the US transportation industry companies. This benchmark index consists of around 30 liquid transport companies added by considering their volatility, value, and growth.
The First Trust Nasdaq Transportation ETF has about $1.2 billion total net assets and 35 million outstanding shares. According to the latest month-end performance report, the fund has shown a 1-year and 3-years NAV growth of 22.76% and 10.95%, respectively.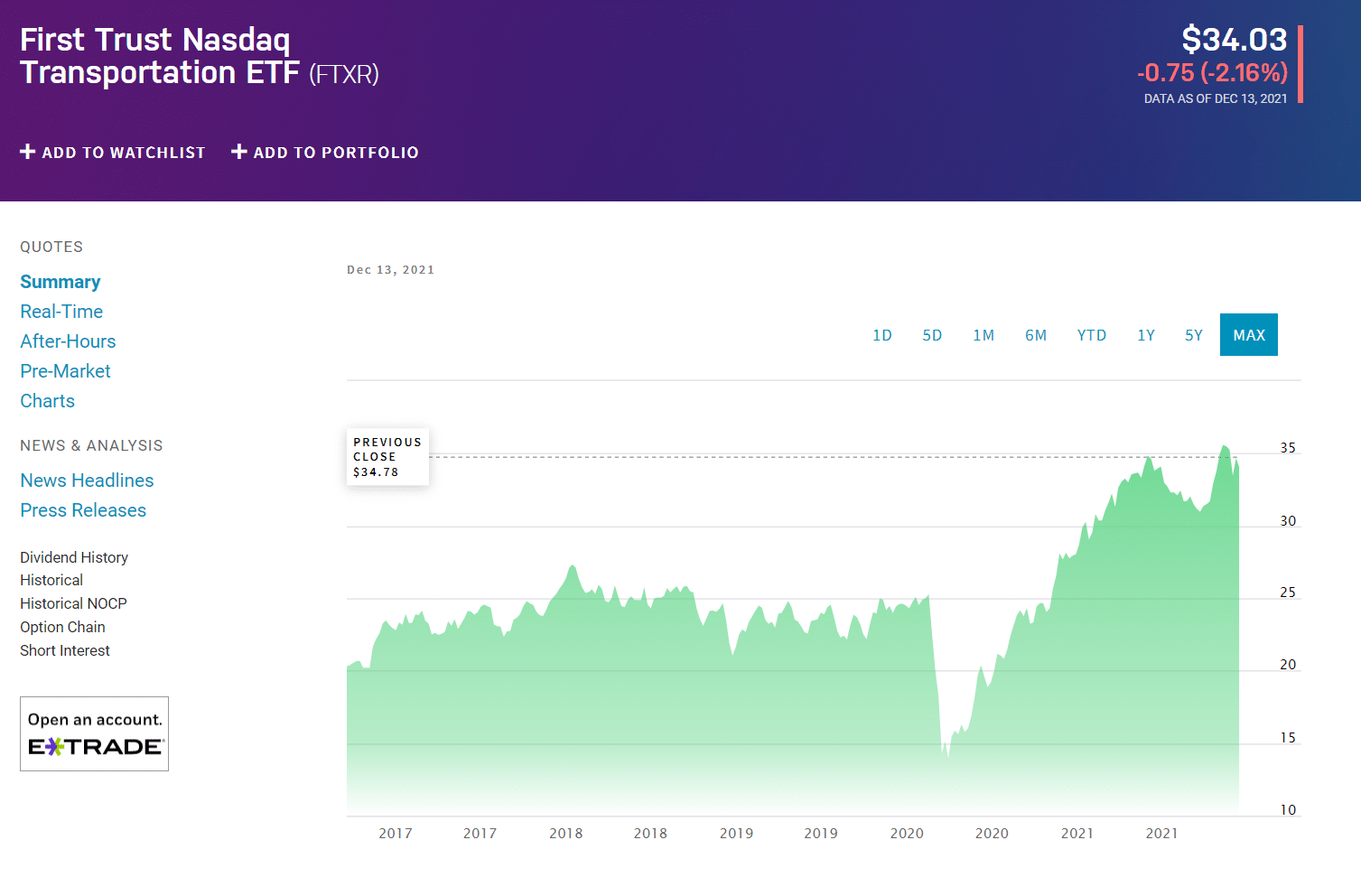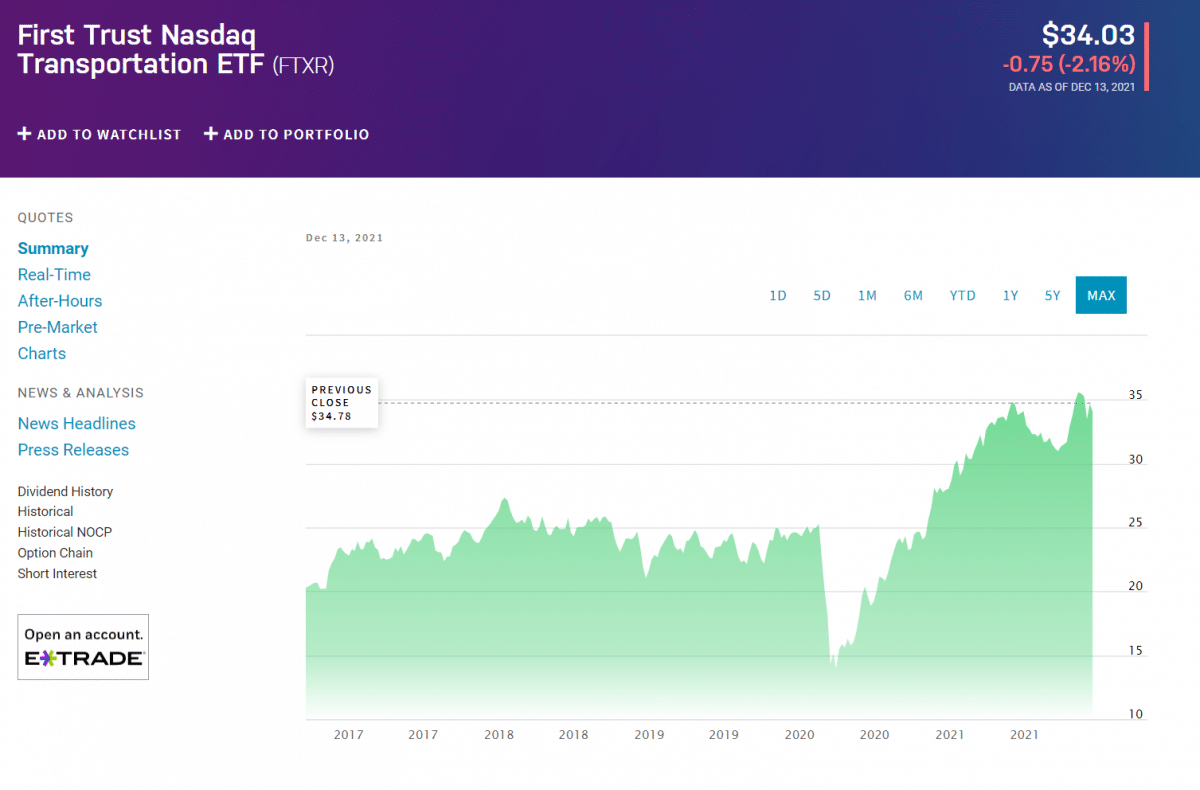 Moreover, the fund has given the highest exposure to trucking, automobiles, and the railroads' industry. As of December 2021, its top three holdings are:
Ford Motor Company — 8.21%
Old Dominion Freight Line, Inc. — 7.61%
Expeditors International of Washington, Inc. — 7.57%
Pros and cons
Here, we have summarized some of the pros and cons of travel exchange-traded funds.
| | |
| --- | --- |
| Worth to invest | Worth to getaway |
| Travel ETFs reduce the risks by spreading the investment in various companies with different frameworks. | The expense ratios of these travel ETFs are relatively higher than the category average of 0.2%-0.4%. |
| There is complete transparency about all the ETFs' financial data and holdings. | Though the travel industry has great booming potential, any interest shift can immediately depreciate the travel stocks and ETFs value. |
| Travel ETFs are an easy and convenient investment option for investors who want to benefit from the travel industry growth. | Generally, travel ETFs remain static at a lower than average value due to divergent performances of the stocks under them. |
Final thoughts
Millions of travelers are all set to resume their tourism, leisure, and travel activities after the conclusion of extended lock-downs. Correspondingly, investors have high hopes regarding the exponential growth of the travel industry.
Travel ETFs are ideal investment vehicles for gaining exposure to the stocks of travel-related companies. These ETFs incorporate diverse companies of travel niche; however, you should not forget to determine your financial goals and risk tolerance for maintaining long-term profitability.