Forests and wood are essential for mitigating climate change and sources of wood. In addition, the forest covers vast land areas, are one of the most important sources of oxygen, and plays a crucial role in reducing carbon emissions.
Companies with a forest management role or own them can take advantage of this. Forest processing industries and listed Forest Investment Trusts (REITs) also contribute to this trend. Therefore, it is possible to create an index based on these companies. This article has discussed the top three ETFs, such as wood, lumber, and timber so that you can choose the best of them quickly.
How does it work?
The ETF resembles a mutual fund because it is a pooled investment security. Like stocks, ETFs tend to track a particular index, sector, commodity, or other assets, but unlike mutual funds, they can also be bought or sold on a stock exchange the same way they can be purchased or sold regularly. As a result, an ETF can track anything from commodity prices to various securities depending on its structure. In addition, certain ETFs enable you to follow specific investments.
Investing in ETFs has revolutionized how people access multiple asset classes and markets at low costs.
It's the same way as old-fashioned mutual funds work, with the big difference being that ETFs are listed on a stock exchange, not on a mutual fund.
A classic fund can trade only once a day, whereas an exchange-traded fund can be purchased and sold anytime during stock exchange hours.
A fund that tracks an index does not require a fund manager or an analyst, so there is no fee. ETFs are therefore cheaper than actively managed funds, which fund managers manage — and the irony is: in the mid-term, index funds will beat most actively managed funds as well.
What to check before choosing ETFs?
Here is a brief overview of the most critical factors. Other factors should be considered when choosing an ETF, besides the index methodology and the fund's performance.
Here is a list of all forestry ETFs ranked by fund size based on size, cost, age, income, domicile, and replication method to make a more accurate comparison.
Best ETFs to buy in 2022
As in previous years, there are optimistic funds designed to capitalize on emerging trends in the top ETFs for 2022.
1. Wood ETF (WOOD)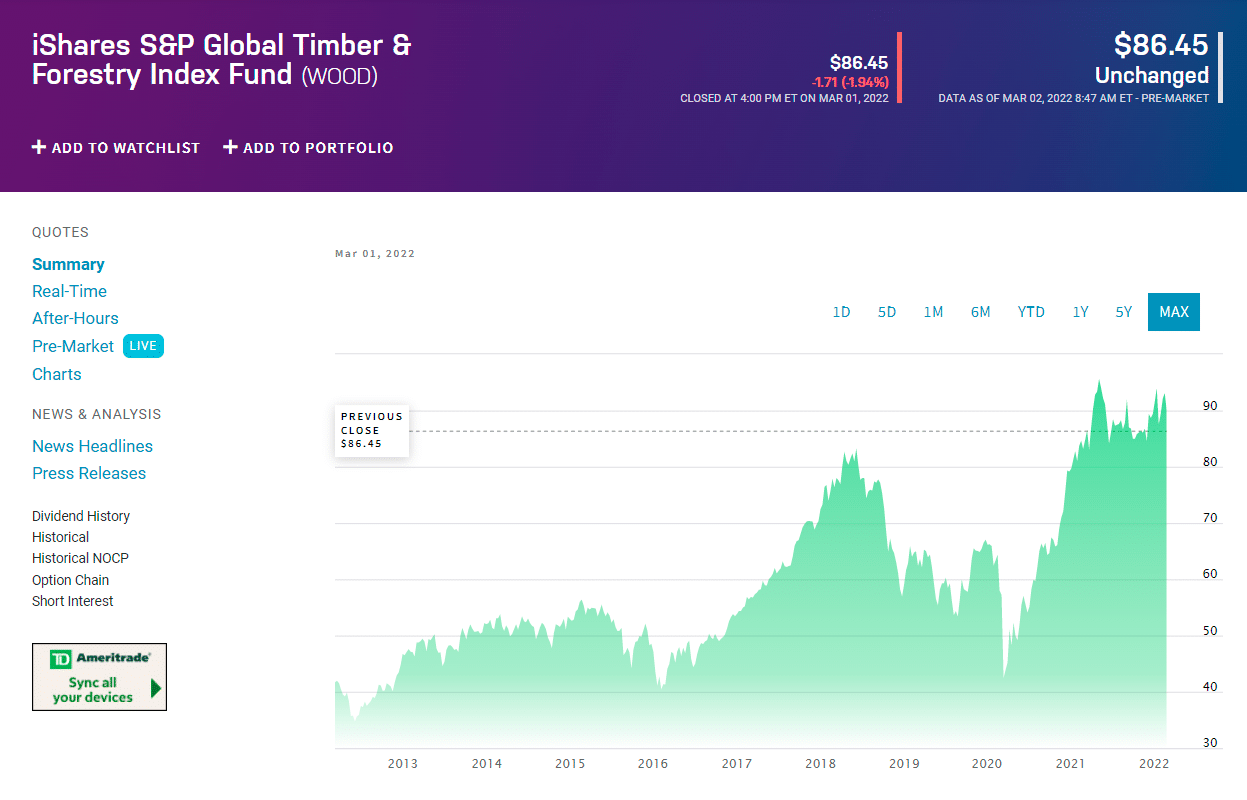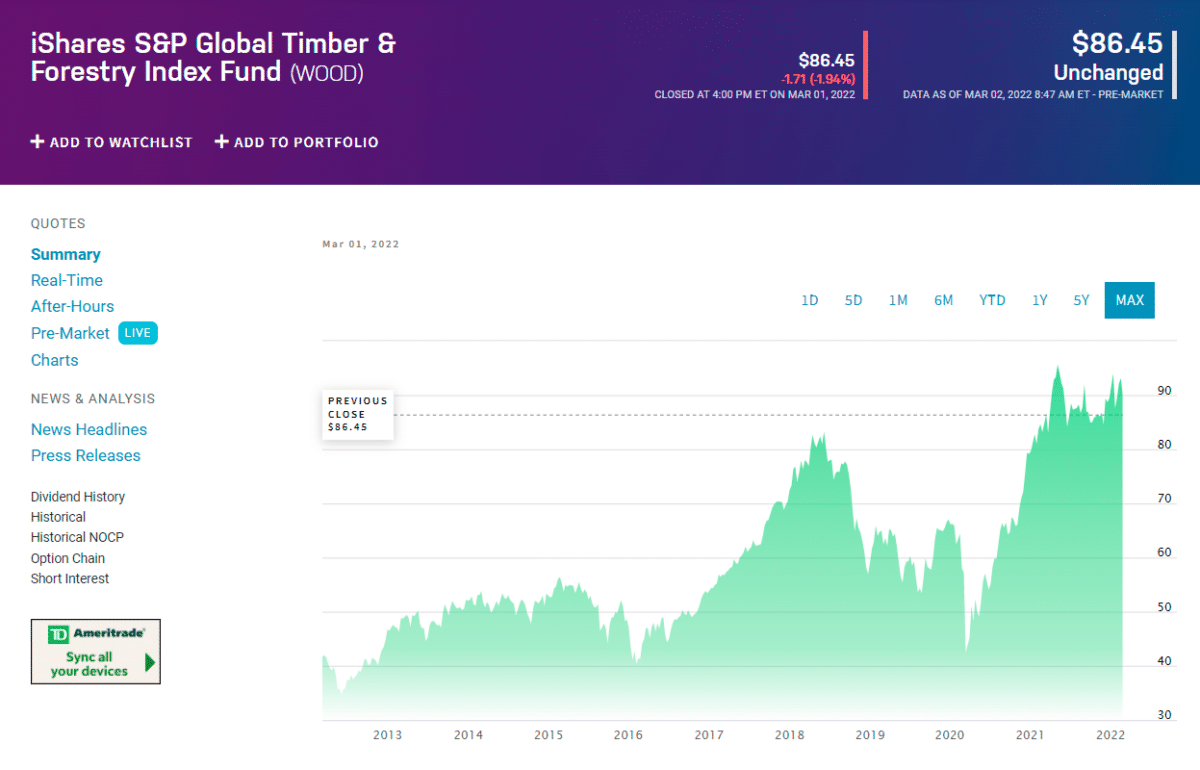 This index tracks the S&P Global Timber & Forestry Index, including 25 of the largest forestry companies worldwide. S&P Global BMI comprises all securities eligible for inclusion in the fund under agriculture, forestry, homebuilding, and paper industries.
Based on each business description and its most recent revenue report, each company will get an exposure score indicating industry relevance. The fund will choose the 25 largest companies with an exposure score of 1 for inclusion in the portfolio. However, if there are fewer than 25 companies with an exposure score of 1, the fund will pick the 25 largest companies with a 0.5 exposure score until the portfolio consists of 25 companies.
Securities with an exposure score of 1 will receive weight at 8%, while those with a 0.5 exposure score will receive weight at 4%. This process repeats itself every two years.
2. Timber ETF (CUT)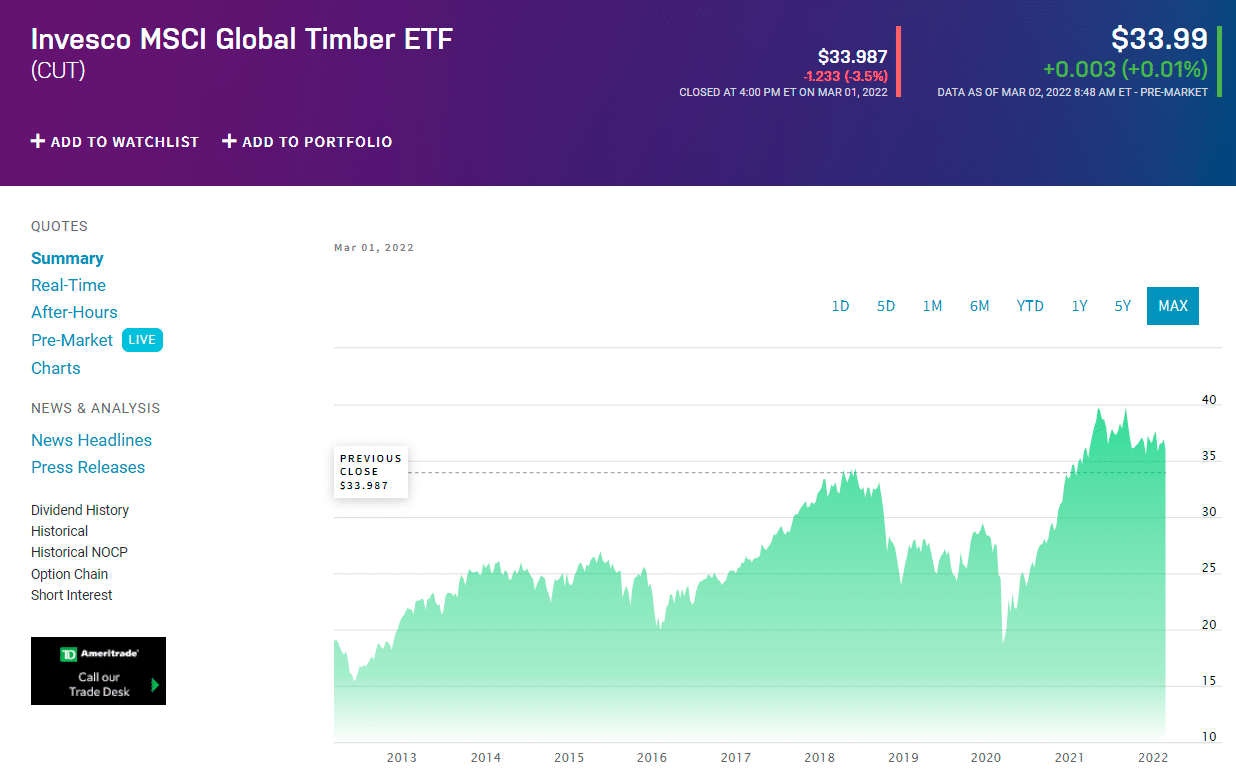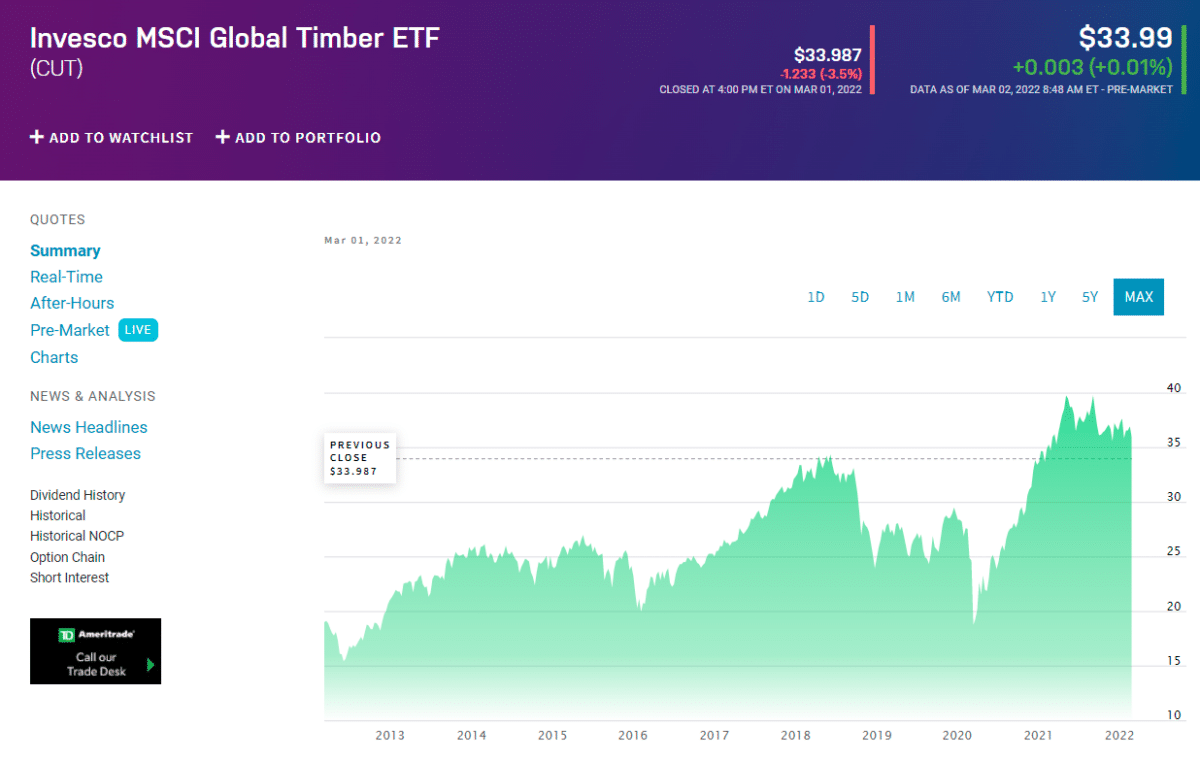 Traditionally, institutional investors have preferred timber as a category in which to put large sums of capital to work. However, this investment in infrastructure and natural resources has been made affordable through exchange-traded funds so that ordinary investors can gain exposure to the space.
CUT seems like the best choice for an investor looking to gain a broad range of exposure to the timber industry. The fund's greater focus on the U.S. also helped it outperform other markets in a year when U.S. stocks did much better than other nations.
Timber manages $409.93M in assets traded on U.S. markets through two ETFs. Timber ETFs have typical expense ratios of 0.52%. You can find timber ETFs under these asset classes.
Timber ETFs include the iShares Global Timber & Forestry ETF WOOD, which has an asset value of $319.19M. WOOD performed best among Timber ETFs last year, as it gained 5.91%. The most recent ETF launch was the iShares Global Timber & Forestry ETF WOOD in the timber space on June 24, 2008.
3. Lumber ETF (LBS=F)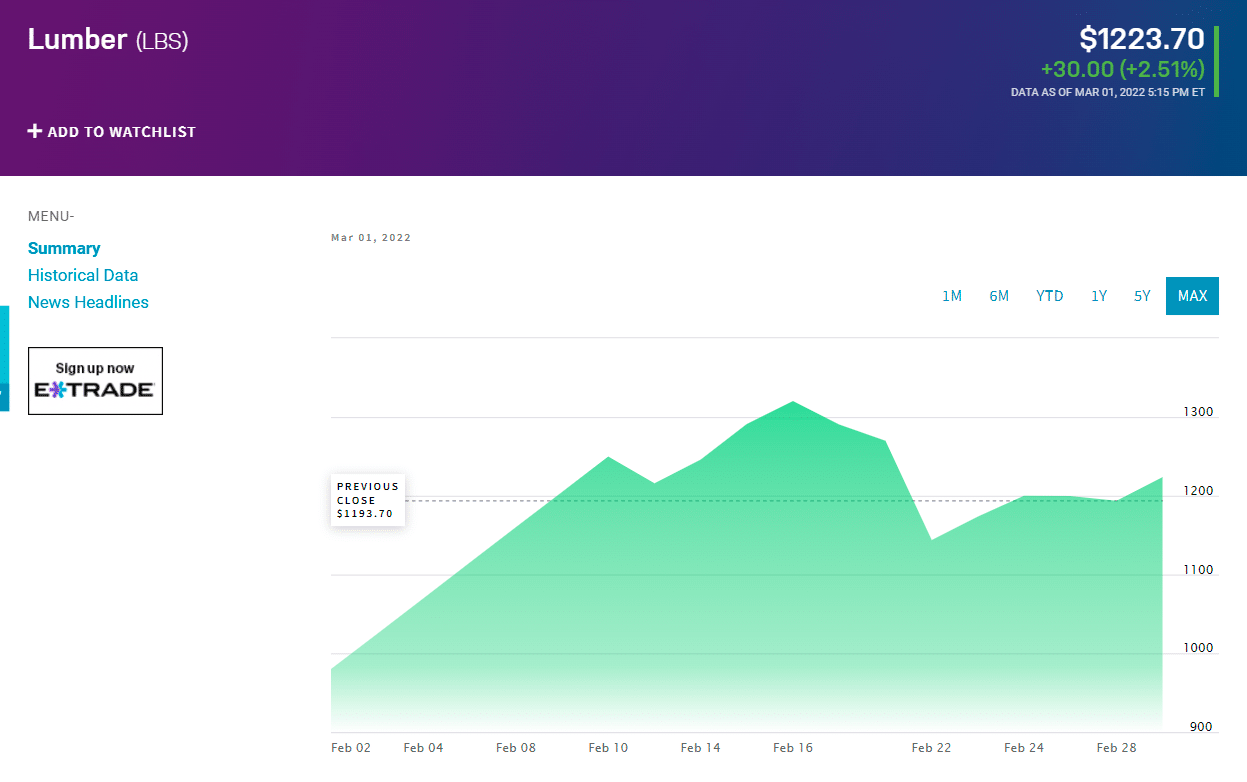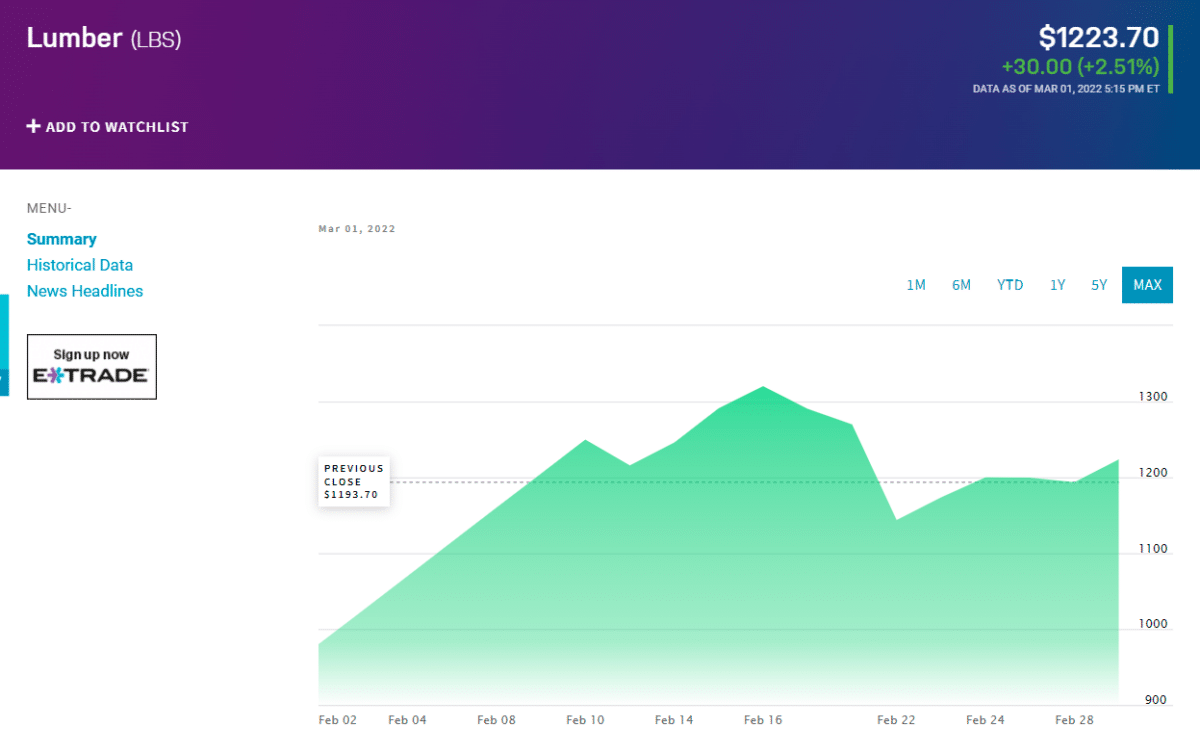 Investors can use two exchange-traded funds to participate in the potential rebound in lumber prices. While they cover the same sector, they do so slightly differently. ETFs that own timber company REITs have a higher exposure to the index, meaning that iShares Global Timber & Forestry ETF has lower expense ratios. Invesco MSCI Global Timber ETF provides broader exposure to the wood products sector, potentially making it more volatile. With lumber prices likely to rise shortly, both of these funds make excellent choices for investors looking to profit from a spike in lumber prices.
Recent months have seen lumber prices fluctuate a great deal. However, a record price of $1,711 per thousand board feet was achieved for lumber futures contracts in early May 2021, over 200% above the previous year.
By August 2021, the price had fallen to $400 per thousand board feet before rising to $700 by October, higher than in October 2020.
According to analysts, lumber prices will continue to increase to early 2022 as homeowners upgrade their existing spaces over moving during tight inventory levels.
The price of lumber could rise in two ways for investors. First, you can purchase Lumber stocks or exchange-traded funds.
We have two lumber ETFs:
iShares Global Timber & Forestry ETF (WOOD)
Invesco MSCI Global Timber (CUT)
Pros and cons
| | |
| --- | --- |
| Worth to invest | Worth to getaway |
| By purchasing a single exchange-traded fund, you can essentially replicate the performance of an index that consists of hundreds or even thousands of listed companies. | The ability to invest in many different types of stocks reduced broker commissions and low expense ratios. |
| Investing in it can also take advantage of indices on other asset classes, such as commodities or bonds. | Diversification helps manage risk. |
| Providers may establish contracts with investment banks in exchange for providing a particular index's return. | Several ETFs target specific industries. |
Final thoughts
In addition to timber and lumber, investing in these ETFs experiencing rapid growth attracts scammers who exploit investors' "fear of missing out" and desire quick profits. A diversified portfolio doesn't have to include a large percentage of forestry.
Fund managers in the lumbering space are long-term investors in a market that has historically been volatile. Even though timber prices can fluctuate like all commodities, a forest's value depends on long-term factors, so short-term changes in timber prices do not influence forest values.