Trade Explorer trades on the MT5 platform and claims to generate up to 377% profit in 1 month with a limited chance of risk trading across 27 currency pairs. Its working strategy involves effectively looking at the market trends and price actions while eliminating sharp movements and market noise to identify a profitable trading position. To find out more about this robot, we will review it in our article and detail all the features with pros and cons so you can make a better purchase decision.
Trade Explorer trading strategy
The developer states that the robot trades on 27 currency pairs and comes with multiple built-in settings that traders can easily customize. From the history on Myfxbook records, we can observe the use of averaging. The average trade duration of 15 hours and 36 minutes refers to a day trading approach. The implementation of the grid is observed on multiple instruments where most do not come with a fixed stop loss.

Trade Explorer backtesting report
A backtesting report in the form of a chart is available that shows the robot's performance from 2020. For this period, the robot made an absolute gain of 35.77% with a drawdown value of 11.66%, which tells us about the positive dynamics of Trade Explorer. This indicates a good risk/reward ratio.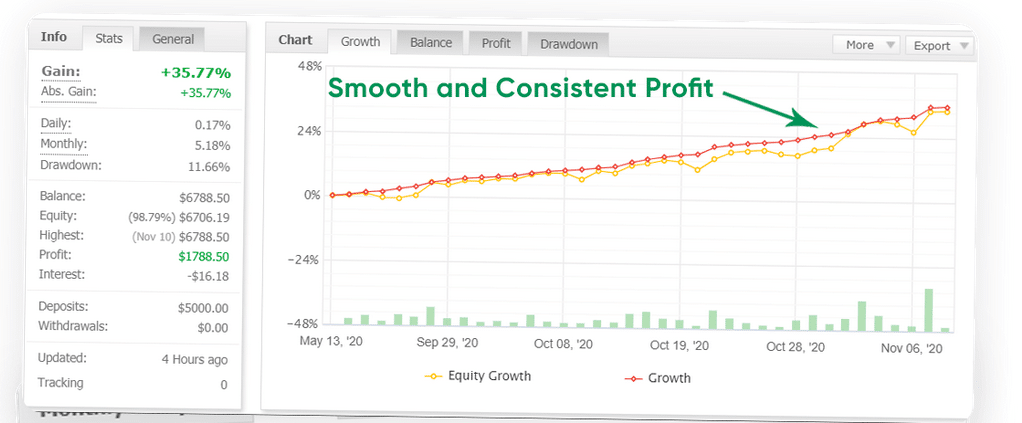 Trade Explorer live results
Live trading results can be found on Myfxbook, which shows us the bot's performance from 2020. The results show monthly growth of 7.43%, with a drawdown value of 17.29%. These numbers look good because the initial deposit of 5000 USD was converted into a profit value of 18,880.07USD. The output is satisfactory if we contrast it with other systems in the market.
The system participated in a total of 11,199 trades. Out of these, 78% were profitable trades. The EA made the best trade of 493.63 USD. The profit factor stands at 2.07. The average trade length is 1 day.
Some features of Trade Explorer
Trade Explorer has the following features:
It trades on 27 currency pairs.
It is fully automated.
Users get a detailed manual after purchase.
The developers provide a 30-day money back guarantee.
| | |
| --- | --- |
| Total return | 383.42% |
| Maximal drawdown | 17.29% |
| Average monthly gain | 7.43% |
| Developer | Leapfx |
| Created, year | N/A |
| Price | 397 USD (1 year), 697 USD (Lifetime) |
| Type | Grid |
| Time frame | N/A |
| Lot size | N/A |
| Leverage | N/A |
| Min.deposit (recommended) | N/A |
| Recommended deposit | 100 USD |
| Recommended brokers | Supports all brokers |
| Currency pairs | Many (27) |
| ECN | N/A |
Main things to consider if you invest with Trade Explorer
Let us go over several things that make the company fit for use.
Grid
The robot uses averaging strategies which can cause a high drawdown on the account if the market trends in one direction.
Developer transparency
The maker of this robot is a company called LeapFx which provides many forex-related services like brokering, managing accounts, and automated trading systems. They were established in 2018 and provide a company email for customer contact. Traders may also contact them using a query form on their website.
Pricing details
Trade Explorer comes with an asking price of $397 for one year. The lifetime membership costs $697. There is a 30-day money-back guarantee.
Other notes
Trade Explorer has reviews on third-party websites like Forex Peace Army. One satisfied customer gives them a 5-star rating appreciating their good risk management strategy and stable performance. All these bolster the argument about purchasing this bot for your investments.