The Comeback Kid EA is one of the latest products by Ryan Brown, a self-proclaimed experienced trader. This system is not fully automatic as it has some features, which can allow traders to intervene to increase profits on good trades and recover losing trades. The EA is also said to have the potential to make 60% profits yearly. Let's assess the robot to see if you should trust these claims.
The Comeback Kid EA trading strategy
This software works with more than one strategy. As per the vendor, it uses an averaging-in flex-grid system that focuses around key S/R resistance points to recover bad trades. It is claimed that the grid positions are not taken blindly. Rather, the software takes them when the price has a higher likelihood of moving in your favor. These statements are not reassuring enough. We are not told how the robot determines when a price movement will be favorable.
A trend trading system is also used, and this is meant to give you a good entry after the trend has a pullback. The vendor fails to mention that the martingale approach is used as well.
The Comeback Kid EA backtesting report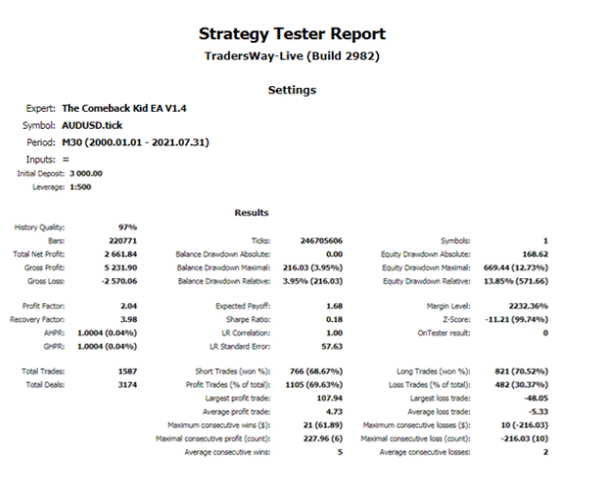 This EA was tested from January 2000 to July 2021 using a deposit of $3000 on the M30 timeframe. However, the results were not impressive at all. The system only made $2661.84 within 21 years of trading. It did not even manage to return the money invested.
A total of 1587 trades were completed, which we find to be quite low considering the EA's long period of operation. This indicates that, on average, it executed 75 orders yearly. The results for short (68.67%) and long trades (70.52%) were not even good. There was a drawdown of 12.73% and a profit factor of 2.04.
The Comeback Kid EA live results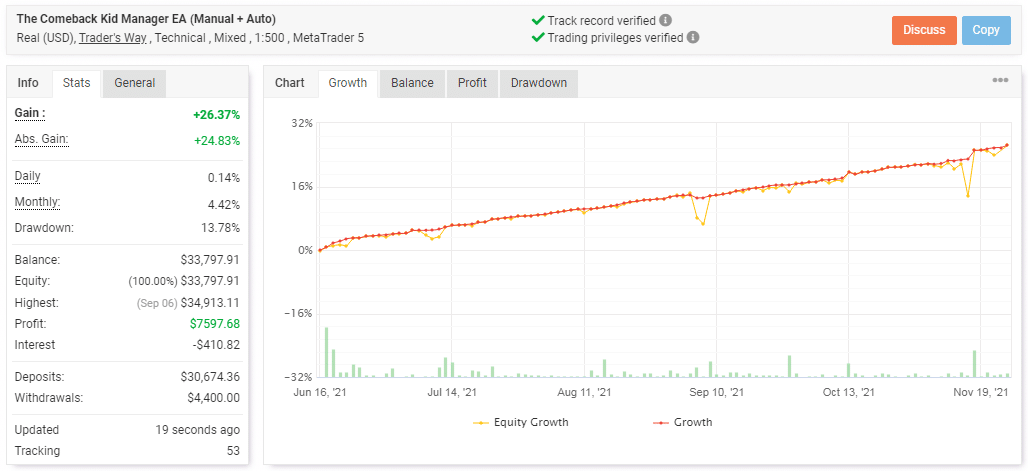 At a glance, these results show that this system is not lucrative as it only makes 4.42% profits monthly. Despite investing a huge sum of $30,674.36, the vendor has only received $7597.68 in return within 5 months of trading. Consequently, the total return is 26.37%. The drawdown is 13.78%, and a total of $4400 has been withdrawn already.

There's a profit factor of 1.67 from 671 trades. The win rates of 61% for long and 64% for short positions further highlight the unproductive nature of the system. Also, more losses are made than profits. The higher average loss (-160.74 pips) compared to the average win (121.09 pips) communicates this fact.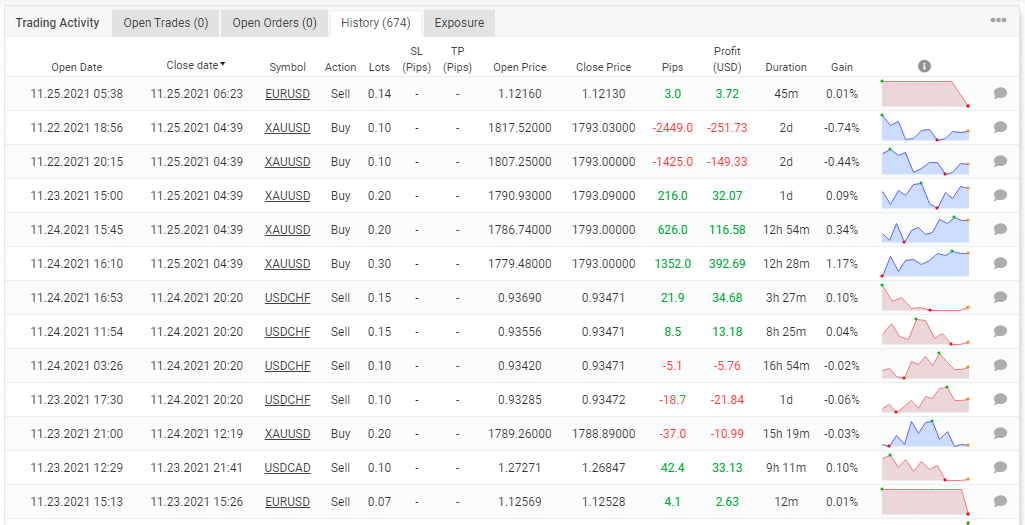 The system works with huge lot sizes along with the grid and martingale approaches.
Some features of The Comeback Kid EA
| | |
| --- | --- |
| Total return | 26.37% |
| Maximal drawdown | 13.78% |
| Average monthly gain | 4.42% |
| Developer | Ryan Brown |
| Created, year | 2021 |
| Price | $497 |
| Type | Trend trading, averaging-in flexible grid approach |
| Timeframe | N/A |
| Lot size | Varying lot sizes |
| Leverage | 50:1 |
| Min. Deposit | $3k |
| Recommended deposit | N/A |
| Recommended brokers | N/A |
| Currency pairs | EURUSD, GBPUSD, USDJPY, AUDUSD, USDCAD, USDCHF, and XAUUSD |
| ECN | N/A |
Main things that make The Comeback Kid EA a doubtful Forex robot
Risky trading strategies
We noted earlier that this EA applies both the grid and martingale trading styles. These techniques usually trade aggressively with the goal of winning regardless of the market direction. In most cases, they end up producing awful outcomes that eventually blow up accounts.
Unhealthy risk/reward ratio
The EA's risk/reward ratio is currently 3:1. This means that the robot will risk more of your investment and get too little out of it. So, your account will grow at a very slow pace or even end up with a negative balance in the long run.
Small profits
A 4% monthly gain, as is the case with this system, is too low. And with risky approaches on board, we doubt if you will ever make any significant strides using this EA. It might also take you years before you break even.
Pricing details
The Comeback Kid EA is sold for $497. At this price, you will receive a lifetime license. However, a money-back guarantee is not featured.
Other notes
The Comeback Kid EA does not have customer reviews on any of the reputed third-party verification websites.