Stealth Trader is a system that works on the real market, providing significant profits. The presentation includes details about how the robot is going to perform GBPJPY on our terminal. We'd like to take a closer look at it.
Stealth Trader trading strategy
The dev claims that the system does not use Grid or Martingale.
The only pair to work with is GBPJPY.
We don't know details about time frames.
Stealth Trader backtesting report

The robot receives testing on the four years data. The devs have chosen M5 as a time frame to check. The absolute gain has amounted to 106.09%. An average monthly gain was 1.43% only. It had 10.49% of the maximum drawdowns.
Stealth Trader live results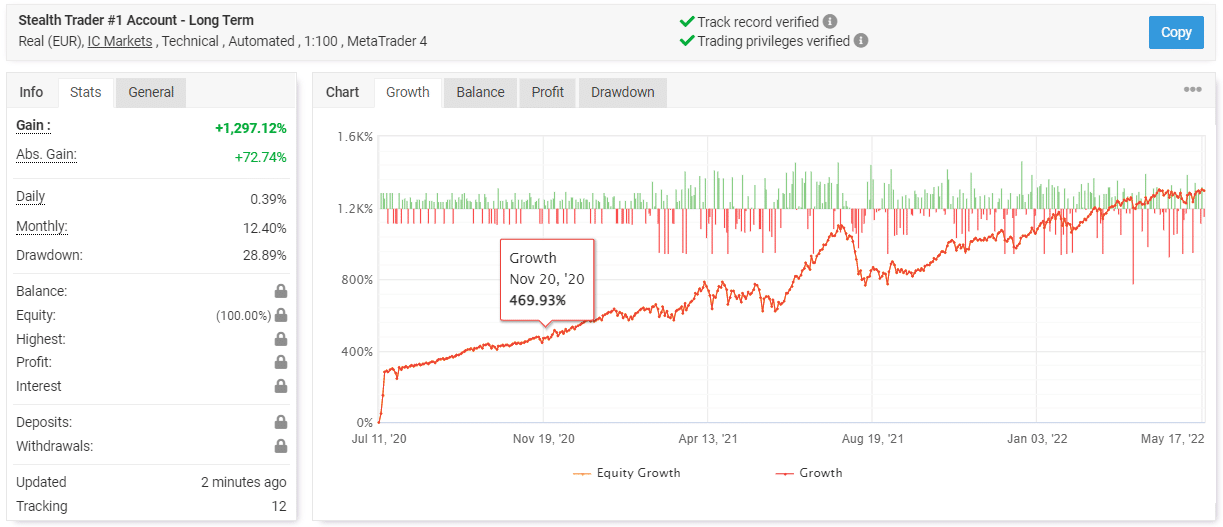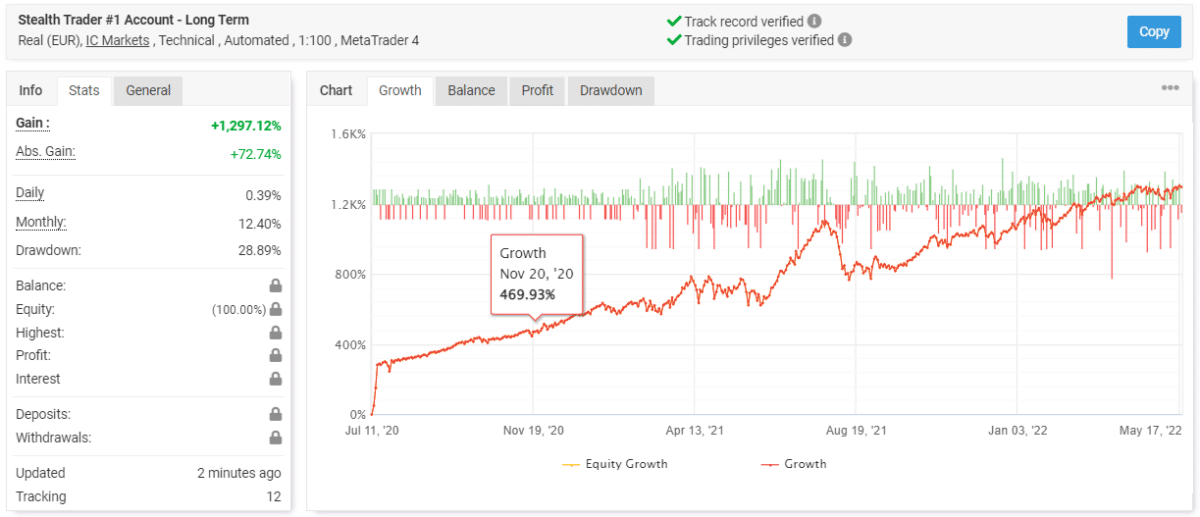 Stealth Trader works on a real IC Markets account with 1:100 leverage on the MT4 terminal. The lack of the leverage can trigger deeper drawdowns. The account was created on July 11, 2020. The total gain has amounted to 1297.12% with an average monthly gain of 12.40%. The maximum drawdown is 28.89%.

The system closed 1024 deals and obtained 1563.7 pips. An average win is 12.83 pips when an average loss is -24.87 pips. The system has a 68% win rate for long and 72% for short trading positions. An average trade length is 1 hour and 11 minutes. The profit factor is 1.35.


It works with high risks to the balance. So, there's a 8.26% chance of losing half of the account.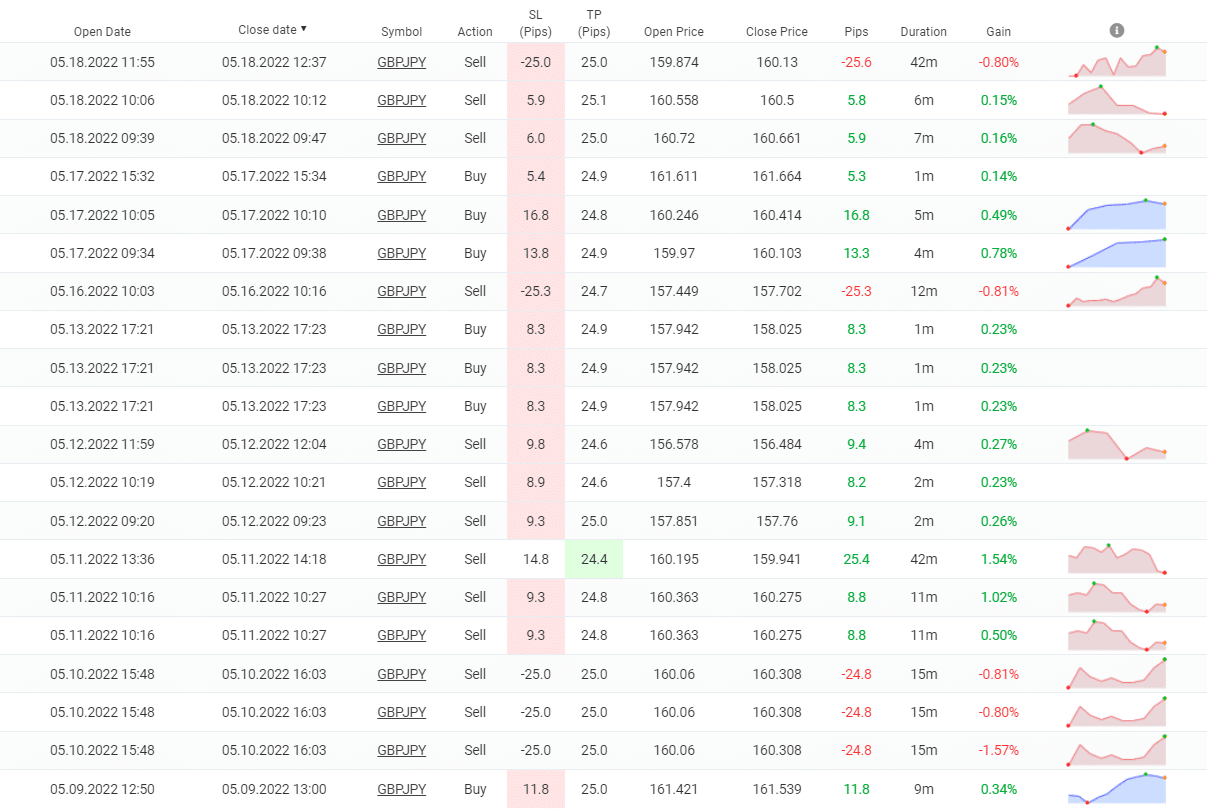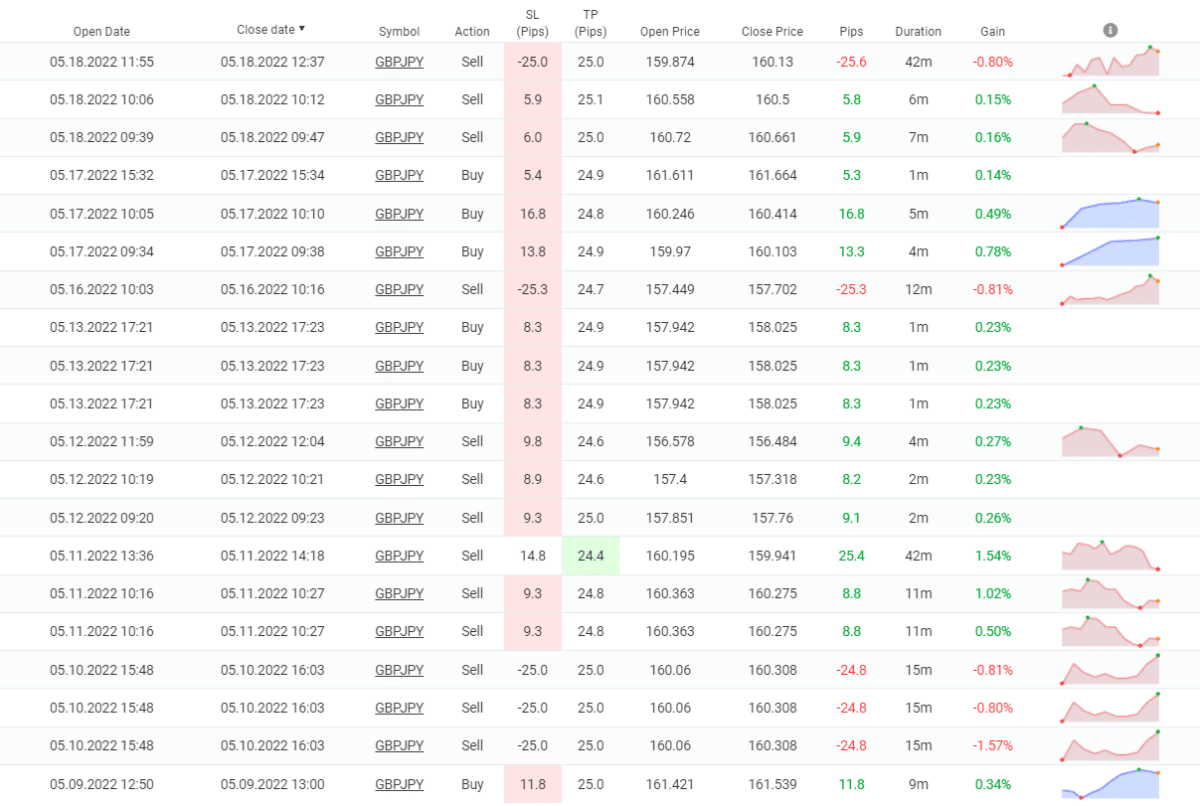 It works with a Grid of several orders. Also, the robot doesn't keep orders on the market for a long time.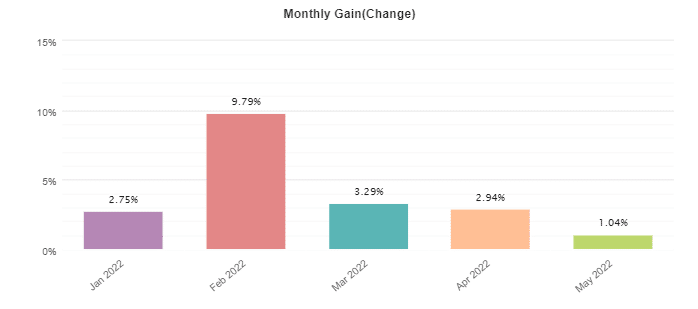 It closes all months this year with profits.
Some features of Stealth Trader
So, now, we talk about what features the system has to perform like that.
The advisor is able to trade absolutely automatically on our terminal.
It works on the MT4 platform only.
It's possible to work with acceptable drawdown.
The robot trades, using a Grid and Martingale combo.
The system can provide daily profits, trading GBPJPY.
It works with proper SL and TP levels on all trades.
There will be precise entry points for every order.
The robot has all possible settings to be consistently profitable.
We are allowed to customize our risks for better performance.
We can use a user guide to customize the system.
There are the best recommendations provided.
The owners provide us with welcome support.
Delivering occurs within several minutes.
We have free updates and upgrades provided.
| | |
| --- | --- |
| Total return | 1297.12% |
| Maximal drawdown | 28.89% |
| Average monthly gain | 12.40% |
| Developer | LeapFX |
| Created, year | 2020 |
| Price | €347 and $597 |
| Type | Grid and Martingale |
| Timeframe | N/A |
| Lot size | N/A |
| Leverage | N/A |
| Min.deposit | N/A |
| Recommended deposit | N/A |
| Recommended brokers | N/A |
| Currency pairs | GBPJPY |
| ECN | Yes |
Main things to consider if you invest with Stealth Trader
A well-known developer
LeapFX is a veteran company that has been working for years to provide the best possible trading solutions.
Trading results
Trading results showed that the system knows how to make profits on a real market. Anyway, the advisor works with high risks on the balance that increases risk of losing the whole account.
Martingale and Ggrid combo
The robot works with a combination of risky strategies such as a Grid of orders with increasing lot sizes by Martingale.
Pricing details
We can subscribe for the robot for $347 annually. A lifetime copy of the robot costs $597. There are features avialble: Stealth Trader software, free updates and upgrades, customer support, best recommendations. We can expect to receive a 30-day money-back guarantee if we have troubles with the robot.
Other notes
The system works stable and provides good profits. Anyway, the real account lacks of transparency. So, we don't know anything about the deposit size and what money the developers risk to trade.