Omega Trend EA is described as a very potent expert advisor that includes the most vital features and systems you require to engage in risk-free trading. These characteristics are: broker protection, multi currency trading, spread protection, money management, etc.
Omega Trend EA trading strategy
The EA is implemented with 3 simple trading ideas:
Trend spotting
The goal of the approach is to obtain profits from dozens of macro and micro trends that occur in each trading session. Omega is particularly programmed to identify a trend close to the start of the movement to extract pips from the most lucrative part.
Strategy diversity
The main idea here is to utilize two distinct approaches that capitalize on various types of market movements. That's why the EA has 2 trend indicators tied to specific strategies.
Dynamic entries and exits
Contrary to other tools that use static entry and exit points, Omega dynamically links trailing stop, take profit points, and stop loss to market volatility. As a result, it is able to avoid missed profit opportunities and needless account drawdown.
Omega Trend EA backtesting report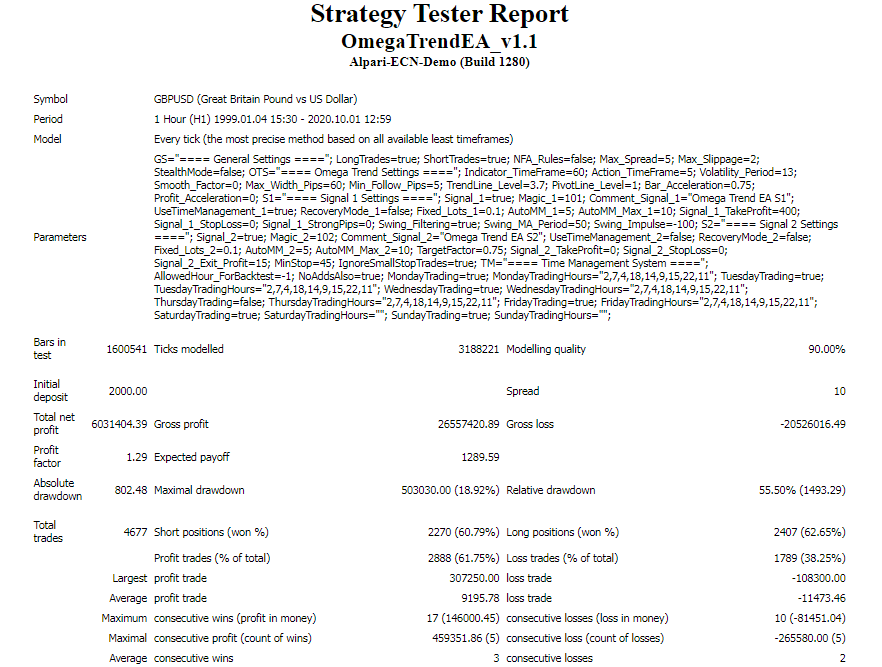 Here we have the backtest report for the GBPUSD currency pair. As such, it tells us that the simulation focused on historical data dating between January 1999 and October 2020. The EA carried out 4677 trades and won 61.75% of the orders. As a consequence, a massive profit of $6,031,404.39 was realized. However, a profit factor of 1.29 indicates that the losses made were also high.
There was a larger average loss trade (-$11,473.46) compared to the average profit trade ($9,195.78). The relative drawdown of 55.50% raises red flags about the safety of the EA's strategy. The main conclusion is that the program can present significant dangers to your capital in the long run.
Omega Trend EA live results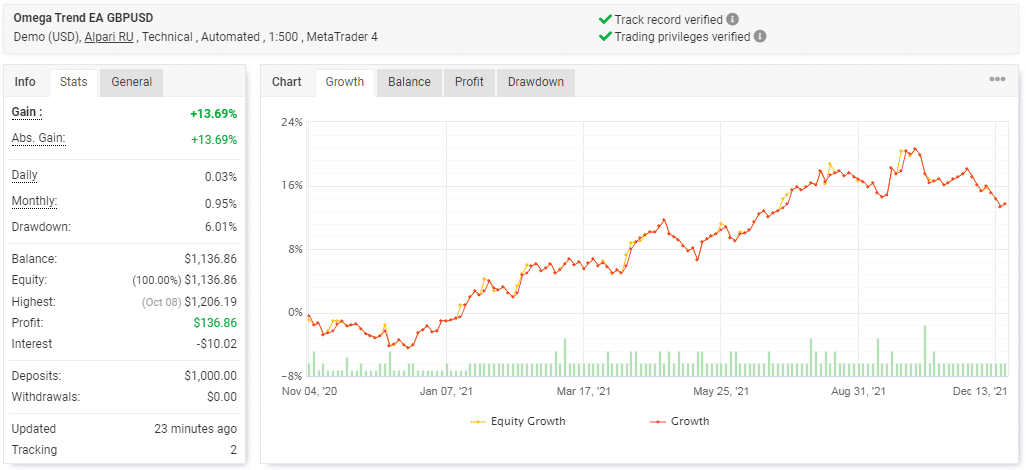 At a glance, we see that the profitability rate of the EA in the live market is low. Only a profit of $136.86 has been produced from a $1000 deposit since Omega began trading more than a year ago. The daily (0.03%) and monthly profits (0.95%) further underline the low earnings generated. Fortunately, minimal risks are involved in trading as only 6.01% of the capital was lost.

There are 190 trades completed so far. From the profit factor (1.27) and win rates of 60% for long positions and 58% for short ones, it is obvious that Omega is an average performer. The best trade was $29.74, while the worst one was -$12.17.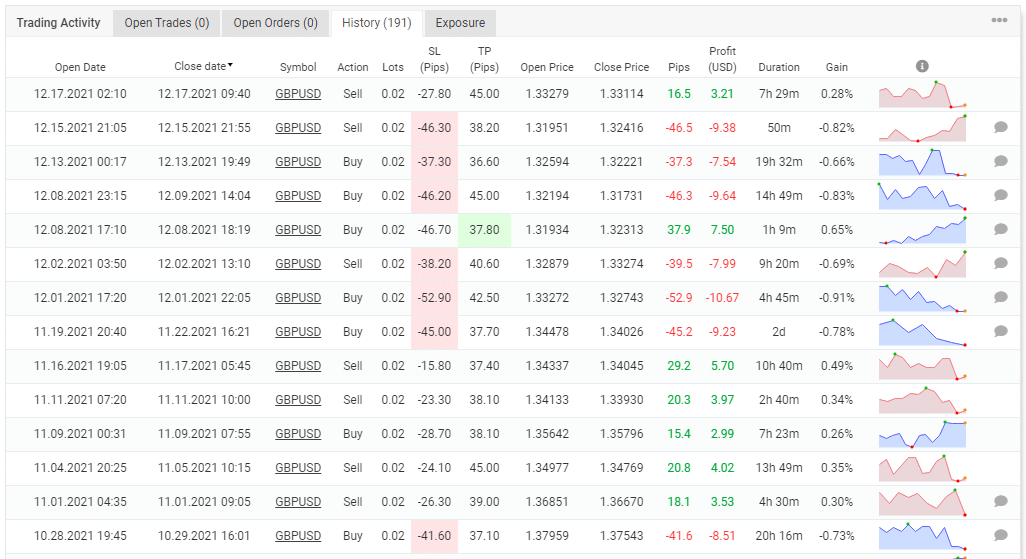 We can see that small profits are made. Unfortunately, the EA has led to some substantial losses. Dynamic SL and TP levels are applied.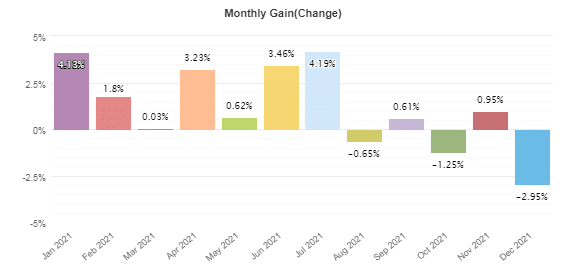 Monthly profits are unevenly distributed. Therefore, we can't really predict how the system will perform in the coming months. For the last 5 months, the EA has either been bringing very minute profits or generating losses.
Some features of Omega Trend EA
| | |
| --- | --- |
| Total return | 13.69% |
| Maximal drawdown | 6.01% |
| Average monthly gain | 0.95% |
| Developer | FxAutomater |
| Created, year | N/A |
| Price | $117 |
| Type | Trend spotting, Strategy diversity, Dynamic entries and exits |
| Timeframe | H1 |
| Lot size | 0.02 |
| Leverage | N/A |
| Min. deposit | $100-$500 |
| Recommended deposit | $1,000-$5,000 |
| Recommended brokers | Any MT4/5 broker |
| Currency pairs | GBPUSD, EURUSD, and EURJPY |
| ECN | Yes |
Main things to consider if you invest with Omega Trend EA
If you are contemplating buying this product, then you will need to consider the following:
Minute monthly gains
We have seen that, on average, the EA makes a profit of 0.95% monthly. So, in over a year, it has not even managed to return half the money invested. Think hard if this is the pace you want your account to grow with.
Demo trading results
Since the live results are from a demo account, we are not sure if the same performance can be produced on a live account. You might have to find out for yourself. But there's a catch: you may experience worse or better outcomes.
Pricing details
A lifetime license for Omega Trend EA currently goes for $117. The pack includes 1 real and 3 demo accounts, the best customer service, and a 60-day refund policy.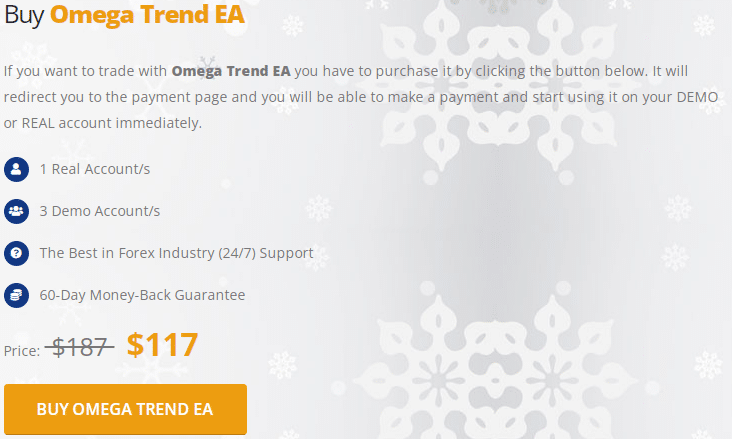 Other notes
Omega Trend EA lacks customer reviews. This is rather disappointing. These testimonials normally provide some insight into a system's performance and other features. So, you can predict how the tool will work for you.