Odin Forex Robot is an expert advisor that has a simple and not informative presentation. We have many details and features not explained. The company has one of the most weird reputations on the market. All products are claimed by the users as horrible.
Odin Forex Robot trading strategy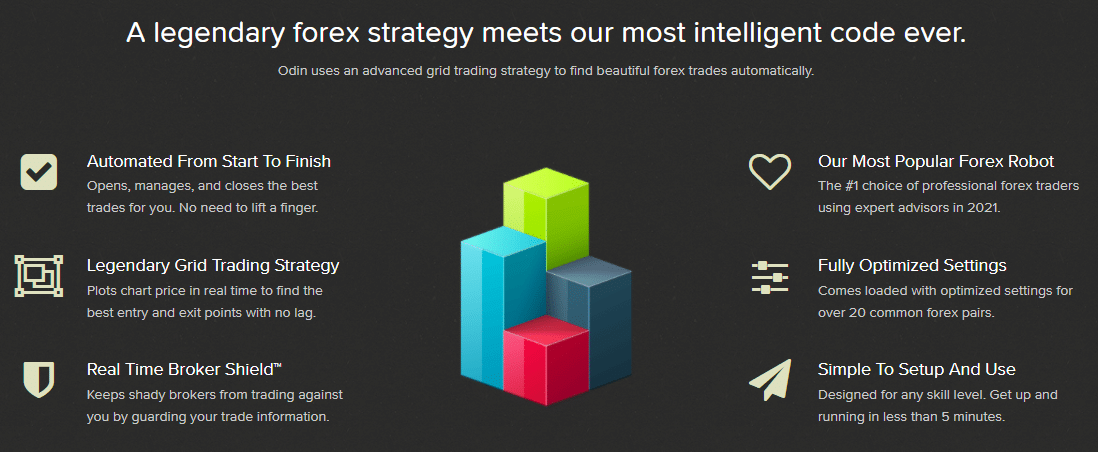 We have a few details explained that can help us with understanding what this system is up to.
We can expect automatic trading from this advisor. It will open and close orders for us.
The presentation doesn't have any widget that would lead us to trading results.
It looks like a Grid strategy implemented in the system.
As a result, there will be much more margin required to work on the market.
The system uses Trend and Price Action strategies to help us with trading.
The advisor covers our deals with proper SL and TP levels.
We can rely on high spreads and high slippages protection.
"The robot is the #1 advisor in 2021."
We can't blindly trust this claim.
We can customize settings if we know how.
Trading is allowed on 20 pairs.
The setting up of the robot takes just several minutes.
There's a user guide provided.
We can work with various types of accounts like Standard, Mini, Micro, and 4 and 5-digit accounts.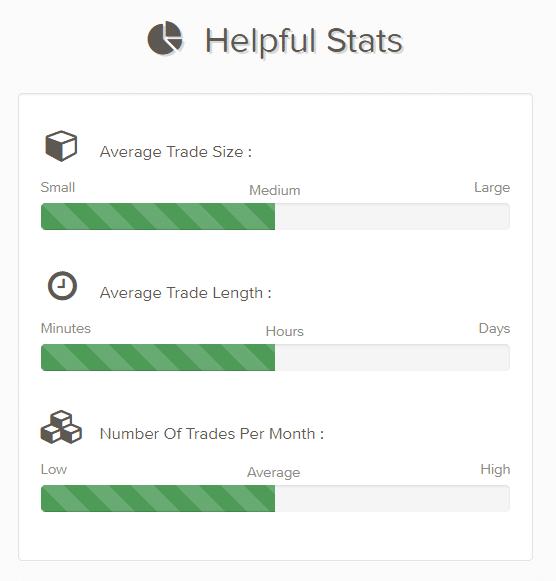 The devs shared a chart of what parameters the system has.
Odin Forex Robot backtesting report
As usual for FRT, they don't provide visitors with backtest reports. It warns us because every system has to be tested to be convinced that it's profitable on the past tick data. We would like to know what drawdowns, risks, win rates the system had.
Odin Forex Robot live results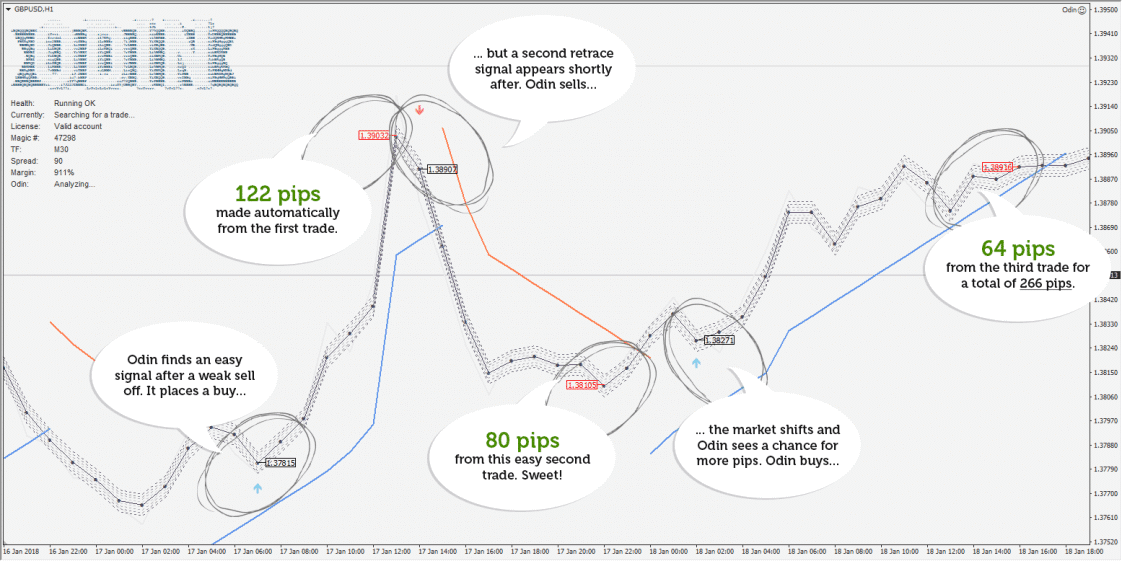 The devs provide us only with these screenshots that were photoshopped to look more trustworthy. We can't trust blindly that the system got all these pips gained without verified trading results.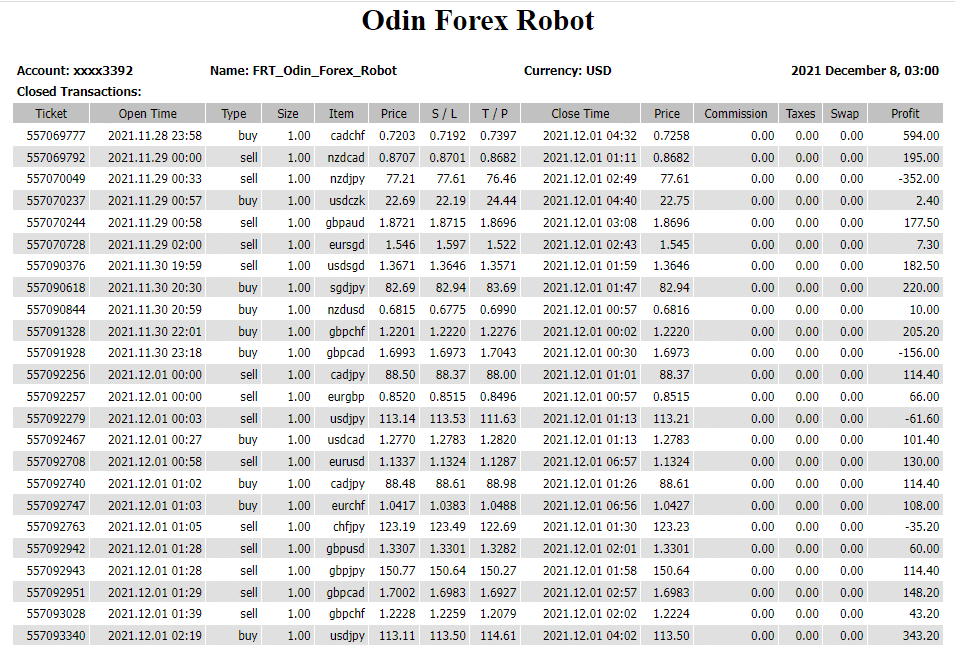 There's a report that formed, as usual, between 3 a.m. and 4 a.m. According to the account number it's a fake test or a demo account.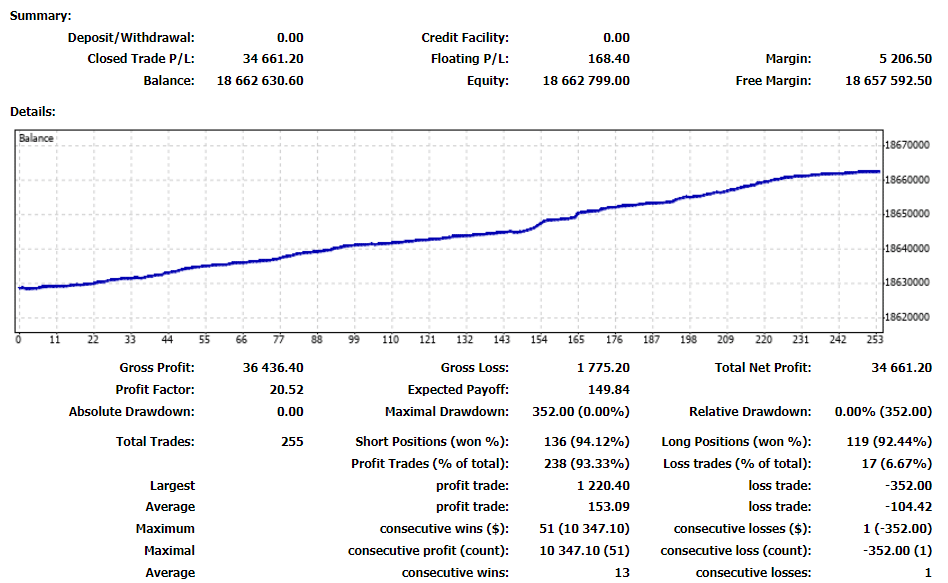 The summary includes the next information. The account has $18,662,630 on the balance. The total net profit in December 2021 amounts to $34,661. The maximum drawdown is low – $352.00 only. The profit factor is 20.52. The system has traded 255 orders with a 94% win rate for shorts and 92% for longs.
Some features of Odin Forex Robot
| | |
| --- | --- |
| Total return | N/A |
| Maximal drawdown | N/A |
| Average monthly gain | N/A |
| Developer | FRT |
| Created, year | 2020 |
| Price | $129 |
| Type | Scalping, Trend |
| Timeframe | N/A |
| Lot size | N/A |
| Leverage | N/A |
| Min. deposit | N/A |
| Recommended deposit | N/A |
| Recommended brokers | N/A |
| Currency pairs | N/A |
| ECN | N/A |
Main things that make Odin Forex Robot doubtful EA
The advisor doesn't have backtest or trading results
This means that the system wasn't tested properly. Absence of trading results shows that the devs don't trust real funds to it.
The presentation looks suspicious
It is because the devs avoided providing us with verified data. They know that we want this data to make a wise decision.
It has only negative comments on FPA
People aren't satisfied with the system. They state that it isn't profitable. Some traders did not receive the products after purchase.
Pricing details


The system is available for $129 for a lifelong copy. We have a 35% discount applied. The original price is $199. The devs decided not to explain to us what features and details the package includes. So, it can be a blind purchase. The system is delivered without a refund policy.
Other notes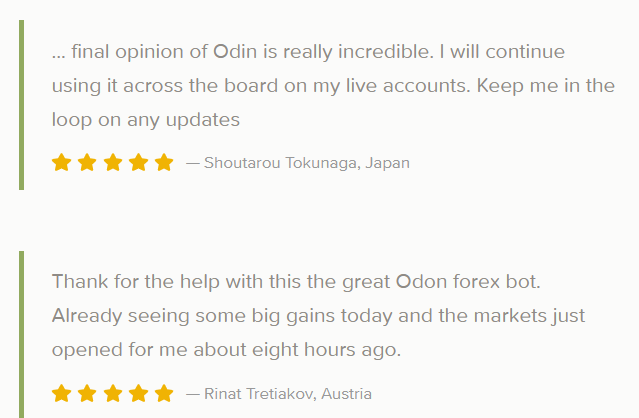 The presentation has only positive testimonials about the system and users' experience.
Forex Robot Trader deployed a page on Forex Peace Army with 270 testimonials and a 2.262 rate. It's such a low feedback result.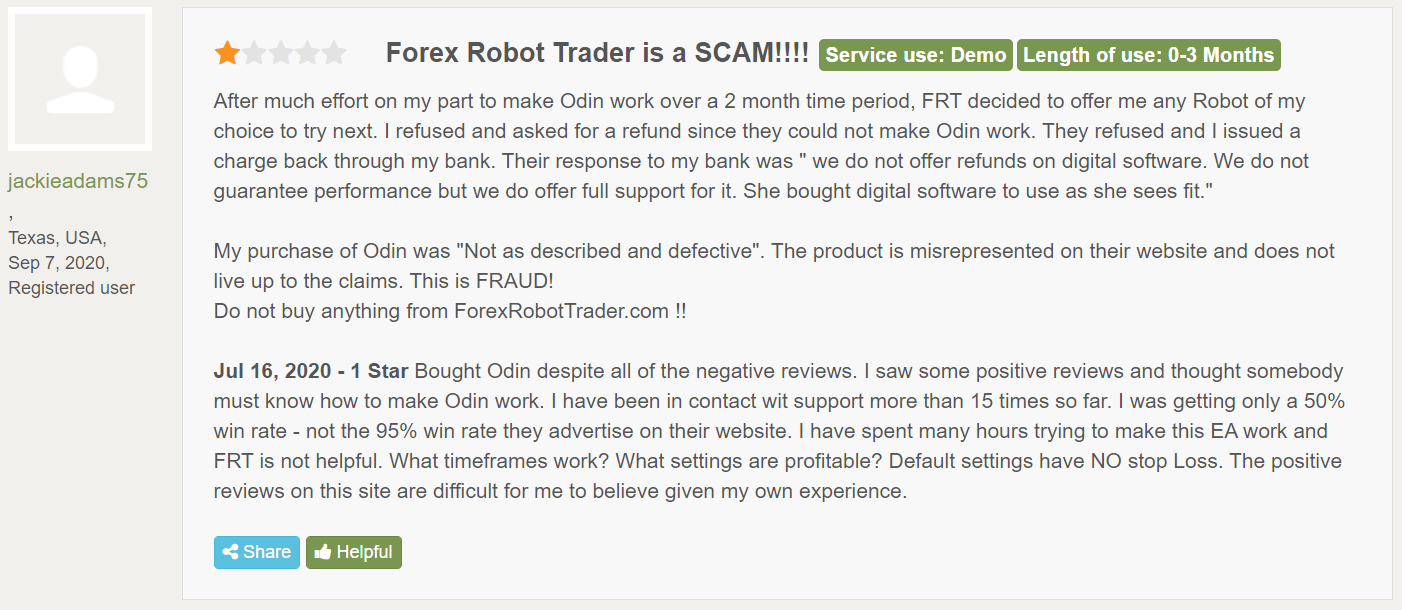 We may note that there are no happy clients available. It means that the series and its advisor are simply dangerous.