Index funds are one of the most popular investment products that track the performance of a particular market index. The presence of diverse stocks or bonds in these funds leads to portfolio diversification and mitigates the risk element.
Moreover, investors can gain investment results of a collection of securities through capitalizing on a single fund. The most famed investor, Warren Buffett, declared mutual funds and ETFs as the best investment choices for later life savings.
Are you interested in learning about a tax-advantaged index fund with promising potential and low costs?
So, read this account for understanding the features and benefits of the Fidelity International Index fund, a mutual fund that has shown remarkable performance in the current year.
Three things to know before starting:
The fund focuses on the developed market performance outside of Canada and the US.
FSPSX fund arranges its holdings according to the companies' market capitalization.
It has a relatively low expense ratio of 0.04%.
What is the Fidelity International Index Fund (FSPSX)?
It is an international equity fund that seeks the investment results of Morgan Stanley Capital International Europe, Australasia, and Far East Index. MSCI EAFE Index is a market-cap weighted index incorporating the stocks of developed markets outside the US and Canada.
The index includes large-mid cap businesses from 21 countries, contributing to regional diversification. As of October 2021, Europe is the largest contributor to the fund's holdings (65.85%), followed by Japan (22.42%) and Asia-Pacific ex-Japan (11.78%).
Moreover, the FSPSX fund provides different results than the US market indexes like the S&P 500; hence, it serves as an ideal entity for balancing the US-focused portfolios. In addition, the fund designates the highest weightage to the Financials, Industrials, and Consumer Discretionary sectors.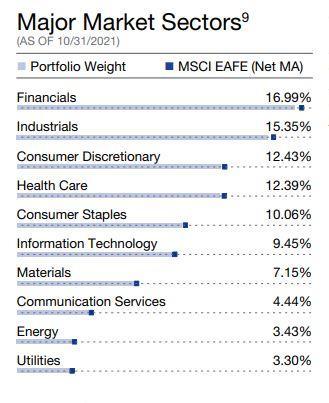 According to the September 2021 data, FSPSX has a total of 858 holdings, with the top three spots occupied by:
Nestle SA (Reg)
Asml Holding NV
Roche Hldgs AG (Genusscheine)
History of the Fidelity International Index Fund
FSPSX back in 1997, closely tracking its underlying index since then. Fidelity International, a branch of Fidelity investments, offers investment solutions and management services worldwide to individual and institutional investors.
Pricing and performance
The fund's price was below $25 back in 2012 but increased consistently to around $40 in 2018.
FSPSX price faced a major dip during mid-2020, plunging from $42 to approximately $30. However, the recovery was remarkable without any significant price pullbacks, and the price easily broke the previous all-time high of $42 at the end of 2020. The shares of FSPSX are currently trading at around $50.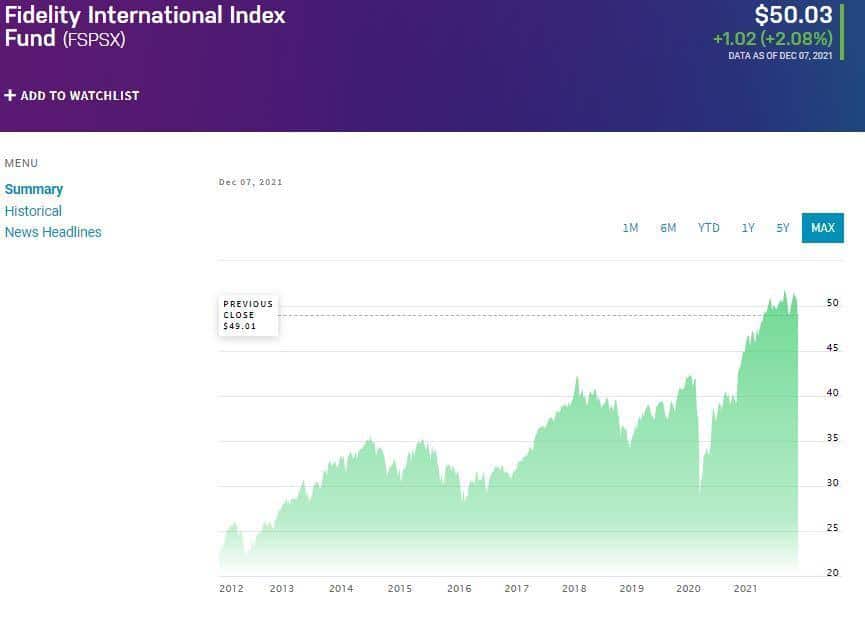 FSPSX comes under the category of "Foreign Large Blend" and has total net assets of $38.8 billion as of November 2021. The fund showed exceptional calendar year returns of 25.38% and 22% in 2017 and 2019.
Moreover, according to the latest monthly report, the average annual returns of 1-year and 5-years are 11.80% and 9.39%, respectively. In addition, its YTD (monthly) return stands at 6.48%.
Strategy & benefits
FSPSX fund mimics the performance of international stock markets and invests around 80% of its assets in the MSCI EAFE Index holdings.
This index has provided significant returns to the investors in the past years along with various benefits like portfolio diversification and low fees.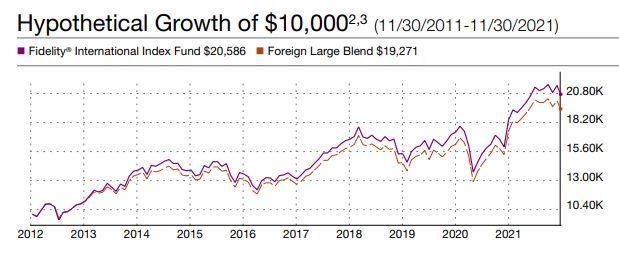 Moreover, as the Fidelity International fund comprises the established market stocks, investing in it excludes the volatility risk of emerging markets. In addition, foreign reserves under this fund have a less correlation with US stocks that diminishes the local market risk.
In addition, this index fund utilizes the fair-value pricing technique for adjusting the prices of foreign securities that may differ due to market closure times and dates globally.
Fees
The fund has a reasonable fee structure suitable for individual investors. It has an expense ratio of 0.04%, well below the category average of 0.98%. For instance, you would have to pay just $0.04 for a $100 investment.
Its management fees stand at 0.035% that is less than the average of 0.61%
Risks
The fund incorporates the general risks associated with all types of investments. However, it carries an additional uncertainty of non-US stock markets' performance.
As of November 2021, the following are some of the volatility measurements/risks of the FSPSX fund:
Beta: 1.00
Sharpe ratio: 0.52
Standard deviation: 17.38
Fidelity International Index Fund 2021/2022 forecast
Since the middle of last year, the Fidelity fund has been upward. Moreover, it has maintained positive average annual returns in the past five years.
Technicals indicate that its price can reach $59 by the end of 2022 as investors are optimistic about this fund's performance. In addition, the price can cross the $80 mark by the end of 2025.
Pros & cons
FSPSX has various investment advantages; however, it also has limitations, and some of its pros and cons are listed below.
Worth using
Worth to getaway
Stable growth
The fund consists of mostly mid/large-cap established companies that manifest stable growth.
Not suitable as an individual holding
International funds like FSPSX is risky to hold as your single investment option.
Safer than individual stocks picking
This fund holds more than 800 holdings, providing diversification and reducing the risks.
Foreign economy risk It isn't easy to constantly monitor and understand the workings of foreign economies, stock markets, and news.
Low fees
The fund has remarkably low fees compared to the average category fees.
Currency differences
Investors face the uncertainty of currency differences in the FSPSX fund stocks. The currency volatility can significantly reduce profits.
Final thoughts
International index funds such as FSPSX are a great way to diversify your local-investments portfolio by gaining exposure to global markets. The professional management and handling of the Fidelity International fund allow beginners and experienced investors to benefit from this investment basket.
Moreover, this fund has a cost-effective fee structure and can be a core holding among other domestic stocks investments. The developed companies under this index fund can lead to non-volatile, steady portfolio growth.
However, it is necessary to follow risk-management principles and hold the positions for the long term to acquire considerable gains.