News Scope EA Pro is the invention of FxAutomater. This company has been creating automated trading tools for Forex for more than 15 years now. The firm says that it is on a mission to research, find, test, and reveal workable strategies. The team is composed of investors, active Forex traders, and programmers. Unfortunately, none of these professionals is introduced to the public. Neither are we provided with any credentials that prove their said experience and credibility.
News Scope EA Pro trading strategy
This EA relies on the high-impact news trading strategy. It engages in short-term scalping when a major news event takes place and causes the price to move in one or both directions. According to the vendor, a strong price movement can lead to a gain of 20 pips in a few seconds.
News Scope EA Pro backtesting report
The vendor conducted backtests on each of the currency pairs the robot supports. We have assessed the results of the USDCAD symbol below: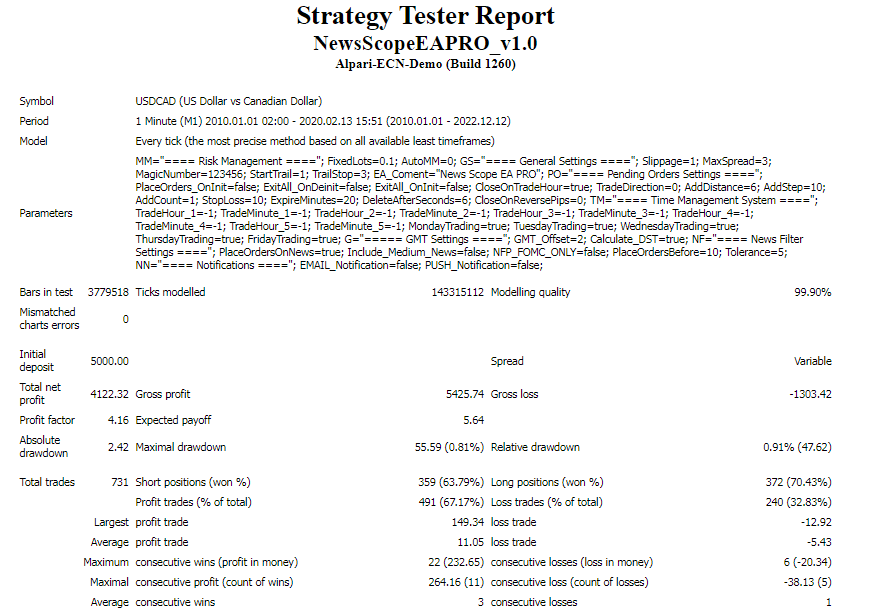 The EA was tested with Dukascopy real-tick data and variable spreads on the M1 timeframe between 2010 and 2020. In the end, a total of 731 trades were completed. The profitable trades were 67.17%. As a consequence, a total net profit of $4122.35 was realized. It is disappointing the robot failed to return the $5000 invested despite trading on a 10-year period worth of data. This indicates that you can trade with the system for years before you break even.
Fortunately, low-risk trading was involved as only a drawdown of 0.81% was generated. The average profit trade was $11.05, whereas the average loss trade was -$5.43.
News Scope EA Pro live results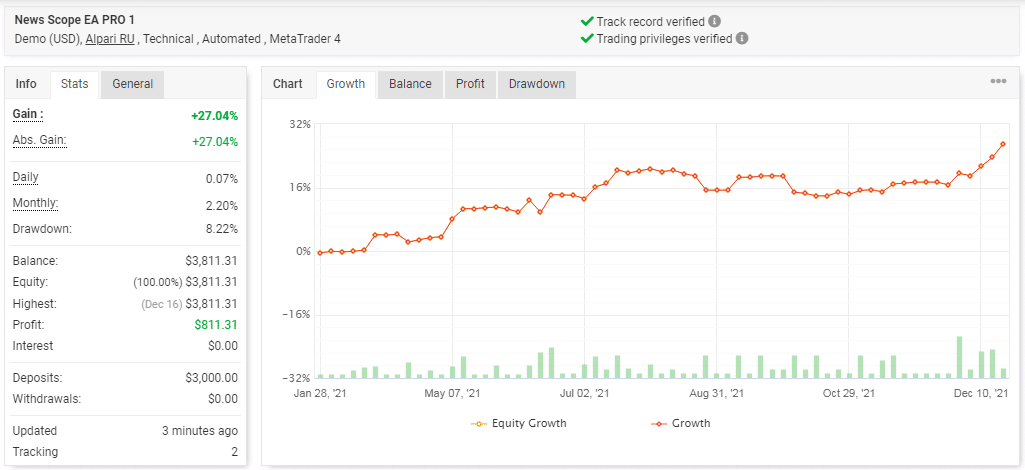 The EA has been trading on this account since January 28, 2021. On average, it makes a profit of 0.07% daily and 2.20% monthly. This profitability rate is low and unsettling. To date, a profit of $811.31 has been made from a deposit of $3000. The drawdown rate (8.22%) is low and shows that News Scope is a safe trader.

On average, the EA holds a trade for a minute. Currently, there are a total of 163 completed trades. The win rates for long (59%) and short positions (60%) are poor and pitiful. The profit factor is 2.03.

The robot places most orders at 3pm.

None of the buy orders placed using the USDJPY or the USDCAD currency pair was successful.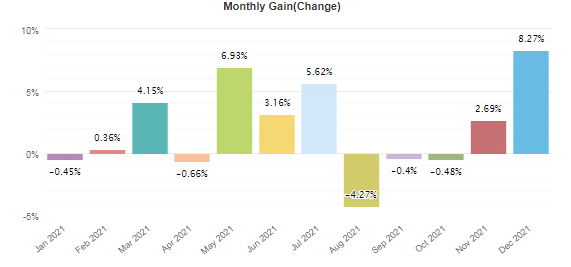 December is by far the most lucrative month this year. The EA made a series of losses between August and October.
Some features of News Scope EA Pro
| | |
| --- | --- |
| Total return | 27.04% |
| Maximal drawdown | 8.22% |
| Average monthly gain | 2.20% |
| Developer | FxAutomater |
| Created, year | N/A |
| Price | $117 |
| Type | High-impact news trading |
| Timeframe | M1 |
| Lot size | 0.15-0.19 |
| Leverage | N/A |
| Min. deposit | $100-$500 |
| Recommended deposit | $1000-$5000 |
| Recommended brokers | Any broker that offers MT4 trading platforms |
| Currency pairs | EURUSD, GBPUSD, AUDUSD, USDCAD, and USDJPY |
| ECN | Yes |
Main things to consider if you invest with News Scope EA Pro
Before you purchase this EA, you need to consider the following factors first:
Low profit amount
Backtest results show that the system generates small profits in the long-term. Live trading stats also confirm that News Scope is a low-income earner. Therefore, it causes a trading account to grow at a slow pace.
Infrequent trading
Through our analysis of the EA's trading activities, we have established that it doesn't trade often. For instance, the robot has only managed to execute 163 trades in the demo account bearing in mind that it has been active for 11 months now.
Volatile trading period
We have seen that the robot trades during major news events, a period when the market is highly volatile. This could lead to execution delay, spread increase, and slippage. As a result, significant losses may be experienced.
Pricing details
News Scope EA Pro is currently priced at $177. You can use the license on 1 real and 3 demo accounts, in addition to receiving 24/7 customer support and a 60-day money-back guarantee.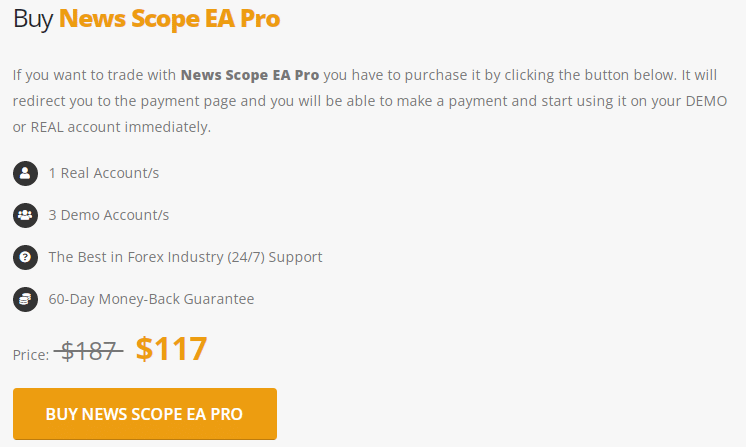 Other notes
News Scope EA Pro does not have any customer reviews in any of the reputable third-party sites like Forex Peace Army, Myfxbook, Trustpilot, or Quora.