The premise of сopy trading is straightforward. This tool allows you to copy trades made by other traders. Both you and the other trader must be registered on the same trading platform, and this will enable duplicate trades, often automatically.
It is a type of trading where you choose an investor you trust and copy (the exchange system copies) his investment. That is, where he invests, you will also invest there.
Although the trader you choose to copy can invest one million dollars, this does not mean that you also need to fund your account with that amount. Copy trading is based on the proportionality of trades.
If another trader invests 5% in one position, then 5% of your copy trading account balance will also be invested in the same position. So this allows you to access a valuable instrument without requiring a lot of capital.
The main challenge is to make a connection between profitable traders and investors so that they can both create a win-win situation. You can benefit from such a platform after completing the whole section, whether you are an investor or trader.
What is a copy trading platform?
It is a financial service-providing company that creates a connection between traders and investors so that they both can benefit from the service.
On the other hand, copy trading is an essential requirement for successful forex traders. Many people want to boost their profits by providing signals or giving opinions over the market for the money. However, copy trading is more direct and hassle-free for investors to not perform anything except allowing a trader.
As it is an integrated part of trading, many brokers allow built-in copy trading platforms where every person on the network can sell or take the service. On the other hand, some third-party companies came and created opportunities to copy trades between multiple brokers.
Some brokers allow social trading, another form of copy trading where investors can access a network to see how traders make a profit with detailed analytics.
Pros & cons of using the copy trading platform
Pros:
You can earn money from forex without trading knowledge.
Profitable traders can consider copy trading as a way to earn additional money besides trading.
It is the primary stage of being a hedge fund manager.
Investors can diversify the trading portfolio in multiple sectors through copy trading platforms.
Cons:
Following a copy, trading does not allow you to learn besides earning money.
No one can guarantee to make profits in the forex market. So there is always a risk of making losses.
These platforms discourage traders from trading and influence them to take service from them.
What is the calculative way?
The trading balance and risk per trade for the trader's and investor's accounts are not the same. Therefore, followers can choose how much percent of their investment is usable for the copy trading platform. Overall, the follower can choose risk per trade, or percent of the account, to measure the performance and remain safe from the uncertain situation.
Let's look at an example. If you invest $5000 and allow a trader to copy his trading activity to your account based on this system, every trade will risk:
5000 x 2%=$100
Therefore, for every losing trade, you will lose $100, and the amount of winning ratio depends on where the trader exits from the trade.
Let's see the interface of a copy trading platform from a broker.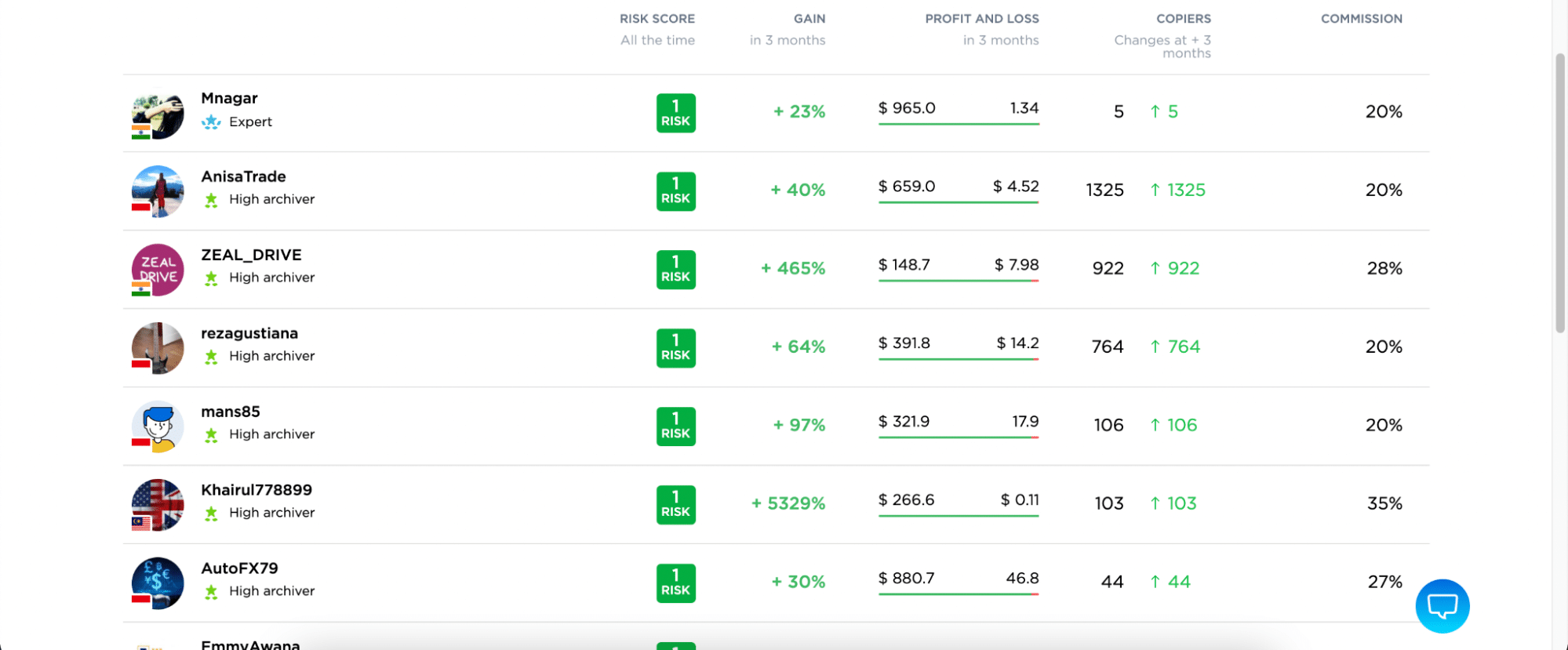 On the other hand, many third-party service providers use a server to spend little money on VPS to keep your trading account connected to the internet.
Besides, some individual copy trading software can copy trades in more than 100 accounts from different platforms. However, it is often risky as there is no way to find profitable traders.
Key features to look for in copy trading platform
You are now coming to some key features that you should check before taking services from any copy trading platforms.
We have analyzed and found these key points that are important to monitor while choosing a platform:
Diversification
Availability of traders
Trading functions
Diversification
A good platform should have a vast amount of available trading assets. Most of the copy trading activities happen through forex, stocks, indices, commodities, and cryptocurrencies. Therefore, you should ensure the presence of these instruments in the copy trading platforms. Otherwise, there is a possibility of missing trades.
Availability traders
Most of the top-tiered platforms provide a list of trades so that investors can choose to whom they should allow trading in their accounts. In that case, most of the platforms show a list of traders, including their performance analytics.
While choosing the performance, investors should focus on risk management and drawdown rather than profitability. Getting a massive profit from the forex market is often riskier than getting a stable benefit over time.
Let's see the list of traders from the eToro platform.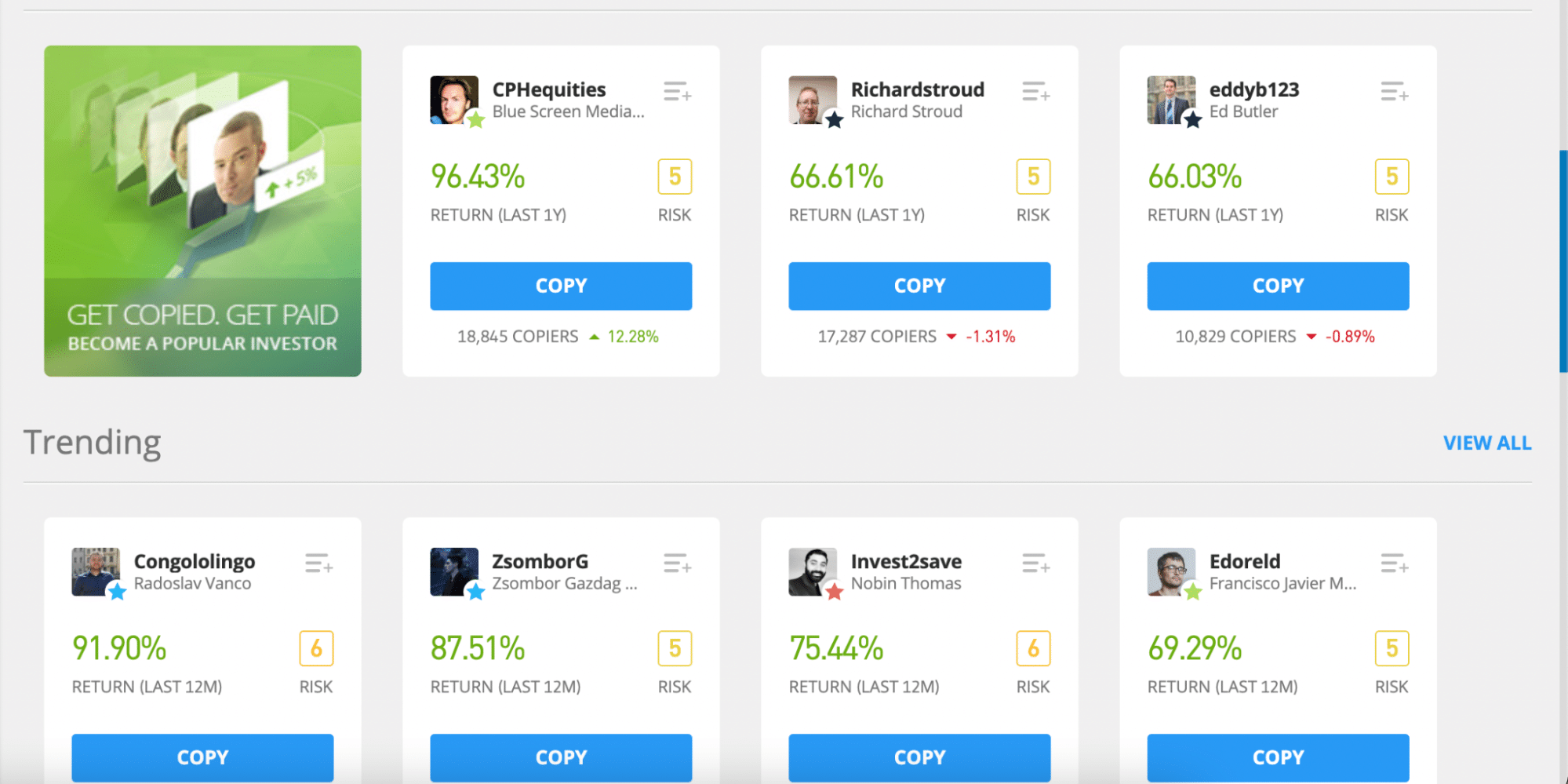 Trading functions
After finding profitable traders, the follower should see the full function of trading. A good copy trading platform should allow different types of trading functionality.
You should find both fixed lot and proportionate trading. Moreover, the option of maximum tolerable risk is also an important option to consider.
How to choose a trader for copy trading?
When choosing a trader whose deals you will copy, the following parameters will help:
Duration of the trader's trading history — starting from one year.
The number of subscribers in trading networks — a lousy trader has just a few.
Type and number of trades — a reasonable number for small amounts of money is a good choice for beginners.
Stability is more important than profitability. If a trader has consistently shown a profit over the past few months, there is no reason to believe that this will change in the near term.
Stability indicators can be:
At least 60% of all trades must be profitable.
The maximum drawdown or an indicator of possible losses is 25% and below.
Monthly income 10-30%.
A trader with such or similar indicators is good at risk management. A beginner with a small deposit will be comfortable making money with this strategy.
The recommended amount for effective copying will help you choose the best trader for your budget. Let the system scale transactions by correlating the accounts of the copier and the copied one. Some transactions are impossible without the presence of the required amounts on the trading account. If the amount is not indicated, contact the trader and get advice.
As a last resort, you can roughly estimate the amount by looking at the number and duration of the trader's transactions and the number of transactions in the provided trading history.
Final thoughts
After the above discussion, we realized that the copy trading platform connects traders and investors to gain a good profit.
However, forex trading involves risks that often a trader cannot minimize. For example, the recent market crash during the Covid-19 pandemic or the CHF crash in 2015 made a massive loss to traders. Therefore, you should invest the money in copy trading that you are ready to lose.