Happy Neuron uses the neural network method for ensuring successful returns. It is an expert advisor that is capable of working on 25 currency pairs. The fully automated software also uses a news filter feature. As per the vendor, the MT4/5 tool executes a constant number of trades and can make continuous profits.
Happy Neuron trading strategy
As per the info on the official site, this FX EA has many modules that work on recurrent neural networks. The ATS conducts an analysis of the market sentiment using the neural network methodology. There is no further explanation present on the strategy.
Happy Neuron backtesting report
There are no backtesting results present for this FX robot. Besides failing to provide a proper explanation for the strategy, the vendor does not have backtesting results. The lack of info on the strategy and the absence of backtests raise a red flag for the EA.
Happy Neuron live results
A few real-time trading results verified by the myfxbook site are present for this FX robot. Here is one of the accounts using a normal risk level.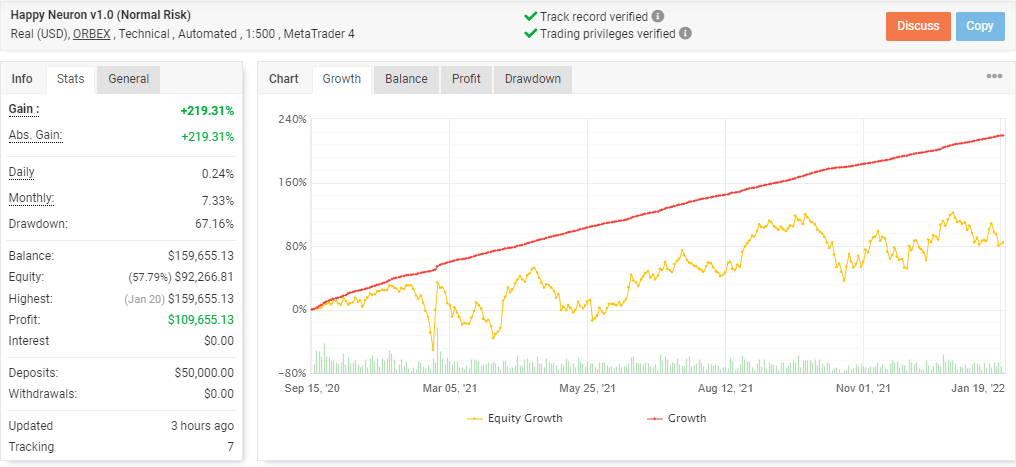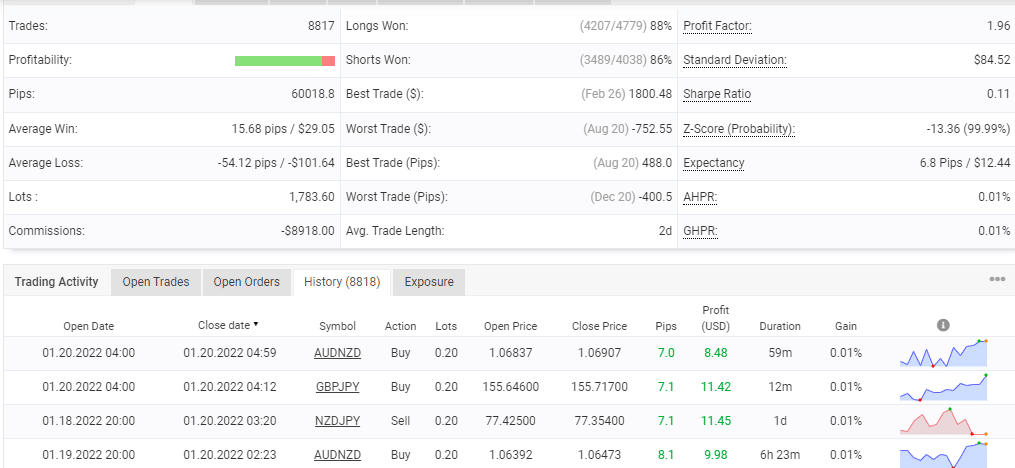 From the above stats, we can see that the real USD account uses the Orbex broker and the leverage of 1:500 on the MT4 platform. For a deposit of $50,000, the account that started in September 2020, shows a total profit of 219.13% and an absolute profit of the same value. The daily and monthly profits are 0.24% and 7.33%.
From the growth curve, we can see the growth has been on a steady upward incline. A drawdown of 67.16% is present which shows a high level of risk is involved. For a total of 8817 trades, 87% profitability and a profit factor of 1.96 are present. A lot size of 0.20 is used for the trades. While the growth looks good, we are concerned about the high drawdown present in the account that uses a normal risk mode.
Some features of Happy Neuron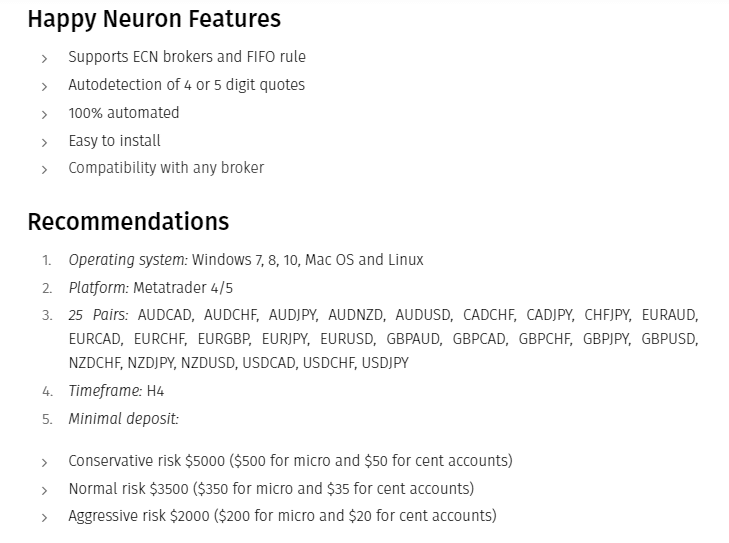 Important features and recommendations for using this EA are listed below:
The ATS supports FIFO regulations and ECN brokers.
It can autodetect quotes of 4 or 5 digits.
The software is fully automated.
You can use it with any broker.
It is easy to install and use.
A timeframe of H4 is recommended by the vendor.
A minimum deposit of $5000 is required for the conservative risk.
For using the normal risk, the vendor recommends a minimum deposit of $3500.
For aggressive risk, the recommended deposit is $2000.
| | |
| --- | --- |
| Total return | 219.31% |
| Maximal drawdown | 67.16% |
| Average monthly gain | 7.33% |
| Developer | Happy Forex |
| Created, year | N/A |
| Price | €349 |
| Type | Neural networks |
| Timeframe | H4 |
| Lot size | N/A |
| Leverage | 1:500 |
| Min.deposit | $3500 -$5000 |
| Recommended deposit | N/A |
| Recommended brokers | N/A |
| Currency pairs | 25 currency pairs |
| ECN | Yes |
Main things to consider if you invest with Happy Neuron
If you are interested in this EA, then you need to pay attention to:
Verified real trading results
A few real-time trading results verified by the myfxbook site are present. The results show consistent growth. But the drawdown is very high indicating you are at risk of losing more than half of your capital.
Lack of vendor transparency
There is no info on the company Happy Forex, which promotes this product. We could not find company details like founding year, location address, phone number, developer info, etc.
Vague strategy explanation
Other than mentioning the use of neural networks and a news filter, the vendor does not reveal info on the strategy used. There are no strategy tester reports present which makes it difficult to understand the approach used.
Pricing details

You can buy this FX EA for €349. Unlike many of the other EAs of the company, this EA is sold separately. On purchase of the package, you get one license that works on an unlimited number of demo or real accounts, free updates, free upgrades, and a 30-day money-back guarantee. When compared to other competitor products, we find the pricing is expensive.
Other notes
Unfortunately, we could not find user reviews for this FX EA on trusted third-party sites like FPA, Trustpilot, etc.