FxProfitSignals is a signals provider service known for generating short and long trading signals for the Forex market. The developer behind this system claims that it has had 100% profitable months to date. By signing on this platform, you can get nearer to your trading objectives by learning from professional traders.
There is a team of experts who use manual strategies to trade the Forex market. They generate long and short signals using technical indicators. For risk management purposes, they employ profit targets and stop losses. Mainly, there are two types of signals called pending orders and market execution.
FxProfitSignals trading strategy
FxProfitSignals uses different strategies like trend following, trend reversal, and counter-trend. We don't exactly know how the system uses these trading schemes, since the developer has not explained them properly.
FxProfitSignals backtesting report
EA vendors often conduct backtests to test their systems with historical data. These tests go on for several years, thus exposing the system to various market conditions. Since this is not an expert advisor, we don't have any backtesting results to analyze.
FxProfitSignals live results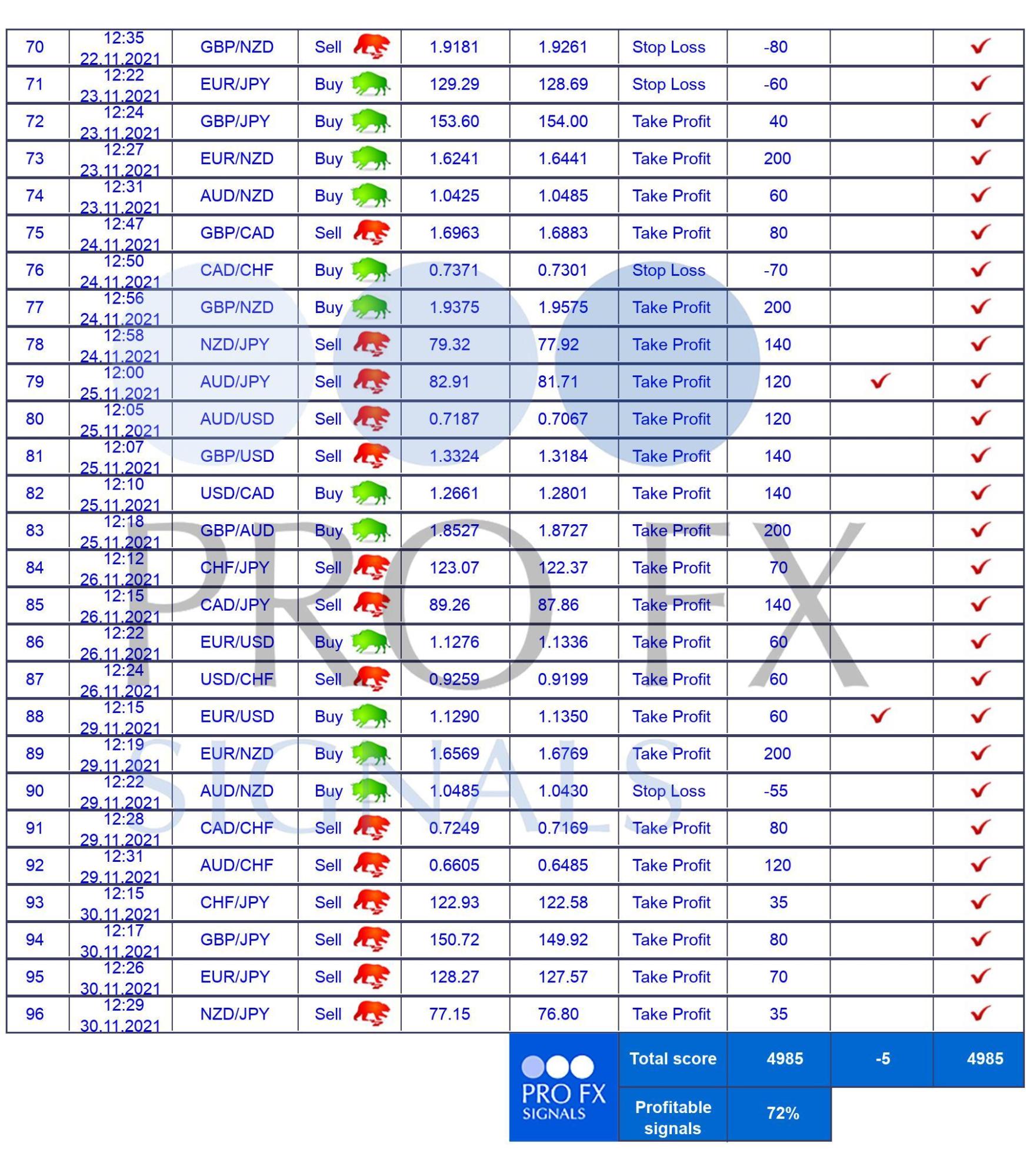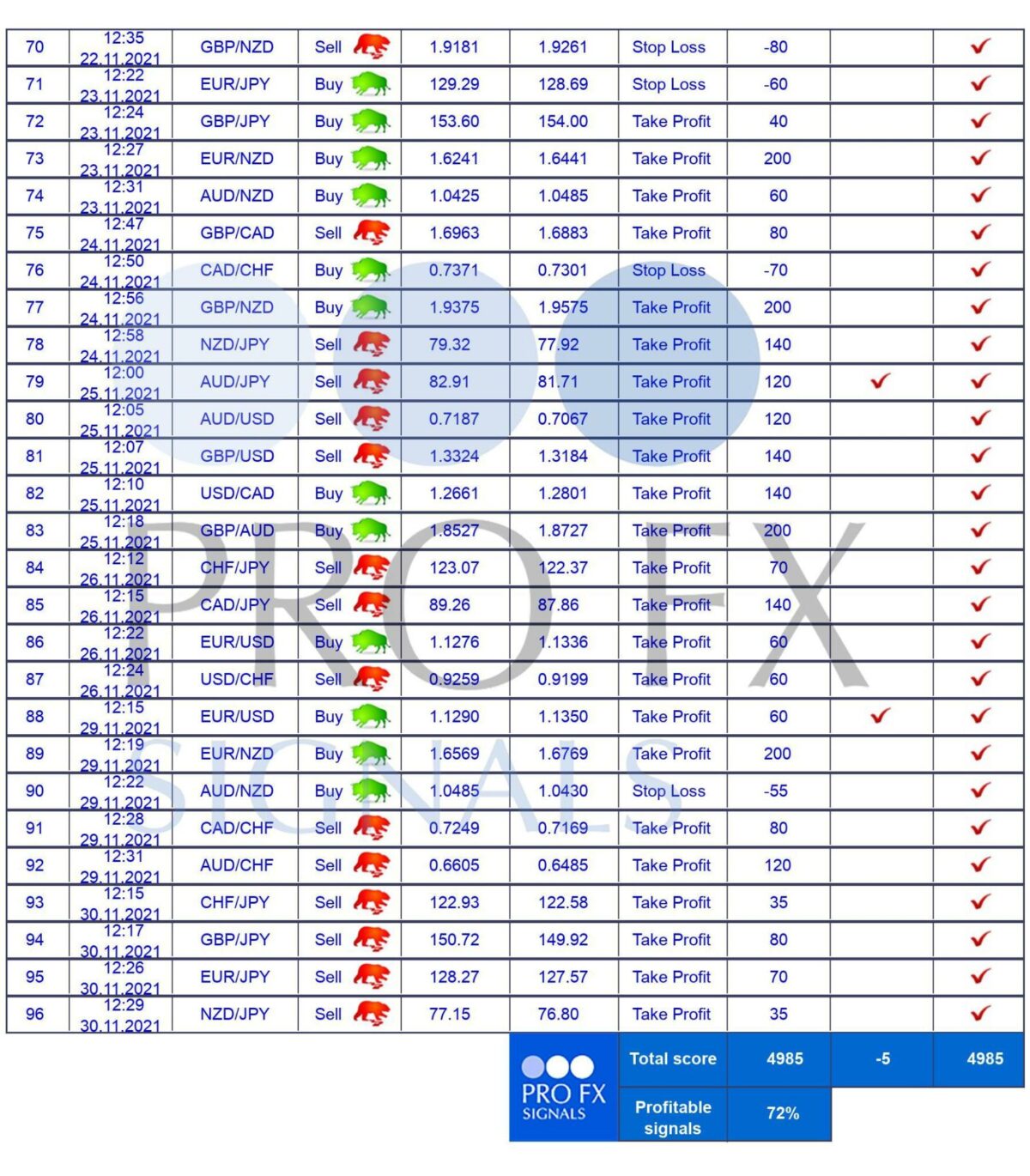 Unfortunately, there is no verified trading account for this signals provider on third-party websites. The vendor has shared the results in tabular format. However, we don't have the results beyond November 2021. Here we can see the currency pair, order type, entry and closing price, and the profit and loss in terms of pips. For the month of November, 72% of the signals were profitable.
Some features of FxProfitSignals
From the trading results, we can see that this system generates signals for pairs like CAD/JPY, AUD/NZD, CAD/CHF, NZD/USD, EUR/CHF, AUD/CAD, EUR/USD, NZD/JPY, NZD/CHF, GBP/CHF, EUR/CAD, and others. The vendor recommends starting with a balance of $10,000 or more for a standard account and $1000 for a mini account.
| | |
| --- | --- |
| Total return | N/A |
| Maximal drawdown | N/A |
| Average monthly gain | N/A |
| Developer | N/A |
| Created, year | N/A |
| Price | 45 Euros/month |
| Type | Signals provider |
| Timeframe | N/A |
| Lot size | N/A |
| Leverage | N/A |
| Min. deposit | $10,000 |
| Recommended deposit | $10,000 |
| Recommended brokers | CedarFX |
| Currency pairs | CAD/JPY, AUD/NZD, CAD/CHF, NZD/USD, EUR/CHF, AUD/CAD, EUR/USD, NZD/JPY, NZD/CHF, GBP/CHF, EUR/CAD, etc. |
| ECN | No |
Main things to consider if you invest with FxProfitSignals
If you wish to use this signals provider, you need to consider the following:
Lowest spreads with partner broker
By signing up with the CedarFX brokerage firm, you get the lowest spreads. It also gives you a $30 welcome bonus, up to a 50% deposit bonus, and maximum leverage of 1:888. You can also make withdrawals much faster.
Free training videos
By registering for this service, you can access free training videos on your account page. These are useful for novice traders who might not know how to properly utilize the signals. Since 2016, FxProfitSignals has helped 30,000 traders.
Lack of vendor transparency
We have very little information on the parent company behind this signals provider. The vendor has not revealed the identities of the analysts who generate the signals. Therefore, we don't know whether they are qualified enough to deliver profitable signals consistently.
No verified trading results
We couldn't find the verified trading results for this system on websites like FXBlue, Myfxbook, and FXStat. Although the vendor has shared the results on the website, we cannot see some of the key performance parameters like drawdown, average daily and monthly gains, profit factor, etc. Thus, it is not possible to accurately gauge the profitability of the signals.
Pricing details
There are three types of signals, namely Free, VIP, and Premium. While VIP signals are suitable for short-term traders, the Premium signals come with analysis results. The four VIP plans for 1-month, 3 months, 6-months, and 12-months durations cost 45 Euros, 90 Euros, 140 Euros, and 210 Euros, respectively. The corresponding plans for Premium cost 69 Euros, 149 Euros, 249 Euros, and 359 Euros, respectively. Unfortunately, the vendor does not offer refunds.
Customer reviews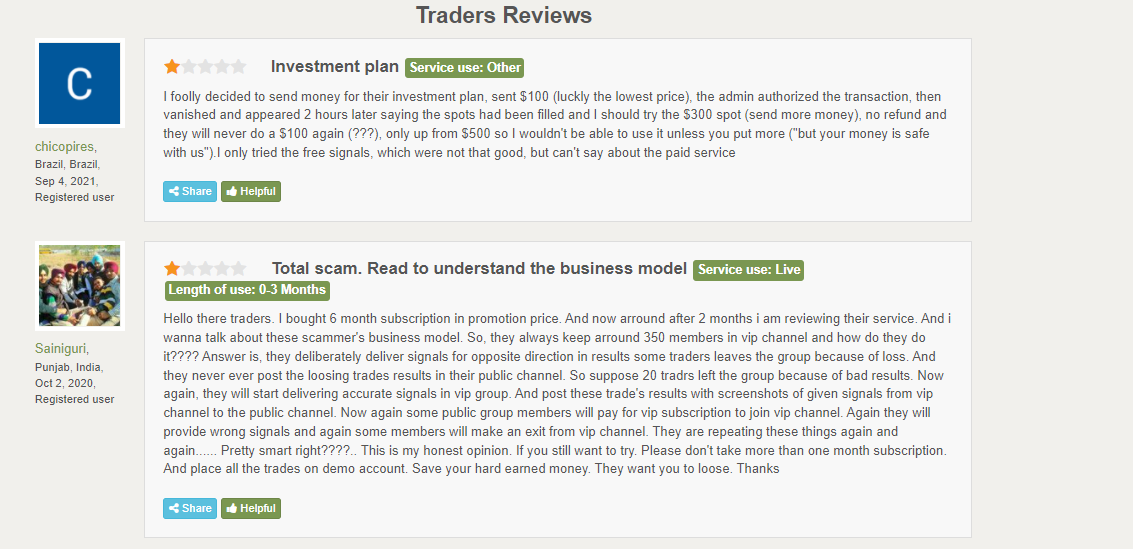 On FPA, FxProfitSignals has a low rating of 1.156. One user has claimed that this is a scam service that deliberately delivers signals in the opposite direction, resulting in losses.