FX Leaders promises to offer traders with high-quality market analysis, exhaustive insight, and live market updates 24/7. The analysts focus on Forex trading, indices, commodities, and cryptocurrencies. They also provide real-time trading signals.
FX Leaders was authored by expert analysts. They are said to have combined trading experience across all the main financial markets. The team comprises 13 individuals with different professional backgrounds. We have Skerdian Meta (leading analyst), Arslan Butt (commodities & indices analyst), Rowan Crosby (asian desk analyst), Shain Vernier (market analyst & financial writer), and others.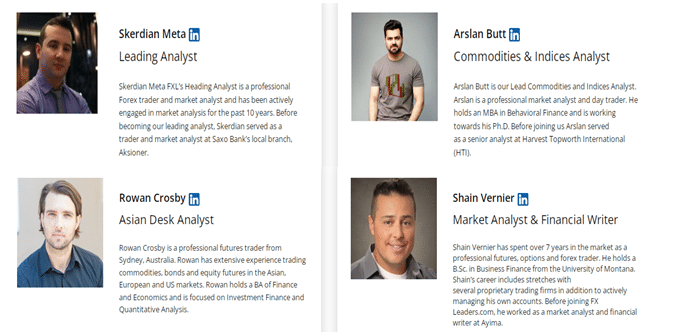 FX Leaders trading strategy
The FX Leaders team applies several strategies. The first one is hedging, and this entails buying and selling 2 different instruments concurrently or within a short period. The second one is the scalping strategy. This approach relies on placing a huge number of short-term trades across a broad range of currency pairings.
Thirdly, we have the support and resistance trading method. When applying this approach, designated technical areas in the market are perceived as points of contention. The main idea is that since price is unlikely to move through these areas without restrictions, it will be challenged. The last approach is Fibonacci. This involves placing price action in the proper context by utilizing the Fibonacci sequence.
FX Leaders backtesting report
The presentation doesn't include a backtest report. This is not good. The importance of this test cannot be emphasized enough. The outcomes generated usually show how a trading strategy can significantly change as the conditions of the market are altered.
FX Leaders live results
Live trading results are unavailable as well. We don't understand why the vendor is unwilling to show us how their signals work in the live market. Such data is essential as it can help traders to gain confidence in the services.
Some features of FX Leaders
| | |
| --- | --- |
| Total return | N/A |
| Maximal drawdown | N/A |
| Average monthly gain | N/A |
| Developer | FX Leaders |
| Created, year | 2012 |
| Price | $39/m, and $9.80/m for a year |
| Type | Hedging, Scalping, Support and resistance trading, and Fibonacci |
| Timeframe | N/A |
| Lot size | N/A |
| Leverage | N/A |
| Min. deposit | $100 |
| Recommended deposit | N/A |
| Recommended brokers | Avatrade, Etoro, XM, Forex.com, AxiTrader, ETX Capital, Markets.com, and many more |
| Currency pairs | All |
| ECN | N/A |
The other features of the robot are included here:
Provides live market updates.
Offers a powerful learning center.
A trading course is available.
Includes an economic calendar that updates you about all the major market moving events that can affect your trade.
Main things to consider before you invest with FX Leaders
If you are deliberating on purchasing signals offered by this vendor, then you need to be aware of the following
Lack of live trading results
This vendor has been in this market for almost a decade now. It is thus suspicious of them not to provide records illustrating how their service has been performing.
No backtest report
The provider also fails to share the backtest report for this service. We are sure you would want to know the viability of the strategies that are used to identify profitable signals. It's only fair to make out if you can benefit from them over a prolonged period or not.
Pricing details
FX Leaders has a free subscription option. So, you are invited to capitalize on the opportunities that Forex trading provides. Premium Forex signals services are available. The main difference from the free offer is that they come with extra benefits. These include; entry email and mobile alerts for trading signals, entry price, and full access to performance reports. You can choose to pay the monthly plan, which is $39, or the annual plan that will cost you $9.80/m.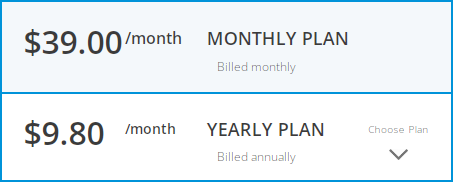 Other notes
So far, FX Leaders has a total of 38 reviews on Trustpilot. The rating is average. The company is accused of providing fake signals that can't bring winnings and failing to respond to emails. Even so, there's a customer who appreciates the vendor for helping her to become a skilled trader.