Forex Trend Detector is meant for traders who want a simple to use, powerful, and consistently profitable Forex robot. The devs purport that the EA has state-of-the-art algorithms that scour the market for telltale signs of profitable opportunities. We review the robot to establish if these are enough reasons to make you invest in the tool.
Forex Trend Detector trading strategy
Forex Trend Detector is claimed to use a smart money strategy along with a sophisticated drawdown compensating algorithm and volatility breakout strategies. Sad to say, the devs do not make any effort to explain the strategies in a detailed way. We hate to be the bearers of bad news, but we are afraid that the grid strategy is also part of this trading system. The dangers carried by this approach cannot be emphasized enough.
Forex Trend Detector backtesting report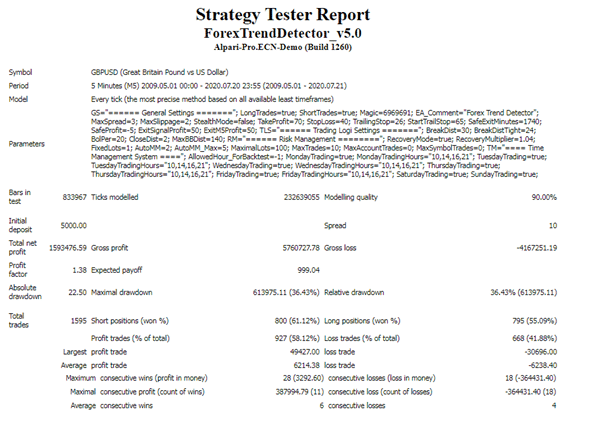 This backtest report reveals the ineffectiveness of the trading strategy at play. This is clearly seen by the high maximum drawdown of 36.43% and the profit factor of 1.38. Also, from 1595 trades conducted between May 2009 and July 2020, only 61.12% of the short positions and 55.09% of the long positions were successful. There was a profit of $1,593,476.59 from a deposit of $5,000.
Forex Trend Detector live results
There is a live AUD account on Myfxbook.com that is being run by this robot. When you look closely, you can see that the EA generates peanuts. On a monthly basis, it only makes 6.48% profits. Therefore, it has taken the robot about 6 months to make A$1509.46. Worse still, losses are being generated at a high rate, as evidenced by a high drawdown of 32.65%. The gain made is 53.65%.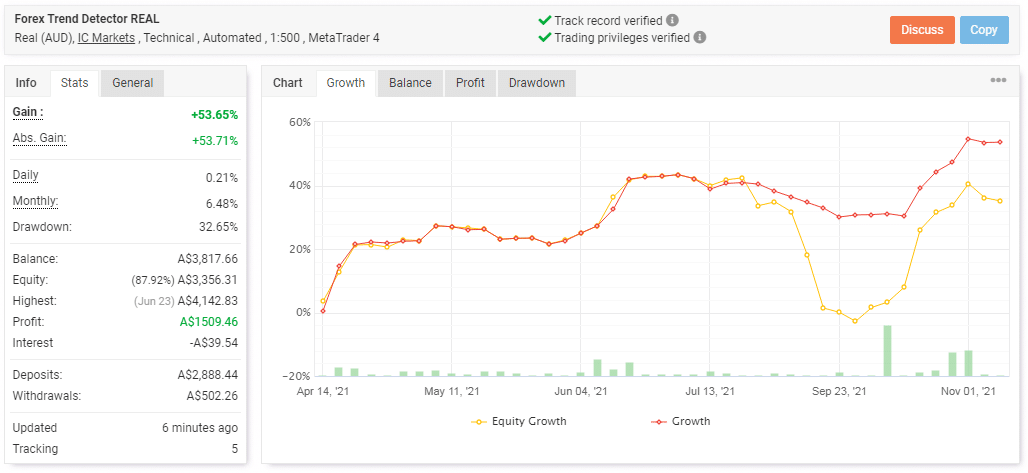 We have win rates of 61% for long positions and 69% for short ones from 172 trades. The pips made are 11334.8, and there is an average win of 117.77 pips and an average loss of -36.06 pips. The EA holds positions for a long time — 2days.

The system placed many grids of orders while using varying lot sizes. The SL and TP levels were fixed, though. In the end, small profits were made. There were some losses, and they were quite substantial.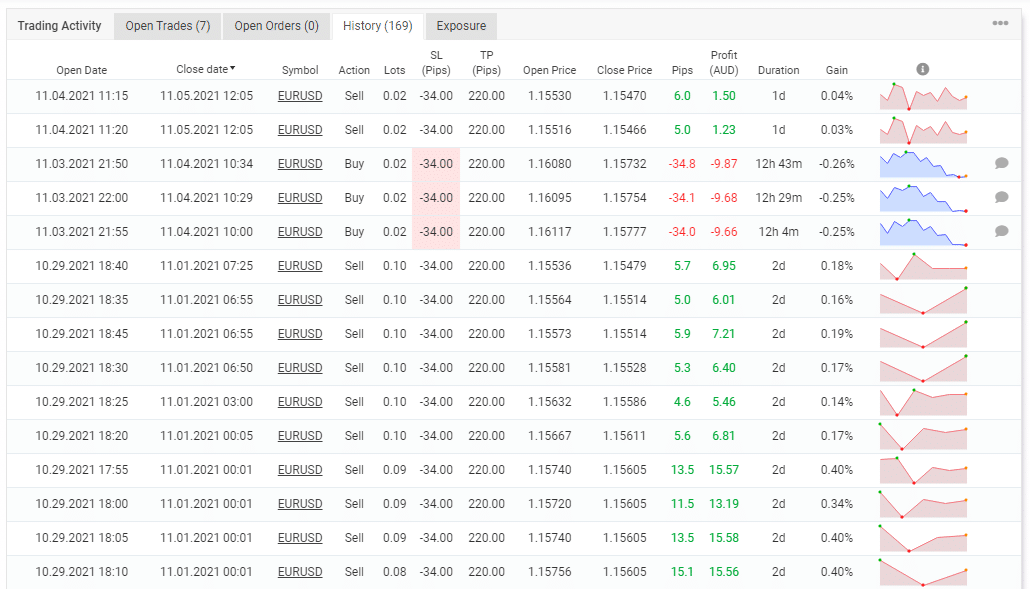 Some features of Forex Trend Detector
| | |
| --- | --- |
| Total return | 53.65% |
| Maximal drawdown | 32.65% |
| Average monthly gain | 6.48% |
| Developer | FXAutomater |
| Created, year | N/A |
| Price | $237 |
| Type | Smart money, sophisticated drawdown compensating algorithm, volatility breakout, grid |
| Timeframe | M5 |
| Lot size | N/A |
| Leverage | N/A |
| Min. deposit | $100-$500 |
| Recommended deposit | $1,000-$5,000 |
| Recommended brokers | Any MT4/5 brokers |
| Currency pairs | EURUSD, GBPUSD |
| ECN | N/A |
Main things that make Forex Trend Detector unreliable
The grid approach
This strategy is inherently risky. Even if the EA manages to plot the range and intervals with precision, the range will ultimately be broken, and your account will eventually crash. So, you should expect disastrous effects when you hand over your account to this robot.
Unfavorable risk/reward ratio
From the trading results, we can see that the system has a poor risk/reward ratio of 5:1. This means that Forex Trend Detector risks $5 to potentially make $1. For this reason, it wouldn't make any economical sense to trade with a system that will hardly grow your account.
Low profitability rate
As you have seen in the trading results section, it may take you almost half a year to make $1000 from this robot. Also, each position generates small pips, which may easily be erased by huge losses. In short, there is no hope of you making it big in Forex with this trading tool.
Pricing details
Forex Trend Detector is currently going for $237. At this price, you will get 1 real account, 2 demo accounts, and a 60-day unconditional money-back guarantee.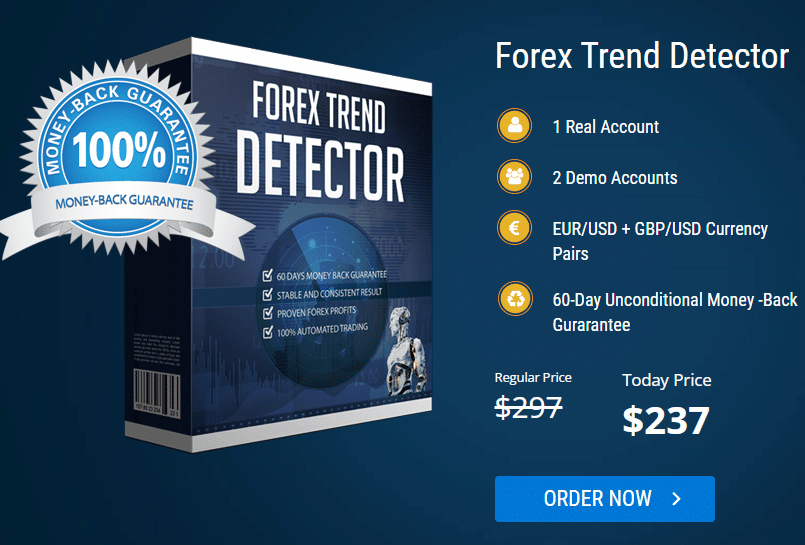 Other notes
There are two customer reviews for this EA on Forex Peace Army. One of the customers gives us a hint that the robot can stay for 1 to 2 weeks without placing trades, and when it does, they are not always successful. The other comment has been spammed by the FPA moderation team after suspecting that it was written by the representative of Forex Trend Detector.