Forex Robotron is an expert advisor that works on the Metatrader 4 platform. According to the vendor, it is one of the few robots that have been backtested using real tick data, trading commissions, real slippage, and real variable spreads.
On average, this EA places 600 trades every year. However, this can change based on market and broker conditions. It conducts its trading activity between 9 PM to 11 PM GMT. On the official website, the vendor has not explained in detail how the system works, which comes as a real disappointment.
Forex Robotron trading strategy
Forex Robotron avoids using grid trading and money management strategies. However, we don't have any information on the actual trading strategy used by this robot. The vendor should have explained how the EA locates profitable trading opportunities and whether it uses any indicators for this purpose. Seasoned Forex traders always look for strategy insight before investing in a system and they will no doubt find this disappointing.
Forex Robotron backtesting report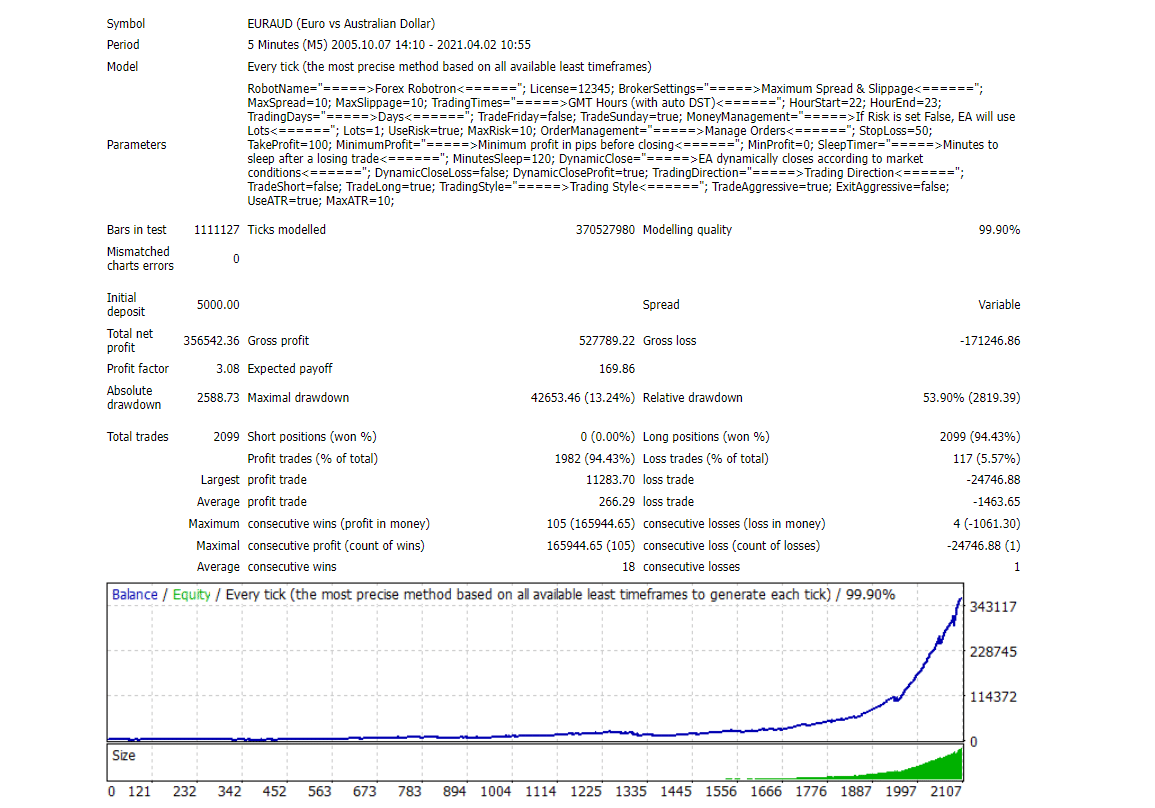 Here we have the results for a backtest performed on the EUR/AUD pair. The test was performed for the M5 timeframe using an every tick model. During the testing period, the EA placed a total of 2099 trades, winning 94.43% of them. It generated a total net profit of $356542.36 and maintained a profit factor of 3.08. What concerns us most about this backtest is the high drawdown of 53.90%. This is an unacceptable level of drawdown since it leaves you open to heavy losses.
Forex Robotron live results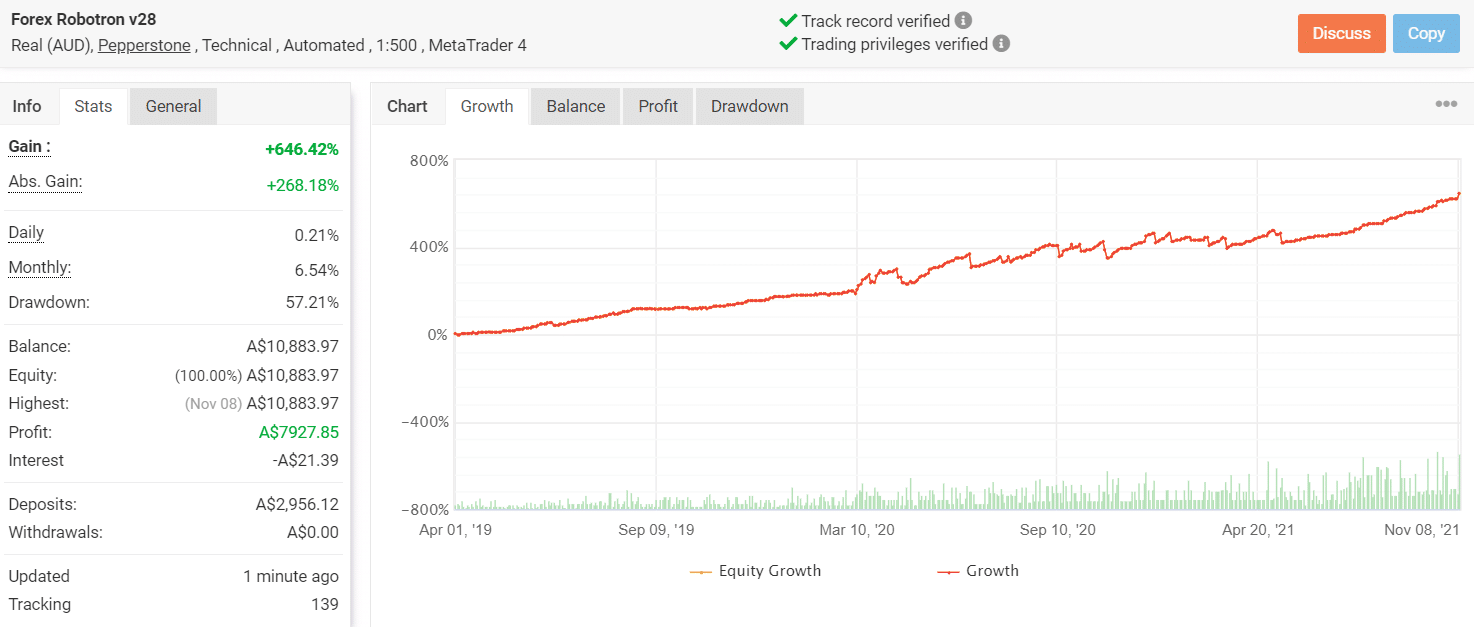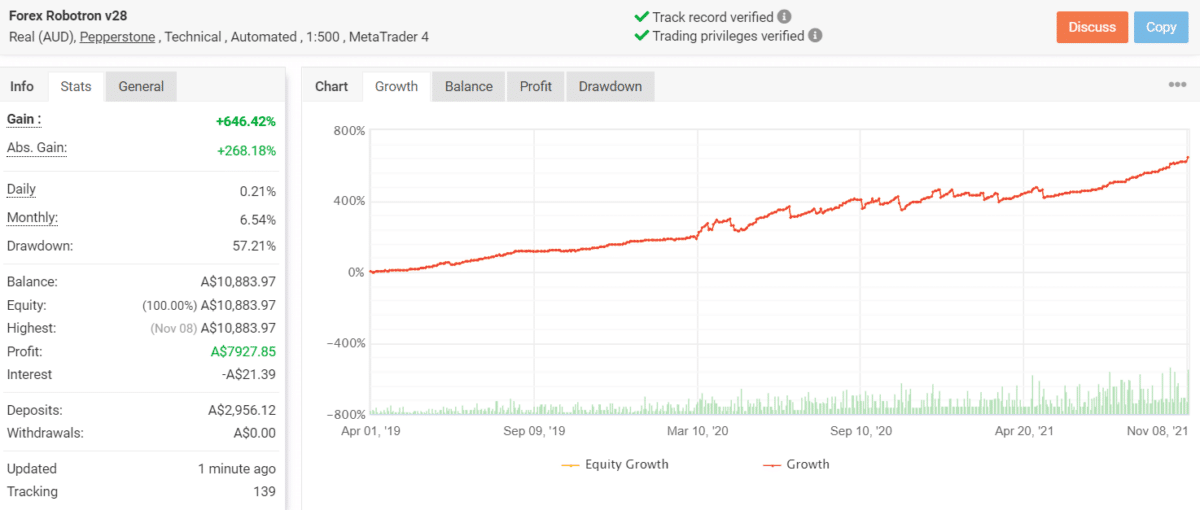 This is a live trading account on Myfxbook that was launched on July 23, 2018. After conducting 1166 trades, the profitability for this account currently stands at 81%, which is slightly lower in comparison to the backtesting results. Forex Robotron has generated a total profit of A$7927.85 through this account.
Currently, the daily and monthly gains are 0.21% and 6.54% respectively, while the drawdown is 57.21%. This is even higher than what we saw in the backtesting results. The high drawdown indicates a risky strategy that can lead to huge losses. Thus, we don't think it is safe to use this robot for live trading.
Some features of Forex Robotron
You can use this EA to trade in pairs like EUR/AUD, EUR/CAD, EUR/CHF, EUR/USD, and EUR/GBP. It trades on the M5 timeframe. The vendor claims it works with any deposit amount.
| | |
| --- | --- |
| Total return | +646.42% |
| Maximal drawdown | 57.21% |
| Average monthly gain | 6.54% |
| Developer | N/A |
| Created, year | N/A |
| Price | $299 |
| Type | N/A |
| Timeframe | M5 |
| Lot size | N/A |
| Leverage | Any |
| Min. deposit | Any |
| Recommended deposit | N/A |
| Recommended brokers | N/A |
| Currency pairs | EURAUD, EURCAD, EURCHF, EURGBP, EURUSD |
| ECN | N/A |
Main things that make Forex Robotron unreliable EA
The main drawbacks are as follows:
High drawdown
The drawdown for both the backtest and the forward test exceeds 50%. This essentially means Forex Robotron follows a high-risk approach. Therefore, there is a high chance that you will lose a large portion of your account while trading with this system.
Zero vendor transparency
We have zero information on the parent company behind Forex Robotron. We don't know when it was founded or whether the team has built other robots in the past. Thus, there is no guarantee that the system is not full of bugs.
Undisclosed trading approach
We don't know anything about the trading strategy used by this EA. The vendor has not shared any strategy insight, and this makes it difficult for a trader to assess whether the system will suit their trading style or not. Without any kind of strategy-related information, it is not possible to gauge the profitability of the robot.
Pricing details
There are four pricing plans for this robot, namely Basic, Standard, Gold, and Premium. The prices of these plans are $299, $399, $499, and $999, respectively. The plans are extremely expensive and there is a strict no-refund policy.
Other notes

There is a single user review for this robot on Forexpeacearmy. Clearly, it does not have a stellar reputation. Here, the user complains about the EA not being able to deliver consistent performance.