Forex Enigma doesn't promise anything out of the ordinary. The devs say the system makes steady profits monthly. They also assert that the advisor doesn't make decisions on impulses. This way, it is able to trade reliably. We disagree. Our review has revealed that the system's activities always lead to small profits. So, you are even better off trading on your own.
Forex Enigma trading strategy
Forex Enigma is built to work on the MT4 platform only. The devs explain that they have integrated 3x innovative trading approaches in one algorithm (scalp, trend, and half grid). A news filter is included as well to enhance the efficiency of trades.
Forex Enigma backtesting report
Below, we have the results of a backtest that was conducted on real data and real spreads using low risk settings. There was a deposit of $1000 that was used to conduct 493 trades between 2020 and 2021. The end result was a profit of $312.95 and a drawdown of 16.90%. The profit value was indeed very low, and a sign that the strategy wasn't useful. An average profit trade of $1.39 and an average loss trade of -$2 were recorded. These stats tell us more losses were made compared to wins.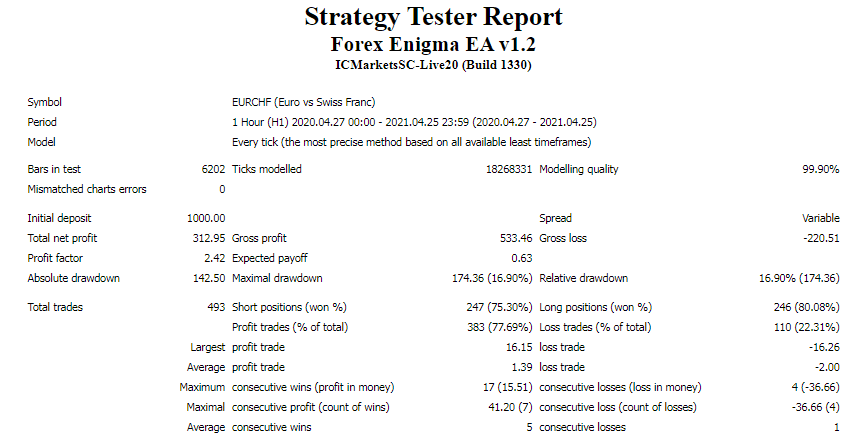 Forex Enigma live results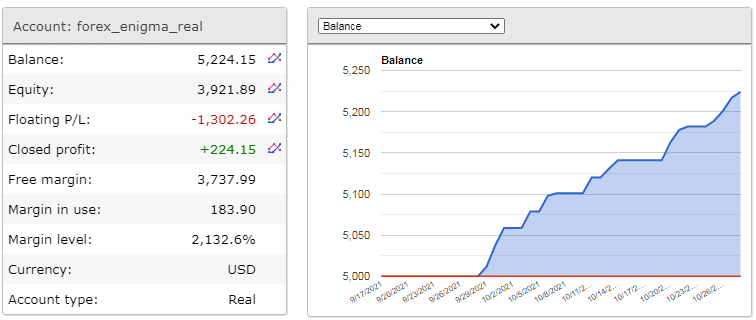 As you can see above, the EA is managing an account on FXBlue. It was launched in September 2021, and to date, a profit of $224.15 has been generated. The loss is almost 6 times higher — $1302.26. This cannot be good. The account may become worthless soon. The free margin is $3,737.99.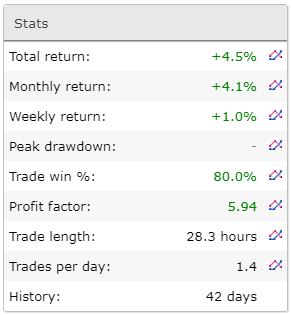 The account has attained a total return rate of 4.5% for the 42 days it has been active. About 1.4 trades are implemented daily, and 80% of the orders are successful. There's a profit factor of 5.94 and a monthly return rate of 4.1%. However, the drawdown value is not shown. We suspect it is high.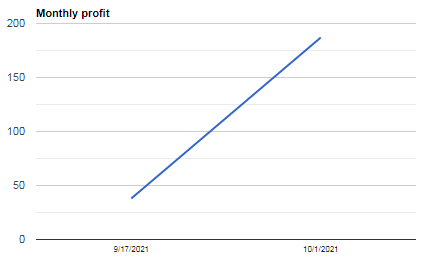 The monthly gain increased sharply from September to October.

The EURCHF is used to place a grid of orders.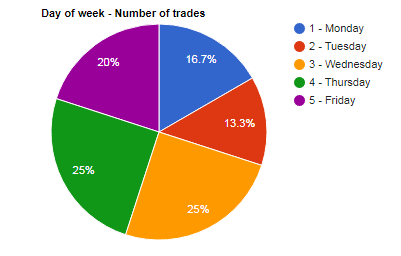 Wednesday and Thursday are the days with the highest trading activity.

Wednesday has the highest net profit.
Some features of Forex Enigma
| | |
| --- | --- |
| Total return | 4.5% |
| Maximal drawdown | N/A |
| Average monthly gain | 4.1% |
| Developer | N/A |
| Created, year | N/A |
| Price | $149, $199, and $249 |
| Type | Scalp, Trend, and Half Grid |
| Timeframe | H1 |
| Lot size | 0.05 |
| Leverage | 1:100 and higher |
| Min.deposit | $1000 or $10 |
| Recommended deposit | N/A |
| Recommended brokers | Any MT4 broker |
| Currency pairs | EURCHF, USDCAD, AUDCAD, AUDUSD, EURUSD, GBPUSD, and EURGBP |
| ECN | N/A |
Main things that make Forex Enigma an unreliable system
Zero vendor transparency
The developers of this robot are not disclosed. So, we don't know their names, professional backgrounds, where they operate from, how to contact them, etc. This is disappointing and a sign that the team is untrustworthy.
Low profitability
The scalping approach used by Forex Enigma is inherently unproductive. It is known to produce minute gains. From the backtest report, we can tell that the EA will need to trade for years before it gives you value for money.
Risky approach
As mentioned earlier in the review, the system also works with the grid approach. This method is very unreliable. Poorly calculated grids could lead to large losses. You may find yourself in a margin call in no time.
Pricing details
If you want to buy Forex Enigma, you must at least have $149. This amount will allow you to only trade a single real account. However, to trade 2 or 3 accounts, you can purchase the standard or professional packs that cost $199 and $249, respectively. A 30-day money-back guarantee is offered for all plans.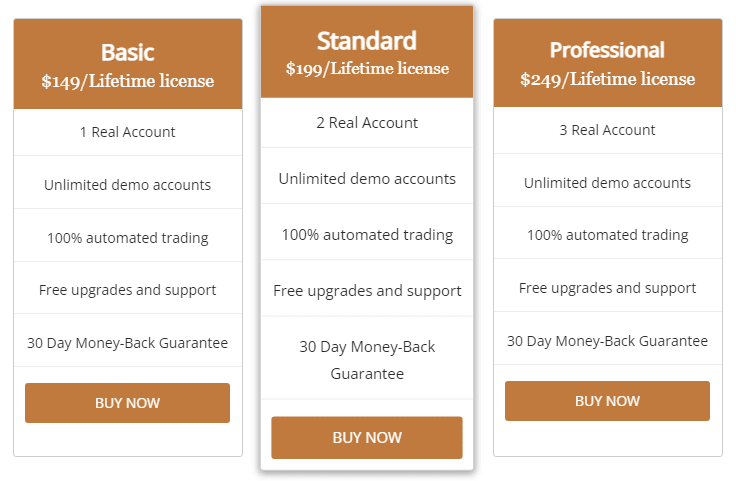 Other notes
No single trader has commented about the performance of this robot on FPA, Trustpilot, or Myfxbook until now.