The development of financial technology, or fintech, and its influence on the global banking system includes more than just mobile payments and e-commerce. From cryptocurrencies to risk management to artificial intelligence to crowdfunding, the world of finance is evolving rapidly in the twenty-first century.
To invest in these trends, you may have to do a lot of research and take many risks. Exchange-traded funds, or ETFs, are another option for becoming involved in the fintech revolution. ETFs provide a straightforward and diversified way to do so.
Continue reading this article to find out other details of fintech ETFs and the top three fintech ETFs to buy in 2022.
How does it work?
Fintech is the abbreviation for "financial technology." Companies that focus on mobile payments, e-commerce, and budgeting are included in this category. Due to the difficulty in identifying volatile, small startups individually, ETFs provide a chance to diversify within this narrow market segment.
Because of the pandemic, more people turn to contactless payment options that fill a need that traditional banks cannot load. Take a look at Square, PayPal, Apple, and others. Fintech is on the rise, thanks to ubiquitous smartphone use and easy internet access.
According to polls, most clients are unsatisfied with their traditional large bank, accelerating the move to innovative, online-only, and technology-driven banking solutions. In addition, several aspects of financial technology go beyond mobile payments and banking, such as budgeting and credit management.
Top three things to know before starting:
It's an excellent opportunity to buy when the fund's 52-week price range is at the bottom.
Examine the ETF's annual dividend yield history. Consider investing if the yield seems to be growing.
If the yield is steady, the ETF is a wise choice. But, on the other hand, conservative investors may want to have a look at it.
Best fintech ETFs to buy in 2022
Now, let's have a look at the top three fintech ETFs that you should consider buying in 2022.
1. ARK FinTech Innovation ETF (ARKF)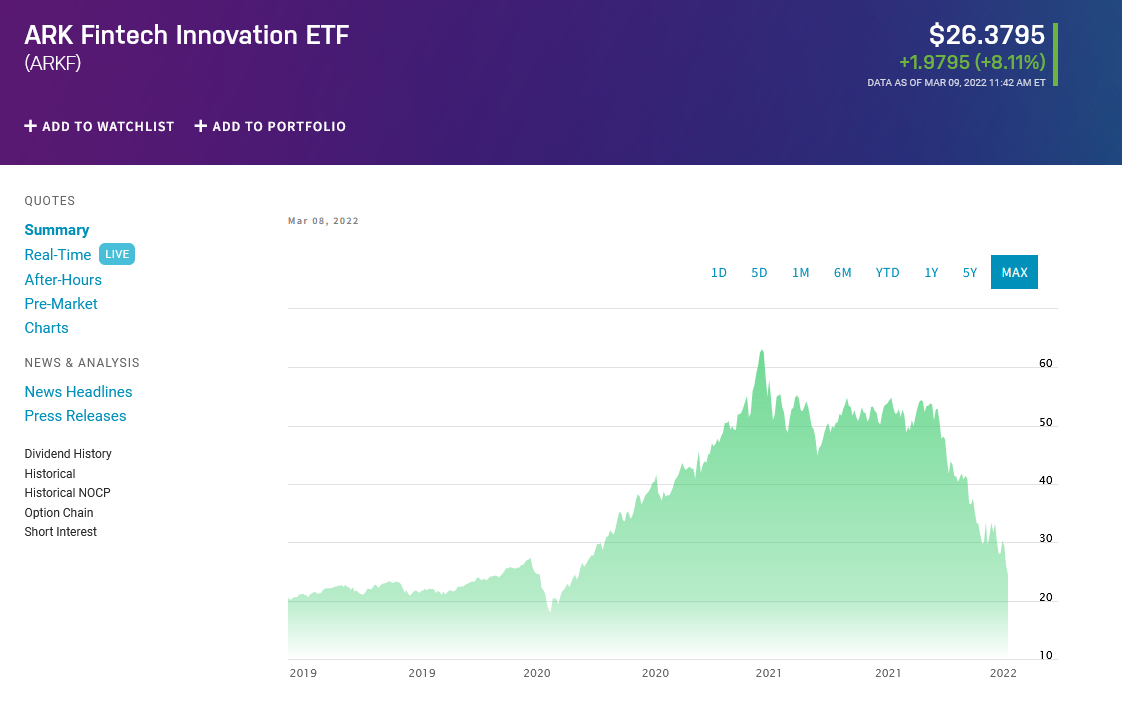 Blockchain, peer-to-peer lending, mobile payments, digital wallets, and risk transformation are all included in the ARK FinTech Innovation ETF (ARKF). Smartphone-enabled financial ecosystems, such as digital wallets, which give access to various services, including wealth management and insurance and speedy payments and crypto-assets, are predicted to rise in popularity.
There are two companies and apps driving the rise of digital wallets:
Block's Cash App, formerly Square Cash (SQ)
PayPal's Venmo (PYPL)
Digital wallet users in the United States will reach 220 million by 2024, generating an $800 billion equity market potential, according to ARK. In a winner-take-all market boosted by network effects, we expect Block and PayPal to reap the bulk of the neo-banking benefits.
However, ARKF is not only PayPal and Block. Another well-known stock is Shopify (SHOP). While Amazon (AMZN) dominates the e-commerce market, this rival draws the best fintech. If you use Shopify's Shop Pay, you don't have to enter all of your customers' information each time they make a purchase.
Shop Pay is 70 percent faster than standard checkout and has a 1.72x higher conversion rate. Order tracking, management, and carbon-neutral delivery contribute to a better customer experience. Non-Shopify merchants may now sell on Meta (Facebook) and Google using Shop Pay, which was just made available by Shopify (GOOG).
Coinbase (COIN), the world's most popular cryptocurrency exchange, completes our list of notable companies. Coinbase's trading volume increased by 16 times in the first quarter of this year, hitting $462 billion. In addition, Coinbase is one of the best-performing crypto stocks on the market because of the fees it earns on each transaction, whether it buys, sells, or transfers. Finally, ARKF buyers are exposed to various opinions on financial technology.
2. Global X FinTech ETF (FINX)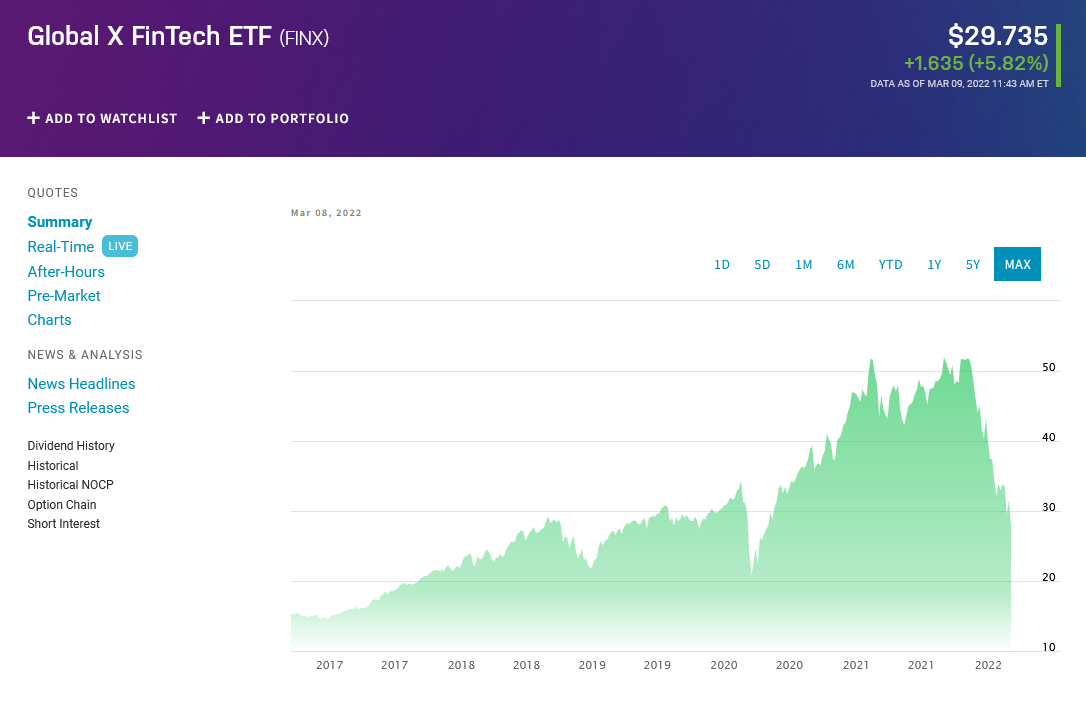 Investors may "invest in organizations that are employing technological advancements to disrupt and improve the supply of financial services" with the Global X FinTech ETF (FINX).
For FINX's 54 holdings, the financial sector focuses more on ARKF's businesses. Shopify, Snapchat (SNAP), and Amazon are not included in this fund. It's also notable that ARKF and FIN have a significant geographic divide. North America receives the largest share of each company's budget (60% vs. 55%), while the rest of their budgets varies significantly.
ARKF invests 28% of its portfolio in the Asia Pacific region, compared to FINX's 4%. One of Finx's most important investments, Adyen, a Dutch payment company that allows enterprises to accept e-commerce, mobile, and point-of-sale (PoS) payments.
Although Square and PayPal make up just over 11 percent of the ETF in FINX, you'll still have exposure to these two companies.
3. ETFMG Prime Mobile Payments ETF (IPAY)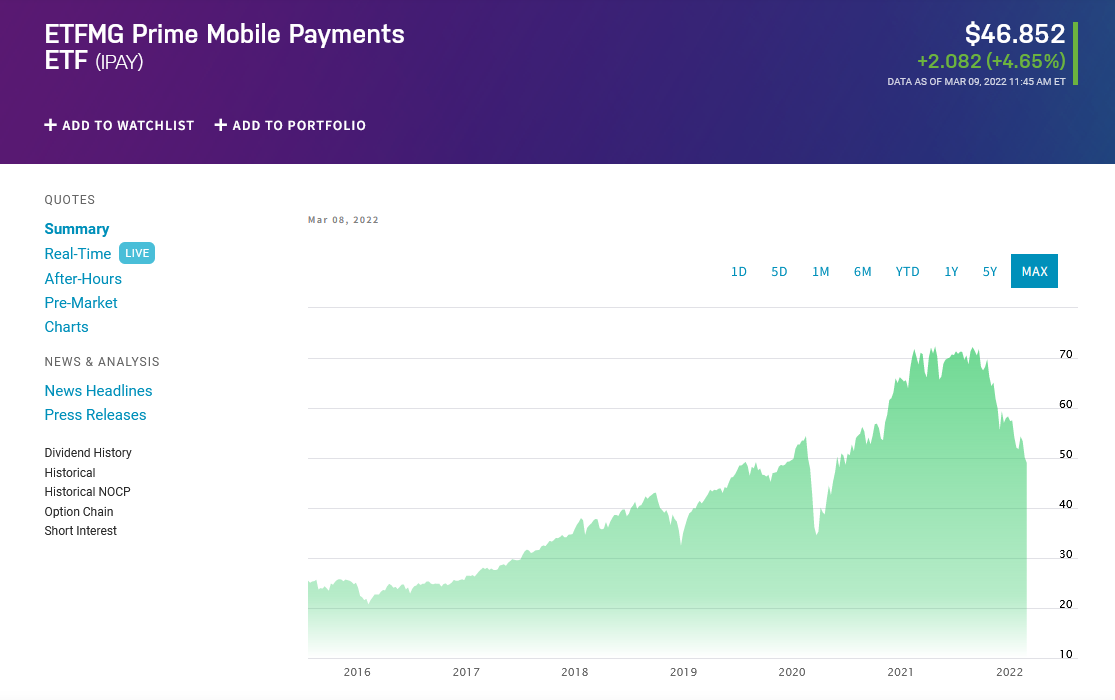 IPAY was the first exchange-traded fund to concentrate on the mobile payments sector when it was launched in 2015. The fund benefits from the increasing usage of mobile phones, e-commerce, and the need for easy transactions.
By using the shift from credit cards and cash to digital and electronic technology, ETFMG created the product. As a result, block and PayPal both get a large portion of the money, totaling 11% of the total.
Visa (V) and MasterCard (MA) are two of IPAY's most important assets (MA). Financial technology was around before the term was created. Almost certainly, Visa or MasterCard was engaged in every electronic transaction that took occurred on the planet.
They're also pumped about the next wave of fintech to reach the market. Visa and MasterCard will benefit from more financial technology, whether via partnerships or acquisitions.
Pros and cons
| | |
| --- | --- |
| Worth to invest | Worth to getaway |
| There are several ways that fintech firms can compete with traditional financial institutions, and one of them involves charging lower costs. | The safety of customer data is jeopardized since just a few fintech firms use blockchain technology as a differentiator to enhance security. |
| For financial service providers, Fintech options include assessing credit application profiles, storing data in the cloud, and optimizing payment procedures, among other things. | Many people assume it is as easy as using their smartphones for banking. Still, the reality is that this condition immediately excludes a large segment of the population who lack Internet connectivity and so cannot be banked, even if fintech does exist. |
| To suit the needs of both customers and providers of financial services, fintech has been able to segment its offerings. | There is a lack of oversight. |
Final thoughts
Metaverse ETFs are very new; therefore, there may be some fluctuation in the price. However, a growing body of evidence suggests that being exposed to the Metaverse now will be helpful in the future. They're a great way to keep tabs on some of the world's most innovative companies, so it's possible.