Are you looking to diversify your investment portfolio by gaining exposure to offshore stock markets? Consider investing in Euro ETFs.
Europe houses many well-known brands in the world, such as SAP SE (SAP), Volkswagen (VOW), Nestle (NESN), and more. Take note that Europe is home to two of the biggest stock exchanges globally, Euronext and the London Stock Exchange.
To get broad exposure to the European stock market without the need to handpick individual stocks, you can invest in Euro ETFs. These funds provide a balanced exposure to European stocks, ensuring diversification of risks across multiple companies. Depending on your capital, owning one or two ETFs might be enough to get a balanced portfolio.
This article will learn three of the best Euro ETFs to invest in 2022.
What are Europe ETFs?
Without including those funds holding less than $50 million assets and leveraged and inverse ETFs, you can currently find 41 Euro ETFs in the US. They are funds that track certain European stock market indexes. In the past 12 months, European stocks outclassed the US stock market by a thin margin. While the MSCI Europe Index returned 41.9 percent, S&P 500 returned 41.2 percent by 29 October 2021.
The eurozone's economy sprang back to life in the summer of 2021 after reeling from the onslaught of the Covid-19 pandemic. By the end of quarter three in 2021, Europe posted an increased GDP of 9.1 percent yearly, faster than in China and the US.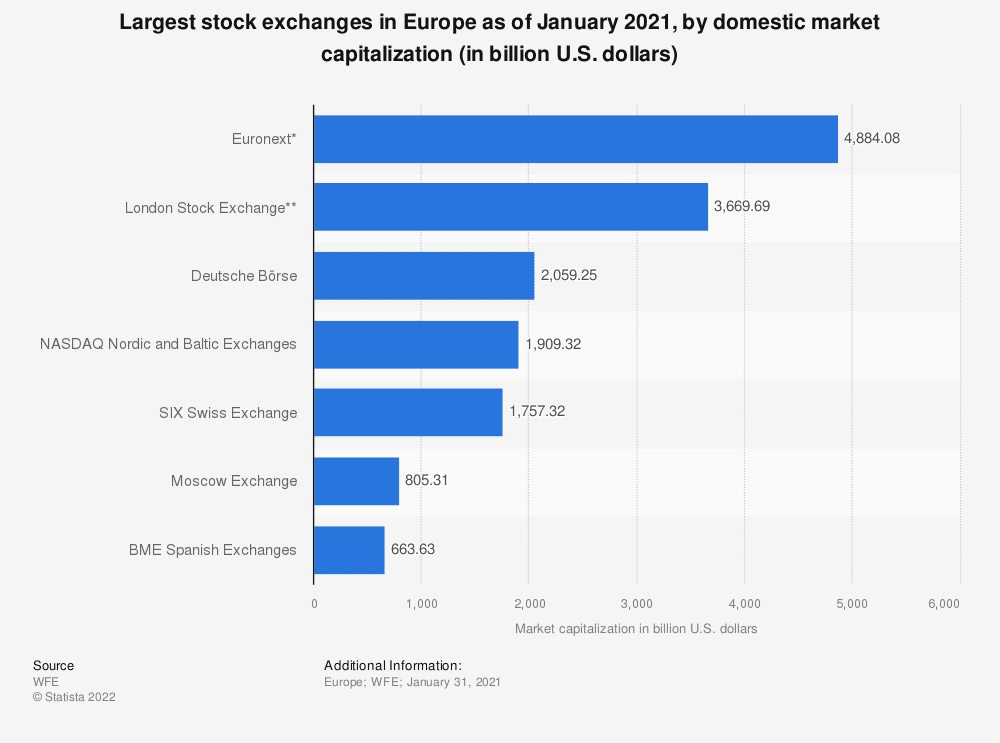 Top 3 best Euro ETFs to buy in 2022
Investing in European ETFs is challenging due to the number of options available. We make it easy to begin your ETF search by providing three ETFs with the lowest prices. We arrange them below by the number of net assets under management.
No. 1. Franklin FTSE Europe ETF (FLEE)
Price: $28.46
Expense ratio: 0.09%
Net assets: $211.69 million
This ETF intends to generate returns closely at par with the FTSE Europe Capped Index (FTCRDEUR) results, excluding expenses and fees. The FTCRDEUR index gauges the performance of medium- and large-capital equities from the European Union countries. When the market condition is suitable, the fund puts about 80 percent of its holdings in the stocks under FTCRDEUR and in depository receipts embodying those assets.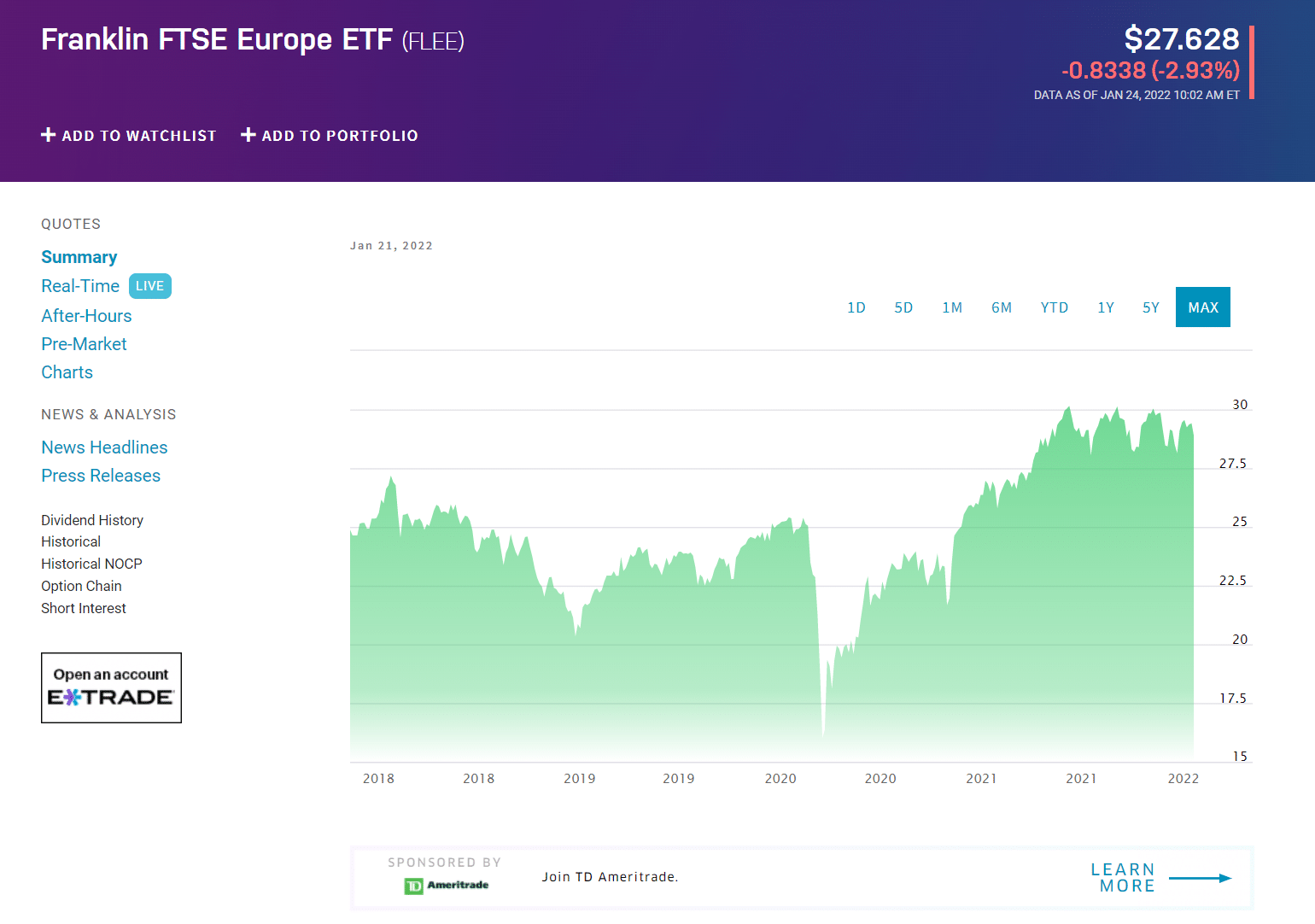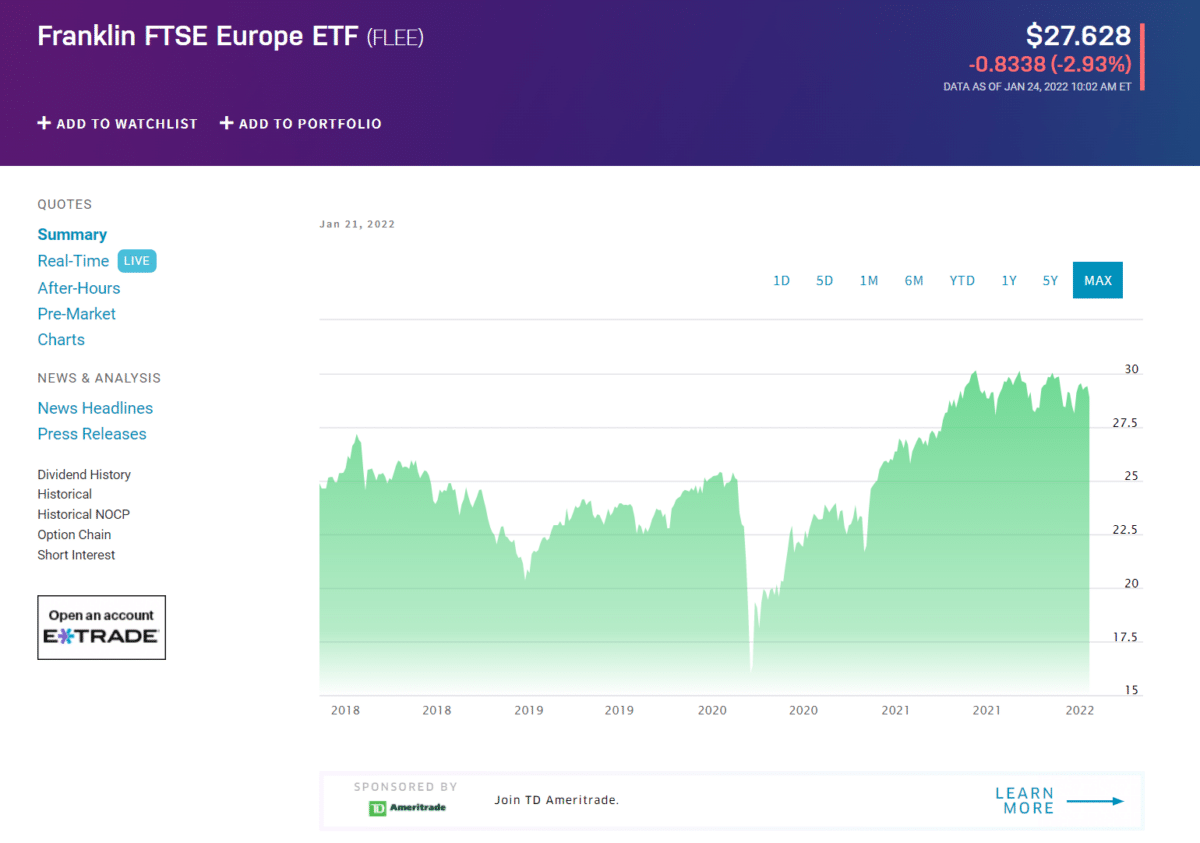 Handling $211.59 million assets, the FLEE ETF is the second-biggest fund on this list. However, the technical aspect of the market in the near term does not look so good. The price may rotate downward if it breaks the neckline at around $28. This neckline results from a triple top that started in June 2021.
The good thing about this chart is that plenty of support is waiting below the neckline. Support exists at $21, $22, $24, and $25. The best investment strategy would be to wait for the price to pull back to any of these discount zones or break out above the triple-top resistance of $30.
The current top three holding of this ETF are as follows:
Nestle SA — 3.12%
ASML Holding NV — 2.42%
Roche Holding Ltd — 2.36%
No. 2. iShares MSCI Austria ETF (EWO)
Price: $25.24
Expense ratio: 0.51%
Net assets: $90.52 million
The EWO ETF replicates the performance of the MSCI Austria IMI Index. This index was formed to monitor the performance of a wide range of stocks listed in the Austrian market. The ETF provides investors with a comprehensive exposure to the Austrian economy, focusing on sectors such as utilities, materials, energy, industrials, and financials. Because the ETF seeks to invest in value stocks, investors consider it one of the best funds in the Austrian market.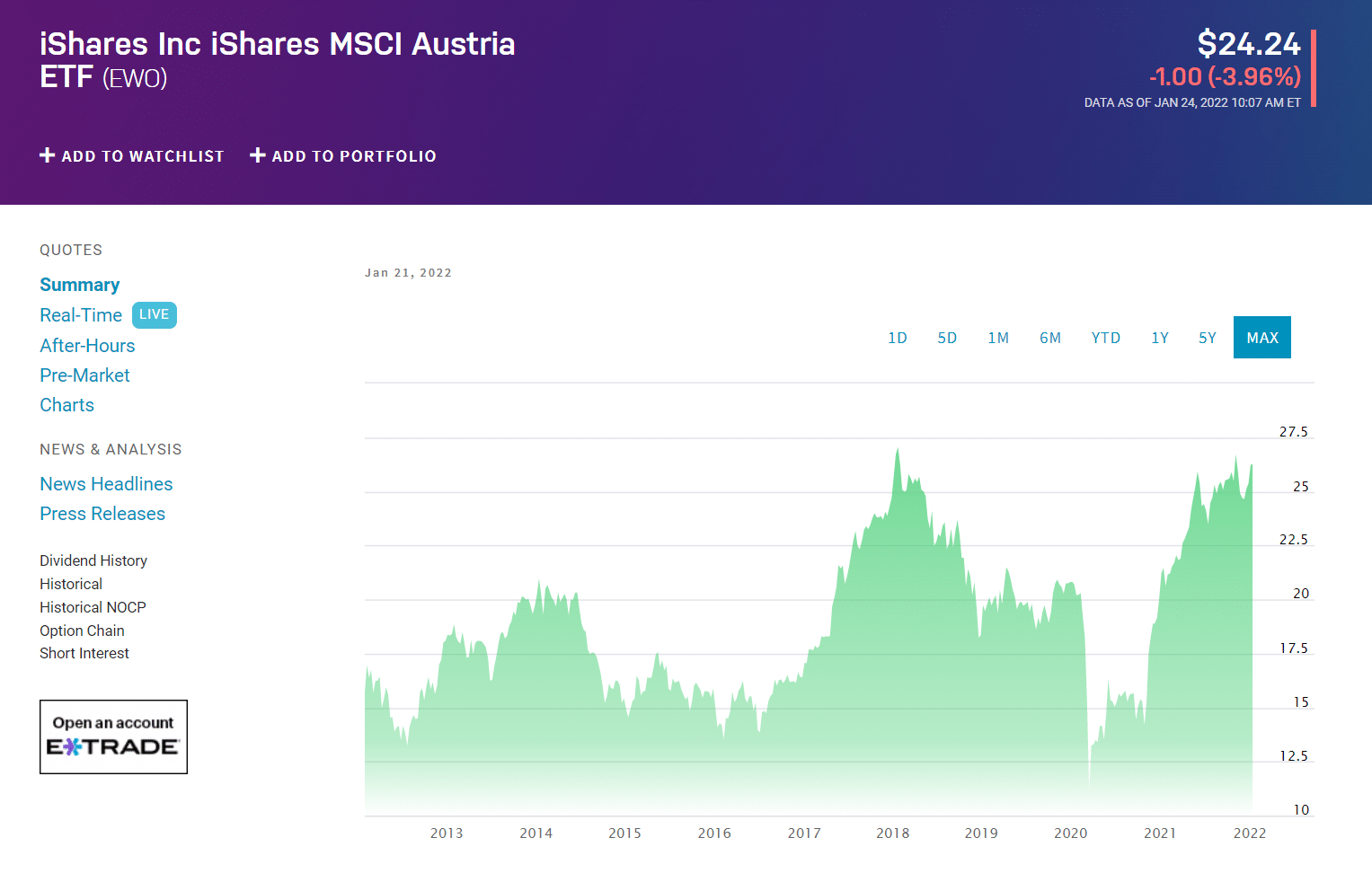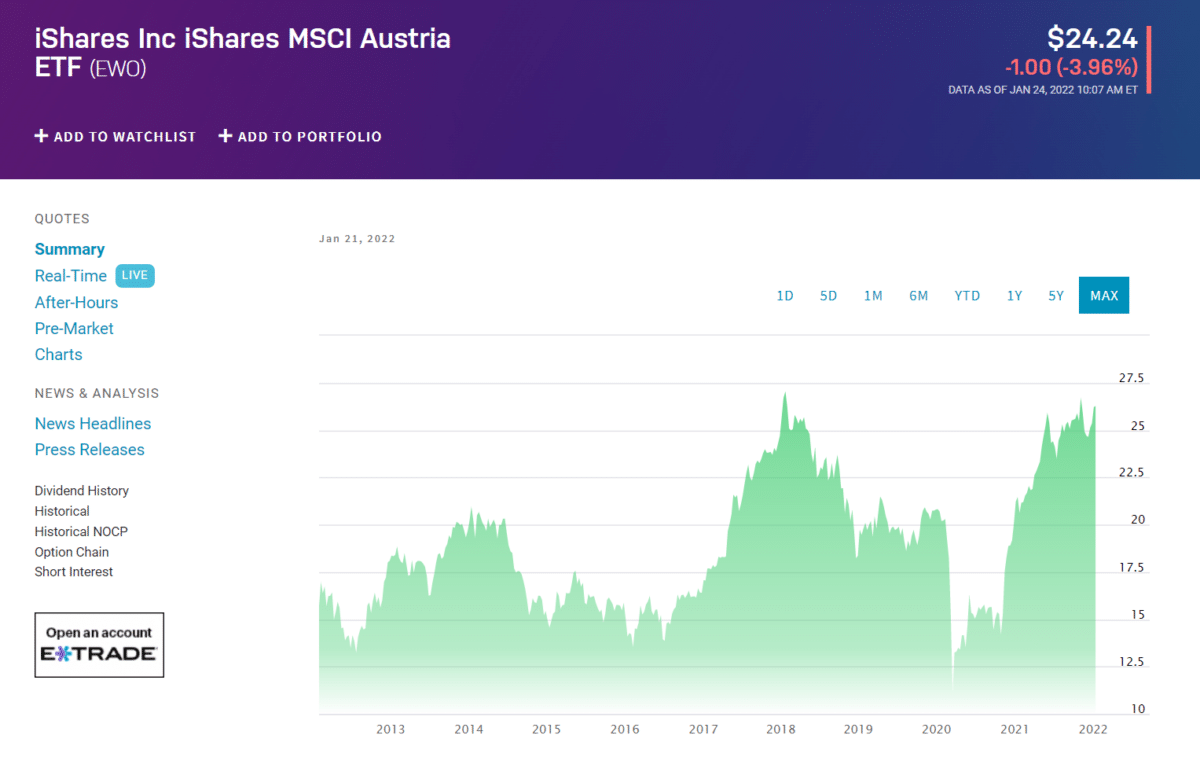 The EWO ETF comes third in this list regarding assets under management. Like the two funds discussed above, EWO is also encountering selling pressure at its current price. The market has tested resistance at around $26 and is breaking down. It is forming a turnaround motion from the current market action. Luckily, we see support levels below the current price, including $21, $18, and $14. Hopefully, one of these levels holds so you can enter a position. Otherwise, the future of this fund becomes questionable.
The current top three holding of this ETF are as follows:
BAWAG Group AG — 4.45%
Raiffeisen Bank International AG — 4.30%
Andritz AG — 4.17%
No. 3. VanEck Russia ETF (RSX)
Price: $23.01
Expense ratio: 0.61%
Net assets: $1.38 billion
The RSX ETF monitors the performance of the MVIS Russia Index. This index comprises public companies registered either within or outside Russia so long as most of their income or assets are generated from Russia. Around 95 percent of the holdings in this fund are Russian stocks, and most of the remaining equities come from Cyprus. RSX allocates most of its funds in the financials, materials, and energy sectors.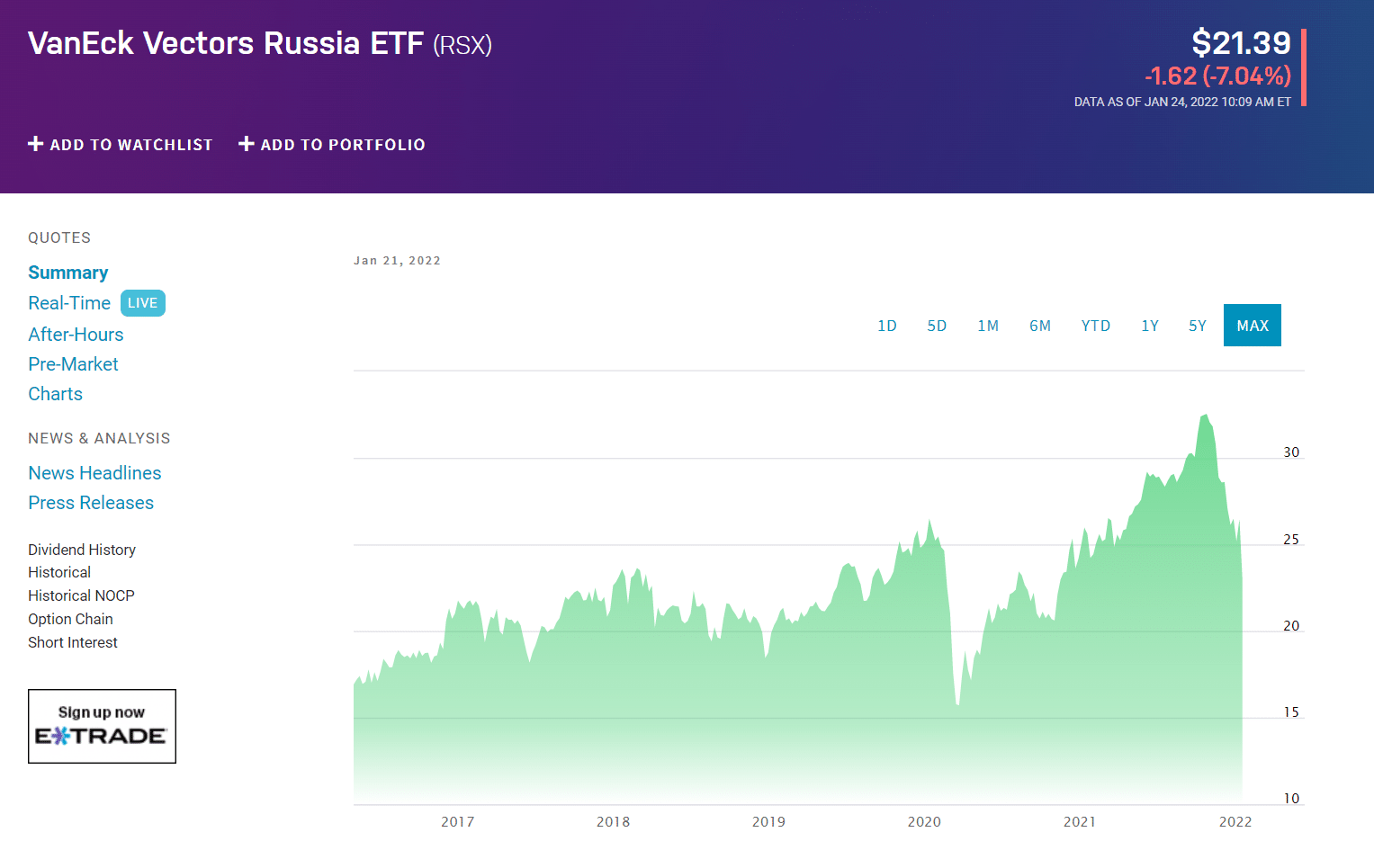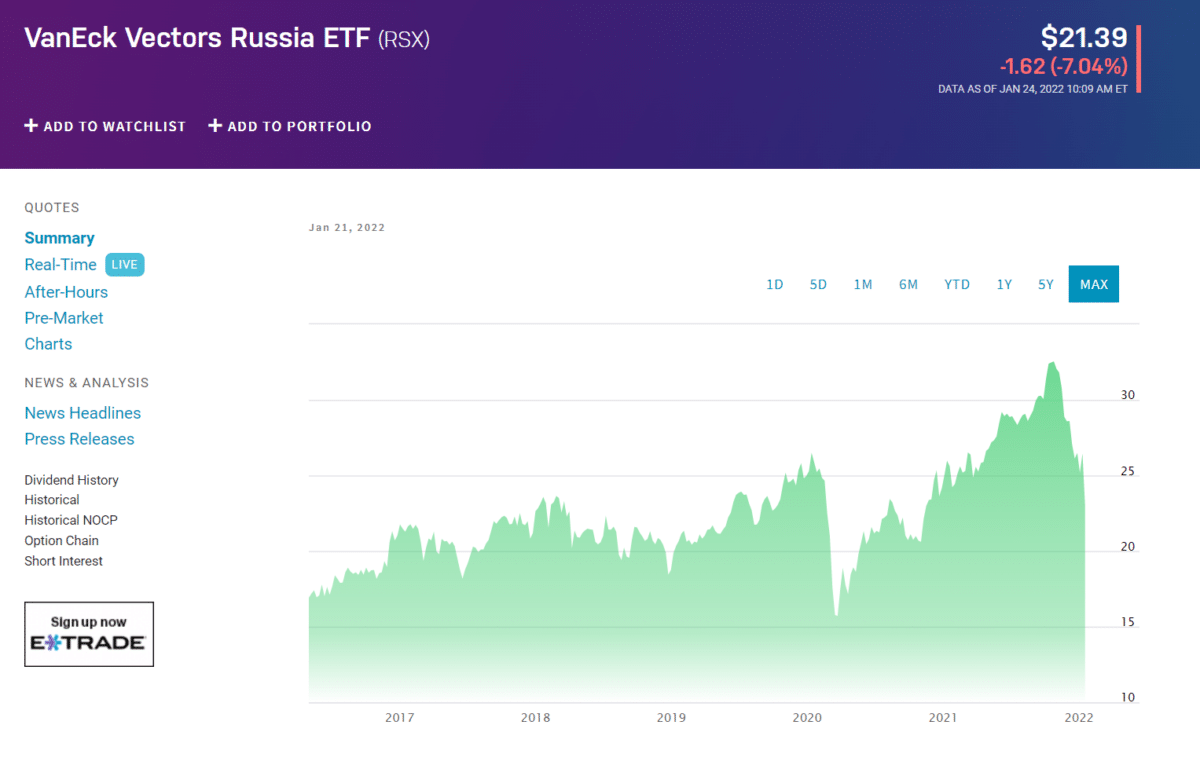 RSX is the biggest ETF on this list regarding net assets under management. However, its technical aspect in the monthly chart below is not so attractive. The market has been moving down for three consecutive months, starting November 2021, and the downtrend seems to be gaining momentum. The market has been caught between the price range of $10 and $43 since April 2011. If the current trend continues, the price may test support at $13 or the monthly low at around $10. Investing in this fund is not suitable in the short term.
The current top three holding of this ETF are as follows:
Mining and Metallurgical Company NORILSK NICKEL PJSC ADR — 6.13%
NOVATEK PJSC GDR — 5.93%
Tatneft PJSC ADR — 5.60%
Final thoughts
If you want to invest in the European stock market to diversify your portfolio, that is a good move. European stocks are slightly cheaper than their American counterparts. One reason for this is that America is home to many famous brands compared to Europe. Another reason is that Europe has encountered political divisions in recent memory. Political disputes aside, stock or ETF investing in Europe is lucrative for any investor.