EA Black Dragon is an expert advisor that is sold on the MQL5 website. It runs on the Black Dragon indicator built by the same developer. The robot is compatible with both MT4 and MT5 trading platforms.
This is a robot that places trades based on the color of the indicator. Traders have the option of increasing the network of orders or work with stop loss. To make the system compatible with your trading style, you can adjust the inputs. It is possible to manually enable buy and sell orders and force it to initiate a new series of orders.
You can program the EA to automatically manage manual orders. There are different parameters you can adjust, like starting hour, ending hour, timeframe, and the maximum number of orders. EA Black Dragon can calculate the lot size based on the initial deposit.
EA Black Dragon trading strategy
The vendor has not provided an explanation for the trading strategy. Black Dragon indicator is a trend detection tool that displays the dynamic support and resistance levels.
EA Black Dragon backtesting report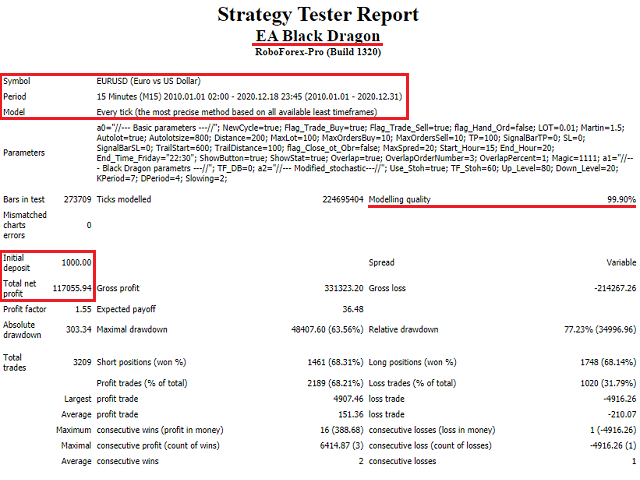 For this backtest, the EA conducted a total of 3209 trades from 2010 to 2020 using an initial deposit of $1000. It had a high win rate of 68.21% and managed to generate a total profit of $117055.94. There were 16 maximum consecutive wins and 1 maximum consecutive loss. The profit factor was 1.55, while the relative drawdown was 77.23%. Such a high drawdown indicates a high risk of ruin.
EA Black Dragon live results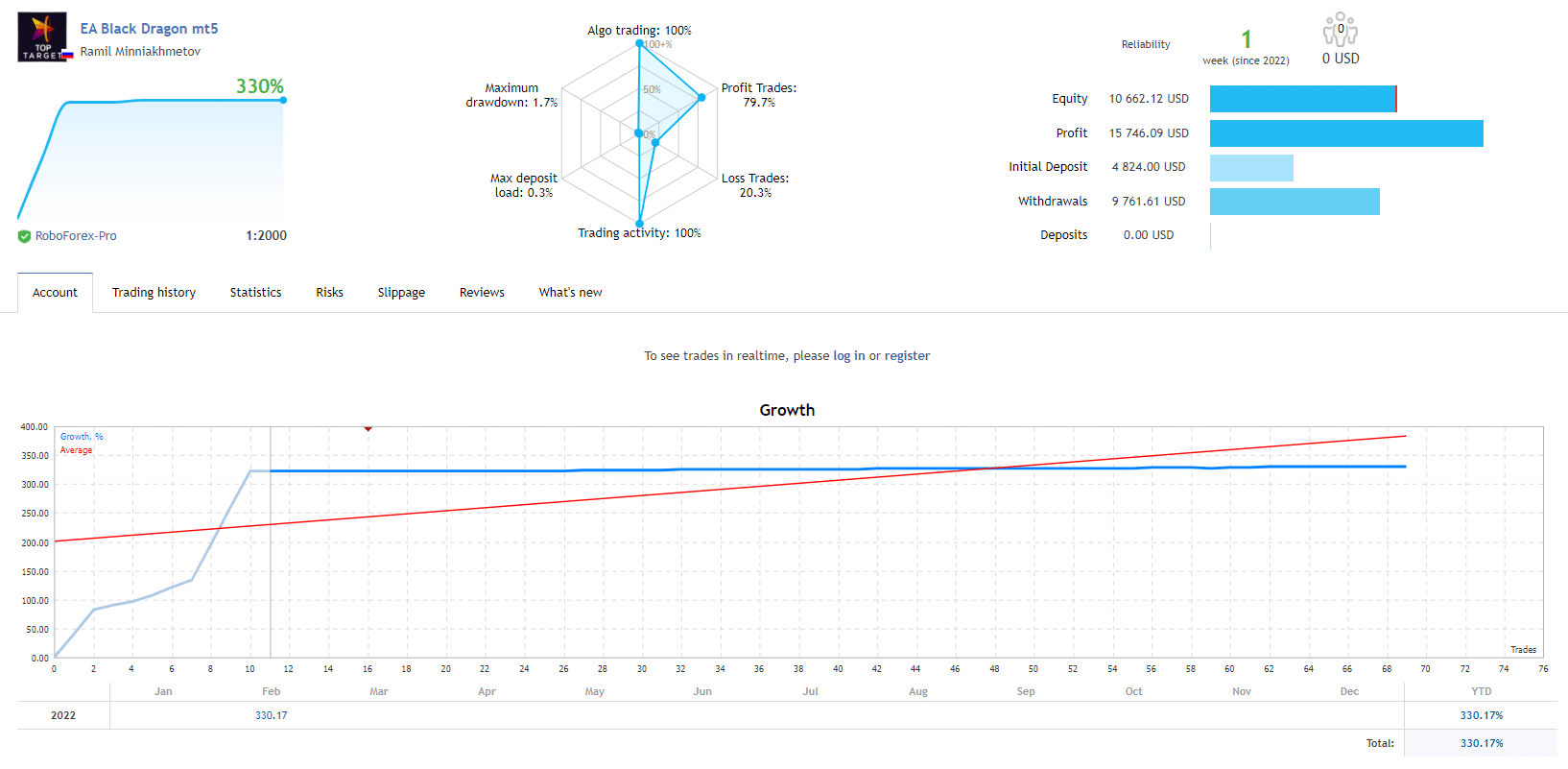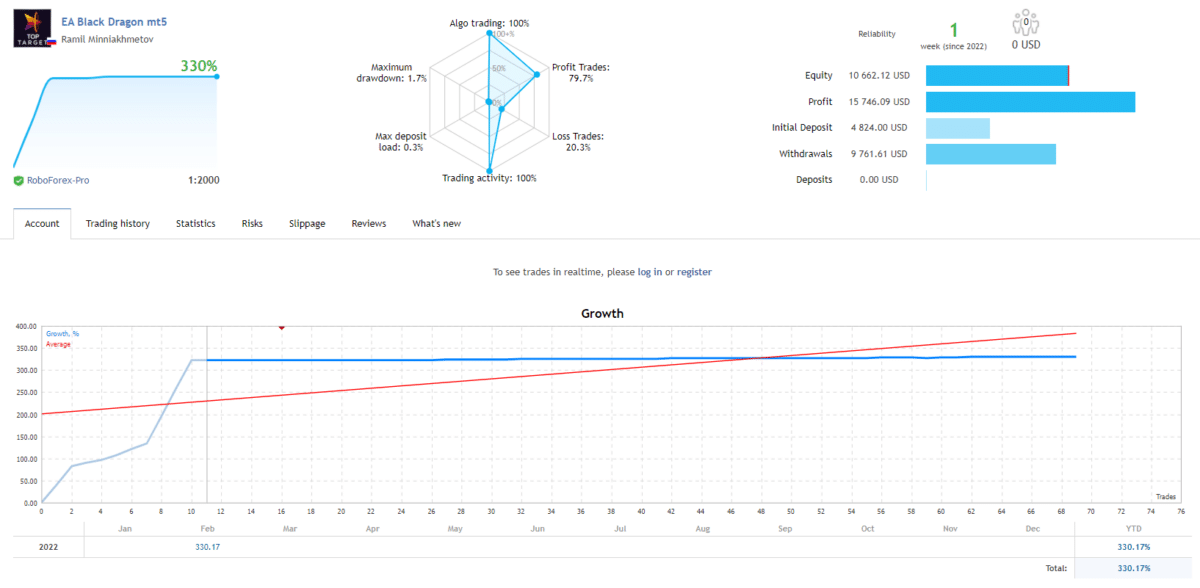 Unfortunately, there are no verified trading accounts for this expert advisor on third-party websites. Here we have a live monitoring account on MQL5 that was launched on February 11, 2022. EA Black Dragon has only had 5 trading days so far, during which it has conducted 69 trades. The win rate currently stands at 79.71%, which is significantly higher than what we saw in the backtest.
On average, the EA conducts 87 trades per week, holding each for 21 hours. The maximum drawdown is only 1.7%, and this is an indication of a low-risk strategy. There have been 22 maximum consecutive wins and only 3 maximum consecutive losses.
Some features of EA Black Dragon
This EA is compatible with pairs like USD/CAD, EUR/USD, and AUD/USD. We don't know how much money you need to get started with the robot. The live monitoring account conducts trades through the RoboForex broker using 1:2000 leverage.
| | |
| --- | --- |
| Total return | 330.17% |
| Maximal drawdown | 1.7% |
| Average monthly gain | N/A |
| Developer | Ramil Minniakhmetov |
| Created, year | 2020 |
| Price | $30 |
| Type | Trend |
| Timeframe | N/A |
| Lot size | N/A |
| Leverage | 1:2000 |
| Min. deposit | N/A |
| Recommended deposit | N/A |
| Recommended brokers | RoboForex |
| Currency pairs | USD/CAD, EUR/USD, & AUD/USD |
| ECN | No |
Main things to consider if you invest in EA Black Dragon
Here are things you need to consider before investing in this robot:
Lack of vendor transparency
We don't know much about Ramil Minniakhmetov, the lead developer, other than the fact that they are based in Russia. This developer has been selling products on MQL5 for more than eight years. However, we don't have any contact information and it is unclear whether they have the required experience to build profitable robots.
No verified trading statistics
The results on MQL5 are not verified by a third party. On websites like Myfxbook, we get to see the entire trading history. The lack of verified statistics prevents us from accurately gauging profitability.
Pricing details
The current price of this robot is $30. Unfortunately, the vendor does not offer a money-back guarantee for it.
Customer reviews

We couldn't find any reviews for this EA on third-party websites. The ones present on MQL5 cannot be considered authentic.