With Verizon, T-Mobile, and AT&T implementing all-country 5G cellular networks in 2020, a new era in digital mobility has come. In addition, the release of dozens of 5G-ready smartphones has sparked a new wave of consumer upgrades. Autonomous cars and networked industrial equipment are two examples of applications that corporations are testing 5G technology for since it is 100 times quicker and has a latency of just a few milliseconds.
Technology businesses, telecommunications providers, and infrastructure equipment providers all play a role in the digital mobility market. If you're not ready to choose specific firms or enjoy a pre-made 5G portfolio, a 5G ETF may be appropriate. However, if you want to invest in the top 5G stocks, you may encounter difficulties.
Three things to know about 5G investing before starting:
The 5G revolution is here, and it is the best time to invest in these funds.
This technology will be 100 times faster than 4G. There will be a tenfold reduction in end-to-end latency.
A factor of a hundred will increase the network's traffic capacity.
What is a 5G ETF?
Since an ETF is a collection of many equities, it may be bought and sold just like any other stock. ETFs have been more popular in recent years because they provide speedy diversification and lower price volatility. In addition, there are several 5G-focused ETFs since the upgrade touches so many parts of the technology industry.
What to check before choosing a 5G ETF?
It's much simpler to compare ETFs that have a proven track record. Of course, to make a long-term investment, you'll need at least a year's worth of performance data, but three years is desirable, and five years is even better.
Real-world ETF returns deviate from hypothetical index returns, known as the tracking difference. However, ETFs that are well-designed reduce the tracking difference, which is equal to the index's market return minus the operational costs of the ETF.
Always check to see whether your ETFs disclose the funds they are holding. As a consequence, you'll be spared a nasty tax shock in the future.
The volume of an ETF affects its profitability. Invest your money in a fund that manages at least £100 million in assets. It seems probable that the ETF will be lucrative enough to avoid liquidation if it surpasses this requirement.
Best 5G ETFs for 2022
The following are three of the top 5G ETFs to invest in right now. Each of these funds are something you should consider investing in for the long term.
1. Vanguard Communication Services ETF (VOX)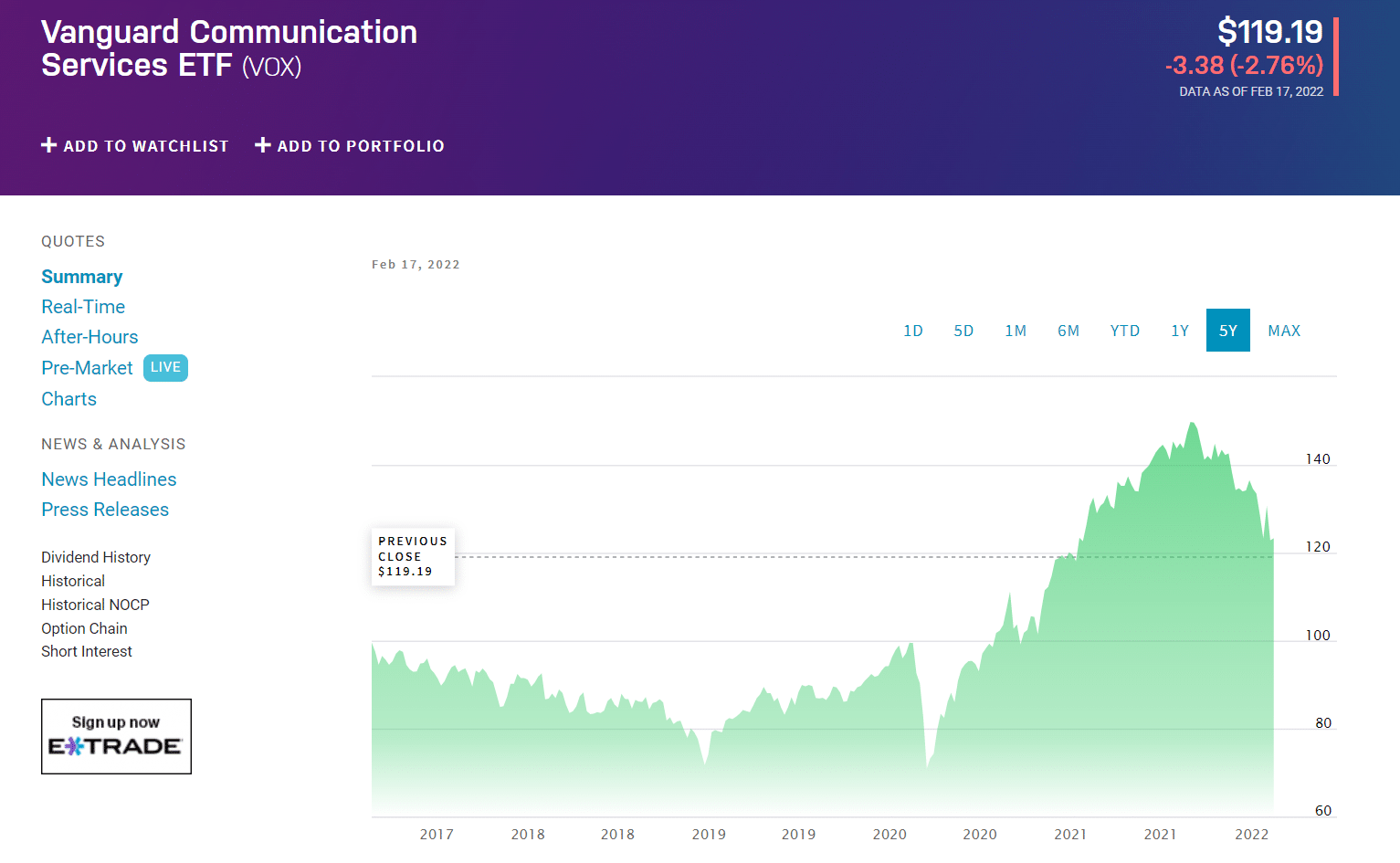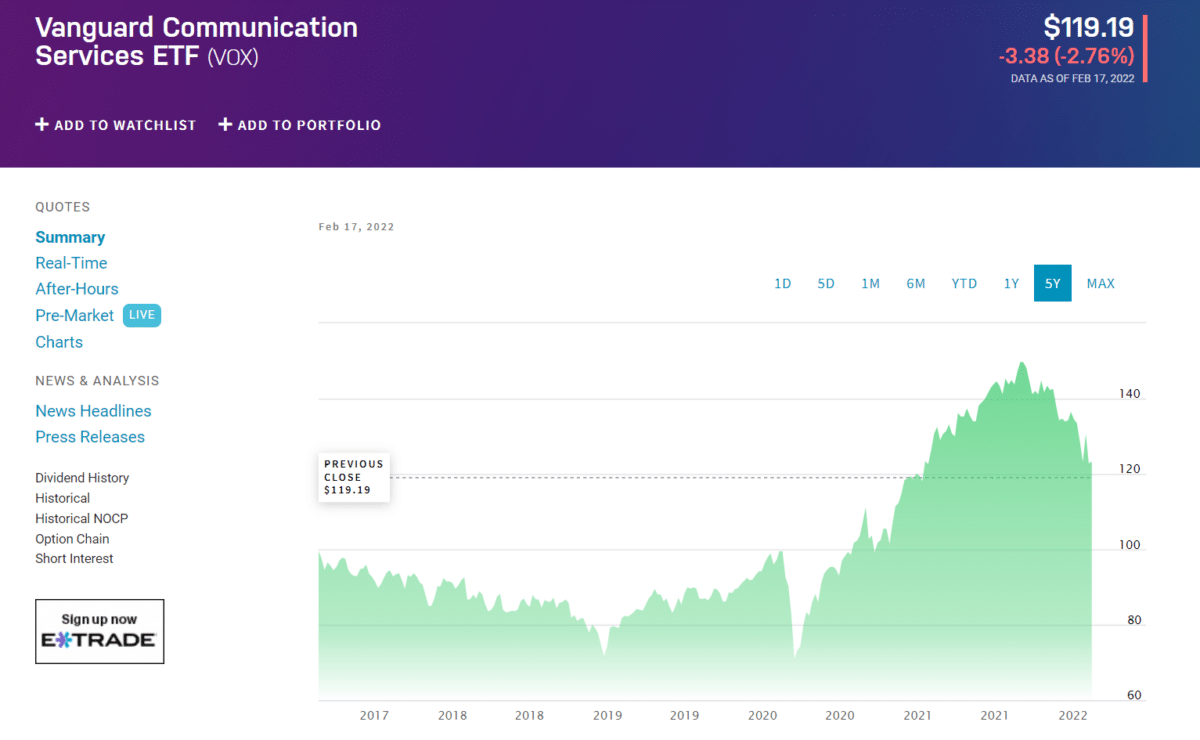 To get a global view of all 5G communications services and applications, consider the Vanguard Communication Services ETF. With $3.6 billion in assets under management, it's one of the biggest in the market. ETF shares have gained more than half their value since 2016. If you're looking for an ETF with a low annual cost ratio of 0.1%, this one is for you.
Alphabet (GOOGL), the parent company of Google and Facebook, recently reclassified as communications corporations, is included in the Vanguard Communication Services ETFs portfolio. Moreover, a third of the fund's worth may be found in these two shares. Many firms, including media giants like Walt Disney and video game companies like Activision Blizzard, may be found in ETFs like this one that invests in companies that use or will soon use 5G technology (ATVI).
Investing in this Vanguard ETF exposes you to a wide variety of 5G beneficiaries and real-world applications. Thus, this ETF is investing in the 5G sector more dispersedly. Even though the fund's primary emphasis is on 5G mobile networks, investors may still get exposure to allied businesses like digital advertising, TV streaming, and media and entertainment via this investment vehicle.
2. Defiance Next Gen Connectivity ETF (FIVG)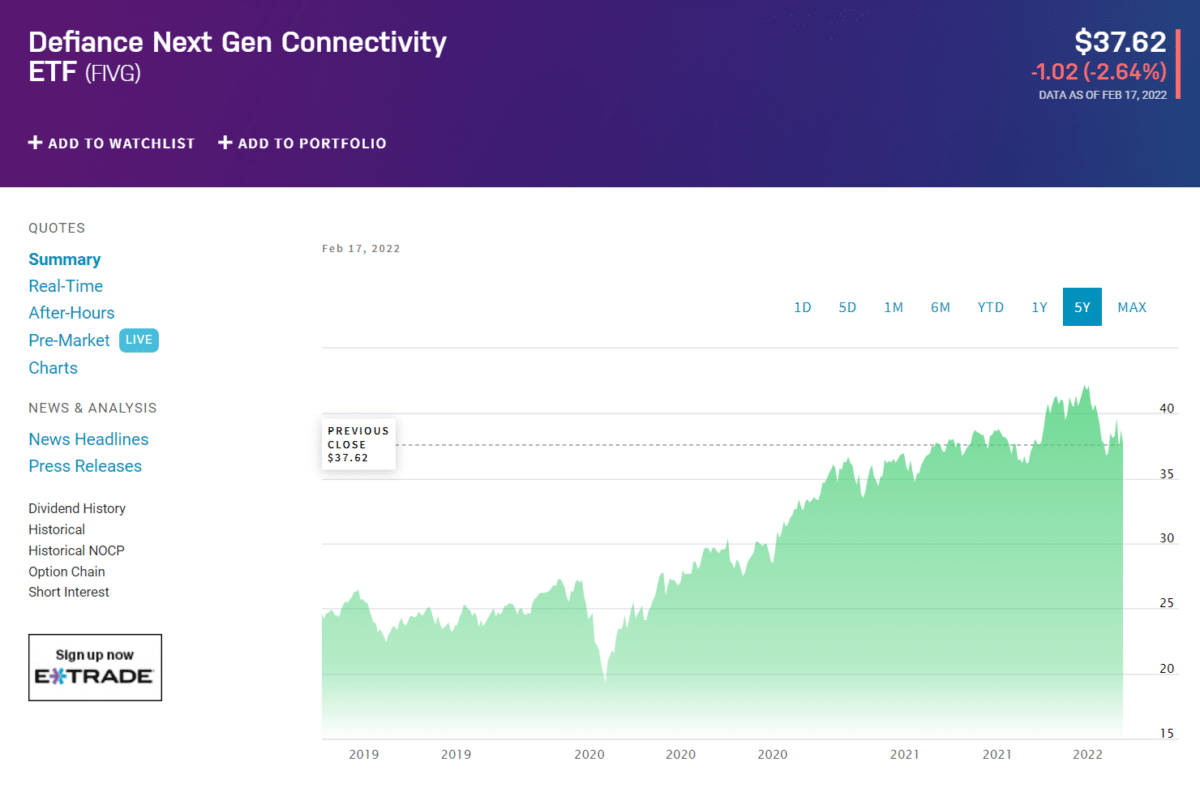 This ETF was introduced in the first quarter of 2019 as a newcomer to the 5G ETF market. In contrast, the company's stock price has risen by 50% since then. The fund now manages around $1.2 billion in assets split across 77 different equities, making it one of the most vital funds in the sector. Investments are made in firms engaged in developing or providing 5G services via this ETF.
All other firms must have a market value of at least $150 million and a market value of at least $1 billion before including it in the fund's portfolio. The fund's assets include smaller and more emergent 5G firms, differentiating it from its rivals. The yearly cost of this ETF is around 0.30 percent.
Defiance Next Gen Connectivity ETF is a superb alternative for those looking for firms with high growth potential. Despite the fund's volatility, investors benefit from an annual dividend yield of more than 1% because of the large concentration of small-cap firms in the portfolio. Companies like Skyworks Solutions and Marvell Technology Group that make smartphones and 5G infrastructure equipment chips are part of the ETF's holdings.
3. Global X Internet of Things ETF (SNSR)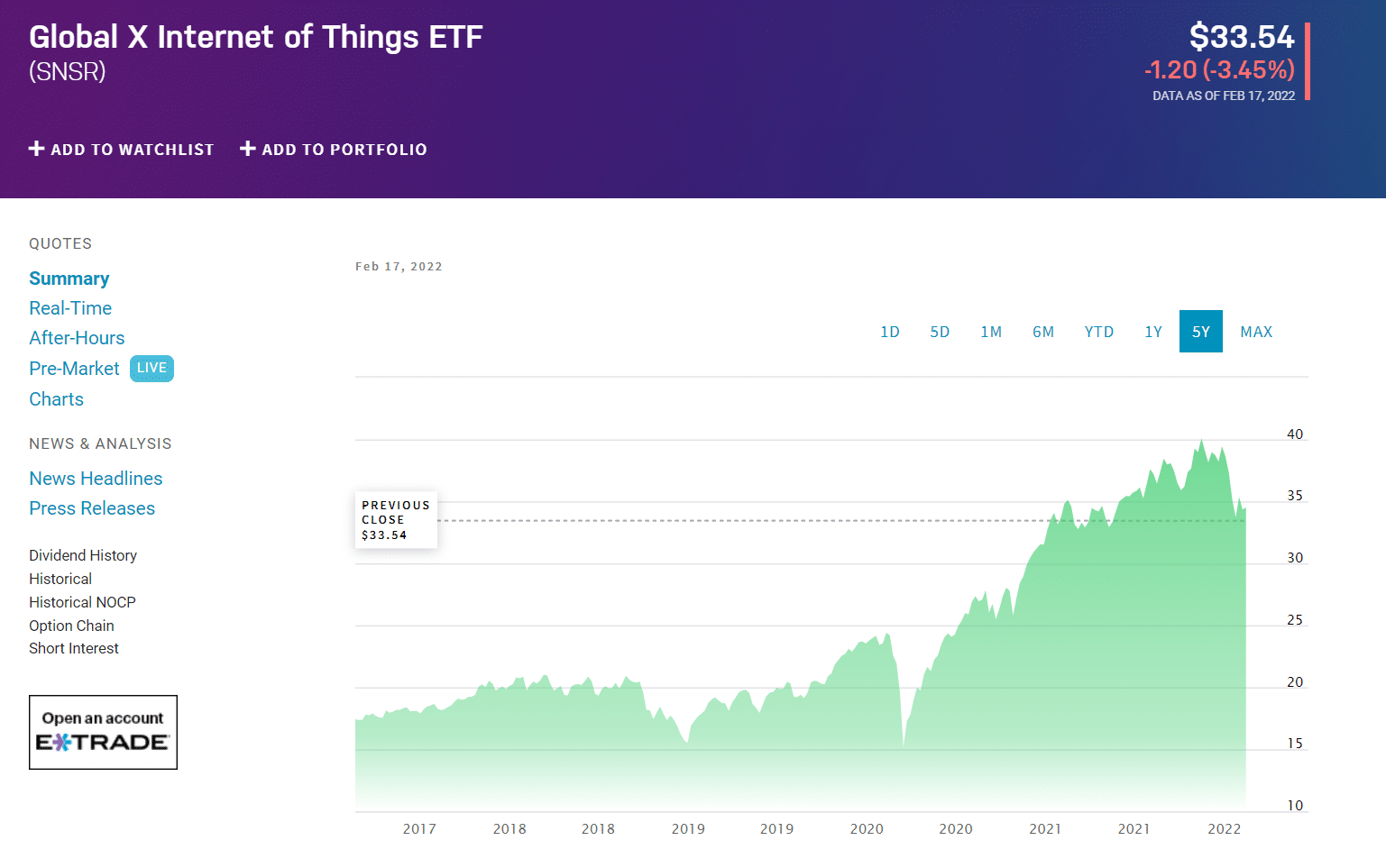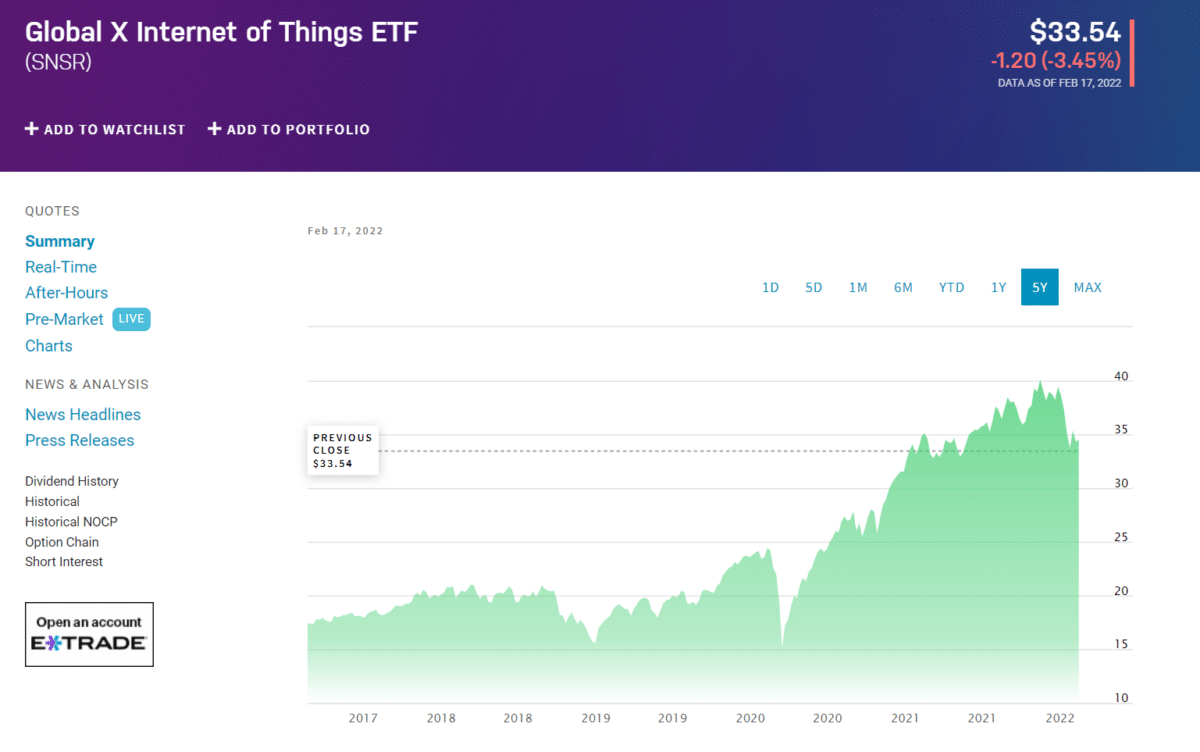 The Global X Internet of Things ETF, which launched in the same year as the previous one, is another newbie to the 5G market. Businesses are building Internet of Things (IoT) capabilities, which will immediately benefit from 5G's launch, and are receiving investment rather than going directly into 5G service providers. The fund's 45-stock portfolio has more than quadrupled in value since its launch, thanks to the inclusion of several high-growth firms. In exchange for the extraordinary gain in the company's stock price, a meager dividend yield of less than 1% has been paid out each year.
As the IoT grows, so does the number of internet-connected gadgets in our homes and businesses. This trend seems to continue for many years to come, thanks to 5G technology. According to Cisco, there will be 500 billion internet-connected gadgets by 2030. The Global X Internet of Things ETF may allow investors to diversify away from 5G while still earning a great deal of potential. Just a few of the significant connectivity firms covered by this ETF are Qualcomm, NXP Semiconductor, and Garmin (GRMN).
Pros and cons
| | |
| --- | --- |
| Worth to invest | Worth to getaway |
| Their "freeways" are widened to accommodate more data. | Investors looking for broad exposure to new technology like 5G could be interested in that. However, a deeper analysis shows several suspicious holdings. |
| These 5G ETFs will help diversify your portfolios. | Fund managers often have little idea about the underlying technology or the background of the companies' importance in their respective industries. |
| They are a great option to invest in due to trading flexibility. | ETFs are sometimes like mutual funds, although the expenses associated with trading 5G ETFs are higher than those associated with investing in a single stock. |
Final thoughts
ETFs may be an easy and quick way to reap the benefits of 5G technology's progress. Although ETFs have built-in diversification, bear in mind that the 5G sector is still relatively new. Consumers' and businesses' non-linear adoption of 5G may cause volatility, so investors should be prepared for this risk. Nevertheless, 5G technology is projected to become the new norm in the coming decade. Remember that your assets will grow if you maintain an eye on the long term when investing.