Coinrule provides automated crypto trading bots that help you trade like a professional. The process is simple and does not require coding expertise. Key features of the system include multiple exchange support, top-notch security, and an intuitive interface.
Coinrule: first impression
The platform provides an innovative automation process to ensure profitable trades. While the service offers good exchange support and security, there is no verified proof of performance. Further, the pricing plans are expensive when compared to the market average.
What's Coinrule?
Coinrule is a crypto service offering customized automated crypto bots. You can create and customize the bots with your rules and test them on historical data. It is a beginner-friendly service that offers a safe and secure trading environment, per the vendor.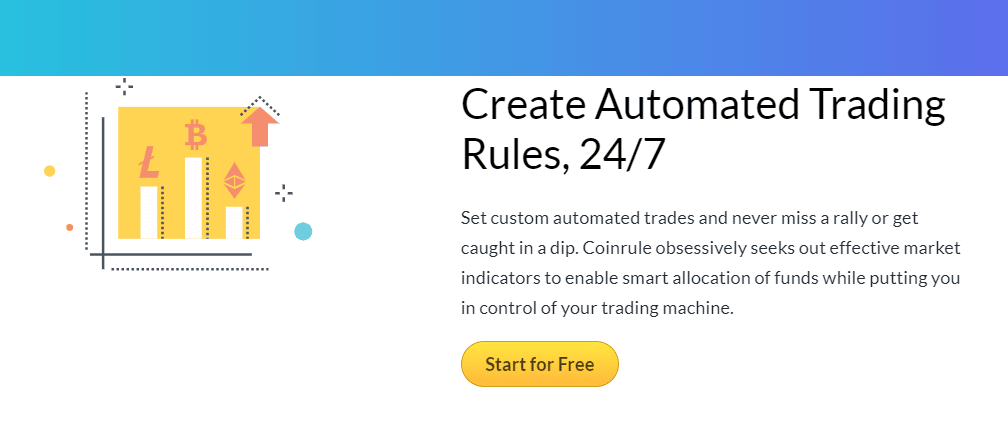 Using Coinrule
Over 150 rules are present to choose from for customizing the crypto bots of the service. The rules include SL, trend-following, price-based, and more. You can also create your own rules based on indicators. They can be set to make the bot work faster and make rapid executions. No deposit or withdrawal feature is present for the bot as it is used for automation of your trading on the exchange.
How to install Coinrule software?
Setting up the crypto software requires a few simple steps.
Visit the official site and use the Get Started option to create an account
Log in with your credentials and choose a pricing package
Install the Coinrule software as per instructions provided with your package
Use the knowledge base to guide you in setting the rules for your bot strategy
The bot is now ready to trade using the rules and timeframe set by you
What does Coinrule have to offer?
Some of the key features that make the service competitive as per vendor are listed below
Multiple exchange integration
More than ten exchanges are supported by the platform. Some major exchanges you can work on include Binance, Kraken, HitBTC, Bitmex, Bitstamp, etc.
Indicator-based order execution
Indicators such as price, volume, market cap, RSI, and Moving Averages are used as triggers for executing orders.
No coding skills are needed
The rule-based approach is simple and does not need coding knowledge. Beginners can trade on par with professional traders and hedge funds with the help of the rules.
The only information on the productivity of such an approach is presented on the site in an interactive ruler.


Trading strategies offered by Coinrule
Many strategies are present, including Portfolio SL and rebuy, Portfolio TP with an exception, buy the dips, safe trend following, and more.
How Coinrule pricing works
A free starter package is present that offers live rules, demo rules, and template strategies, allowing a maximum of $3000 monthly trade volume. Paid packages include the Hobbyist ($29.99/month), Trader ($59.99/month), and a Pro ($499.99/month) package. The packages differ in the number of live and demo rules, template strategies, connected exchanges, and monthly trading volume. When compared to the price of competitor systems in the market, we find the pricing is expensive.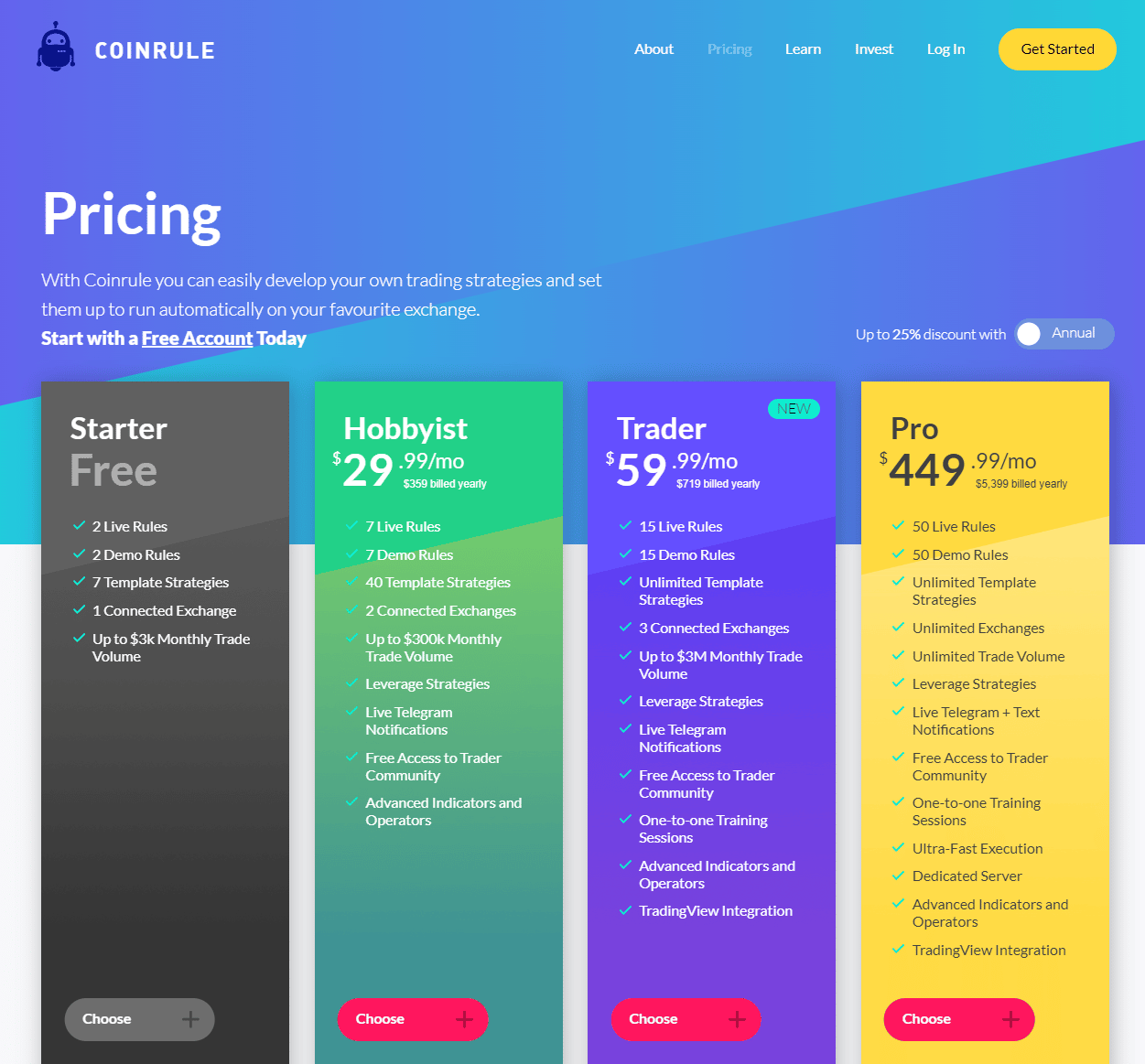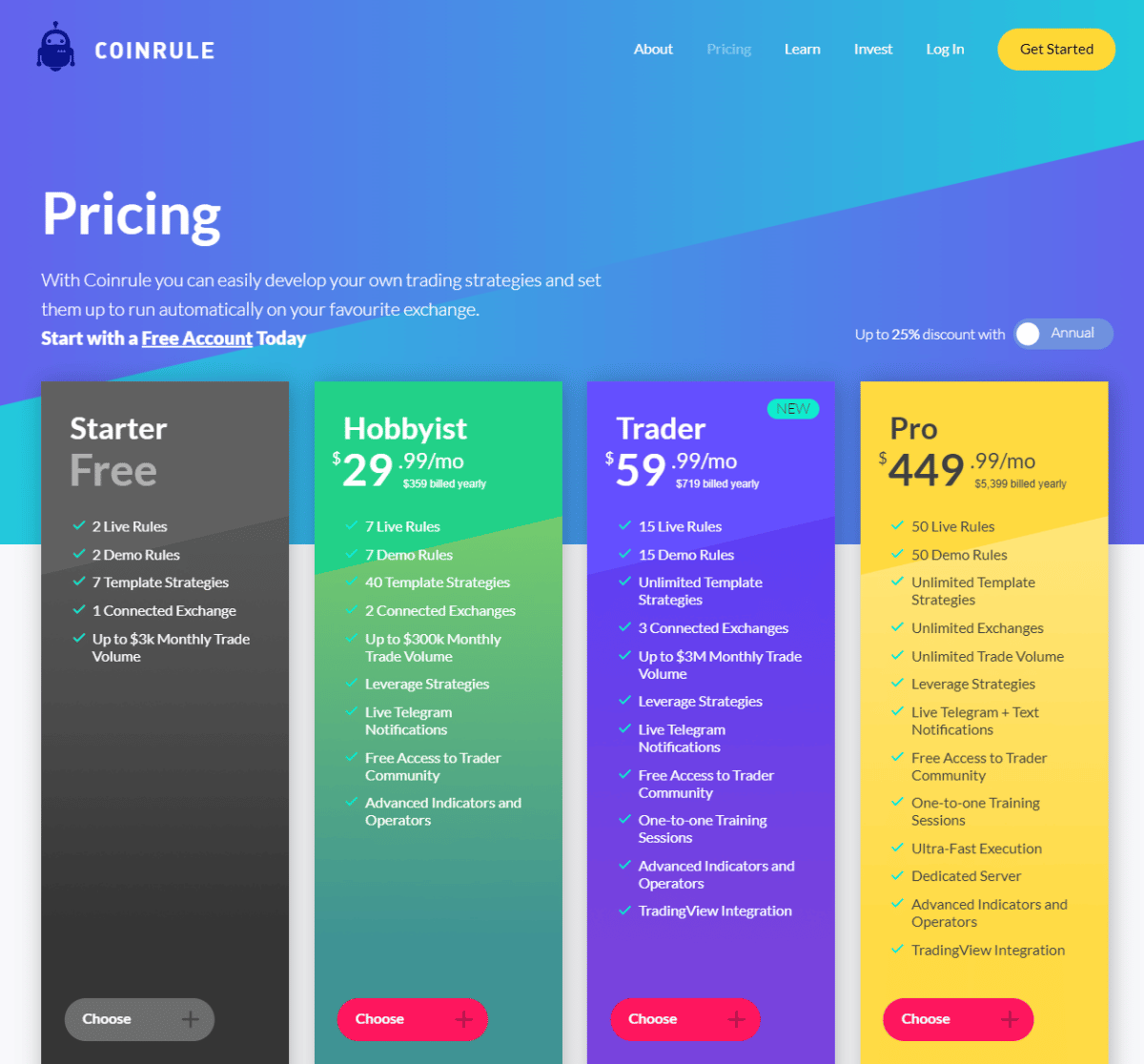 Fees & commissions
The service does not charge commission or fees for the trades executed. No hidden charges are present.
Available exchanges
Supported exchanges of the service are:
Binance
OKEX
Bitstamp
Bitpanda Pro
Kraken
Liquid
Bitmex
Bitfinex
HitBTC
Coinbase Pro
Coinrule company overview
The company comprises a team of experts in crypto and blockchain technology. Gabriel Musella, Oleg Giberstein, Zdenek Hofler, Andrew Slavadore, Femi ALyesanmi, and Abdulla Faraz are a few of the team members.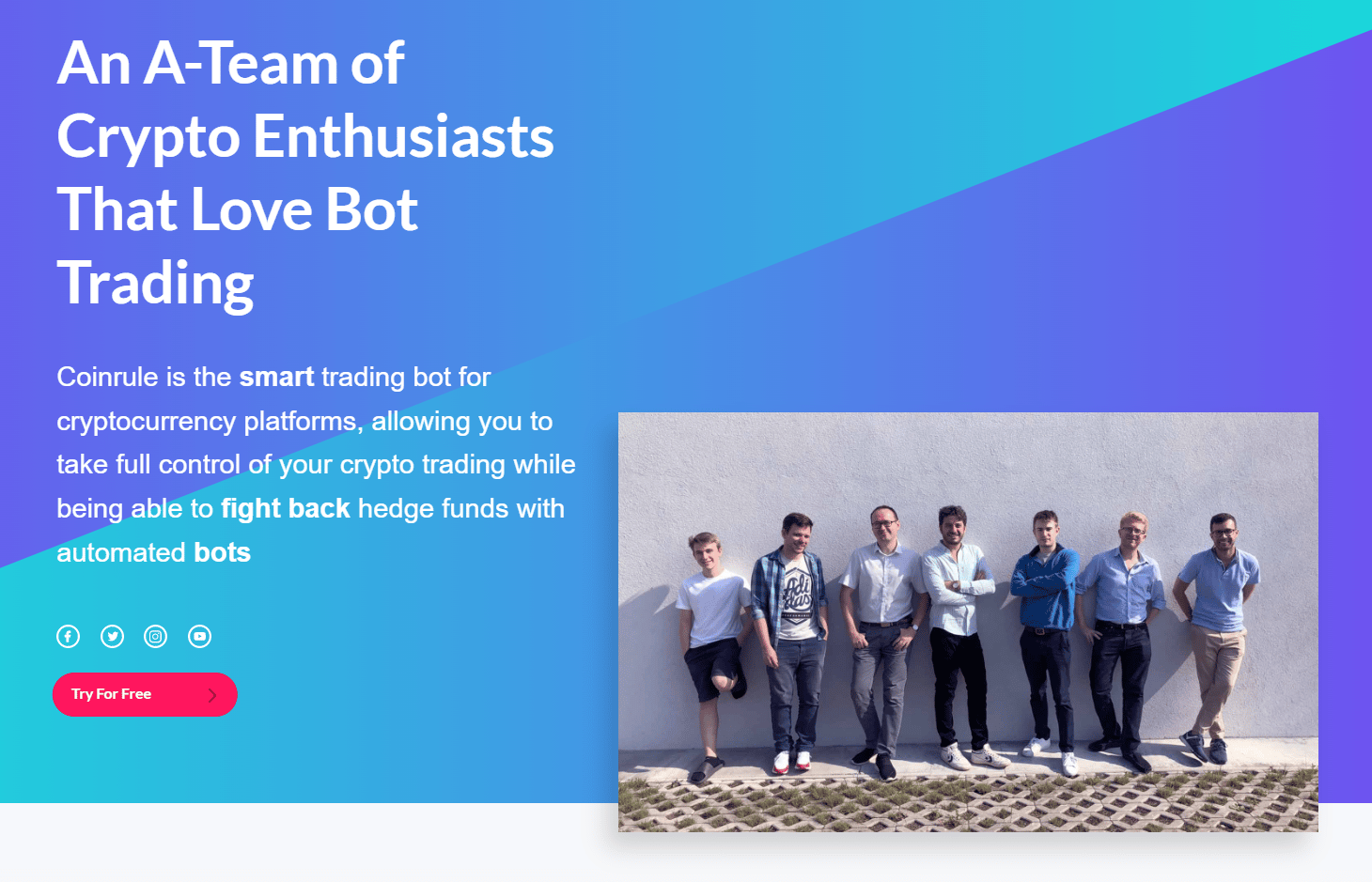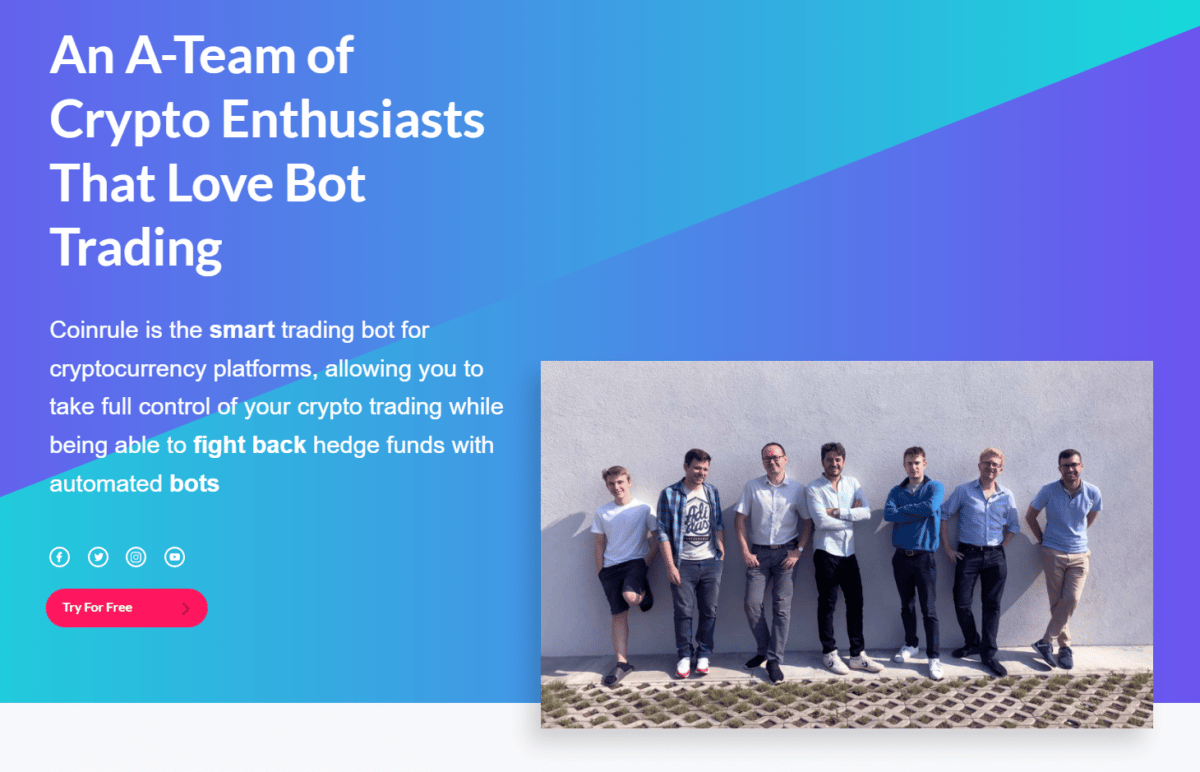 Coinrule time in business
Launched in 2019, the company has since created over 10,000 automated strategies, offers a backtesting solution, and is forging ahead expanding its offerings and reach. You need trading skills, even as a beginner, to be able to test and backtest the strategies for your ideas. This is despite the claims that the robot is designed for beginners.
Customer support and user experience
For support, a knowledgebase, an FAQs section, and an online contact form are present. The user interface is beginner-friendly, with all features being easy to access and use.
The fact that the user experience is mostly positive is confirmed by the company rating on TrustPilot — 4.3 out of 5.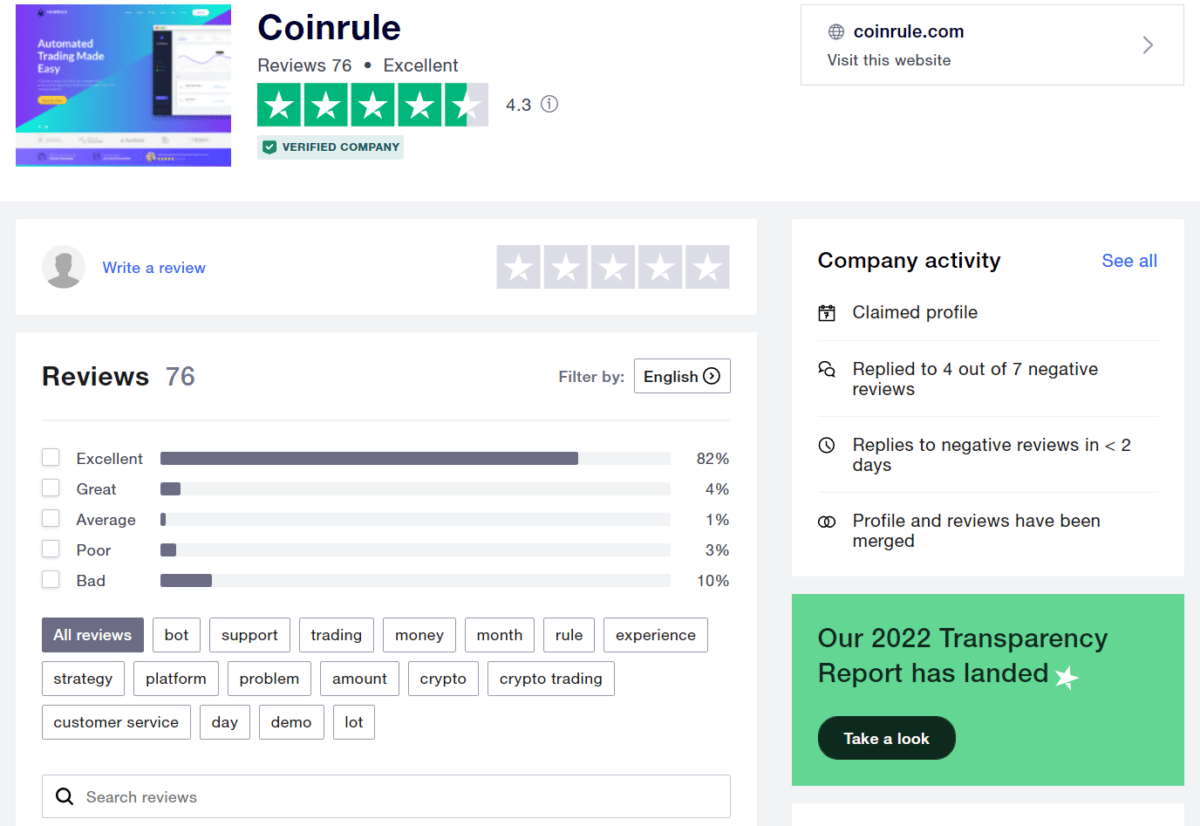 Security, safety, and privacy
All API keys are stored in encrypted form with dedicated private keys for each user. Data encryption in transit is used to ensure the safety of all communications. The service also uses Cloudflare CDN as another protective layer to prevent DDoS and other attacks of that kind.
Is Coinrule for all traders?
The free and paid plans, numerous strategies, multiple exchange support, and an intuitive interface should make the platform ideal for beginner traders. However, you still need both practical and theoretical knowledge of trading and the market. Otherwise, you won't make the right choice of strategy and indicators.