Botcrypto is an automated crypto trading service with multiple indexes and algorithms. The platform offers a simple user interface where traders can create bots and modify them. Multiple exchanges are available for investors to try out a free or paid version of the platform. The author claims that the available EAs are fully secure and do not require custom coding. In this review, we discuss the crucial points of Botcrypto to help investors make their investment decisions.


Botcryptos: first impression
Botcrypto has an average interface where beginners can face navigation difficulties. The vendor provides no information about its security and previous track record, keeping the users blind in terms of drawdown etc.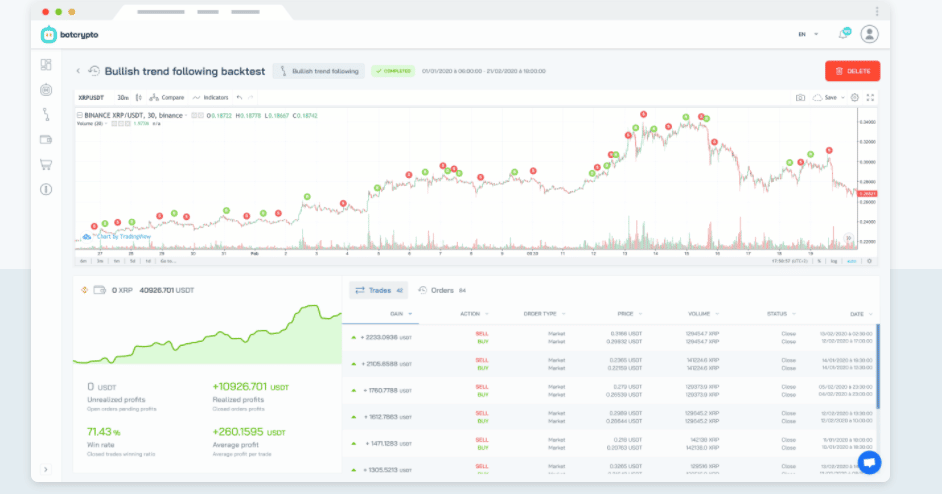 What's Botcrypto?
Botcrypto is a trading system designed to trade cryptocurrencies with full automation. Traders can create and control bots and execute strategies using 26 different indicators. The platform provides detailed guides for users to help with building a custom game plan.
Using Botcrypto
Use the following steps to run Botcrypto:
Register on the platform's website using the sign-up option
Choose one of the Pricing packages
Create your strategy or select from one of the customized bots
Connect with the platform using an API key
The bot will start trading on the user's behalf
Botcrypto has no deposit and withdrawal requirements as it is not an exchange.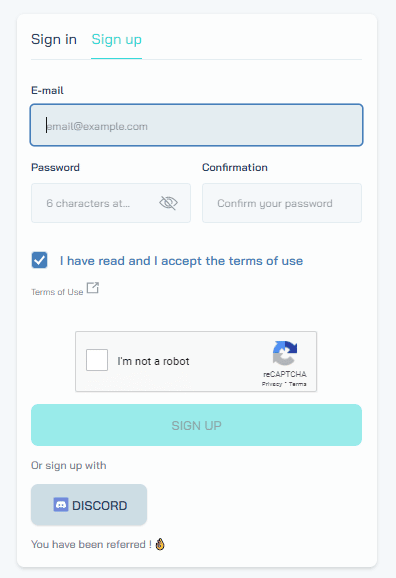 How to install Botcrypto software?
Botcrypto is available for traders through a web-based trading interface. There is no need to install the software on your desktop or mobile phone.
What does Botcrypto have to offer?
Multiple trading services are available on Botcrypto. These include creating strategies, risk-free instant feedback, learning section and unlimited simulations.
Creating Strategy
Traders can create strategies using a 100% visual editor. There is no requirement of prior coding skills as per the statements of the developers.
Risk-free instant feedback
Risk-free instant feedback and validation of strategies with instant backtests/real-time simulations are available.
Automation
The algorithms are fully automated. There is no need for traders to manage their positions manually.


Trade learning
Trade learning option is also available on Botcrypto.Traders can track and analyze their resultsr.


Supported exchanges
Botcrypto integrates with only two exchanges, Kraken and Binance.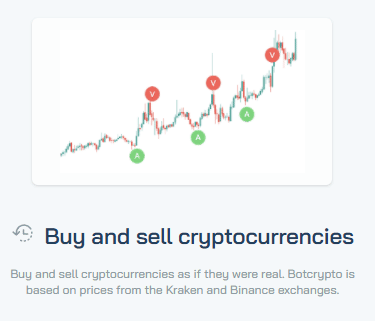 Trading strategies offered by Botcrypto
The bot uses the DCA strategy selling/buying coins at overbought and oversold levels. There are 26 indicators available including Bollinger bands, EMA, MACD, RSI etc. to create your custom game plans.


How Botcrypto pricing works
Botcrypto is available through various monthly subscription plans. They differ in terms of the number of bots available for trading and the number of incoming webhooks. These pricing models are as follows:
Discover: a free version of Botcrypto available in the market and contains no trading bot and one incoming webhooks.
Bronze: is a paid version available at 9.99 €/month. Two bots for trading and two incoming webhooks are available in this plan.
Silver: is priced at 29.99 €/month, and it comes with five bots and four incoming webhooks.
Gold: costs 59.99 €/month, and it has 20 bots and five incoming webhooks.
Custom: Traders can get a paid custom model with customized features by contacting the support team.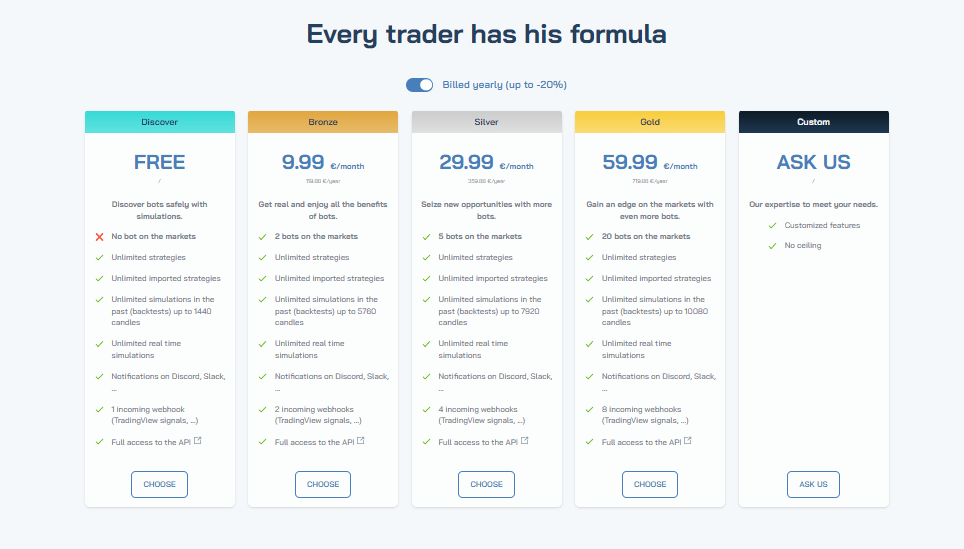 Fees & commissions
Botcrypto is not a trading exchange, so it has no extra fees and commissions. As mentioned above, trading services and strategies are available at different monthly subscription models.
Available exchanges
The bot integrates with the following exchanges:
Binance
Kraken
Botcrypto company overview
Botcrypto is an independent trading platform developed by individual traders.It claims to offer efficient and accessible trading tools. The system is featured in CryptoToast and VideoBourse.fr. and has the support of GrandEst, Semia, Bpifrance, and Waltio.

Botcrypto time in business
Botcrypto was launched in 2017 in France. The company's main office is located in Botcrypto SAS 15, Avenue du Rhin 67100 Strasbourg France.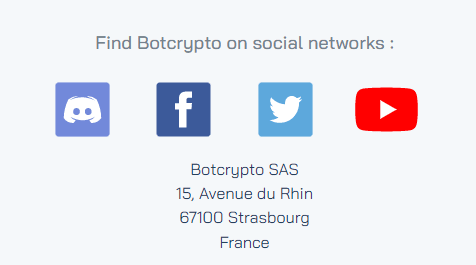 Customer support and user experience
A support center is available for customers on the website to help and entertain user complaints. The developers entertain inquiries via Email and direct chat. The user interface is complex for general traders. Essential information like privacy and certification is also missing, making it hard for users to trust it.
Security, safety, and privacy 
The funds are stored within the crypto exchange. Botcrypto uses API integration to connect with brokers and does not require login details from traders for their brokers.

Is Botcrypto for all traders?
Botcrypto states that it is a beginner friendly platform as there is no need for coding systems. The volatility of the crypto market may require an extensive trading experience from traders. The service supports DCA strategies which can be detrimental if the market trends in one direction with momentum.