BlackQueen is a Forex expert advisor that was launched on 28th June 2021. It is a fully-automated and compatible with 7 currency pairs robot. It has three different trading modes and is customizable according to the trader's needs.
This is an EA that operates on hourly bars. You don't need a stable internet connection to work with this robot. It does not use short-term strategies and has a user-friendly interface.
BlackQueen trading strategy
There are two trading strategies for this EA, namely BQ and OneOrder. For the first one, the EA places opposing trades to win back losing trades. For this purpose, it may increase the size of the trading lot. The OneOrder strategy involves no recovery trades. In this case, the EA accepts the loss and stands by for the next trading opportunity. The vendor has described the strategies in a vague manner, and we don't know what kind of analysis is involved in the process of finding profitable trades.
BlackQueen backtesting report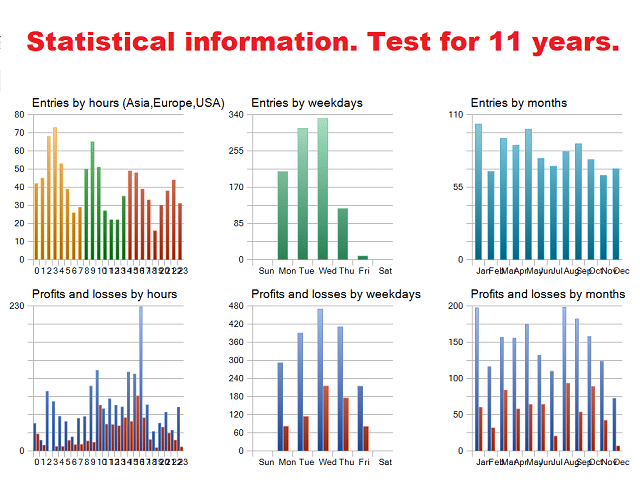 The vendor has not shared the backtesting results in the proper format. We have some charts showing the 11-year testing period. Here, we can see the entries by months, weekdays, and hours. Also, there are charts showing profits and losses by hours, weekdays, and months. It is not possible for us to get an idea about the historical performance by looking at these charts.
BlackQueen live results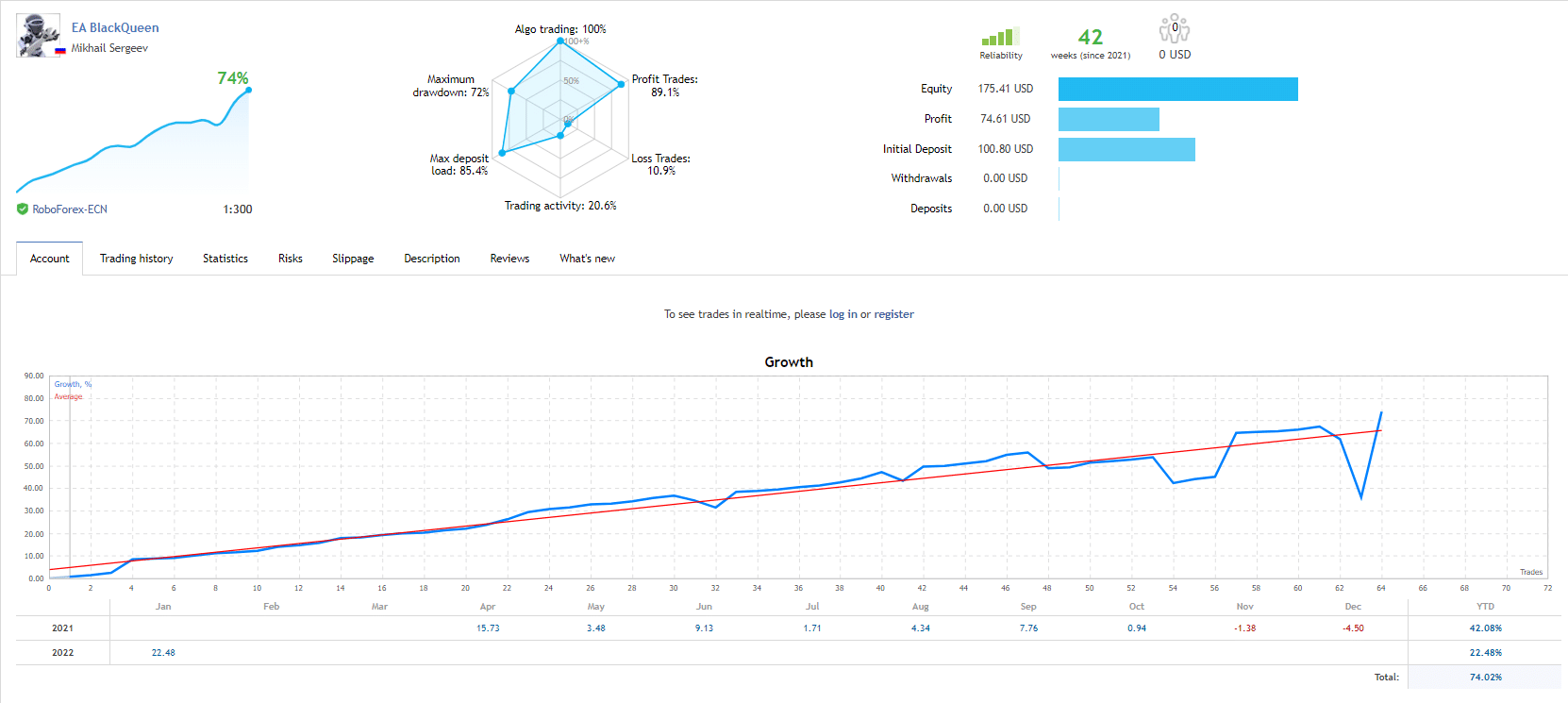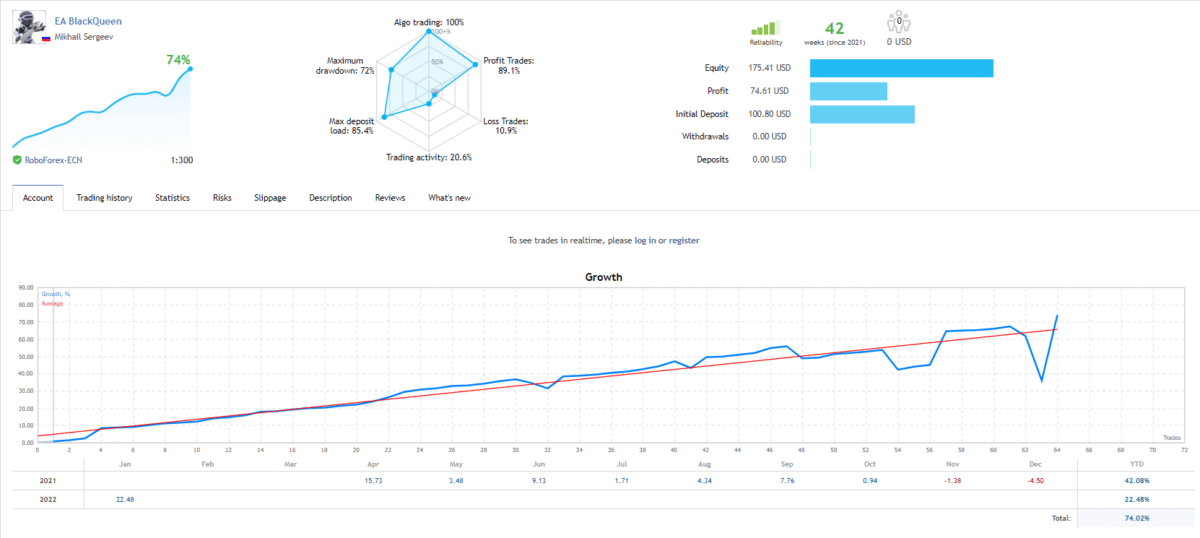 At this moment, there are no verified trading accounts for this EA on third-party websites. This account on MQL5 has been active since April 2021. To date, only 64 trades have been placed through this account, out of which 57 have been won. The win rate of 89.06% is quite high, but it is based on short trading history. This account has a very high drawdown of 72%, indicating a risky trading strategy. Currently, the total profit is $74.61, while the profit factor is 2.24.
Some features of BlackQueen
The pairs supported by this EA include EUR/USD, GBP/USD, AUD/USD, NZD/USD, USD/CAD, USD/CHF, and USD/JPY. To get started, you need to make a minimum deposit of $50. After launching the EA, you should set the robot on an H1 chart for EUR/USD with the default setting.
| | |
| --- | --- |
| Total return | 74.02% |
| Maximal drawdown | 72% |
| Average monthly gain | 13.16% |
| Developer | Mikhail Sergeev |
| Created, year | 2021 |
| Price | $371 |
| Type | Hedge |
| Timeframe | H1 |
| Lot size | N/A |
| Leverage | 1:300 |
| Min. deposit | $50 |
| Recommended deposit | $100 |
| Recommended brokers | N/A |
| Currency pairs | EUR/USD, GBP/USD, AUD/USD, NZD/USD, USD/CAD, USD/CHF, and USD/JPY |
| ECN | No |
Main things to consider if you invest with BlackQueen
Here are some of the things you should keep in mind before investing in this EA:
No backtesting results
By comparing the historical and live statistics of an EA, we can get a clearer idea about its performance. Unfortunately, the vendor has not presented the backtesting results for us to analyze. We know it was tested for 11 years, but we cannot see some of the vital parameters like profitability, drawdown, profit factor, etc.
Lack of vendor transparency
There is not enough information on Mikhail Sergeev, the Russian developer behind BlackQueen. We don't know anything about their background and history, apart from the fact that they have been selling products on MQL5 for more than 9 years. There is no contact information and we don't know if there are other people working alongside them.
Multiple trading modes
Thanks to its different trading modes, BlackQueen is suitable for different trading styles. Beginners can trade in all pairs using one chart without making any adjustments. Advanced traders can use the manual mode to adjust the parameters and create their own trading style.
Pricing details
The current price of this EA is $371, which is close to the market average. There are 1-month and 3-months rental options priced at $40 and $68 respectively, but there is no money-back guarantee.
Other notes


There are no reviews for this EA on trusted third-party websites. While there are a handful of reviews on MQL5, we cannot verify their authenticity.