Most investors know the equity exchange-traded funds that provide exposure to the stocks market; however, fixed-income ETFs are a separate case. These securities track the underlying bonds with maximum accuracy and trade on major exchanges.
Fixed-income ETFs provide a transparent and liquid exposure to the bond market. Generally, they are an investment of choice for conservative investors who prefer non-volatile and reasonable interest rate investments, incorporating a diversified range of bond categories.
So, do you want to know about a fixed-income, active exchange-traded fund providing exposure to Chinese currency?
Read this article to learn about the WisdomTree Chinese Yuan Strategy Fund (CYB), its specifications, and its performance.
Three things to know before starting:
CYB fund imparts exposure to the Chinese yuan value concerning the US dollar and yuan foreign exchange rates.
CYB is a fixed-income fund with maximum allocation to US bonds or Treasury bills.
This ETF has an expense ratio of 0.45%.
What is WisdomTree Chinese Yuan Strategy Fund (CYB)?
WisdomTree Chinese Yuan Strategy Fund delivers the returns of money market rate in China utilized by foreign investors as well as the valuation change of the Chinese Yuan compared to the US dollar. This fund allows diversification from the US currency and provides exposure to the overnight Chinese yuan.
CYB is a tax-advantaged fund for long-term investments. It invests around 80% of its assets in securities reflective of the Chinese economic performance. Moreover, the fund incorporates forward contracts of both CNY (mainland yuan) and CNH (HK-traded yuan) and demonstrates Chinese currency appreciation.
CYB FactSet analytics insight
CYB supports a weighted-average portfolio of treasury bills, bonds, and other securities with a maturity of approximately 160 days or below. It is an actual 1940 Act ETF providing a close exposure to Yuan and trades on the NYSE Arca exchange.
This fund comes under the Morningstar category of "single currency," with total net assets of $36 million. As of December 2021, the fund has around 1.3 million shares outstanding and a 3-month average trading volume of 10,960. It has a reasonable expense ratio of 0.45%, well below the corresponding mutual funds.
In addition, CYB has an embedded yield of 14.90% and allows Options contracts. It is a low-risk fund with a beta and Sharpe ratio of +52.14 and +1.61, respectively.
CYB pricing and performance
WisdomTree issued the Chinese Yuan Strategy Fund on May 14, 2008, under the asset class of "fixed-income" and a sub-asset class of "currency strategies." The fund's inception price was around $25 in 2008, and it has undergone very minute changes since then. Currently, the fund is trading at $26.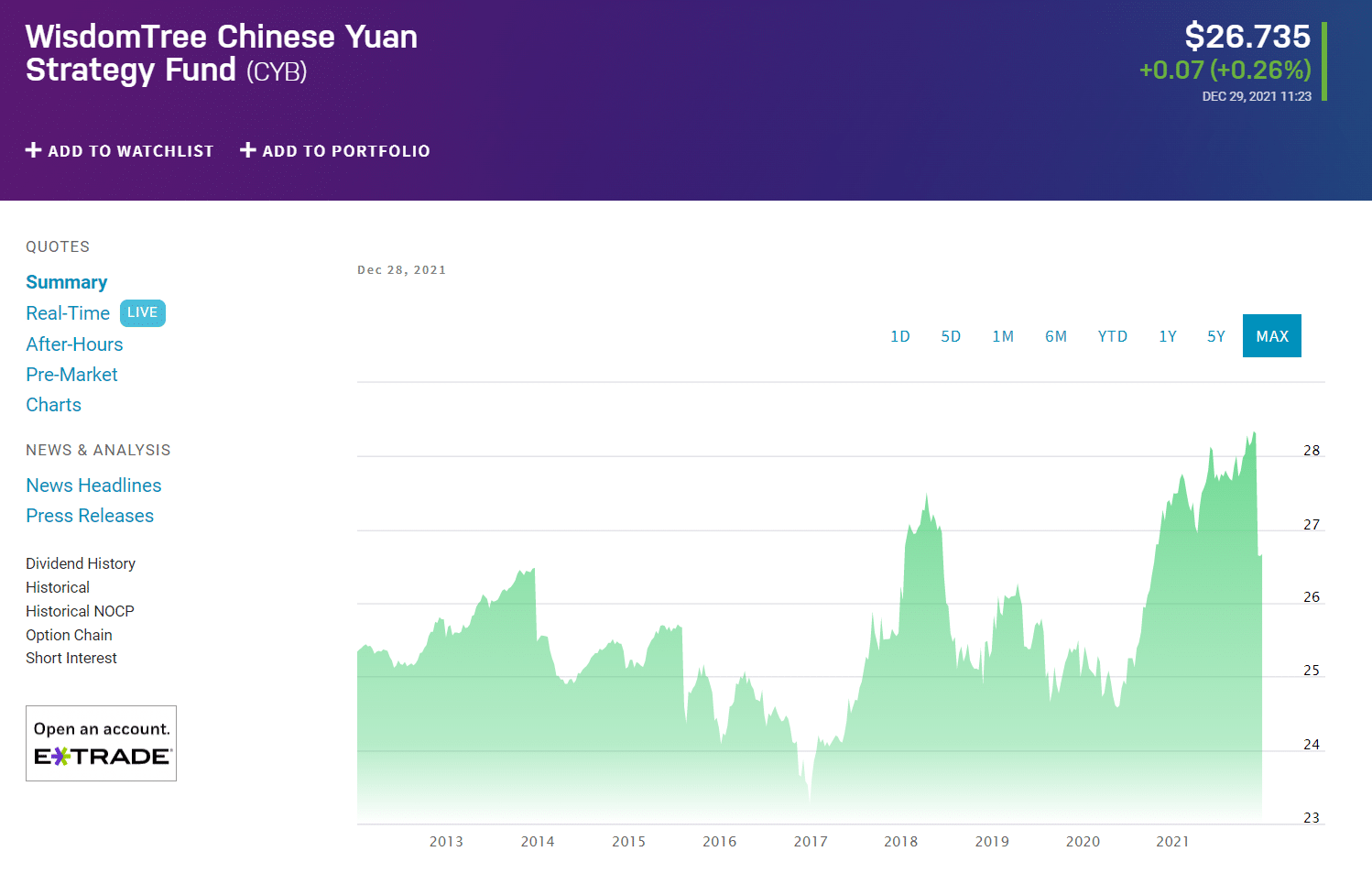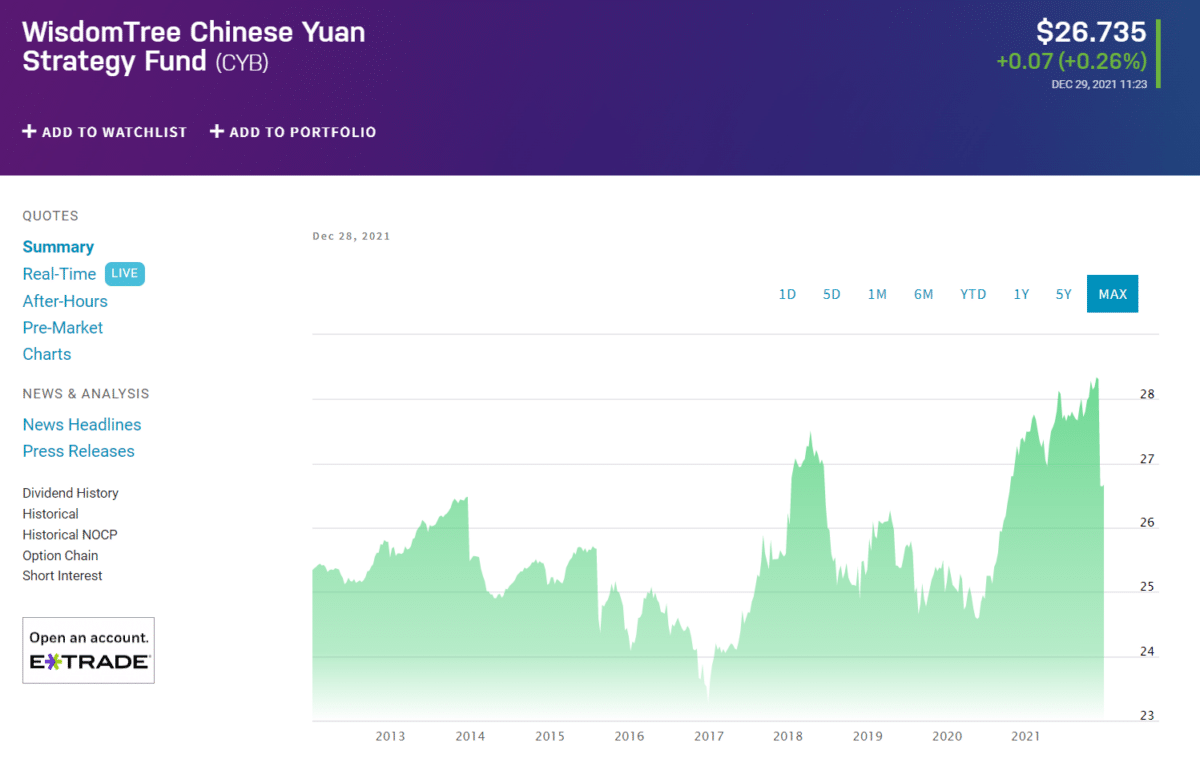 According to the fund's quarter-end report, its NAV return (average annual) of 1-year and 5-year stands at 7.59% and 3.36 %, respectively. Its cumulative market-price return since inception is around 27.29%.
In addition, the fund's YTD return is approximately 4% as of November 2021.
Assets classification and key holdings
WisdomTree Chinese Yuan Strategy Fund consists of four major asset classes. The asset groups with their respective weightage are as follows:
Treasury – 469.04%
Exchange-traded fund – 22.49%
Forwards – 7.05%
Cash and derivatives offset – 1.43%
According to the latest data (12/21), CYB has four key holdings that comprise the 100% of the portfolio.
| | |
| --- | --- |
| Name | Weight (%) |
| TREASURY BILL 04/22 0.00000 | 32.96% |
| TREASURY BILL 03/22 0.00000 | 31.12% |
| CITI TRI-PARTY REPO WISDOM TREE | 31.35% |
| WISDOMTREE FLOATING RATE TREAS WISDOMTREE FLOATING RATE TRE | 4.57% |
Strategy and benefits
CYB fund relates to the evolving Chinese Yuan and comes under the currency segment of 'Long CNY, Short USD fund.' It provides a cost-friendly diversification from the US dollar with moderate interest rates.
CYB is a suitable fund for risk-averse investors as it consists of low volatile assets with a lower average maturity duration. Moreover, this fund can balance the equity funds' risk and provide a secure & consistent income source.
In addition, the Chinese Yuan Strategy Fund is known for its flexible and efficient tax structure with a lower expense ratio. Investors can safely put their cash to work by investing in this publicly traded fund that discloses its holdings and assets arrangement on a daily basis.
For example, a $10,000 CYB investment would have grown in the previous five years, as shown below.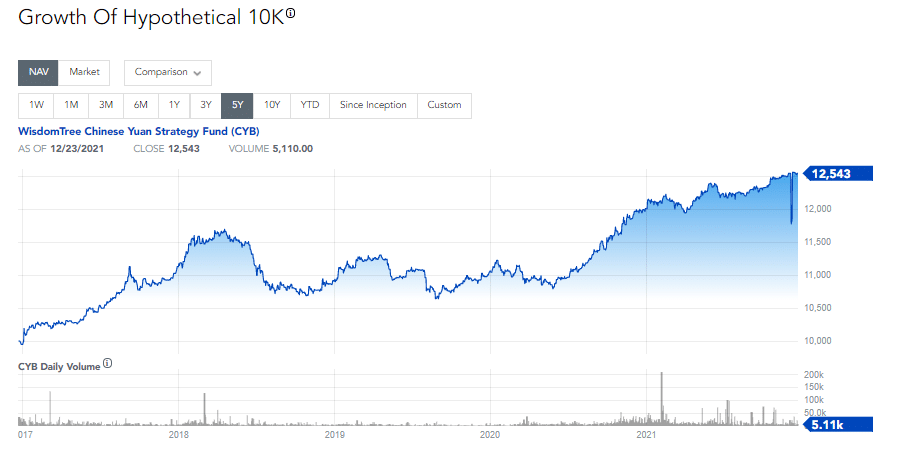 Final thoughts
WisdomTree Chinese Yuan Strategy Fund is a competitive fund for uniquely accessing the bonds market. It is a low-cost and efficient investment option with enhanced transparency about financial data.
Moreover, the CYB fund integrates significant liquidity relative to the traditional OTC bonds and supplies exposure to the Chinese currency appreciation. However, investors should establish their long-term financial goals before specifying the portfolio allocation towards conservative ETFs like CYB.