The devs claim that WallStreet Forex Robot is a very profitable tool. Therefore, they believe that the EA can transform ordinary traders into self-made Forex winners. How true are these statements? Let's find out in this review.
WallStreet Forex Robot was created by programmers working under FXAutomater, a company that mainly deals with developing trading products for the Forex community. The team is also composed of investors and traders purported to have been trading in this market for over a decade.
WallStreet Forex Robot trading strategy
This EA focuses on low-risk scalping and follows short and medium-term trends. The system also protects every position through defensive stop loss orders, making it hard to lose an account in a sole transaction.
WallStreet Forex Robot backtesting report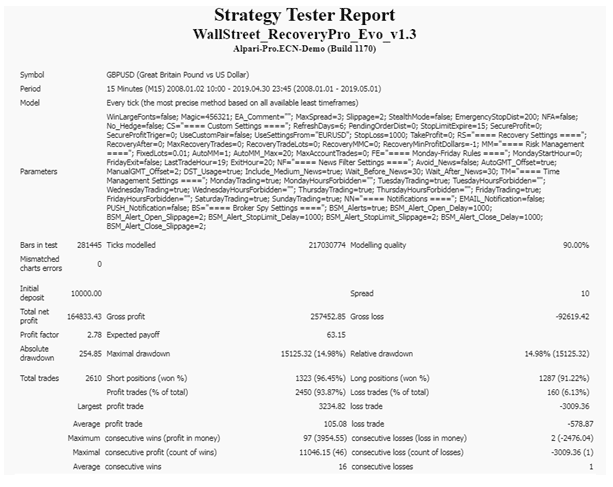 This strategy tester report tells us that the robot was tested for 11 years, specifically from January 2008 to April 2019. During this period, it conducted thousands of trades — 2610 using a deposit of $10,000. In the end, it attained a profit of $164,833.43 after winning 93.87% of the trades. The drawdown generated was low (14.98%), while the profit factor was 2.78. We had remarkable win rates for short (96.45%) and long positions (91.22%). The average consecutive wins were 16.
Wall Street Forex Robot live results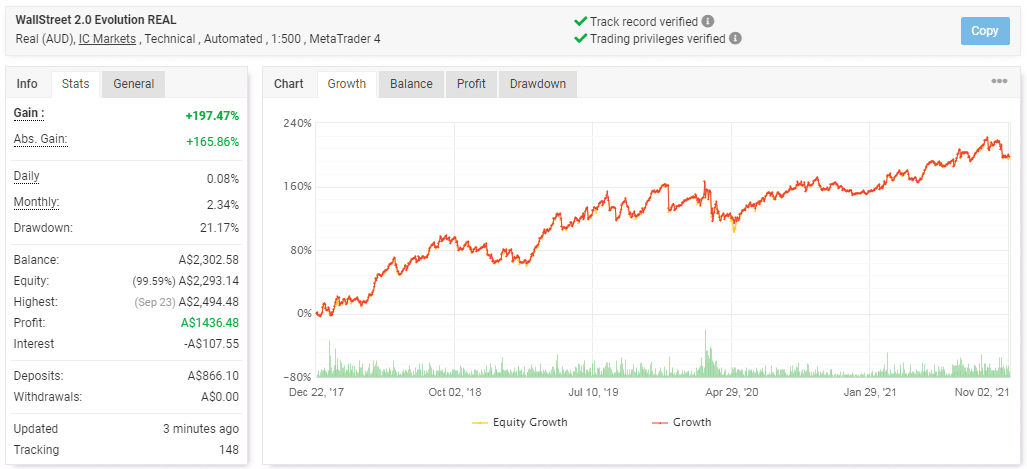 At a glance you can see that the EA isn't that profitable. Since December 22, 2017, it has only made a profit of A$1436.48. So, in a year, the account earns approximately $350. To date, the balance has grown to A$2302.58. Although the drawdown is not that high (21.17%), it could increase and eat away the capital further.

There are 3362 trades with an average trade length of 4h 54m. Out of all the orders completed, 79% of the long positions and 78% short positions were won. These results are not extraordinary. We are also concerned about the EA's high losing streak. This can be clearly seen by the average loss (-37.79 pips) that is nearly three times higher than the average win — 13.99 pips. The profit factor is 1.13 and highlights the low return rate of the EA.

The system trades with medium risk.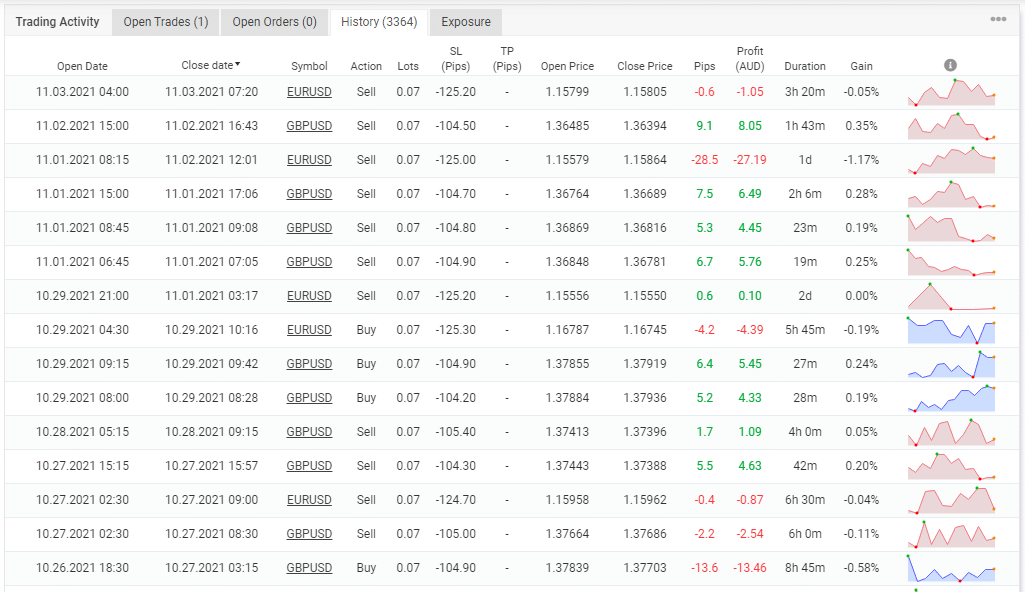 Different currency pairs were used to trade while applying fixed lot sizes of 0.07. Some of the losses made were somewhat high and enough to eat away the profits.

The robot worked continuously from Monday to Friday. However, most of its activities were concentrated on Monday — 702 deals.
Some features of WallStreet Forex Robot
| | |
| --- | --- |
| Total return | 197.47% |
| Maximal drawdown | 21.17% |
| Average monthly gain | 2.34% |
| Developer | FXAutomater |
| Created, year | N/A |
| Price | $237 |
| Type | Scalping |
| Timeframe | M15 |
| Lot size | 0.07 |
| Leverage | N/A |
| Min. deposit | $100-$500 |
| Recommended deposit | $1000-$5000 |
| Recommended brokers | Any MT4 broker or NFA regulated broker |
| Currency pairs | EURUSD, GBPUSD, USDJPY, USDCHF, USDCAD, NZDUSD and AUDUSD |
| ECN | Yes |
Main things that make WallStreet Forex Robot unreliable
Low profitability rate
Most of the traders who join Forex trading do so with the goal of reaping big from the market. Therefore, we believe that this EA is a bad choice because it makes peanuts. Therefore, it will not help you to achieve your dreams.
Poor risk/reward ratio
The robot's risk/reward ratio (9:1) is worrying. This means that the strategy used takes many trading risks and doesn't receive adequate returns as a result. So, you may eventually end up with a negative balance while using the robot.
Pricing details
Wall Street Forex Robot is sold at a price of $237. By purchasing the EA, you will also get 1 real account, unlimited demo accounts, 24/7 customer support, and a 60-day money-back guarantee. Additionally, the vendor is offering WallStreet Asia, WallStreet Recovery Pro, and WallStreet Gold Trader as bonuses.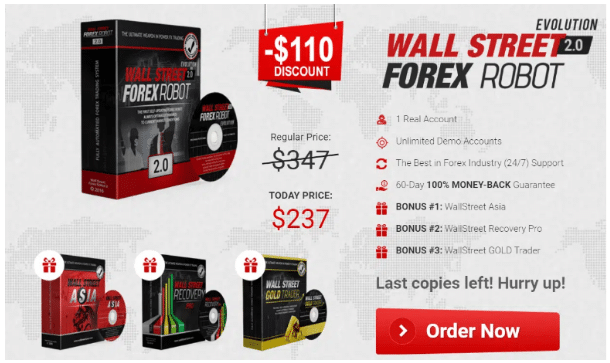 Other notes
Going by the many customer reviews on FPA, it is clear that Wall Street is popular among Forex traders. Unfortunately, it has a bad reputation. Several customers have admitted that the EA isn't lucrative. One of the customers says that it makes very small profits. Another one reveals that it can go for long periods without making profits, and when it does, the gains can be easily erased by one huge loss.