Trend Signal is a website offering trading strategies and indicators for the Forex market. Behind this platform, there is a team of IT professionals and traders with a combined experience of 90 years. The company came up with the indicator in 2003. It aims to empower traders with the techniques, knowledge, and skills necessary to extract profits from the Forex market.
Apart from indicators and strategies, this platform also offers personalized coaching sessions, seminars, and interactive workshops. According to the vendor, the strategies are easy to use and they have helped many individuals in establishing a steady source of income from Forex trading.
Trend Signal trading strategy
This platform uses the Sniper trading strategy. The vendor has not provided a proper explanation for this strategy. We don't know whether it follows the trends or places counter trend trades. There is no information on the indicators employed in this strategy. As such, it is not possible for us to determine how profitable the strategy can be.
Trend Signal backtesting report
It is a common practice for EA vendors to test the robustness of their systems. These tests are performed over a long time period with historical data. They expose the robot to various market conditions, thus revealing its ability to maintain a low drawdown even during difficult scenarios. Since this is not an expert advisor, we don't need to analyze the backtesting data.
Trend Signal live results
Unfortunately, the vendor has not shared the verified trading statistics for this system. There are live trading accounts on websites like Myfxbook, FXBlue, and FXStat. As such, we have no way to make sure that the strategy is as effective as the vendor paints it to be.
Some features of Trend Signal
We don't know which currency pairs the strategy is most suitable for. The vendor has not mentioned the minimum deposit, brokers, and leverage. They have claimed that the strategy can identify trades in just 20 minutes per day.
| | |
| --- | --- |
| Total return | N/A |
| Maximal drawdown | N/A |
| Average monthly gain | N/A |
| Developer | Trend Signal |
| Created, year | 2003 |
| Price | N/A |
| Type | Forex strategies and indicators |
| Timeframe | N/A |
| Lot size | N/A |
| Leverage | N/A |
| Min. deposit | N/A |
| Recommended deposit | N/A |
| Recommended brokers | N/A |
| Currency pairs | N/A |
| ECN | No |
Main things to consider if you invest with Trend Signal
If you wish to purchase this EA, you need to know the following:
Simple strategy
According to the vendor, the strategy does not require the trader to analyze candlestick and chart patterns for a long time. The strategies are based on simple rules. This means that even novice traders will easily be able to identify trades.
Training program
The company provides support to ensure the clients reach their trading objectives. Each customer gets access to a comprehensive training program. This program lasts six months.
No verified trading statistics
Forex traders always look for verified statistics before investing in a system. However, there are no such statistics for Trend Signal. As such, it has no authentic track record of winning profits in the live market.
Lack of strategy insight
The vendor has claimed that the strategy is simple and profitable. However, they have not provided the minimum information on it. Without strategy insight, it is difficult to determine which trading styles this system is suitable for.
Pricing details
On the official website, there is no information on the pricing packages. To know the details, you need to sign up first. We don't know if it's a subscription plan or a one-time fee. To submit a claim for a refund, you should get in touch with the company within 14 days of completing your purchase.
Other notes
The vendor has shared the official address of the company headquarters, which is located in the UK. We also have a phone number and an email address where you can get in touch with the support team.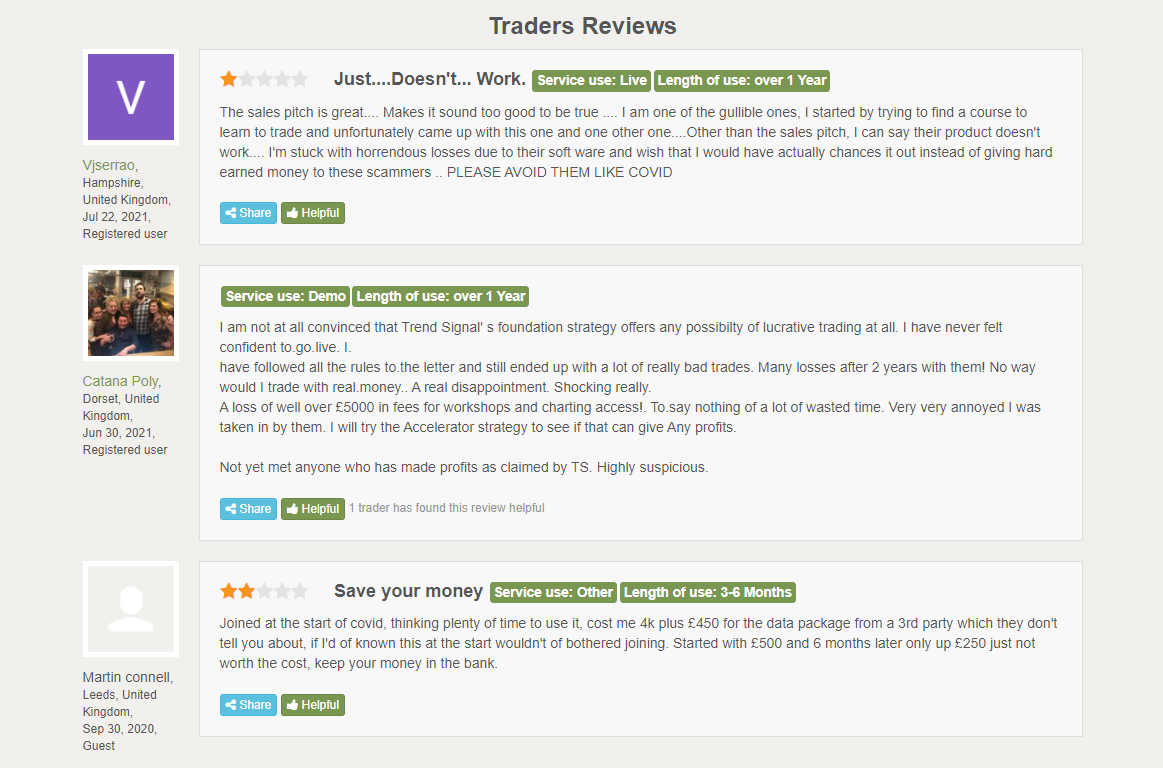 On Forexpeacearmy, Trend Signal has a rating of 2.6 out of 5. Some users have claimed that the strategy does not work and that they suffered heavy losses in spite of following all the rules.