Tip Toe Hippo is described as an algorithmic trading tool that trades with low risks and generates an average of 5% monthly profits. The vendor is proud to announce that its returns are verified by multiple trusted reporting companies like Myfxbook.com, Forex Peace Army and FXBlue. Join us as we assess more aspects of the robot.
Tip Toe Hippo trading strategy
The trading strategy used by Tip Toe Hippo is a mystery. The vendor does not unveil the technique the bot uses to establish whether to buy or sell an index at any given time. We don't know if the methodology is based on technical or fundamental analysis, news events, etc. The decision to hide this info is misinformed. Many traders like to know how the system they are investing in works.
Tip Toe Hippo backtesting report
The presentation does not feature any backtesting report. This makes it difficult to ascertain the viability of its strategy in the long-term. So, we cannot predict for how long the robot can maintain a trading account in the real market. This is disadvantageous, especially to traders who rely on such forecasts to make their purchasing decisions.
Tip Toe Hippo live results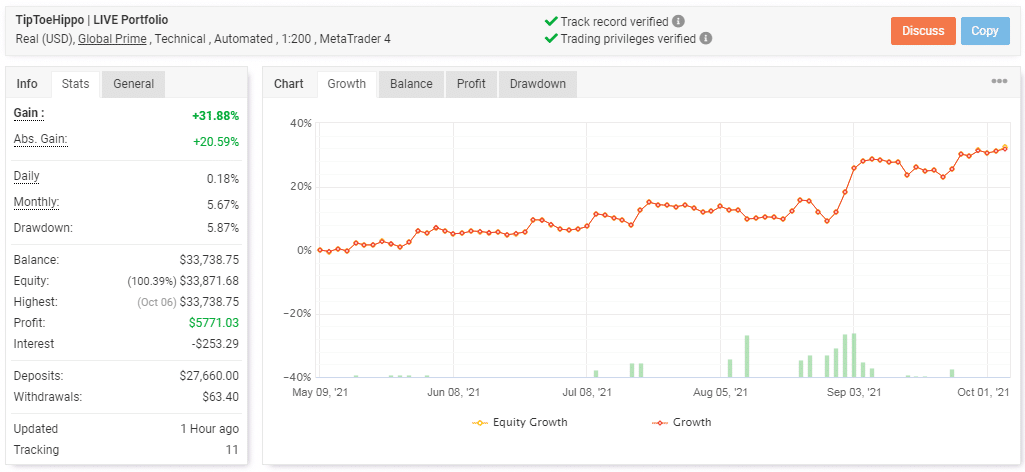 This is a real USD account that runs on the MT4 platform and uses a leverage of 1:200.
The account was deposited at $27,660 when it was opened on May 9, 2021. Since then, it has been making a profit of 5.67% monthly. Therefore, the overall gain so far is 31.88%. The balance has increased to $33,738.75. The drawdown, which is 5.87%, means that the trading approach used by the robot is safe.

The EA has conducted 182 trades, and the profit factor is 1.65. On average, its trade length is 14 hours and 52 minutes. The performance of the trades is distressing. Only 53% of the long trades have been successful. The situation is even worse for short positions as it has recorded a win-rate of 44%. It means that a majority of these trades ended up with losses.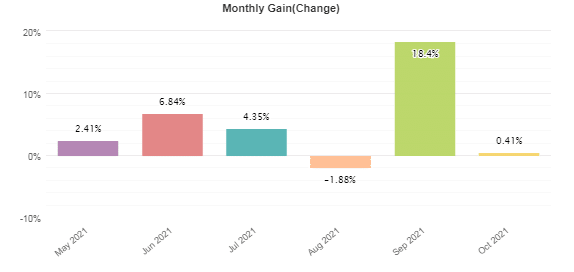 Since it began its trading activities, the system has been making small profits which are below 10%, except for August where it made a loss of -1.88%. However, September was a good month for the robot as for the first time, its profits surpassed the 10% mark.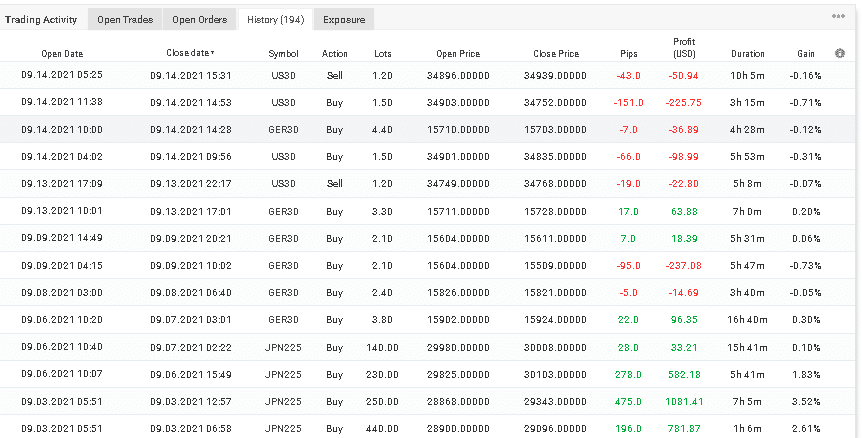 Although the system generated some significant gains for a while, it made some bad trading decisions that caused the account to suffer a series of losses.
Some features of Tip Toe Hippo
| | |
| --- | --- |
| Total return | 31.88% |
| Maximal drawdown | 5.87% |
| Average monthly gain | 5.67% |
| Developer | Norm, Dylan, Grant, & Max |
| Created, year | N/A |
| Price | $50, $100, & $250 |
| Type | N/A |
| Timeframe | N/A |
| Lot size | Between 0.10 and 442 |
| Leverage | N/A |
| Min. deposit | $1000 |
| Recommended deposit | $5000+ |
| Recommended brokers | N/A |
| Currency pairs | US30, Ger30, and JPN 225 |
| ECN | N/A |
Main things that make Tip Toe Hippo unreliable
Undisclosed trading strategy
Without this information, the trader remains in the dark on many things. For instance, you can't know the timeframe the system prefers to work on, the data it relies on, how it minimizes risks and identifies profitable trading opportunities, etc. As a consequence, you cannot trust the bot to boost your portfolio.
Low profitability rate
Since the system does not generate substantial returns, it will not give you value for money. It is no secret that most people join the Forex market with the goal of earning big from the market. So, it would be illogical to invest in a robot that will only delay or thwart your money-making efforts.
Lack of backtesting results
The lack of this data denies you the chance to gauge the feasibility of the EA's strategy, including its profit potential and the magnitude of trading risks involved. Consequently, it becomes impossible to predict how the tool will perform in the future.
Pricing details
Tip Toe Hippo is available at a price of $50, $100, and $250 for monthly, quarterly and yearly packages respectively. A money-back guarantee is also included. Although the system's pricing seems fair, we don't believe it is worth the money because it does not generate substantial returns.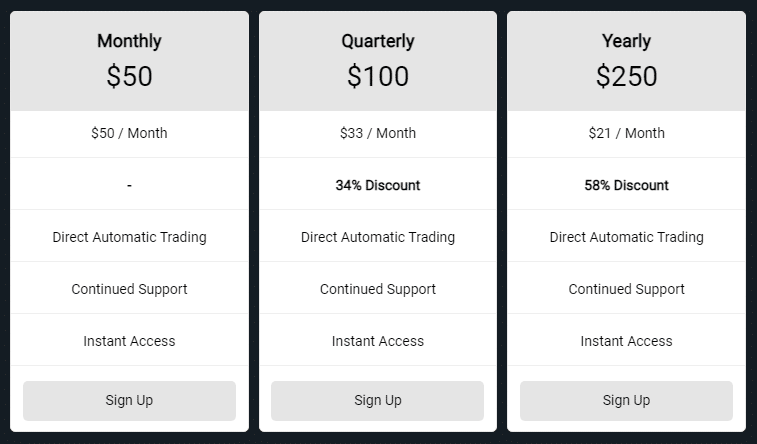 Other notes
Tip Toe Hippo does not have any customer reviews on its website or other Forex review sites like Myfxbook.com, FPA, Trustpilot, or Quora.