Robinhood FX EA is described as a non-martingale system that is professionally created to reduce losses early and permit good trades to run to optimize gains. In short, the vendor is saying that the software is safe. We object. Robinhood FX has a grid system, which makes it one of the riskiest EAs in the Forex market.
Robinhood FX EA trading strategy
The trading strategy used by this EA is not stated. Nevertheless, we later realized that the robot uses grid. This approach is too risky, and we suspect this is the main reason the vendor leaves this info out.
Robinhood FX EA backtesting report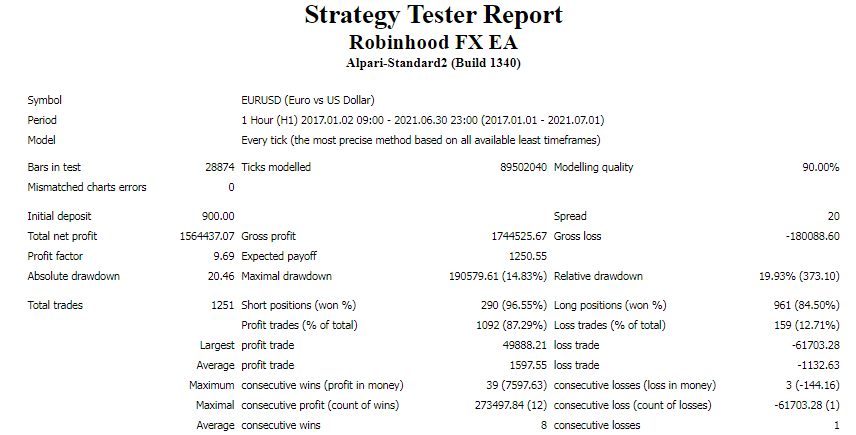 This backtest statement indicates that the robot operated between January 2017 and June 2021, during which it made a profit of $1,564,437.07 from a deposit of $900. The data also says that the EA had a high profit factor of 9.69.
Many trades were also executed — 1251. Their performance was good, as the win rates for short and long positions were 96.55% and 84.50%, respectively. The maximum drawdown (14.83%) was not worrying.
Robinhood FX EA live results

This is a real account on FXBlue that the robot is running. From July 10, 2021, to date, a profit of $282.72 has been made. So, the balance currently stands at $1,035.66. The loss value is not shown.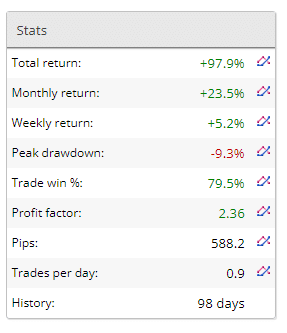 For the 98 days the EA has traded, a total return rate of 97.9% has been attained. The win-rate for trades is 79.5%. We have a monthly return of 23.5% against a peak drawdown of -9.3%. The profit factor is 2.36 and much lower compared to the value highlighted in the backtest report.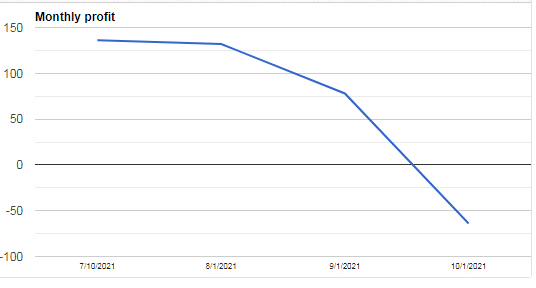 The profits achieved on a monthly basis have been declining since the software began trading in July.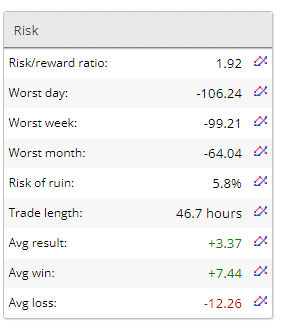 The risk/reward ratio is 1.92 and does not raise any concerns about the system's performance. However, the average loss of -$12.26 is substantially higher than the average win of $7.44 and hence unsettling. It means that the robot is losing more than it is winning.

The robot placed a grid of orders while using 0.01 lot sizes and, in the end, made some small profits and a series of losses.
Some features of Robinhood FX EA
| | |
| --- | --- |
| Total return | 97.9% |
| Maximal drawdown | -9.3% |
| Average monthly gain | 23.5% |
| Developer | N/A |
| Created, year | N/A |
| Price | $127, $147, & $167 |
| Type | Grid |
| Timeframe | H1 |
| Lot size | $200/0.01 |
| Leverage | N/A |
| Min. deposit | $100-$200 |
| Recommended deposit | N/A |
| Recommended brokers | All brokers |
| Currency pairs | EURUSD |
| ECN | Yes |
Main things that make Robinhood FX EA unreliable
Zero vendor transparency
The people who developed this robot have nothing to say about the company, its registered offices, or even their qualifications, achievements, and accolades. This is a big red flag. It is a sign that the team is probably inexperienced in trading and just wants to make a quick buck from unsuspecting traders. Consequently, their product may not be as good as advertised, and you may end up losing money with it.
Grid strategy
Although the vendor does not feature the strategy the EA uses in the presentation, the trading results prove that it is present. This method can be very dangerous, especially when the robot gets into a very directional market that runs against it. As a result, it may make a series of unrecoverable losses.
Pricing details
Robinhood FX EA offers several packages; basic, regular, and business plans, which cost $127, $147, and $167, respectively. The business plan comes with the highest number of accounts — 3 real and 3 demo accounts. A 30-day money-back guarantee is offered.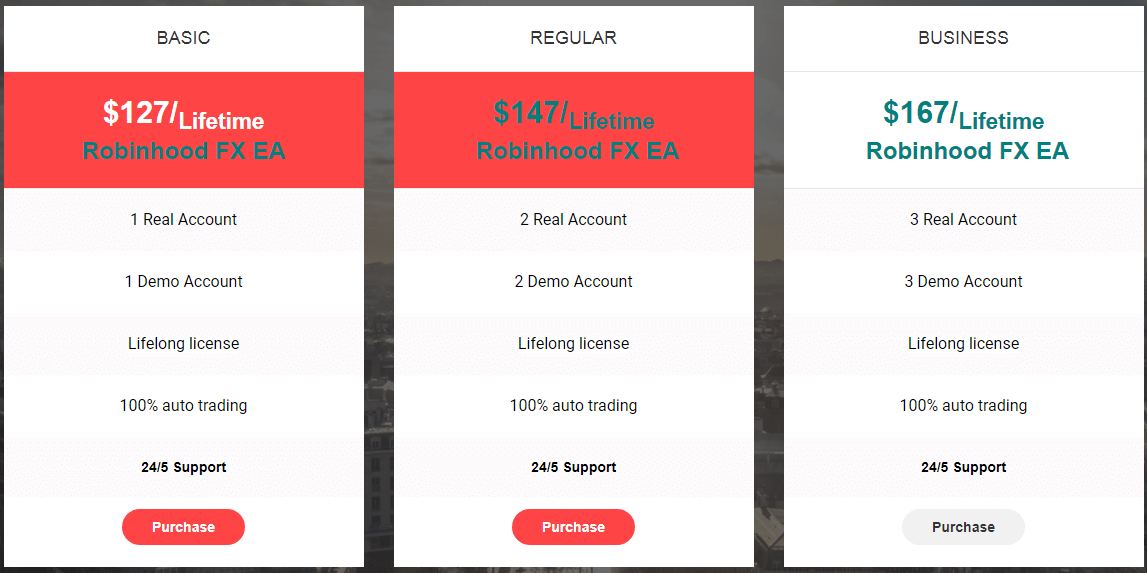 Other notes
We only have one review for this product on the Forex Peace Army website. This customer is happy with the EA's performance. He is impressed that it was able to make profits in volatile markets. Even so, the robot doesn't seem to be popular among traders yet. We will wait and see if more customers will come forward to narrate their experiences with it.