NapBots is an automated crypto trading platform that offers multiple indexes and algorithms. The platform has built-in trading strategies developed by professional traders and claims to provide services to beginners, holders, and day traders. Traders can connect the platform with multiple exchanges and try out the service via a free trial. In this review, we discuss the critical points of NapBots to help investors with their investment decisions.
NapBots: first impression
Even though the platform has a user-friendly interface, beginners can face difficulties due to a lack of proper user documentation. We could not find any evidence of records that could prove its performance.
What's NapBots?
NapBots is a trading system designed to trade cryptocurrencies with full automation. Traders can create their own bots and provides copy trading to the general marketplace.
Using NapBots
Traders have to use the following steps to run NapBots :
Sign up on the platform and connect to your exchange via an API key
Select one of the ready-made systems and activate it
The bot automatically starts trading on your behalf
The platform has no deposit and withdrawal requirements as it is not an exchange. Users only need to pay a monthly subscription fee to use the system.
How to install NapBots software?
Market participants can access the platform through its online website. There is no need to install this software as the service is available online.
What does NapBots have to offer?
NapBots provides multiple services to traders, including multi-exchange integration, copy trading, and several built-in strategies. The platform supports major exchanges, including Binance, FTX, Kraken, Okex, Huobi, and Bitfinex.

Trading strategies offered by NapBots
The automated trading platform offers trend strategy and mean reversion strategies. Traders can also mix up strategies to create their own game plans.

How NapBots pricing works 
NapBots is available through various monthly subscriptions. They differ in terms of maximum investment, the number of available algorithms, leverage, etc. The silver plan costs 16 Euros/Month, while the gold plan is priced at 41 Euros/Month. The Platinum plan comes with full features at the expense of 83 Euros/Month.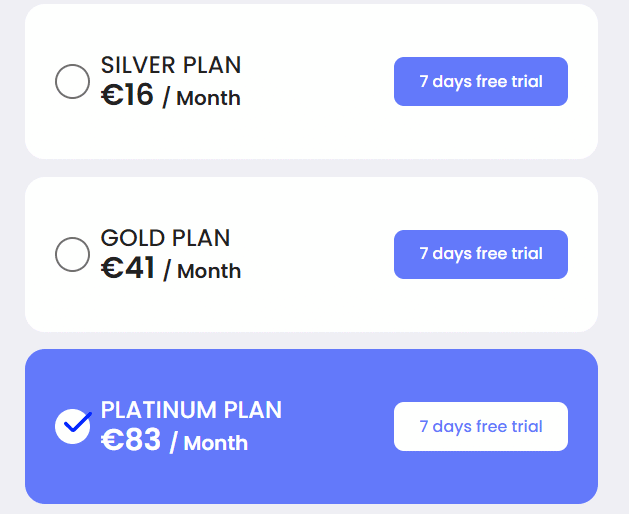 Fees & commissions
NapBot has no extra fees and commissions as it is not a crypto exchange. As mentioned before, trading algorithms are available via a monthly subscription.
NapBots company overview
NapBots is a trademark of Napoleon Software. It claims to be featured on top websites such as Forbes, Cointelegraph, Benzinga, and Coindesk. No hyperlinks are available that question the credibility of the developers' statements.

NapBots time in business
NapBots has been providing services since its launch in 2020. Again there are no certified links that could show prove the statements.

Customer support and user experience
According to developers, customer support is available via tutorials, education guides, and one-on-one support. The NapBots team comments that they quickly help customers and entertain their complaints. The user interface is complex for general traders, and important tags are at the bottom of the website, which makes it hard for users to access it.
Security, safety, and privacy
According to the authors, the user assets are kept secure on their exchanges. The withdrawal rights remain with traders.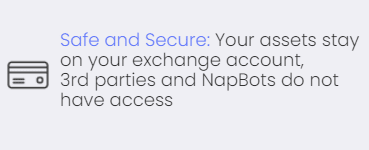 Is NapBots for all traders?
NapBot is best suited for amateur traders with sound market knowledge. Investors should have a good understanding of the risks that come with the use of averaging strategies.