Happy Forex is developed for both professional and beginner users and comes with different security features such as filter spread, amount of loss, etc. It automatically detects 4 or 5 digit brokers and can work on ECN brokers. We will discuss the robot's characteristics, live records, and drawdown to give our readers more information about the EA and its reliability.
Happy Forex trading strategy
The algorithm trades using averaging strategy and implements a news filter to avoid volatile market conditions. The live records on Myfxbook shows us that it trades on multiple currency pairs. It uses a virtual stop loss to exit the markets and has an average trade duration of 9 days.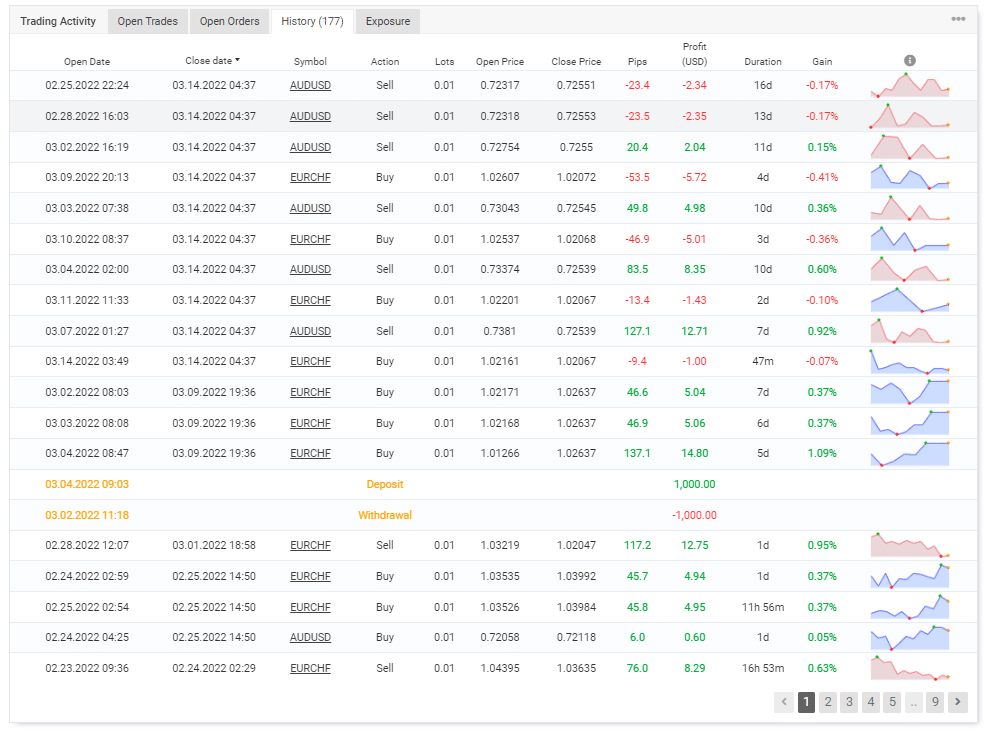 Happy Forex backtesting report
The backtesting records are available from January 1999 to May 2010, as observed on Myfxbook records. The total balance was $42,677.35 and a deposit amount was $1,000.00.
The gain percentage was +4167.74%, with a profit factor of 2.59. The robot had a peak drawdown of 13.53%. Its daily gain was 0.09%. The algorithm made 6631 trades, out of which 4943 were profitable.


Happy Forex live results
The robot started trading in June 2021 and ended in March 2022, as noticed on Myfxbook records. The initial deposit was $2500 and a balance of $1,386.83. The algorithm had 171 trades in which the best trade was $ 21.50.
With an average monthly gain of 4.36% the drawdown was 18.71%. The current profit factor of the robot is 2.42 and the expectancy stands at $2.26.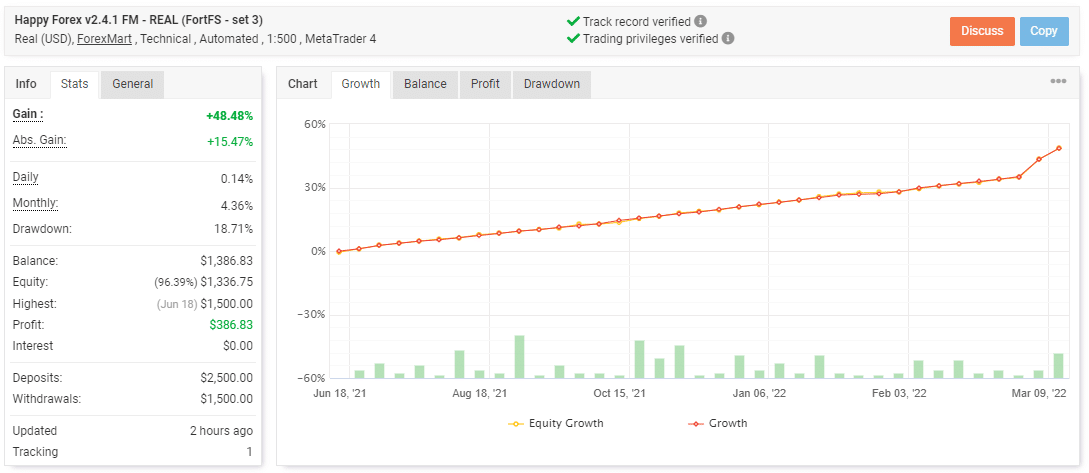 Some features of Happy Forex
The robot has various deposit recommendations varying according to the account type, such as micro, mini or standard account. The expert advisor requires leverage of 1:500 and trades on a real account to showcase its performance.
| | |
| --- | --- |
| Total return | 48.48% |
| Maximal drawdown | 18.71% |
| Average monthly gain | 4.36% |
| Developer | Happy Forex |
| Created, year | 2021 |
| Price | €299 and €499 |
| Type | Grid |
| Timeframe | H1 |
| Lot size | 0.01 |
| Leverage | 1:500 |
| Min.deposit | $1000 |
| Recommended deposit | $1000 for 0.01 lots |
| Recommended brokers | N/A |
| Currency pairs | GBPUSD, EURUSD, AUDUSD (H1) |
| ECN | Yes |
Main things to consider if you invest with Happy Forex
Happy Forex is a trading company with various forex bots such as Happy Frequency, Happy Gold, and Happy news performing in the trading market. The company is transparent on its profiles on social media websites such as Facebook, Twitter, etc. The seller does not provide any information on their names and residence.
Tracking
The company is transparent on their live and backtesting records. They trade using a real account to showcase the true performance of the algorithm.
Updates
The algorithm comes with consistent updates from the developer. They keep on adding new features to increase the profitability of the product.
Pricing details
The expert advisor comes with two different options €299 and €499. The first deal comes with two real accounts, whereas the latter offers five real accounts. There is a 30 day money back guarantee with the purchase. The payment can be made through PayPal, VISA, and Mastercard.
Other notes
Customer support is available 24/7 by the company, and users can contact the authors via e-mail, live chat on the website, TeamViewer and AnyDesk.
Happy Forex has 21 reviews and a 4.6 rating on Trustpilot. One of the traders comments that the company team is friendly and fully supportive. The customer adds that the algorithm brought him a positive return since the initial trading day.