Forex Sugar is a robot that was introduced by a simple presentation. The developers insisted that Forex trading can be profitable. So, it's time to figure out if it's true.
Forex Sugar trading strategy
Forex Sugar performs a price action strategy on MT4.
It works with the EURUSD cross pair.
The time frame is M1.
Forex Sugar backtesting report
The presentation doesn't include any kind of backtest reports. So, we can't be sure that the system was tested properly before being released.
Forex Sugar live results

The robot runs a real account that was created several months ago. Before it, the devs used a demo account. The current balance is $847.38 when the closed profit is $183.60. This trading accout was created on March 01, 2022. Now, we have no orders floating on the market.
It works with EURUSD only. We have a total return of 24.1%. An average monthly gain is 11.4%. The maximum drawdown is -3.8%. It works with a win rate of 83.8%. The profit factor was 1.48. It has generated 58.4 pips. An average trade frequency is 3.5 deals daily.

We may note that both directions are traded almost equally by frequency.

It's noticeable that the first magic number is not profitable, -$50.29.

Tuesday with 39 orders is the less traded day.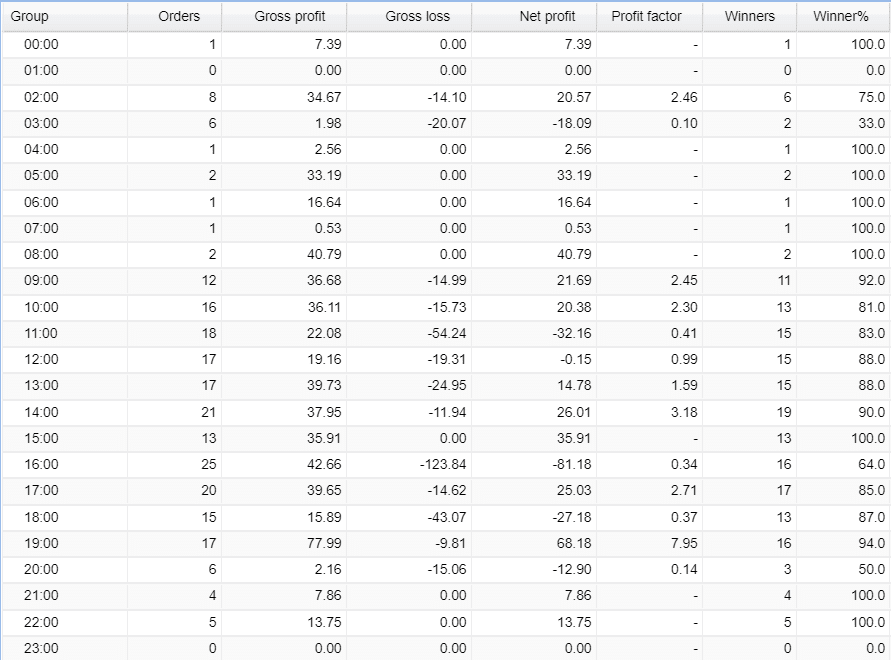 The system focuses on working during the European trading session.

The robot has closed only four deals within 10 days of May 2022.

We don't know a reason for this low trading activity.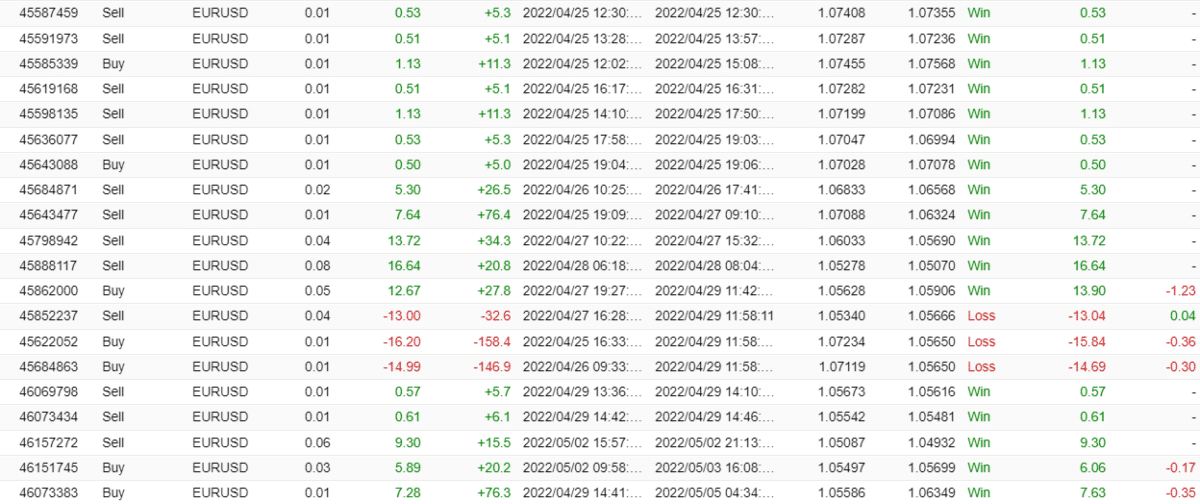 The system uses x6 Martingale to make more profits after losses.
Some features of Forex Sugar
We have grouped all important information in the following list to help you with making a wise decision.
The robot can help us with trading our orders automatically.
It removes human emotions from trading.
The system is based on a price action strategy.
It works also with a Grid plus Martingale combo.
It uses various indicators to work with the current market.
The system works 24/7 seeking trading setups.
We can get started pretty quickly.
It works with dynamic stop loss and take profit levels.
The system doesn't like working during periods of high volatility.
There's a news filter applied not to trade them.
We can customize it if we know how.
The developers don't recommend us to work with small and fixed SL and TP.
The system is featured by broker protection that hides SL and TP levels.
| | |
| --- | --- |
| Total return | 24.1% |
| Maximal drawdown | 3.8% |
| Average monthly gain | 11.4% |
| Developer | N/A |
| Created, year | 2019 |
| Price | $149 and $559 |
| Type | Price Action, Grid, and Martingale |
| Timeframe | N/A |
| Lot size | N/A |
| Leverage | N/A |
| Min.deposit | N/A |
| Recommended deposit | N/A |
| Recommended brokers | N/A |
| Currency pairs | EURUSD |
| ECN | N/A |
Main things to consider if you invest with Forex Sugar
The robot can recover after losses
A Martingale feature allows us to keep our account profitable after losses. Anyway, this increases risks and requires much more margin to keep orders on the market.
Trading results
The advisor works on a real account profitable.
Official Forex Sugar website
The presentation doesn't look pretty informative. It lacks backtest reports to understand if the robot was properly prepared to work on the live account.
Pricing details
The developer has increased pricing on both packages. A pack with a single license costs $149 instead of $375. If we want five licenses we have to pay $559 instead of $999. We can work with any number of demo licenses. The developers decided not to provide us with a refund policy.
Other notes
We have no information about people's experience of using this trading solution. Trading results showed us that the robot can work with Martingale and this involves in high-risk trading.