Euro Scalper Pro is said to be a dependable system that has an excellent win rate. It seeks to help traders attain competitive levels of success that they desire to experience in Forex. According to the vendor, the EA has demonstrated exceptional results over thousands of trades. Let's assess the veracity of these claims.
Euro Scalper Pro is the company behind this system, and it has been supplying trading signals and research to individual traders, financial organizations, and big companies alike. Its team of professionals is reported to have more than 4 decades of experience in inventing and testing trading algorithms in the financial markets.
Euro Scalper Pro trading strategy
The EA works with the short-term scalping strategy. This involves opening and closing trades within a short period of time. The goal is to implement large volumes of trades and attain small profits from each order. The vendor also indicates that the trending price action strategy is integrated into the system but doesn't explain how it works.
Euro Scalper Pro backtesting report
The EA lacks backtesting results. This test is vital in ascertaining the viability of a given trading technique. It shows us how a strategy would behave on historical data and, consequently, predict its performance in the future to some extent.
Euro Scalper Pro live results
Even though the devs don't showcase the system's verified live results on the sales pitch, we came across an account the EA used to run on Myfxbook. At a glance, it shows poor outcomes generated within 8 weeks of trading. Let's assess the results in detail below.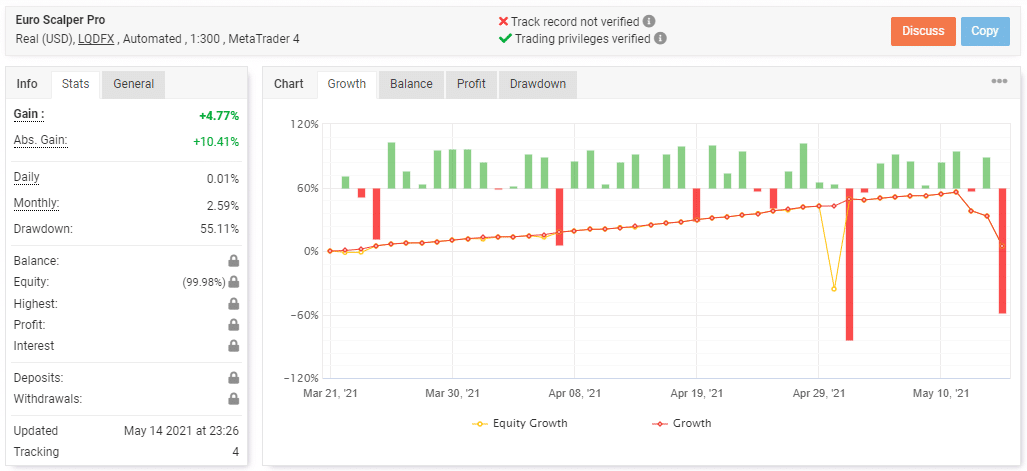 The EA traded on this real USD account mainly from March 2021 to May 2021, increasing its worth by 4.77% only. For the period it was active, the system managed to make a daily profit of 0.01% and a monthly profit of 2.59%. The drawdown produced was very high at 55.11%, disclosing the risky nature of the trading strategy on board. We are not shown the other trading parameters.

Numerous trades were completed (2416), which is typical of a scalper. The success rates for long (69%) and short positions (71%), along with the profit factor (1.06), prove that the robot is an average performer. More losses than wins were reported, as illustrated by an average loss of -8.81 pips which was higher than the average win (4.68 pips).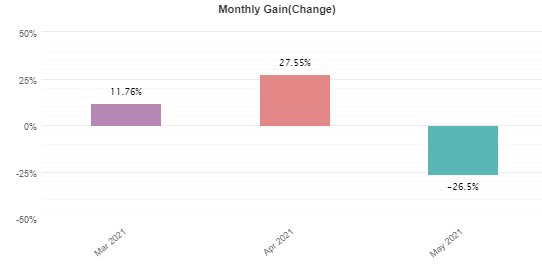 The EA generated large profits for this account within the first two months of trading. Unfortunately, the month that followed saw it produce immense losses.

Most orders were placed between Wednesday and Thursday.
Some features of Euro Scalper Pro
| | |
| --- | --- |
| Total return | 4.77% |
| Maximal drawdown | 55.11% |
| Average monthly gain | 2.59% |
| Developer | Euro Scalper Pro |
| Created, year | N/A |
| Price | Free, $197/month, $1997/year |
| Type | Short term scalping, trending price action |
| Timeframe | N/A |
| Lot size | Fixed lot or risk scaling settings in your EA inputs |
| Leverage | 1:500 |
| Min. deposit | $1000/€1000 |
| Recommended deposit | N/A |
| Recommended brokers | Vantage, IC Markets, and XM |
| Currency pairs | EURUSD |
| ECN | N/A |
Main things to consider if you invest with Euro Scalper Pro
If you are thinking of buying this EA, then put the following factors into consideration first:
High drawdown
Live trading results have shown that the system can generate a large drawdown within a short trading period, putting a user's capital at risk of being wiped out.
Poor risk/reward ratio
We have ascertained that the EA makes high losses compared to profits. So, it can lead to an unhealthy risk/reward ratio on a trading account.
Pricing details
This robot is offered for free when you open a trading account with the recommended brokers. You won't be required to pay any incentives or management fees. However, if you want to work with your preferred brokers, then you have to subscribe to one of the paid plans. The monthly and annual packages are available at $197 and $1997, respectively.
Other notes
Euro Scalper Pro has an excellent rating of 4.8/5 on Trustpilot based on 28 reviews. Obviously, most traders are satisfied with the services offered. There are users who praise the robot for trading efficiently and for providing good trading signals. Still, we found an aggrieved user who accuses the EA of eating away his money.