Copy-trading helps you get more out of the market without even getting indulged in actual trading. It is helpful for beginner traders or someone who does not have enough time to trade for themselves.
Some professional traders give copy-trading services and capture up to 20-28% monthly returns from the invested amount. Everyone would want to have that kind of return coming into their trading account.
Do you want to learn more about copy trading and make use of it in your favor? If yes, read this article and understand how to make money every day without even trading yourself.
What is copy trading?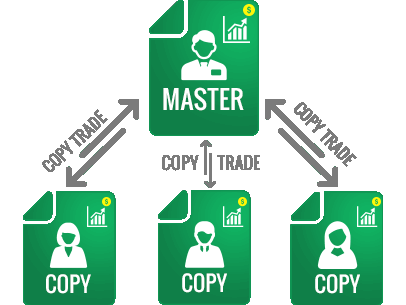 Copy trading is a form of social trading where an expert or a professional trader makes a master account. The users who want to use this expert trader make a trading account and map it under this master account.
The whole process is to copy the trades that the expert trader takes in his master account automatically into all the mapped users' accounts.
It entirely depends on the users whose services they want to use. Every trader showcases their work on a specific broker page in which they used to make the master account.
Now once you know what copy trading is, let us see the mechanics involved in copy-trading.
Copy-trading mechanics
The below steps will help you to understand how you can do it effectively.
Step 1. Find a suitable broker/copy trading platform
The first and most crucial part here is choosing the best copy-trading platform, which is basically a forex broker. The reason to do so is to be safe from high spreads, scams, and market manipulations.
First, you need to understand that trading is a business and all the brokers are the players. A good trading platform will release your funds on time, help you with good customer service, and have professional and expert copy-traders with them.
We have listed a few of the best copy-trading platforms in the below section for you. But let us not skip the whole sequence.
Step 2. Find a good copy trader
The second most important part is the copy traders. As you must know, once you tie up with copy-traders, indirectly, your funds are with them because they are the ones managing it, and you are not allowed to trade further. Hence you can watch and monitor it.
With the hype of FX in the market, even immature traders also portray themselves as expert copy-traders. Therefore you must check everything before selecting a copy-trader.
Step 3. Choose a moderate plan
There are fees associated with the copy trading services, and most of the time, it would be profit-sharing. Some traders charge 50%-50% while some 60%-40%.
This fee also largely depends on the plan you choose. Some traders have their trading plans like aggressive, moderate, and slow. In an aggressive style, the trader will take more risks but also give you more returns. While in moderation, both the risk and profit will be modest, and so on.
Step 4. Put the minimum investment budget
You need to understand that even these traders are not gods and can commit mistakes. As told, always invest the money you can afford to lose. Once you have the amount to invest, seek to diversify the amount and try different copy-traders.
Step 5. Try compounding if possible
Check through all the possibilities if your copy-trader allows you to compound your profits. Compounding is said to be the 8th wonder of the world and is given by Albert Einstein.
Compounding will increase your account slowly, but you will start seeing significant profits in a few years due to the robust calculation. Not all traders give such services, but you may try and opt for it if they do.
Top five best copy trading platforms for traders in 2022
Finding the best copy trading platform can be tough; that's why we did our research and listed the top five below.
Etoro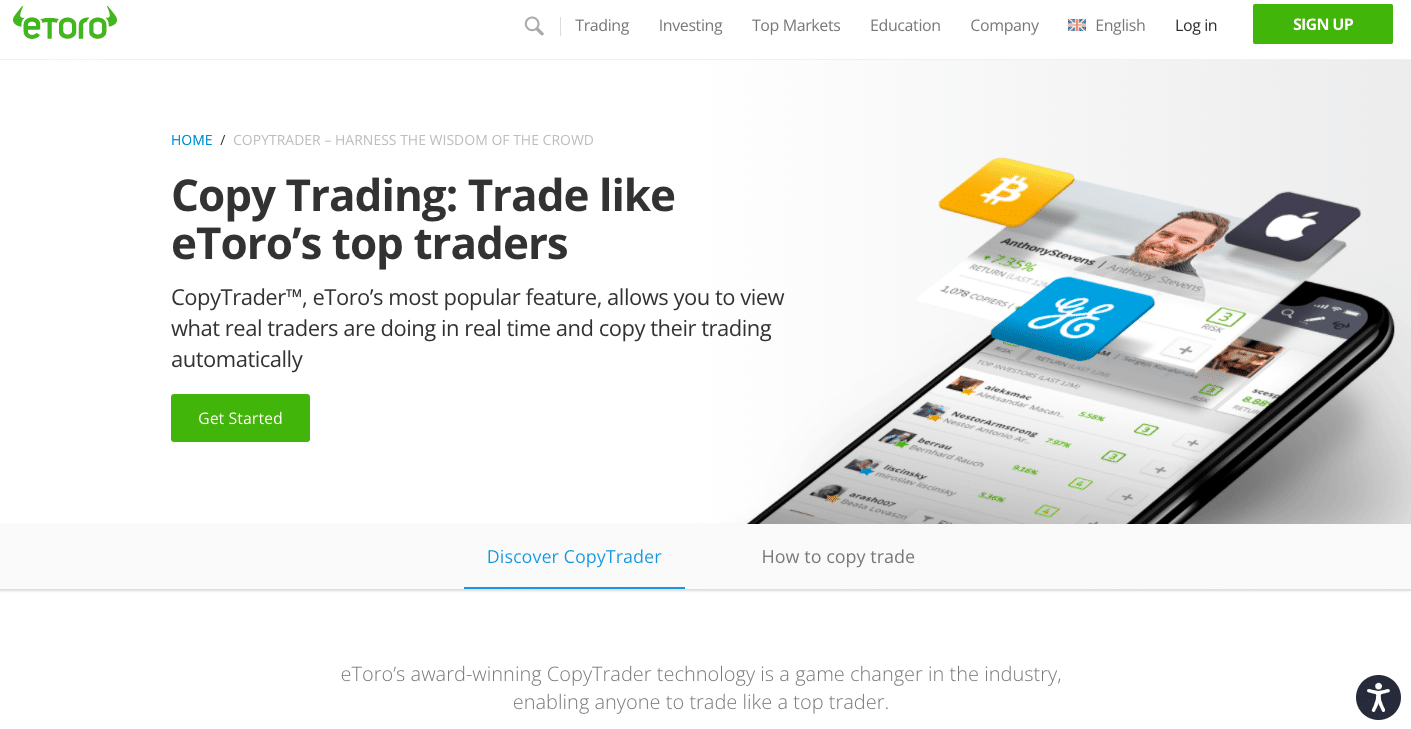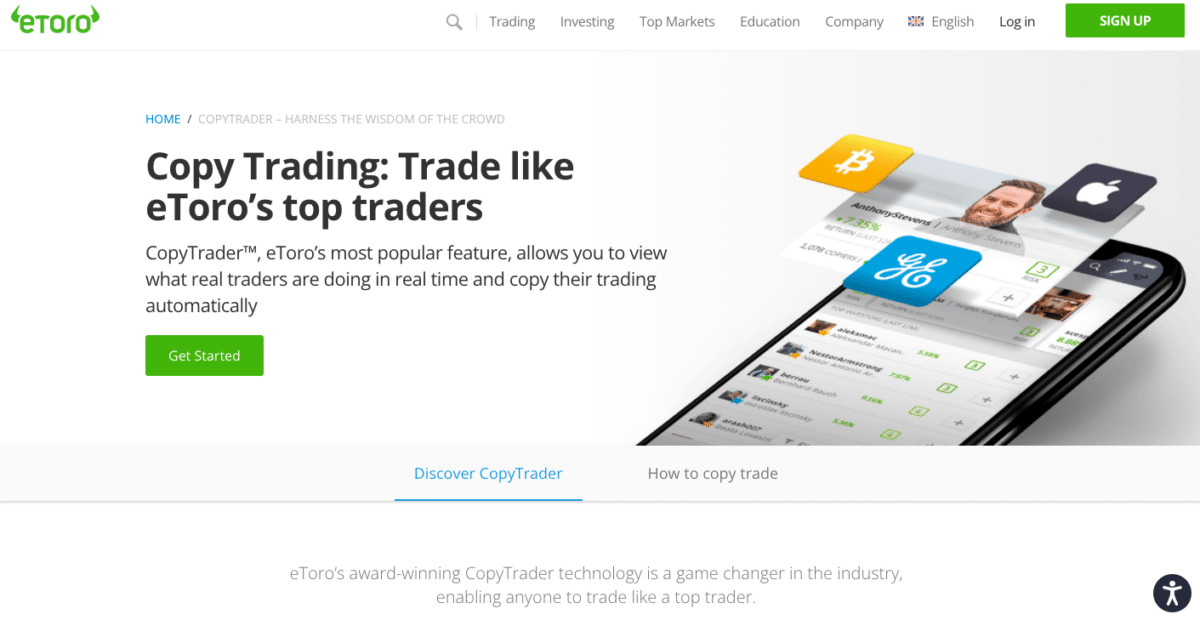 Etoro is quite old in the field of trading. Founded in 2006 and is currently attracting over 13000000+ traders. Etoro offers copy-trading services and allows stocks, forex, CFDs, commodities, indices, and crypto trading.
eToro is one of the top chosen social and copy-trading systems that are good for beginners who are entirely new to the world of trading.
PrimeXBT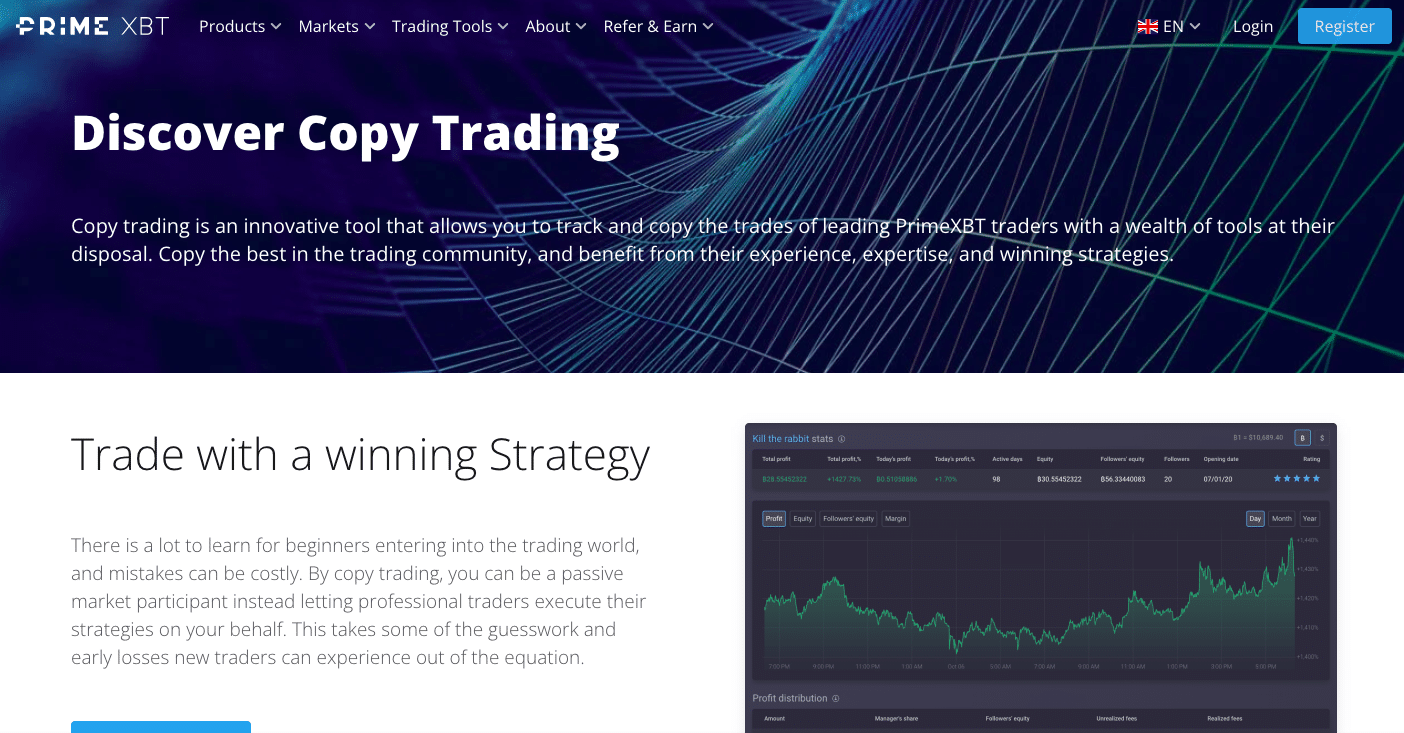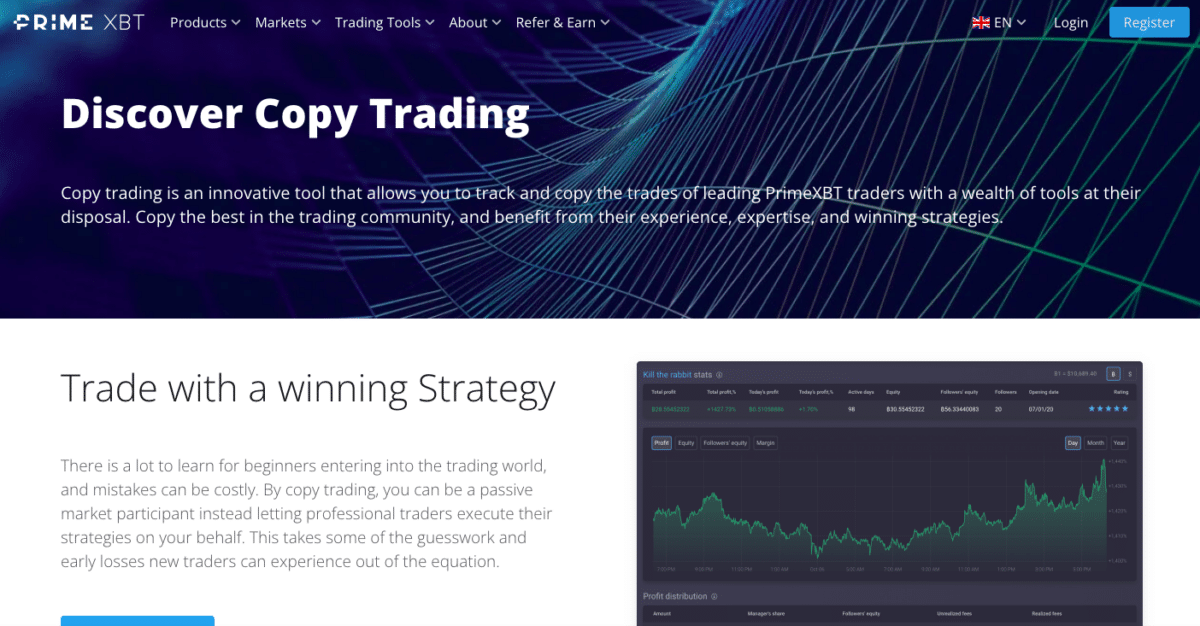 It is a new but good copy-trading platform. You can trade cryptocurrencies, stock, indices, commodities, and FX from a single account here.
PrimeXBT does not provide you with a demo trading account yet. But they have traders with good strategies who could trade and make you earn passive income.
FXTM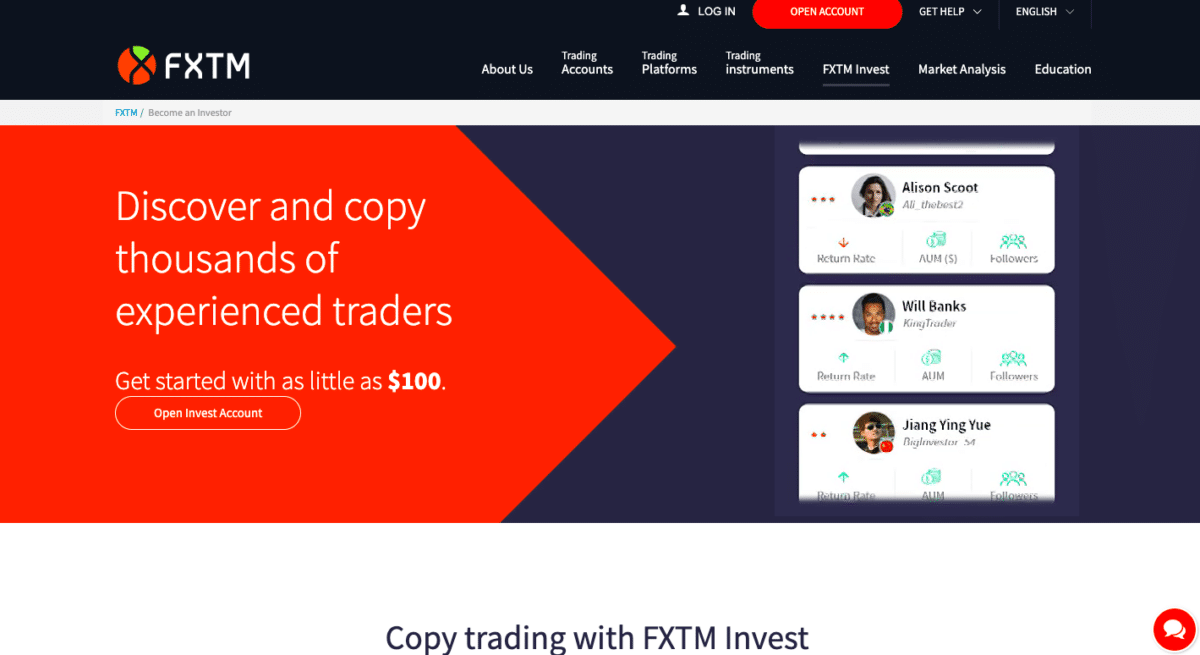 It is an international ECN broker which also provides copy-trading services. FXTM is working closely in Asian and African markets. They have a wide variety of account types.
You can deposit min of $100 and start your copy-trading services. This feature in term helps even someone with less amount to get into copy-trading. You can trade over 250+ instruments here.
TPGlobal FX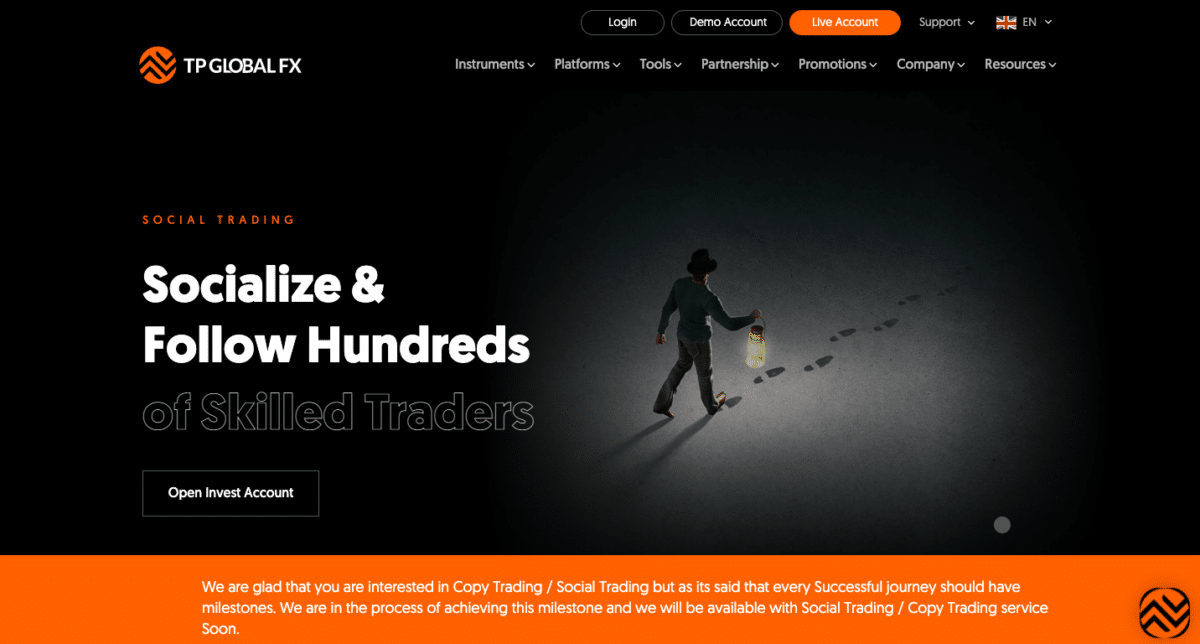 TPGlobal FX is by far one of the best on the list. The broker's journey started back in 2013 and got three awards in 2021 in the Dubai forex expo. These awards are the Most transparent FX broker, Best IB/Affiliate Program, and the Best Educational broker.
TPGlobal FX is another forex and crypto broker that provides 150+ instruments under a single roof that you can trade and use while copy-trading. They provide Copier and PAMM account services that a copy trader can use to align their users' accounts and carry out the copy-trading process.
If you love a simple user interface, then this is the broker you need to choose. They by far have the best traders for copy-trading.
AvaTrade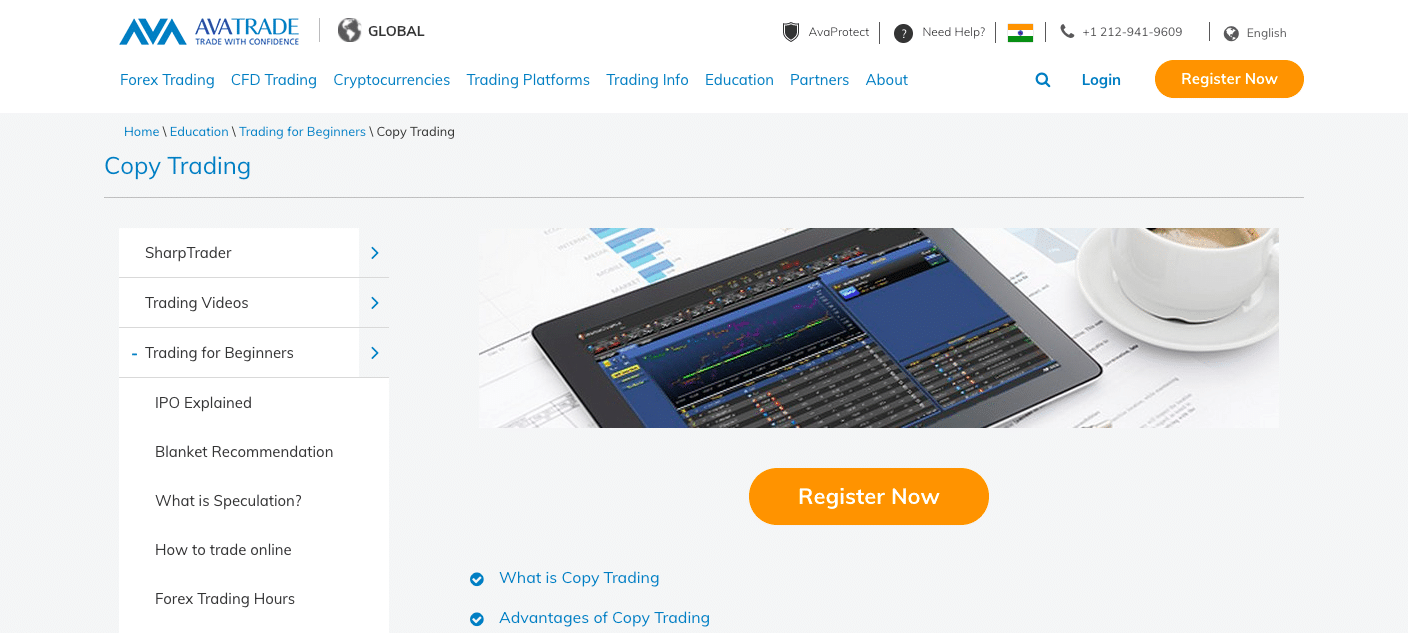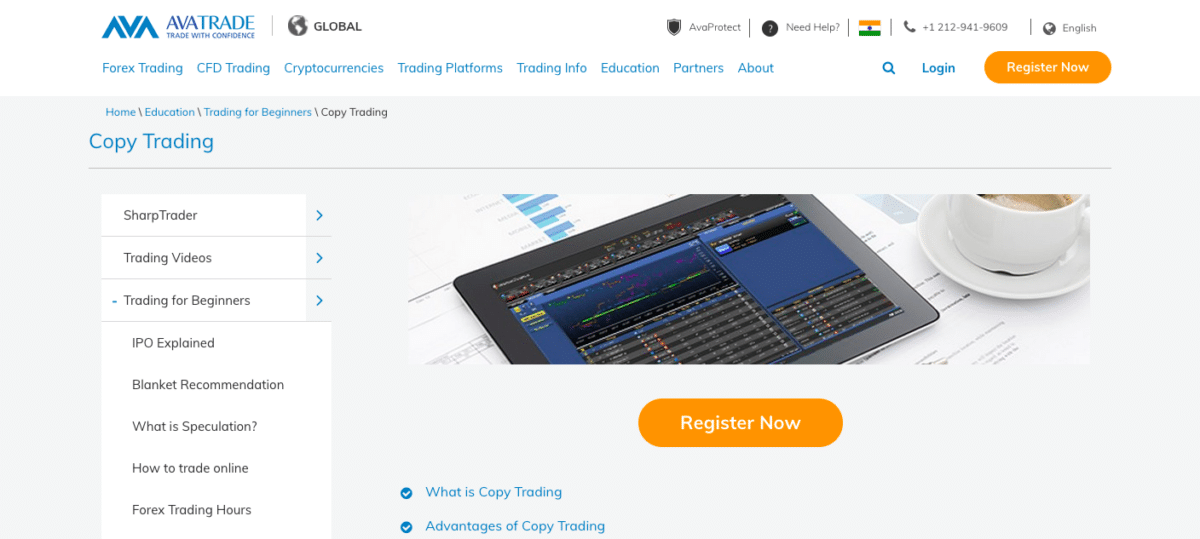 It is a forex broker which is regulated in Europe by the Central Bank of Ireland. The broker offers copy trading and social platforms services. The broker has made its name in the copy-trading industry by giving fantastic services to its users.
AvaTrade gives services on MT5. One of the major reasons to choose AvaTrade is its ultra-thin spread that is very useful for any trader.
All their instruments, FX, crypto, indices, and stocks, can be traded in one account with a user-friendly interface.
Pros & cons
Remember, all glitters are not gold; copy-trading is good, but you must understand if you will need it or not.
Worth to use
Worth to getaway
Easy-to-use
Copy-trading is an easy process to follow. You need to choose a trader you wish to follow and make a trading account in the broker your trader trades in.
Hard to find a good trader
It is all business, and finding a good and reliable trader who can make a consistent profit is very difficult.
Stress-free work
When you are not trading, you don't have to worry too much about the trades. You can fund your account and sit relaxed.
False trading report
Some traders cheat and beginners but portray themselves as professional traders making false trading reports.
Learning opportunities
You can monitor the trades and learn why your trader took that particular trade. This will help you learn and earn at the same time.
It might be expensive
Some good traders might ask you for more money for good trades they took.
Final thoughts
Copy trading is beneficial for beginners and traders who do not have time to sit in front of the screen. The most crucial part is finding the right trader with a good track record.
But if you anyhow manage to get one, then your work will be nothing but to monitor and earn daily income. Over said this, please do not take anyone for granted; any trader is not 100% right, so better may your mind that your investment money can also lose.
Apart from copy-trading, we also encourage you to practice yourself in demo or watch the trades that your trader takes in your account. This will help you know the market better.