Champion EA assures a low drawdown and high returns with its unique strategy. As per the author, Evgenii Aksenov, this trading tool is an advanced system that has been tested for many months. It can identify accurate entries and exits and employs smart money management features. This FX EA works on five major currency pairs.
Champion EA trading strategy
This FX robot uses the arbitrage method through which it analyzes the strength of each currency individually. It identifies the optimal entries and uses news filters and other settings to ensure profitable results. The individual settings are preprogrammed for the supported currency pairs and you need to just turn on the software and set your risk to profit ratio.
Champion EA backtesting report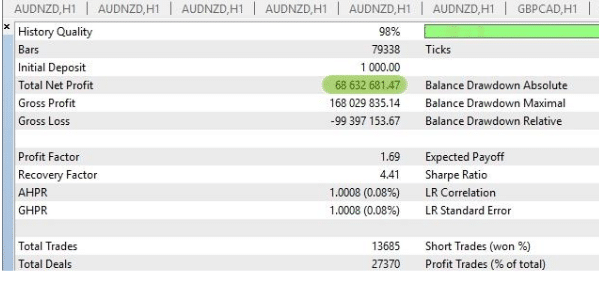 The author provides a backtesting result for this MT5 tool. From the strategy tester report, we can see that the EA had generated a net profit of 68,632,681 for an initial deposit of 1000. A total of 13685 trades were completed with a profit factor of 1.69. We could not find info on the drawdown, profitability, and other factors as they are not displayed in the image. Without knowing all the relevant info, it is difficult to assess the backtest and understand the efficacy of the approach.
Champion EA live results
A live real USD account for this FX EA started in September 2021 is shown here: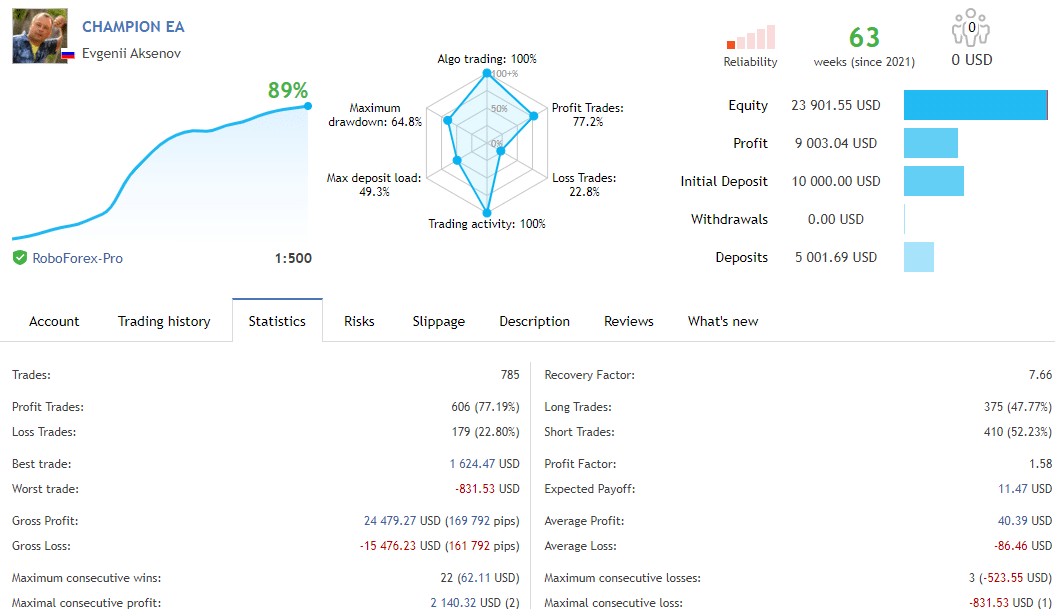 From the above stats, we find that the system shows 89% growth and a profit of $9003 for an initial deposit of $10,000. A drawdown of 64.8% is present for a total of 785 trades. Profitability is 77.19% and the profit factor is 1.58. A monthly profit of 2.55% is present. From the results, we can see that the profits are not high but the drawdown is more than 60% indicating a high-risk approach. Traders who do not want to put their capital at risk will find this EA unsuitable.
Some features of Champion EA
Some of the key features that the developer focuses on for this FX robot are:
A news filter is present to protect against sudden price movements.
The leverage of 1:30 and higher is recommended for the EA.
It works on the AUDCAD, EURCAD, NZDCAD, AUDNZD, and GBPCAD pairs.
A minimum deposit of $500 is recommended for each currency pair.
The author recommends setting the profit to drawdown ratio as per the capital and acceptable risk limits. For a higher profit, a higher drawdown is required.
It works by analyzing candle price, the dynamic deviation in quotes, and makes a decision when the candle closes.
| | |
| --- | --- |
| Total return | 89% |
| Maximal drawdown | 64.8% |
| Average monthly gain | 2.55% |
| Developer | Evgenii Aksenov |
| Created, year | 2021 |
| Price | $799 |
| Type | Arbitrage |
| Timeframe | N/A |
| Lot size | N/A |
| Leverage | 1: 30 and higher |
| Minimum deposit | $500 |
| Recommended deposit | $1000 |
| Recommended brokers | N/A |
| Currency pairs | AUDCAD, NZDCAD, EURCAD, GBPCAD, AUDNZD |
| ECN | N/A |
Main things to consider if you invest with Champion EA
If you are interested in this EA, then you need to pay attention to:
High drawdown
From the live real trading results that the author provides, we find the drawdown is over 60%. Such a high drawdown indicates the system uses high risk, which many traders will not be comfortable with.
Expensive pricing
When compared to the market average, the pricing of this FX robot is exorbitant. Further, there are no details present on the features you get with the package including the refund offer.
Vendor transparency
Evegenii Aksenov is the author of this FX EA. He is based in Russia and has 3 years of experience in developing FX trading tools. He has created 46 products and 22 signals. Evegenii provides an email address and a Telegram channel link for support besides the messaging feature on the MQL5 site.
Pricing details
You can purchase this FX robot for $799. A free demo account is present. There are no other details present on the features available with the package. No money-back-guarantee is present which makes us doubt the reliability of the product. When compared to the price of competitor products in the market, we find the pricing is very expensive.
Other notes
Unfortunately, we could not find user reviews for this FX EA on reputed sites like Forexpeacearmy, Trustpilot, etc.