Belkaglazer EA uses a diverse range of strategies to ensure high returns. It can work on different markets including Crypto, Forex, FORTS, and Indices. This fully automated system uses four models with clear logic namely Pivot, PriceAction, PriceChannel, and PRNG. The platform can use a wide range of approaches including momentum, mean reversion, etc. Dmitriy Shal is the author of this FX EA. He has programming skills and holds a Bachelor's degree in economics.
Belkaglazer EA trading strategy
As per the developer, the current list of approaches it uses includes the breakout, momentum, and mean reversion methods. An explanation is present for each of the methods on the official site. The various models the system uses are also explained with backtesting images. Order entries and exits are generated by an algorithm that includes a combination of model and filters which are executed in the form of limit/stop/market format. Other setting criteria used include TP, SL, Time stop, trailing stop, etc.
Belkaglazer EA backtesting report
There are images of backtests done for the different models. But the developer does not provide a detailed report of the tests so we are unable to analyze the system.
Belkaglazer EA live results
A real USD account is present for this FX EA verified by the Myfxbook site. The account using IC Markets broker and the leverage of 1:500 on the MT4 platform is shown below: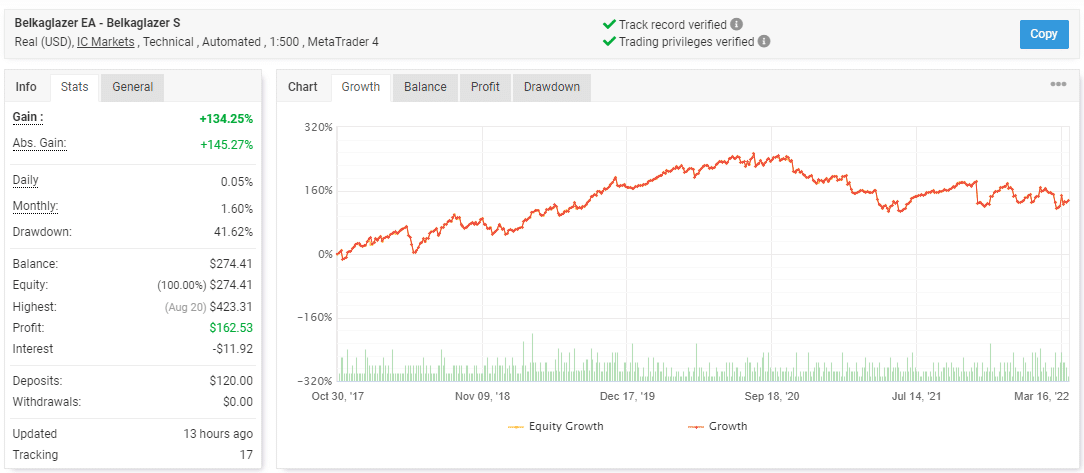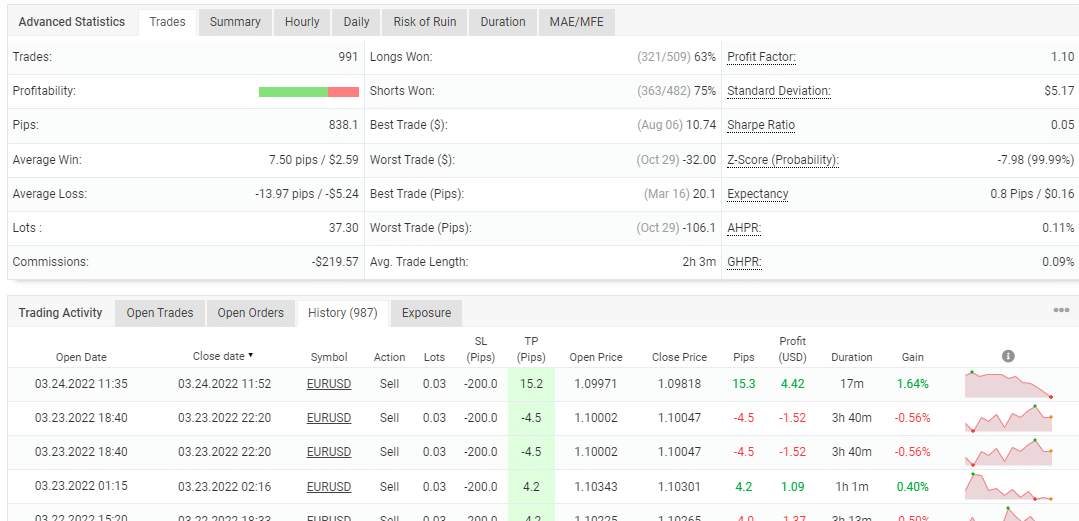 From the above screenshots, the account shows a total gain of 134.25% and an absolute profit of 145.27%. The daily and monthly profits are 0.05% and 1.60% respectively. A drawdown of 41.62% is present for the account that started with a deposit of $120 in October 2017. A total of 991 trades have been executed with 69% profitability and a profit factor value of 1.10. From the trading history, we can see a lot size of 0.03 is used. The high drawdown and big lot size indicate a risky approach. Further, from the growth curve, we can see the growth is not consistent with the recent data showing a downward spiral. From the stats, it is clear that risk management is not proper.
Some features of Belkaglazer EA
Some of the key features of this ATS that make it competitive as per the developer are:
The FX robot uses a CBOE filter and an advanced news filter.
It works with various money management methods but does not use risky methods like hedging, Martingale, and grid.
The settings and strategies are customizable as they are designed with clear logic.
Additional options are present which you can configure if required.
It works on multiple currency pairs based on the type of approach and model used.
There is no info on the recommended deposit, timeframe, leverage, and brokers.
| | |
| --- | --- |
| Total return | 134.25% |
| Maximal drawdown | 41.62% |
| Average monthly gain | 1.60% |
| Developer | Dmitriy |
| Created, year | 2016 |
| Price | N/A |
| Type | Multiple strategies |
| Timeframe | N/A |
| Lot size | N/A |
| Leverage | N/A |
| Min.deposit | N/A |
| Recommended deposit | N/A |
| Recommended brokers | IC Markets |
| Currency pairs | Multiple currency pairs |
| ECN | N/A |
Main things to consider if you invest with Belkaglazer EA
If you are interested in this EA, then you need to pay attention to:
High drawdown
From the verified real trading results, we find the drawdown is high indicating a risky approach. Despite the use of various models and strategies, the system shows a considerable drawdown which can put your capital at risk
Money management
The lot size used is high denoting risky money management. The low profits seen in the verified results along with the inconsistent growth indicate ineffective money management.
Multiple strategies
A portfolio of approaches is used by the expert advisor which according to the author can lower the drawdown and leverage.
Pricing details
We could not find info on the pricing for this FX EA on the official site. However, the MQL5 site indicates that EA will cost $19,999. We could not find further info on the package. There is no refund offer present. When compared to the market average, the pricing is exorbitant.
Other notes
Unfortunately, we could not find user reviews for this FX EA on reputed review sites like Forexpeacearmy, Trustpilot, etc.