Investing in foreign currency is not a new strategy, and many funds hold their assets in foreign nations' currencies.
One of the significant benefits is diversification and hedging purposes. Seasoned investors know very well that you can minimize your portfolio risk by spreading your capital across various assets. But more importantly, you would want to profit, especially if your current investments are not fruitful.
WisdomTree has an ETF that invests in emerging market economies. The fund has been around since 2009 and can be an option for investors looking to invest in foreign currencies.
What is the WisdomTree Emerging Currency Strategy Fund?
WisdomTree is the issuer of this fund, and its inception was on 6 May 2009. Furthermore, the fund is an ETF.
CEW is suitable for investors pursuing exposure to foreign emerging nations' currencies. The fund invests in emerging markets, including Latin America, Asia, emerging Europe, and the Middle East/Africa region. It targets a basket of foreign currencies from these regions. 
Furthermore, it invests a minimum of 80% of its net assets in investments whose combined performance is linked economically to emerging market countries.
What are the types of investments under CEW?
The WisdomTree Emerging Currency Strategy Fund has four security holdings. The fund currently has 30 currency forward contracts. Furthermore, the contracts have an average of 33 days to reach maturity.
A breakdown of the fund's assets are as follows.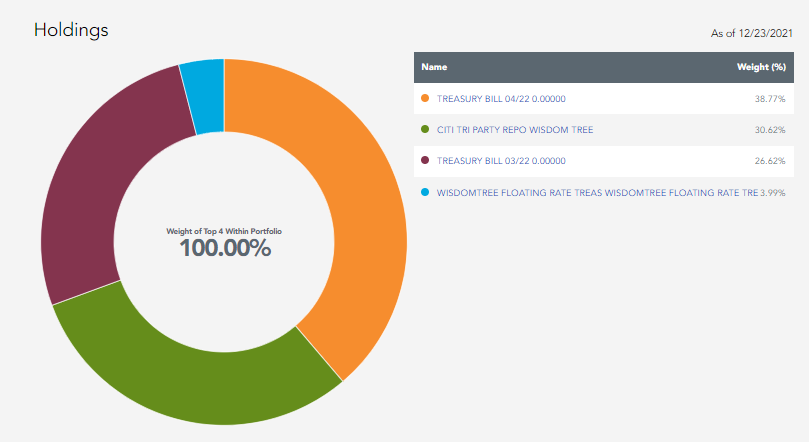 In terms of country allocation, the below breakdown shows the top five.
| | | | |
| --- | --- | --- | --- |
| Country | Region | Currency | Weight |
| Philippines | Asia | PHP | 35.08% |
| China | Asia | CNH | 34.87% |
| Indonesia | Asia | IDR | 34.63% |
| India | Asia | INR | 34.60% |
| Brazil | South America | BRL | 34.28% |
How does CEW operate?
The fund equally weights its basket of emerging market currencies in terms of USD value, contrasting to trade-weighted benchmarks. It is an exciting approach, but it also makes for some massive bets relative to a neutral position.
The fund will provide emerging market exposure by investing in short-term US money market equities and derivatives such as forward currency contracts and swaps of the constituent currencies; thus, the fund may deviate significantly from spot prices in the actual currencies.
Financial conditions and portfolio highlights of CEW
The fund has a NAV (net asset value) of $17.372 and $13.74 million assets under management. The fund's average daily volume is $59,430. CEW has 800,000 shares outstanding. In terms of fees, CEW has an expense ratio of 0.55%.
Reasons to invest in CEW
The CEW fund's performance has not been favorable. If an investor held funds since the inception of CEW, the current return would be -1.30% in NAV.
Furthermore, the fund's average annual return for the last ten years is -1.13%.
Below is a graphical display of a hypothetical growth of $10,000 since the fund's inception. We can see that the fund has not performed very well, especially when comparing it with other funds in the same sector.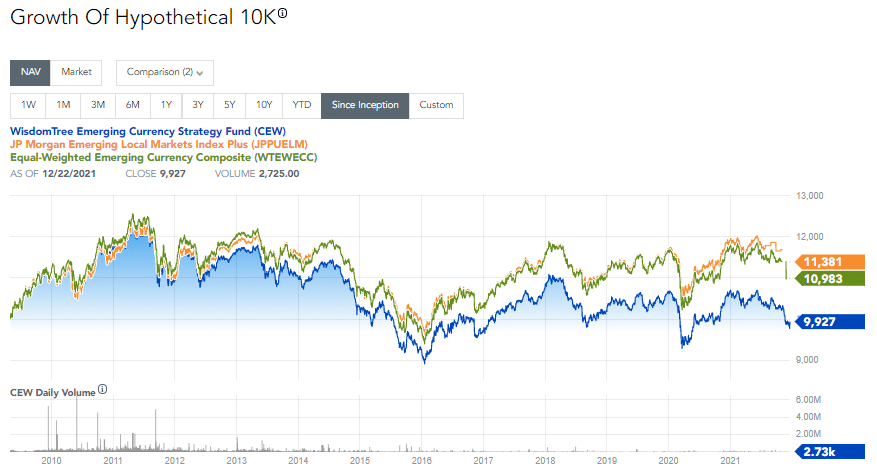 Risks associated with CEW
The fund invests in emerging market currencies, and from the historical performance, we can see that it has not performed well. This itself is a risk because of the instability of foreign currencies.
If the emerging market economies are not performing well, their currencies will be weaker. Therefore, putting your investment at risk.
Morningstar rated the fund low vs. its category in terms of investment returns for the last 3, 5, and 10 years. The fund scores below 100 in an upside market in terms of volatility measures, meaning the investment has performed poorer than the index.
Furthermore, the fund had a maximum drawdown of -22% during the period from March 2012 to January 2016.
Pros and cons
Below are the pros and cons you must consider before choosing the WisdomTree Emerging Currency Strategy Fund.
Worth to use
Worth to getaway
•Diversification
Investing in foreign currencies can be an excellent way to diversify your funds and reduce the risk to your capital.
•Currency risk
Due to the exposure to emerging market currency, there is always a risk of declining value.
•Hedging against political risk
Investors can play currencies against each other during political unrest, war, presidential elections, and other events that influence the currency's worth.
•Lack of liquidity
Emerging market economies are not the most liquid and can be a challenge if investors are unwilling to hold their capital for long. Liquidity is required for the price to move, and without it, there are fewer price changes.
•Short term gains
The fund can obtain short-term gains.
•Political risk
Political events in the emerging markets can influence the currencies' value and, therefore, not deliver the anticipated gains.
Final thoughts
Before investing in emerging market economies, you should conduct thorough research as these economies can be unstable at times. The WisdomTree fund has not performed well and has delivered negative returns, and added to that, the growth rate has been declining.
The fund reached highs during 2012 and 2013; however, it started falling sharply until 2016, recovering again. The Covid-19 pandemic also impacted the fund, and it declined from a high of $18.50 per share to under $16.00 share.
Therefore, such investments require careful consideration, perhaps with the aim of not investing for long periods.