Bitsgap is a trading solution that was developed for the purpose of helping people to trade orders automatically on a crypto market. We have various details explained about how the system functions and what we should expect from its performance. The system is an all-in-one platform to work with Bitcoin and other crypto assets.
Bitsgap: first impression
The system looks like stable and well-designed software to trade various crypto pairs. We can enjoy working with twenty-two exchanges. Also, the pricing looks welcome to give this robot a try.
What's Bitsgap?
It's a crypto bot that can manage over 100 indicators to find the best trading opportunities. So, we can expect to receive a pretty stable performance with low drawbacks.
Using Bitsgap
The developers inform us that the system has many features that allow us to work stable on the market. We united them in the following list:
We have a claim that the system works completely automatically on the owner's terminal.
The robot allows us to be profitable under any market conditions.
We can keep our account working with low drawdowns.
It trades various coins such as Bitcoin, BNB, Ethereum, SOL, and others.
It's possible to test the system on paper trading to check potential trading results.
We are allowed to work with TradingView charts.
The robot works based on over 100 indicators.
The system can be optimized and customized on 12+ charts.
It allows us to close orders manually.
There are night and day modes implemented.
All our orders will be covered with TP and SL levels.
The system works with a stealth mode if needed.
It can be treated by the exchange as a human.
It works with Stop Limit and Limit orders.
We can work with API keys on the market.
The robot includes various smart strategies.
Some of them can be turned on or off.
How to install Bitsgap software?
Traders should download the system after purchasing. In case any customizations are needed, traders can easily do it for a few minutes. Then, it's necessary to generate API keys and attach the bot to an exchange.
What does Bitsgap have to offer?
Integrates with 22 crypto exchanges
We can decide what exchange we'd like to work with.
API keys
The robot will work for us on our exchange without a chance to withdraw an account.
Indicators list
It can work with over 100 indicators to be stable.
Trading strategies offered by Bitsgap
The strategy is customizable. They can be a grid of orders, price action, trend trading, breakout, cost averaging, etc.
How Bitsgap pricing works/How much does Bitsgap cost?
We have various packages on the board. The first one is available for $29 a month. There are two active and Grid bots plus an unlimited number of smart orders. The next price is $69 monthly and we can receive some extra features. There are five trading bots, futures bots, trailing up and down features for bots. The most expensive pack is available for $149 monthly. There are twenty trading bots, and a take profit feature for bots. We can get a seven-day free trial.
You can see the features in the following list:
15+ supported exchanges.
Demo practice mode.
Fully automatic portfolio.
Scaled, Stop limit, Stop, Shadow, TWAP, OCO, Market, Limit orders.
Pre-made trading bot strategies.
Over 175 TradingView indicators.
Cloud trading 24×7 x365.
Email, live-chat support.
Desktop and Mobile versions.
Fees & commissions
We don't have any hidden fee or commissions. So, the sales are final.
Available exchanges
Trading is possible on exchanges: Binance, KuCoin, OKEX, BYBIT, Kraken, FTX, Bitfinex, Huobi, Coinbase Pro, Bittrex, HitBTC, Cexio, Poloniex, Bitstamp, Gemini, Gate.io, Liquid, RheRock, Exmo, Bithumb, Bibox.
Bitsgap company overview
There's a developer team revealed. It's nice to provide more information about them.
Maxim Kalmykov, CEO
Dmitri Laush, Chief Strategist
Sergei Verbitski, COO
Jevgeni Avdeev, CTO
Anatoli Girenko, CFO
Ervin Kougija, Customer Support
Bitsgap time in business
The service was created in 2022. The developers deployed a company – Bitsgap Holding OU
Luminori maja Liivalaia 45, 10145, Tallinn, Estonia.
Customer support and user experience
We can get support via email, Telegram, Twitter, and Facebook.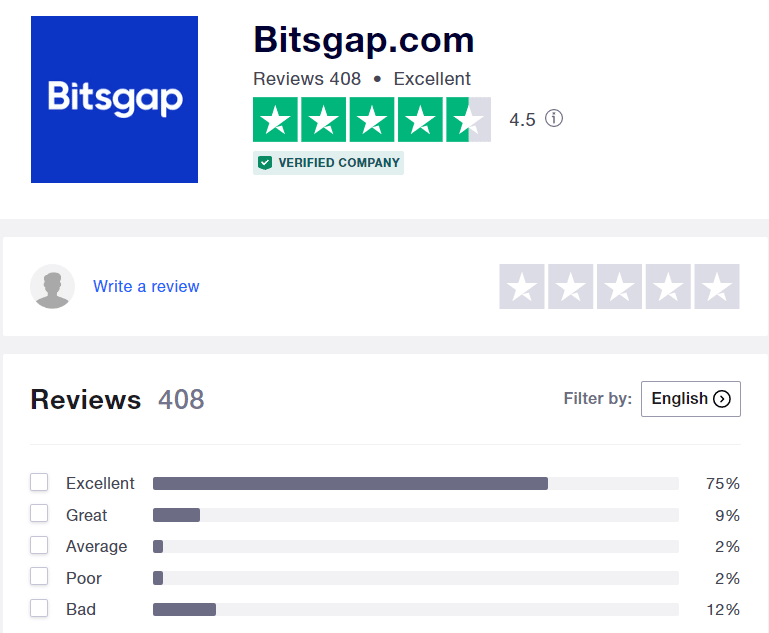 There's a Bitsgap profile with a solid rate of 4.5 from 5 possible based on 408 reviews.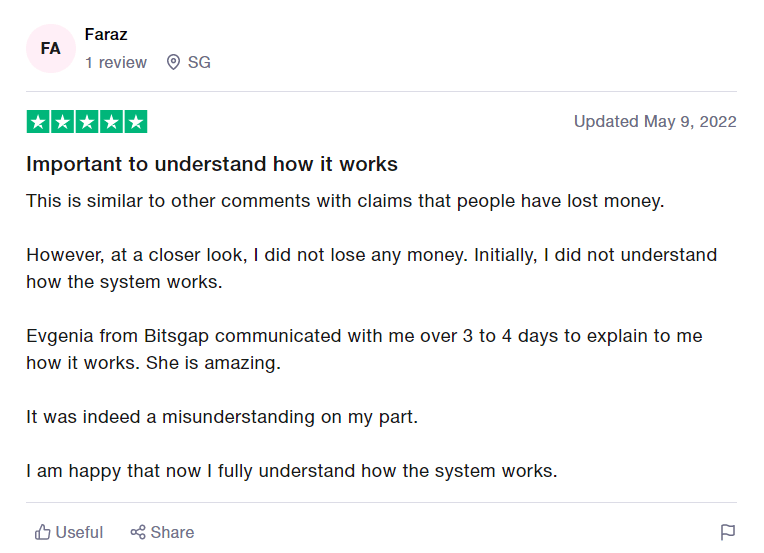 There are various reviews published where clients mentioned their positive trading and support experience.
Is it safe and legal to use Bitsgap?
Yes, it is. The system works legally on the market. Also, it gets access to it only through API keys.
Is Bitsgap for all traders?
The robot can be used by traders with all levels of trading experience.