The cybersecurity domain has gained immense importance due to evolving security threats to digital data and information. Storage of data on online networks and use of internet-of-things devices have accentuated the risk of cyber-attacks, including ransomware and malware attacks, advanced persistent attacks, and crypto-jacking.
According to research by Deep Instinct, ransomware attacks peaked at more than 400% in the year 2020. In addition, there was a data breach of more than 36 billion records in the first quarters of 2020, as explained in a study by Risk-based Security.
Thereby, organizations are actively adopting advanced cybersecurity technology to guard their computer networks, data, and systems from malicious attacks in this technologically dependent society. Consequently, the cybersecurity industry, along with cybersecurity ETFs, can thrive significantly in the upcoming years.
So are you thinking about investing in cybersecurity ETFs? Read this account to learn about the procedures for selecting profitable funds and the potential list of best cybersecurity ETFs to buy in 2022.
Cybersecurity ETFs: how do they work?
Cybersecurity ETFs track the cybersecurity indices and contain a diverse collection of financial securities or assets of this relevant industry. As a result, investors can benefit from various cybersecurity stocks held together in one ETF. Acquirement of cybersecurity ETFs is more prudent than owning one individual stock as this is a new and precarious sector with fluctuating volatility.
Cybersecurity ETFs work like stocks as investors can sell or buy them through brokerage platforms. Shareholders trade these funds in exchange markets, and the prices keep oscillating and shifting like a regular stock market.
Moreover, Statista forecasts that the size of the cybersecurity market can increase up to $345 billion by the year 2026. Given this blooming potential, investors can choose to invest in cybersecurity ETFs to take advantage of various stocks across the sector.
What to check before choosing cybersecurity ETFs?
Due to a wide array of cybersecurity ETFs, selecting a suitable one can become a cumbersome and lengthy task without proper knowledge. It is essential to consider some necessary features before picking out your cybersecurity fund.
Look for the security's trading volume and liquidity to estimate the investors' interest in that index. Some ETFs see an exchange of millions of shares, whereas others do not trade significantly.
Moreover, it would be best to look for the number of assets composing an ETF and see how they weigh in the distribution chart. Select the ETF which aligns with your investment goals and complements your trading strategy.
In addition, investors should look for EFTs with minimal tracking difference and low expense ratio for enhancing the winning chances.
Also, calculate all the relevant fees and commission charges before buying an ETF to evaluate the profitability of your selected fund.
Best cybersecurity ETFs to buy in 2022
№ 1. Global X Cybersecurity ETF (BUG)
Price: 33.06$
Expense ratio: 0.50%
Global X Cybersecurity ETF, commonly known as BUG, tracks the Indxx Cybersecurity Index that evaluates the performance of 35 to 40 growing companies providing cybersecurity services.
BUG incorporates the institutions that would benefit from the expansion of cybersecurity technology. These companies specialize in developing digital security and protection protocols that guard networks, computers, and mobile devices from malicious cyber-attacks.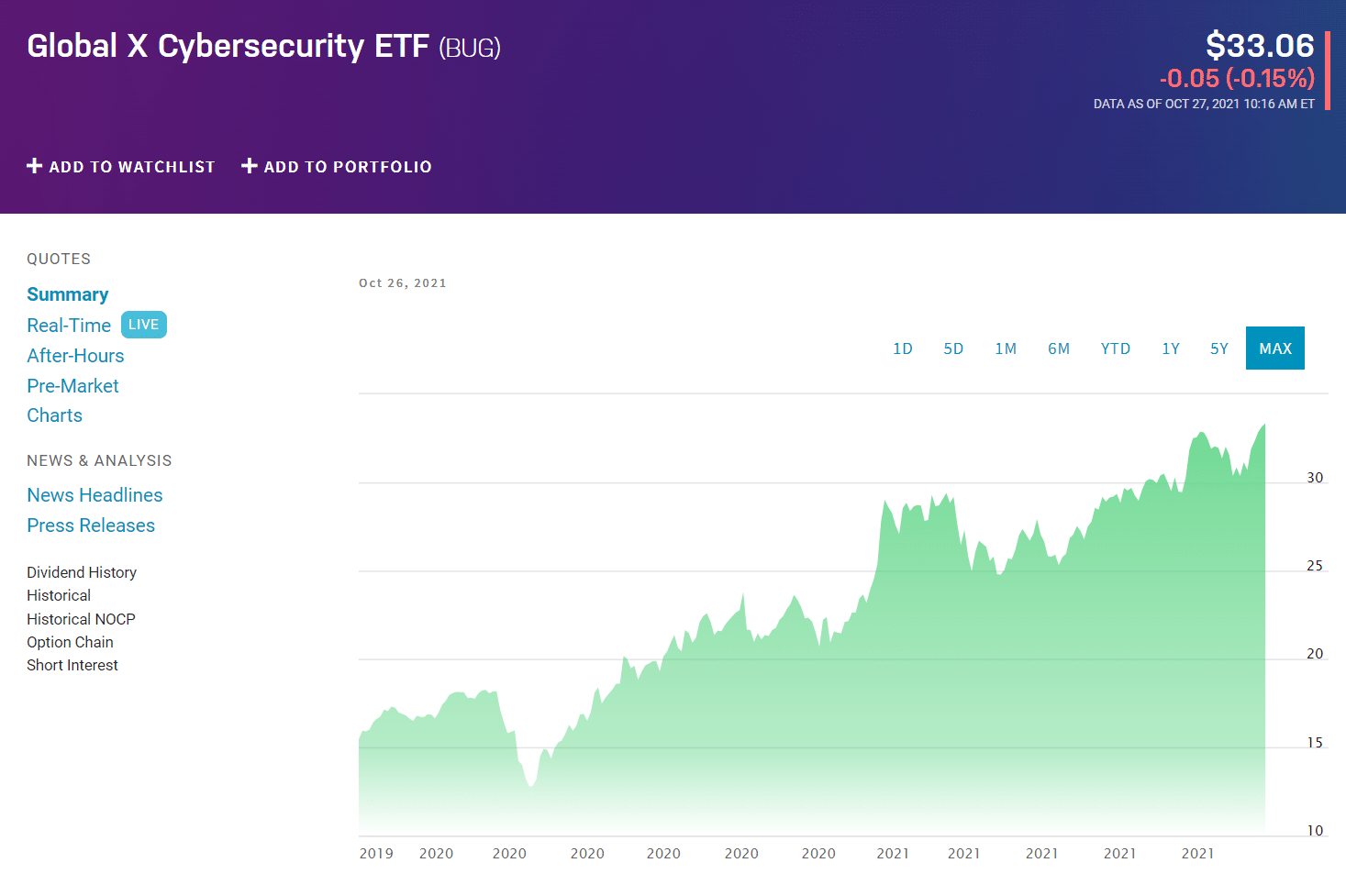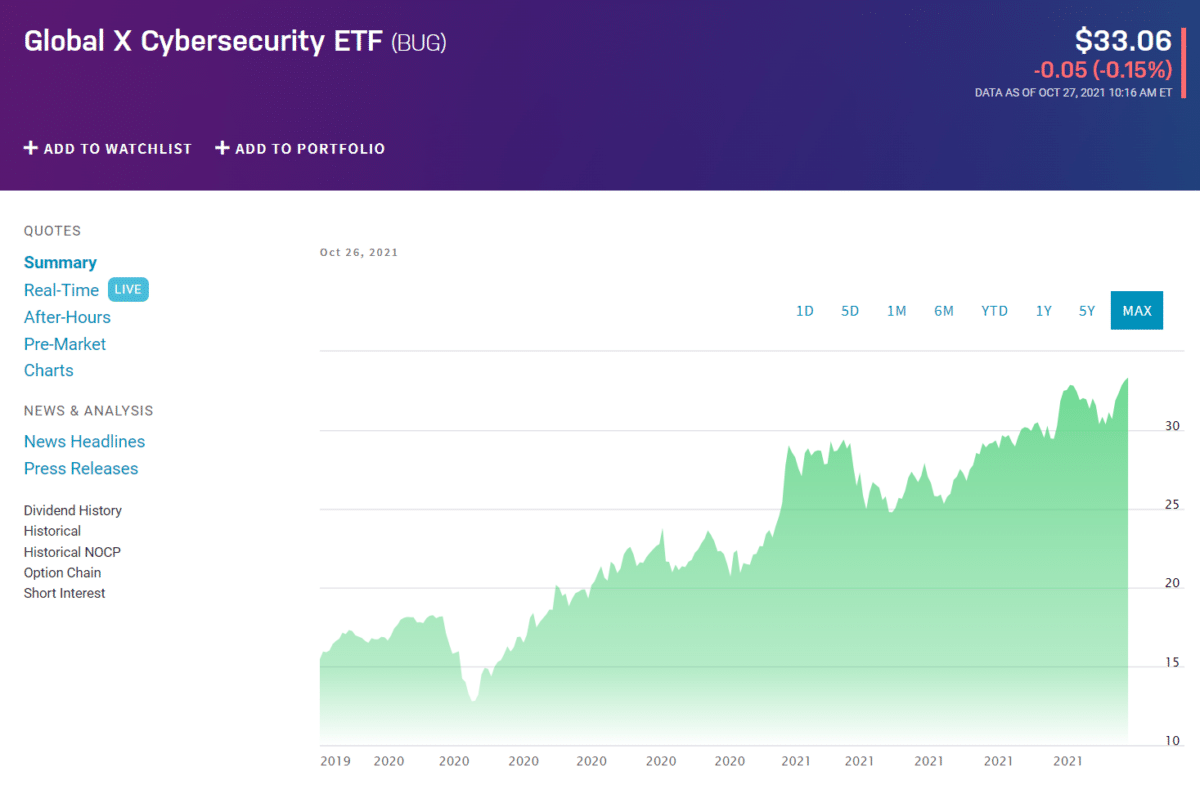 This ETF has been operational since 2019 with the current net assets of $976 million and NASDAQ as its primary exchange.
BUG has achieved a promising annualized return of $39.92 in the last year. In addition, this ETF maintained a price to return ratio of 62-63 in the past two years. BUG's sector breakdown is as follows:
Information Technology — 83.2%
Communication Services — 14.9%
Industrials — 1.9%


Currently, the Global X Cybersecurity fund has 31 holdings.
The top three holdings of this ETF as of now are:
Zscaler Inc. (IT security company)
Fortinet Inc. (Multinational cybersecurity company)
CrowdStrike Holdings Inc. (American cybersecurity technology company)
Furthermore, the US accommodates the majority of BUG's holdings, with Israel, Britain, and Japan holding the remaining portion.
№ 2. iShares Cybersecurity and Tech ETF (IHAK)
Price: 46.44$
Expense ratio: 0.47%
iShares Cybersecurity and Tech ETF correspond to the NYSE FactSet Global Cyber Security Index that lists the large and mid-cap cybersecurity technology companies. IHAK invests in enterprises that focus on cybersecurity hardware, software, security equipment, products, and services.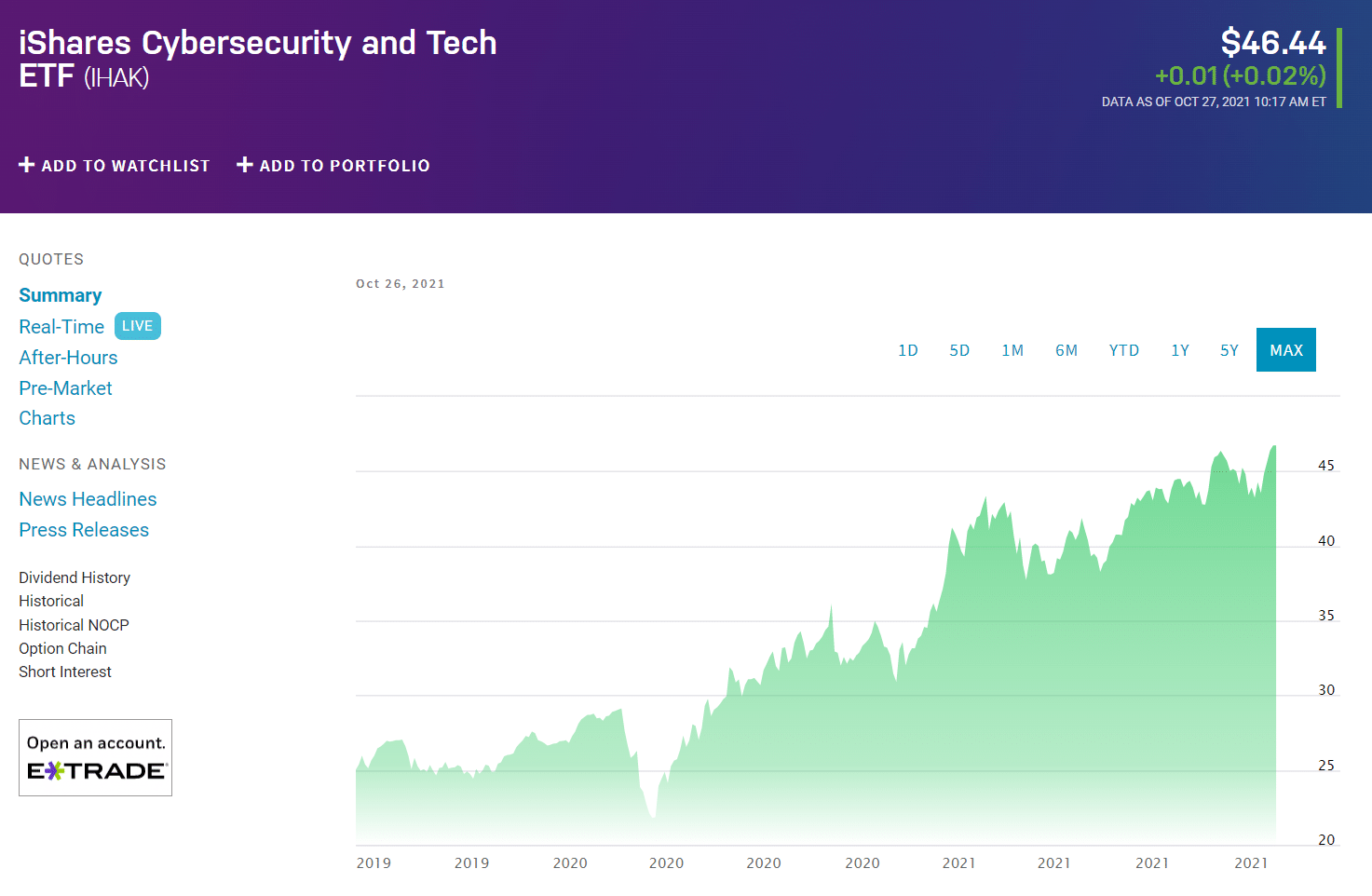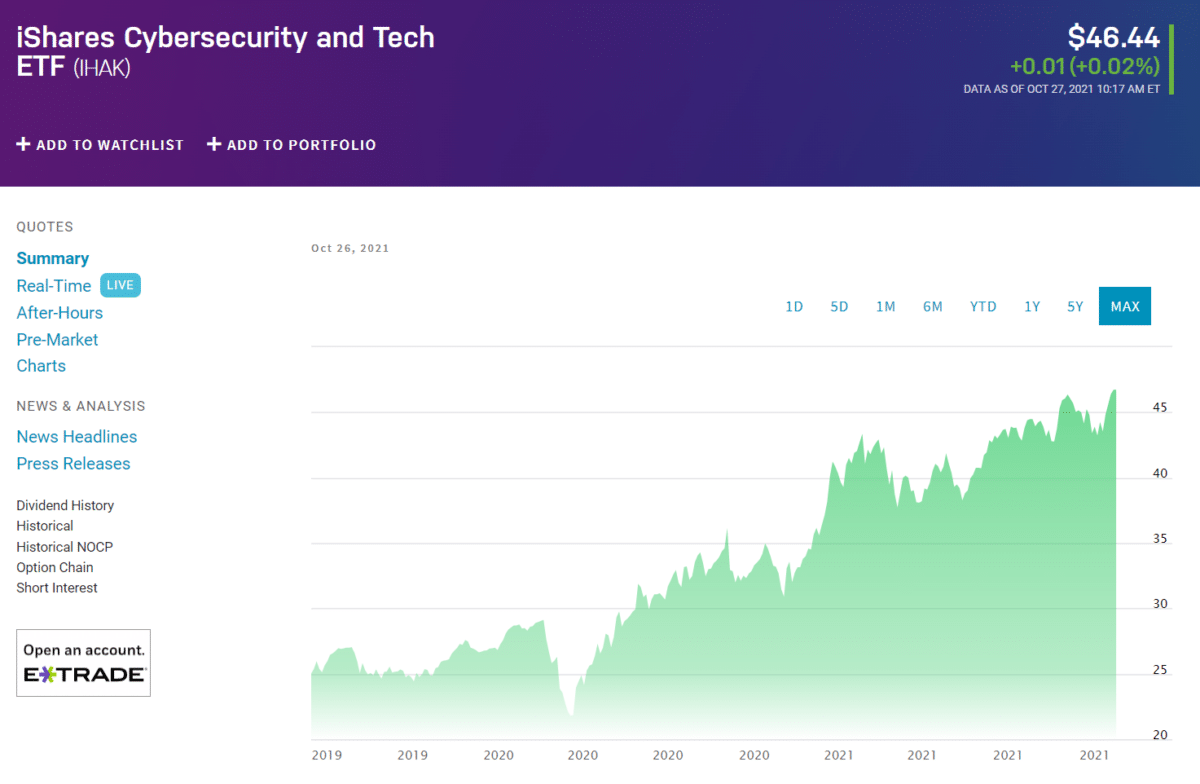 Currently, the IHAK fund holds net assets of $685,061,947 with NYSE Arca as its primary exchange. The average total annual return of IHAK is 32.71%. As of October 2021, this ETF's P/E ratio and P/B ratio stand at 28.57 and 7.63, respectively.
Furthermore, only the companies that derive more than 50% of their revenue from the "cybersecurity sector" can be included in this portfolio. The exposure breakdown of iShares Cybersecurity and Tech ETF is as follows:
Information Technology — 89.15%
Industrials — 10.64%
Cash/ Derivatives — 0.21%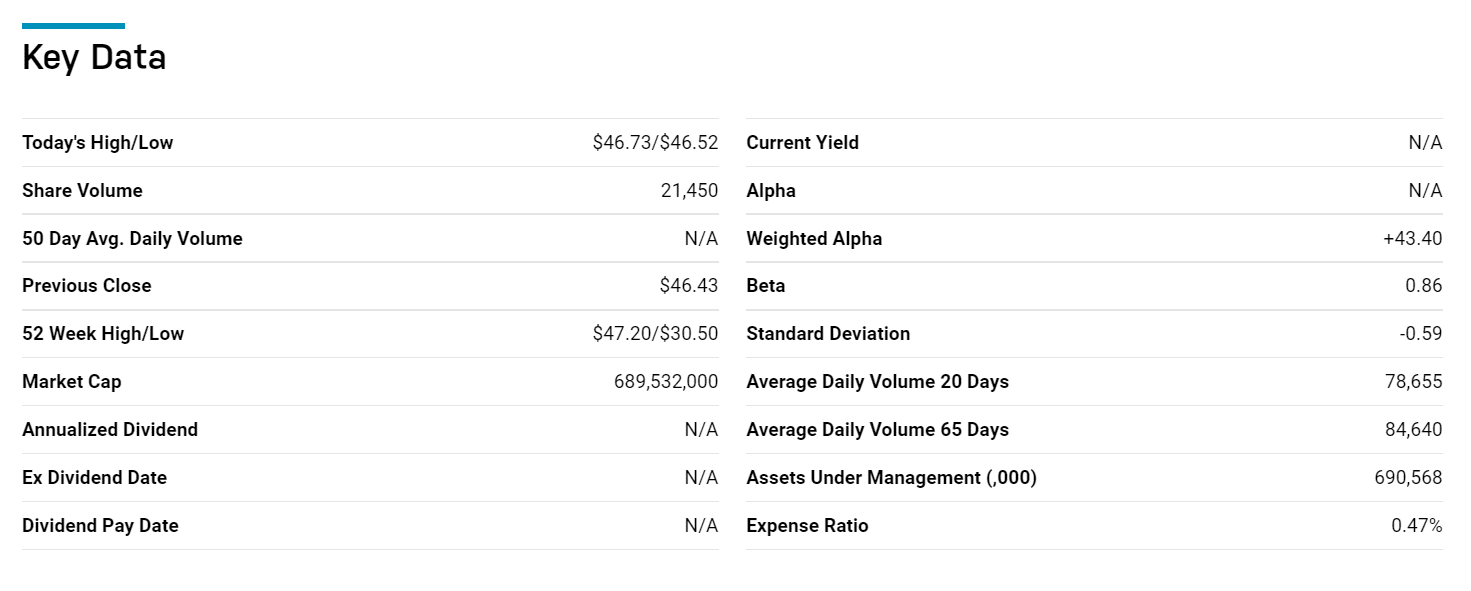 IHAK has 41 holdings, and the US incorporates the majority of the fund's assets.
The top three holdings of this ETF as of now are:
Zscaler Inc. — 6.16%
Fortinet Inc. — 5.62%
CrowdStrike Holdings Inc Class A — 5.28
However, the values are subject to change with changing market conditions.
№ 3. First Trust Nasdaq Cybersecurity ETF (CIBR)
Price: 53.30$
Expense ratio: 0.60%
First Trust Nasdaq Cybersecurity ETF (CIBR) tracks The Nasdaq CTA Cybersecurity Index, which consists of network and software companies specializing in managing cybersecurity of technology, defense, and industrial sectors.
The Consumer Technology Association (CTA) must declare an enterprise as a cybersecurity company with a global market capitalization of $250 million and a minimum free float of 20% for inclusion in this index.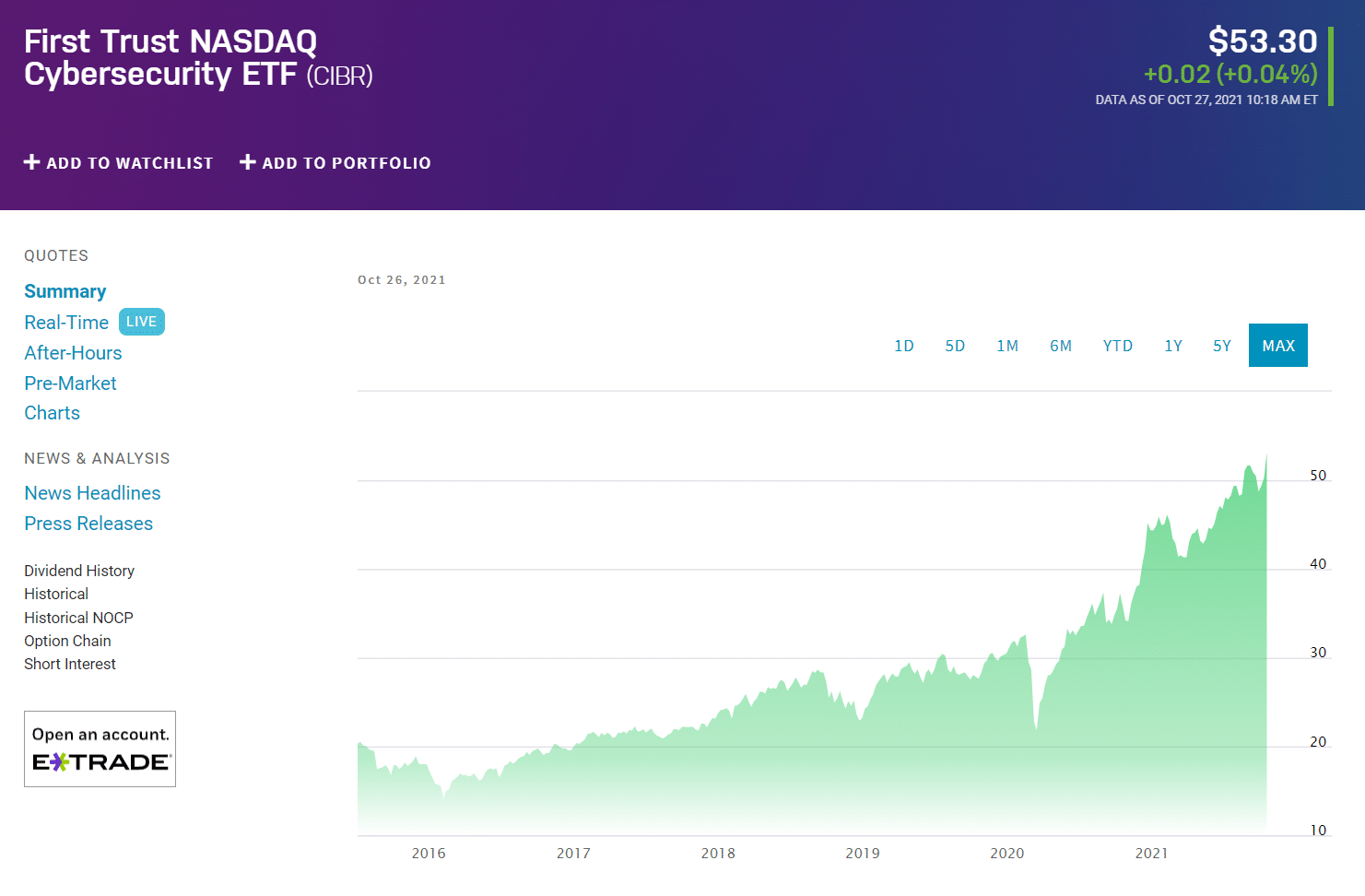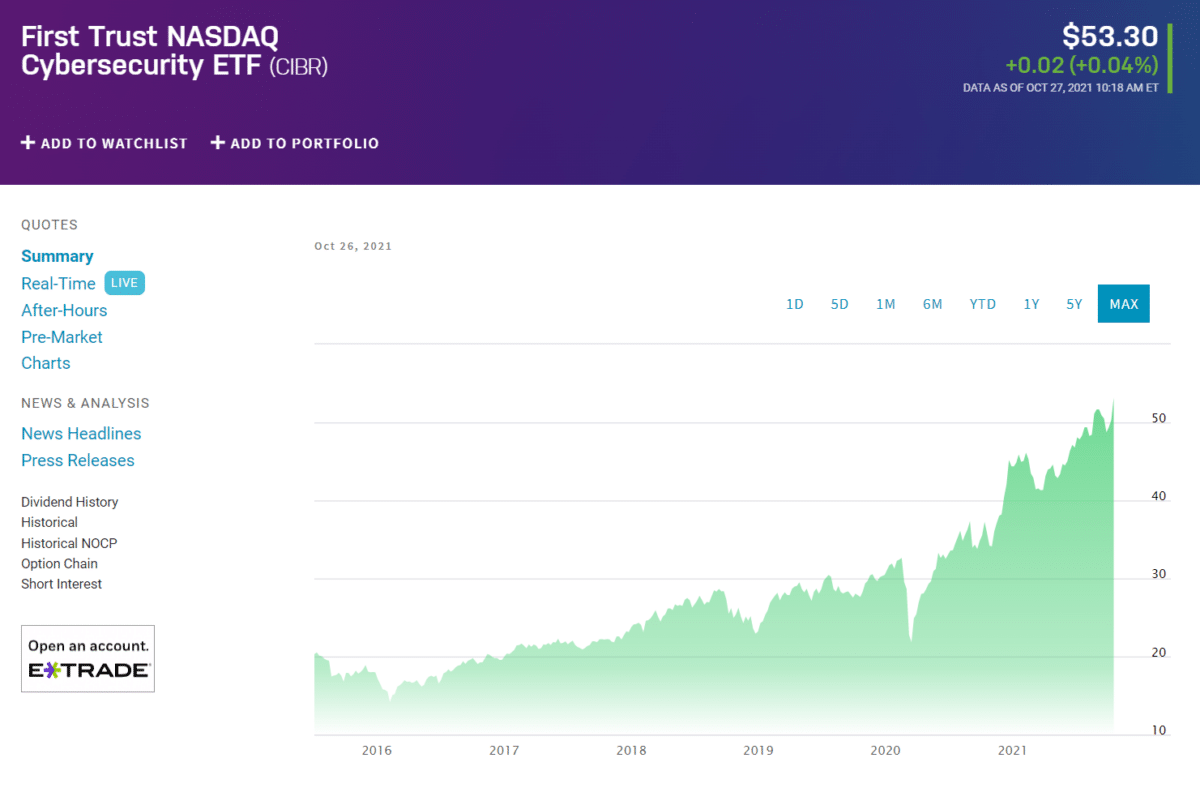 Moreover, CIBR's total assets under management stand at $5.25 billion, with an average daily volume of $39.2 million. The P/E ratio and P/B ratio are 87.06 and 8.96, respectively. In addition, the evaluation of the CBIR index occurs semi-annually while the rebalancing takes place quarterly.


This ETF has been trading since 2015, with NASDAQ as its primary exchange. It weighs its holdings according to market liquidity and a tight bid-ask spread. CBIR has 36 fund holdings.
The top three holdings of this ETF as of now are:
Palo Alto Network Inc. — Global Cybersecurity company
Accenture Plc Class A — Consultancy company
CrowdStrike Holdings Inc Class A — Cloud-native endpoint security platform

Final thoughts
With the increasing rate of cybercrimes, the cybersecurity sector has been continuously expanding in recent years. During the Covid-19 pandemic, authorities have noticed an increase of up to 600% in malware and ransomware attacks reinforcing the importance of digital security.
Following this trend, cybersecurity ETFs incorporate the potential to bring about substantial profits and increased revenue generation in the coming years. Currently, CBIR, BUG, and IHAK are the top-performing funds with the best one-year total return.
However, investment contains an element of speculation; therefore, investors should carefully evaluate all components and factors of the relevant ETF before deciding to invest in that fund.